Intelligent Parcel Locker Market Research, 2031
The global intelligent parcel locker market size was valued at $732.8 million in 2021, and is projected to reach $2,450.5 Million by 2031, growing at a CAGR of 12.6% from 2022 to 2031. Intelligent parcel locker is an electronic parcel locker that is used for collecting shipments. These lockers have various features to make them smart, such as cloud-based operation, cameras for enhanced security, secure payment methods, and others. Moreover, they also include interactive screen, proximity sensors, smart locks and others.
The intelligent parcel locker market was hampered during the outbreak of COVID-19 pandemic, owing to restrictions on new construction activities and reduced building remodeling projects. In addition, intelligent parcel locker could not be effectively manufactured during the lockdown period.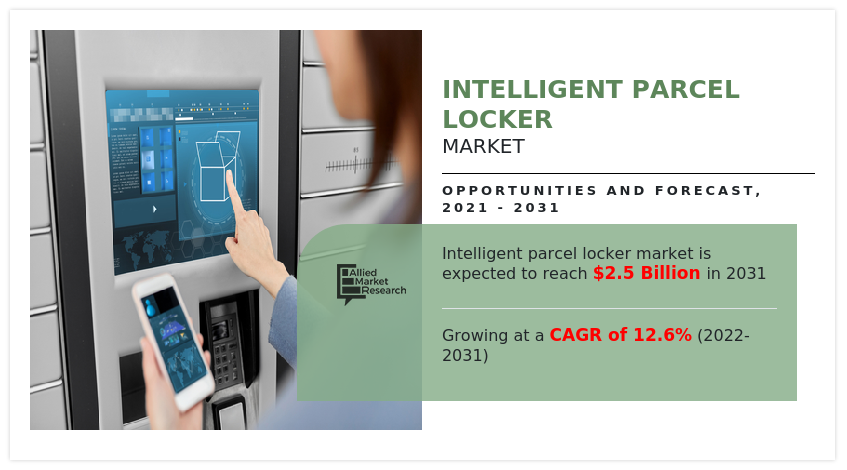 E-commerce industry is witnessing rapid growth all across the globe, which is attributed to rise in disposable income of the people, and availability of more options. In addition to this, e-commerce industry is backed by the internet penetration even in the remotest residential location in the world. Furthermore, with rise in e-commerce industry, the intelligent parcel lockers are becoming an important component of residential and non-residential building complex. An intelligent parcel locker offers a contact less parcel delivery, which has become a norm at most places in the world after COVID-19. In addition, it is possible that the consumer is not available at the time of delivery; thus, at such instances, the intelligent parcel lockers can collect the parcel and send the notification to the consumer. Furthermore, it keeps the parcel safe and secure form theft and weather. Along with this, it reduces the burden of door-to-door deliver; thereby, saving time. Such factors are anticipated to drive the demand for the intelligent parcel lockers. Furthermore, the construction of residential and non-residential building is rising across the globe. This is fueled by rise in global population, rise in disposable income, and rapid rise in urbanization, especially in the developing nations such as Brazil, Argentina, India, China, and others. Such factors are expected to positively influence the intelligent parcel locker market growth.
Major players in the industry have focused on developing smarter intelligent parcel locker by incorporating various new IT and electronics technologies, such as self-auditing of parcels, and notification, reporting, & tracking of the parcels. For instance, in June 2021, Pitney Bowes Inc., a leading provider solution in the areas of e-commerce, shipping, mailing and financial services, introduced ParcelPoint Smart Lockers. It comes with new suite of robust, secure contactless locker solutions. It is ideal for commercial spaces such as offices, schools, and others.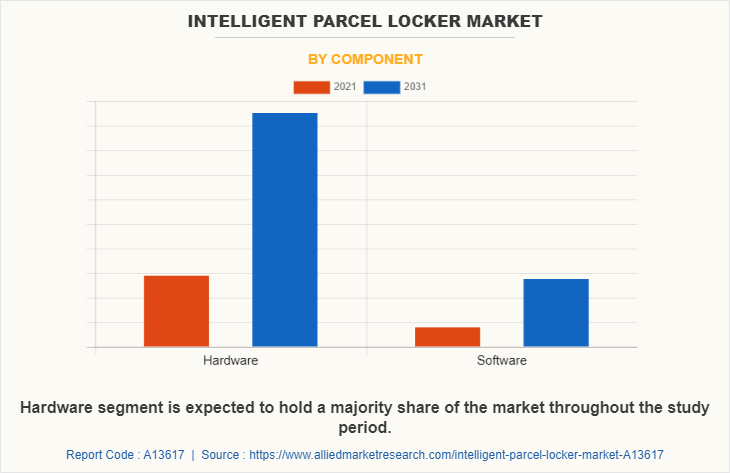 The novel coronavirus had rapidly spread across various countries and regions, causing an enormous impact on the lives of people and the overall community. It began as a human health condition and later became a significant threat to global trade, economy, and finance. The COVID-19 pandemic had halted the production of many components of intelligent parcel lockers due to lockdown. The economic slowdown initially resulted in reduced spending on various intelligent parcel lockers by different users. However, owing to introduction of various vaccines, the severity of COVID-19 pandemic has significantly reduced. As of mid-2022 the number of COVID-19 cases have significantly reduced. This has led to full-fledged reopening of intelligent parcel lockers manufacturing companies at their full-scale capacities. Furthermore, it has been more than two years since the outbreak of this pandemic, and many companies have already shown notable signs of recovery.
Practical conveniences offered by the smart parcel lockers to the delivery associates and the consumers is expected to positively influence the intelligent parcel locker industry.
The intelligent parcel locker market is segmented into Component, Application and End User Industry. By component, the market is bifurcated into hardware, and software. On the basis of application, it is bifurcated into indoor, and outdoor. And on the basis of end-user industry, the market is categorized into residential and non-residential. Region wise, the market is analyzed across North America, Europe, Asia-Pacific, and LAMEA. North America dominated the market in 2021, accounting for the largest intelligent parcel locker market share, and it is anticipated to maintain this trend throughout the forecast period. This is attributed to increase in spending on residential and non-residential building modification projects, and also attributed to considerably high disposable income of people that drive the demand in e-commerce industry.
Intelligent Parcel Locker Market

---
By Region
North America is the largest market throughout the study period.
Get more information on this report :
Request Sample Pages
Competition Analysis 
Key companies profiled in the intelligent parcel locker market forecast report include American Locker, Cleveron, Florence Corp., Hollman Inc., KEBA AG, Luxer Corporation, Mobiikey Technologies Pvt. Ltd, Package Nexus, Parcel Port Solutions, Inc., Pitney Bowes Inc., Quadient, Renome Group, Ricoh Company, Ltd.,, Shenzhen Zhilai Sci and Tech Co., Ltd , Smartbox Ecommerce solutions Pvt. Ltd., TZ Limited, and Xiamen Headleader Technology Co.
Key Benefits For Stakeholders
This report provides a quantitative analysis of the intelligent parcel locker market trends, estimations, and dynamics of the intelligent parcel locker market analysis from 2021 to 2031 to identify the prevailing intelligent parcel locker market opportunities.
The market research is offered along with information related to key drivers, restraints, and opportunities.
Porter's five forces analysis highlights the potency of buyers and suppliers to enable stakeholders make profit-oriented business decisions and strengthen their supplier-buyer network.
In-depth analysis of the intelligent parcel locker market segmentation assists to determine the prevailing market opportunities.
Major countries in each region are mapped according to their revenue contribution to the global market.
Market player positioning facilitates benchmarking and provides a clear understanding of the present position of the market players.
The report includes the analysis of the regional as well as global intelligent parcel locker market overview, key players, market segments, application areas, and market growth strategies.
 Intelligent Parcel Locker Market Report Highlights
Aspects
Details
By Component
By Application
By End User Industry

Residential

Building Type

Apartment Building
Independent Houses

Non-residential

By Region

North America (U.S., Canada, Mexico)
Europe (Germany, France, Italy, UK, Spain, Netherlands, Rest of Europe)
Asia-Pacific (China, Japan, India, South Korea, Australia, Indonesia, Viet Nam, Rest of Asia-Pacific)
LAMEA (Brazil, Argentina, Saudi Arabia, UAE, South Africa, Kenya)

Key Market Players
Mobiikey Technologies Pvt. Ltd., RENOME group, Pitney Bowes Inc., tz limited, KEBA AG, Quadient, cleveron as, ParcelPort Solutions, Inc., Ricoh, Florence Corp., Xiamen Headleader Technology Co., American Locker, Smartbox Ecommerce solutions Pvt. Ltd., LUXER Corporation, Hollman Inc, Package Nexus, Shenzhen Zhilai Sci and Tech Co., Ltd