The global intelligent transportation system market size was valued at $48.36 billion in 2022, and is projected to reach $98.02 billion by 2032, registering a CAGR of 7.5% from 2023 to 2032.
Report Key Highlighters:
The intelligent transportation system 

market analysis covers 14 countries. The research includes regional and segment analysis of each country in terms of value ($million) for the projected period 2023-2032.

The study integrated high-quality data, professional opinions and analysis, and critical independent perspectives. The research approach is intended to provide a balanced view of global markets and to assist stakeholders in making educated decisions in order to achieve their most ambitious growth objectives.

Over 3,700 product literature, annual reports, industry statements, and other comparable materials from major industry participants were reviewed to gain a better understanding of the market.

The Intelligent transportation system market share is highly fragmented, into several players, including Siemens AG, Garmin Ltd, Denso Corporation, Thales Group, Cubic Transportation Systems, Inc., Kapsch TrafficCom AG, Teledyne FLIR LLC, NEC Corporation, Navico Group and Alstom SA.

The companies have adopted strategies such as product launches, contracts, expansions, agreements, and others to improve their market positioning.
An intelligent transportation system includes the implementation of hardware and computer technology within the transport industry. ITS systems collect and process that data, and then utilize the processed data to improve the management of the transportation system and   offer the user with more and better information, which is used for decision-making which is  further utilized for improving traffic management and making them safe.
The global intelligent transportation system market has enormous growth potential, the major driving factors for the growth of the market are rapid urbanization and recent technological advancements in the technology. Similarly, with the ongoing collaborative effort for the development of efficient transportation networks between countries irrespective of political, industrial, cultural or institutional barriers, the ITS market is expected to witness significant growth in coming years.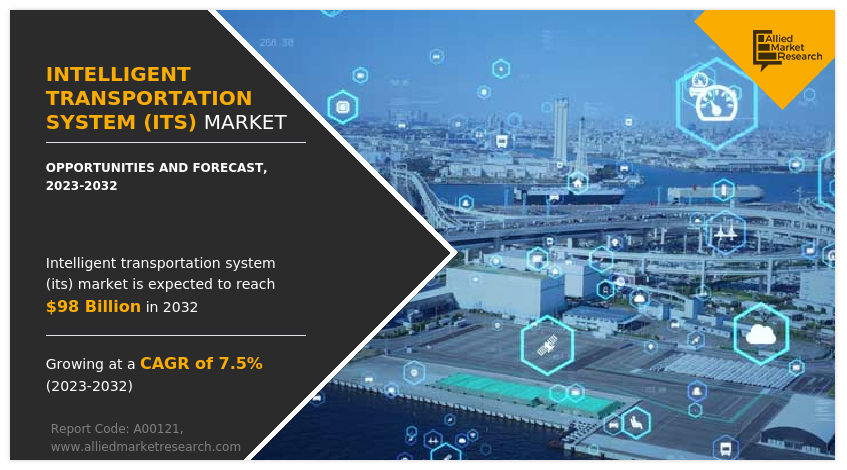 .
The growth of the global Intelligent transportation system market is driven by rise in traffic jams globally, increased investment in railways and increased inclination of governments towards CO2 emission reduction from the transportation industry. However, factors such as high cost of technology restrain the market growth. On the contrary, growth of connected and autonomous driving car and the improvement of high-speed internet and communications technologies are expected to provide lucrative growth opportunities for the market growth.
The global intelligent transportation system market is segmented on the basis of component, application, and end-use. Based on components, the market is bifurcated into hardware, software, and services. Depending on applications, the market has been segregated into traffic management, freight management, advanced traveler information systems, advanced public transportation systems, security and surveillance, ticketing and tolling systems, and others. Based on end use it is fragmented into roadways, railways, waterways and airways. Region-wise, the market is analyzed across North America, Europe, Asia-Pacific, and LAMEA.
The intelligent transportation system market in Asian countries has witnessed significant growth and is poised to offer compelling opportunities in the coming years. In the coming decade, over half of Asia-Pacific's inhabitants are projected to settle in urban areas, according to the Asia Business Council's most recent estimate. In China alone, there are already 236 cities, each with a population exceeding half a million people. The World Bank reports that developing regions' economic growth will rely on cities for over 80% of its output. Furthermore, Hong Kong, Singapore, Mumbai, Tokyo, Seoul, and Bangalore are among numerous other metropolises in the Asia-Pacific region grappling with rapid population increases.  
Moreover, in 1998, Singapore implemented an electronic road pricing (ERP) system, a system used to charge drivers entering city centers during peak rush hours this was done to alter their driving time and habits. After the introduction of the system, Singapore experienced a decrease in nearly 25,000 vehicles per day on average during ERP operational hours. The overpopulation in cities is resulting in long traffic jams and longer commute times thus creating increased demand for intelligent transportation systems.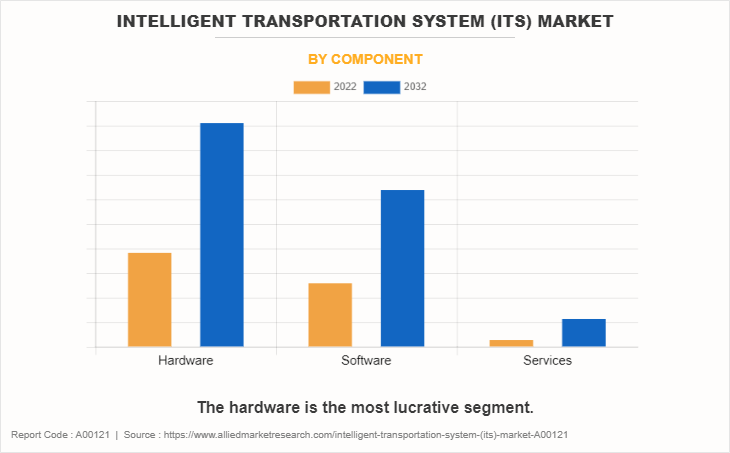 Key Developments in the Intelligent Transportation Industry 
The leading companies are adopting strategies such as acquisition, agreement, expansion, partnership, contracts, and product launches to strengthen their market position.
In October 2023,

Alstom SA partnered with FLXO Robotics to develop technology for reducing wildlife collision accidents. The collaboration aims to keep away animals and lower the risk of collisions, the technology will utilize advanced image analytics and AI algorithms, the technology can identify animals in proximity and emit a tailored repellent noise to deter them.

In November 2023, 

Siemens AG acquired HMH, s.r.o, a manufacturer of the MIREL, a train protection system for Slovakia, Czech Republic, Hungary, and Poland. With this acquisition, Siemens Mobility is able to offer a complete train protection portfolio covering the Eastern European rail corridors. HMH will remain based in Bratislava, Slovakia, and will be integrated into Siemens Mobility's Rail Infrastructure business unit. The Acquisition strengthens Siemens Mobility's position as a leading rail infrastructure provider in Europe.

In August 2023, NEC Corporation received a contract from  India's Uttar Pradesh State Road Transport Corporation (UPSRTC) for the Vehicle Location Tracking-Passenger Information System (VLT-PSIS) project under the Nirbhaya fund of the Government of India. By implementing state-of-the-art technologies and providing live bus tracking via an Integrated Command Control Centre, this project seeks to address critical safety concerns in buses while improving passengers' overall travel experiences.
In August 2021,

Thales Group announced its agreement with Hitachi Rail for the sale of Thales Group `Ground Transportation System` segment, which offers rail signaling and train control systems, telecommunications and supervision systems, and fare collection solutions. The agreement will help Hitachi to enhance its mobility as a service segment offering and enhance its presence in rail signaling product offerings.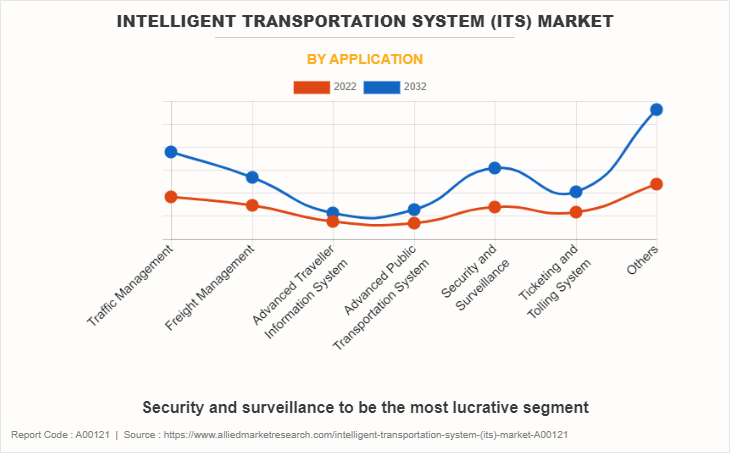 Increased investment in railways
High-speed railway infrastructure is increasingly being developed globally as countries are investing significant amounts of funds to their railway infrastructure development. Railways are a practical mode of transportation that can transfer large quantities over vast distances while remaining cost-effective. Major countries around the world  are developing railways to connect major cities and economic centres with the aim of reducing travel time and promoting economic growth.
For instance, India has the third largest railway network in the world, spread over 1.3 million km. The Indian Railway estimates its freight traffic to reach 3.3 billion tonnes by the end of 2030, which in 2019 accounted for 1.2 billion tonnes. The country is developing its North-South dedicated freight corridor, which connects Delhi to Chennai, and its East-West dedicated corridor, which connects Kolkata and Mumbai. These two corridors are responsible for carrying around 55% of the country's overall freight. According to the country's National Rail plan, the country is considering bringing down the logistics cost, reducing transit time and achieving net zero emissions and developing the infrastructure to better compete with other modes of transport such as roadways. Thus, increase in global investment in railways is expected to play a crucial role in driving the demand for the intelligent transportation system  (ITS) market.
Increased inclination of governments towards CO2 emission reduction from transportation industry
The transportation and logistics industry accounts for a huge portion of pollution emitted on a global level. The major portion of the greenhouse gas in the atmosphere is emitted from transportation vehicles used in the logistics industry. To overcome the issue, governments around the globe have placed regulations to cut down the number of pollutants released from vehicles. 
For instance, the European Emission Standards or Euro Norms are regulations that govern and limit the pollutants from vehicles and promote the development and use of automobile technologies that are cleaner and fuel-efficient. As an intelligent transportation system (ITS) help enhance traffic flow in congested area, thus reducing fuel consumption. Moreover, during peak traffic hours, the system can suggest an alternative route for heavy vehicles, which help in fuel saving, thus reducing emission.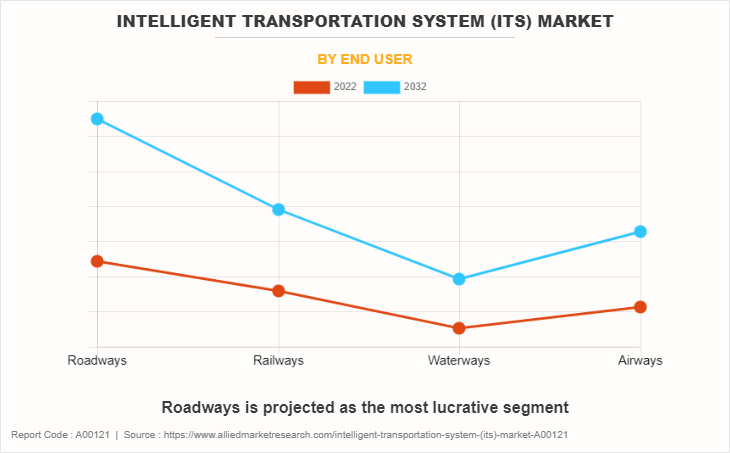 High Cost of Technology
Intelligent Transportation System demand real time data processing and sophisticated hardware and software to perform optimally. Likewise, the intelligent transportation system requires huge initial investments and optimal collaboration between system integrators, transportation authorities, and system developers. As a result, these factors collaboratively become a challenger for companies operating in the market; likewise, the high cost associated with the technology restrict the entry of new players in the market. 
Furthermore, Intelligent Transportation System demands additional requirements of sensors, communication devices, high speed internet connections, CCTV cameras, toll booth infrastructure requirement, fleet management systems, sensors, control centers, data processing and storage centers, optimal power grid infrastructure, and different types of hardware and infrastructure requirements. Thus, high cost required for the technology is anticipated to hinder the market growth during the forecast period.  
Growth of connected and autonomous driving car to create lucrative ITS market growth opportunity
Rapid development in autonomous driving, connected cars, and vehicle platooning technology is anticipated to create growth opportunities for the Intelligent Transportation Systems market during the forecast period.
According to the World Economic Forum, autonomous vehicle technology are being tested on public roads through private-public and government partnership, and by 2050, the industry has the potential to reach $7 Trillion.  If autonomous vehicle technology is harnessed properly, it has a strong growth potential to increase road safety, reduce traffic jams, and enhance the air quality in cities.
Different countries have adopted authoritative bodies or committees for foreseeing and development of the technology for instance. UK has introduced a Centre for Connected and Autonomous Vehicles (CCAV), Singapore has launched a Committee on Autonomous Road Transport for Singapore (CARTS), similarly Australia introduced Office of Future Transport Technology. Thus, increased penetration of autonomous driving and connected cars is anticipated to create lucrative growth opportunity for the companies operating in the market during the forecast period.
Russia-Ukraine War Impact Analysis
The conflict has disrupted supply chains, especially for components and materials sourced from Ukraine and Russia. These delayed production and increased the overall cost of hardware used in intelligent transportation systems, as manufacturers struggle to obtain critical parts or materials required for production.   
Economic uncertainty, trade disruptions, and geopolitical tensions can lead to reduced economic growth in the affected regions and beyond. The Russia-Ukraine war also resulted in many global companies halting or permanently closing their operations in Russia. However, as intelligent transportation systems are an important element of homeland security for any country, the war resulted in increased demand for hardware such as thermal cameras, communication equipment and others used to detect enemy movements.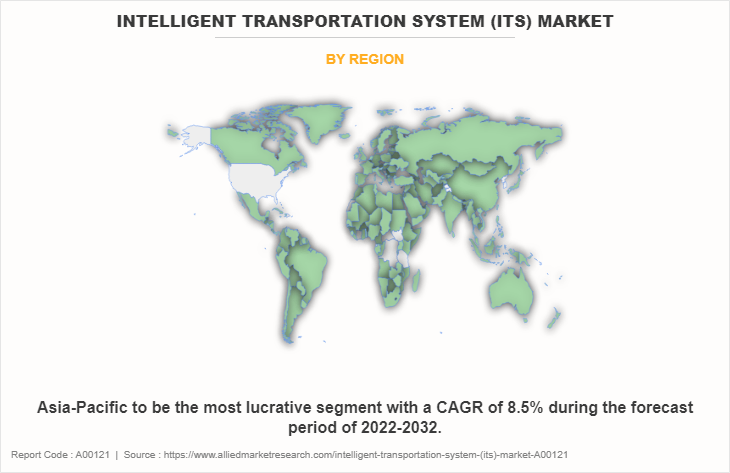 Key Benefits For Stakeholders
This report provides a quantitative analysis of the market segments, current trends, estimations, and dynamics of the intelligent transportation system market analysis from 2022 to 2032 to identify the prevailing market opportunities.
The market research is offered along with information related to key drivers, restraints, and opportunities.
Porter's five forces analysis highlights the potency of buyers and suppliers to enable stakeholders make profit-oriented business decisions and strengthen their supplier-buyer network.
In-depth analysis of the market segmentation assists to determine the prevailing market opportunities.
Major countries in each region are mapped according to their revenue contribution to the global market.
Market player positioning facilitates benchmarking and provides a clear understanding of the present position of the market players.
The report includes the analysis of the regional as well as global market trends, key players, market segments, application areas, and market growth strategies.
 Intelligent Transportation System (ITS) Market Report Highlights
Aspects
Details
Market Size By 2032
USD 98 billion
Growth Rate
CAGR of 7.5%
Forecast period
2022 - 2032
Report Pages
473
By Component

Hardware
Software
Services

By Application

Ticketing and Tolling System
Others
Traffic Management
Freight Management
Advanced Traveller Information System
Advanced Public Transportation System
Security and Surveillance

By End User

Roadways
Railways
Waterways
Airways

By Region

North America (U.S., Canada, Mexico)
Europe (UK, Germany, France, Italy, Spain, Russia, Rest of Europe)
Asia-Pacific (China, India, Japan, South Korea, Australia, Southeast Asia, Rest of Asia-Pacific)
LAMEA (Latin America, Middle East, Africa)

Key Market Players
Kapsch TrafficCom AG, Garmin Ltd., Thales Group, Navico Group, Siemens AG, Teledyne FLIR LLC, Alstom SA, DENSO CORPORATION, NEC Corporation, Cubic Transportation Systems, Inc.