Interior Doors Market Research, 2030
The global interior doors market size was valued at $55.7 billion in 2020, and is projected to reach $93.1 billion by 2030, growing at a CAGR of 4.9% from 2021 to 2030. An interior door is a panel that provides a barrier between the rooms and spaces within the house or a building. Interior doors are light-weight, thin and often have a hollow core. In addition, its function is to provide separation between the rooms in a house, unlike an exterior door that is installed at the entrance, and are made very strong in order to withstand the harsh weather and stop or slow down any forceful entry.
The interior doors market has been negatively impacted by COVID-19, due to lockdown in several countries globally.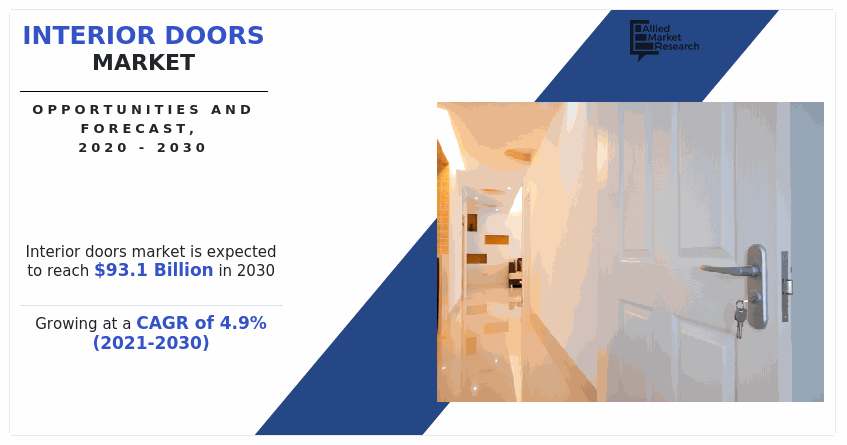 An interior door may have insulation capabilities, but it is an uncommon feature. Moreover, it can be of many types and is categorized on the basis of mechanism of working, material that it is made from and may incorporate a decorated surface to match the interior design of the house. Interior doors are an inseparable component of any house or building all over the world; especially, the North America and European housing markets have a higher demand for interior doors, as they significantly invest in home remodeling projects. Further, the construction sector is witnessing a boom in all the developing as well as in developed countries owing to the rapid urbanization. In addition, increased disposable income is also a reason for boom in the construction sector. These factors have surged the demand in the interior doors market. In addition, the technological advancement in the fiberglass and other materials has significantly increased its use in order to manufacture interior doors and make them lighter and relatively less expensive. This positively influences the demand for interior doors market growth.
Major players in the industry have focused on development of highly elegant and durable interior doors. For instance, in February 2020, Jeld-Wen, Inc., a leading provider of interior and exterior doors launched two new interior doors, known as the Moda Rustic interior door, a beautiful wood veneer with modern, flat-panel styles and translucent glass, and the other product that is launched is a finishing method known as 'Foundry Finishes' for fiberglass doors to recreate the look of real iron on them. Furthermore, advancements in IT technologies are playing a key role in growth of the interior doors market. For instance, in January 2022, JB Kind, the UK based interior door manufacturer, introduced a computer-based way of visualizing interior doors in residential settings before installing. Moreover, business expansion by the manufacturers of interior doors has also helped the interior doors market to witness significant growth. For instance, in January 2022, Marvin doors and windows a manufacturer of interior doors expanded its distribution and manufacturing facilities in Minnesota, U.S.
Interior Doors Market

---

By Door Type
Panel segment is expected to hold a majority share of the market throughout the study period.
The novel coronavirus has rapidly spread across various countries and regions, causing an enormous impact on the lives of people and the overall community. It began as a human health condition and has now become a significant threat to global trade, economy, and finance. The COVID-19 pandemic has halted the production of many components of interior doors due to lockdown. The economic slowdown initially resulted in reduced spending on interior doors by home owners and commercial users. Furthermore, the number of COVID-19 cases is expected to reduce in the near future as the vaccine for COVID-19 is introduced in the market. This has led to reopening of interior doors manufacturing companies at their full capacities. This is expected to help the market to recover by the start of 2022. After COVID-19 infection cases begin to decline, interior doors manufacturers must focus on protecting their staff, operations, and supply networks to respond to urgent emergencies and establish new methods of working.
Interior Doors Market

---

By Material
Wood segment is expected to hold a majority share of the market throughout the study period.
Furthermore, the increased global tourism has significantly boosted the number of hospitality buildings such as hotels, resorts, and other such buildings across the globe, thereby increasing the demand for the interior doors market. In addition, adoption of e-commerce for the sales of interior door products has led to lower costs of the products, which adds to increasing demand for interior doors and its related products.
The global Interior door market is segmented on the basis of type, material, mechanism, end user, and region. By type, the market is categorized into panel door, bypass door, bifold door, pocket door, and others. On the basis of material type, the market is categorized into wood, metal, glass, fiberboard, fiberglass, vinyl, and others. On the basis of mechanism, the market is categorized into swinging, sliding, folding, revolving, and others. And, on the basis of end user, it is categorized into residential, and non-residential. Region wise, the market is analyzed across North America, Europe, Asia-Pacific, and LAMEA. Asia-Pacific has the largest interior doors market share in 2020, accounting for the highest share, and is anticipated to maintain this trend throughout the forecast period. This is attributed to increase in construction activities.
Interior Doors Market

---
By Region
Asia-Pacific is the largest market throughout the study period.
COMPETITION ANALYSIS
Key companies profiled in the interior doors market forecast include Artisan Hardware, Bayer Built Woodworks Inc., Concept SGA Inc., Contractors Wardrobe, Inc., Hume Doors & Timber Pty Ltd, JB Kind, Ltd, Jeld-Wen Holdings Inc., Marvin Windows and Doors, Masonite International Corporation and Rustica Hardware.
Key Benefits For Stakeholders
This report provides a quantitative analysis of the market segments, current trends, estimations, and dynamics of the interior doors market analysis from 2020 to 2030 to identify the prevailing interior doors market opportunities.
The market research is offered along with information related to key drivers, restraints, and opportunities.
Porter's five forces analysis highlights the potency of buyers and suppliers to enable stakeholders make profit-oriented business decisions and strengthen their supplier-buyer network.
In-depth analysis of the interior doors market segmentation assists to determine the prevailing market opportunities.
Major countries in each region are mapped according to their revenue contribution to the global market.
Market player positioning facilitates benchmarking and provides a clear understanding of the present position of the market players.
The report includes the analysis of the regional as well as global interior doors market trends, key players, market segments, application areas, and market growth strategies.
 Interior Doors Market Report Highlights
Aspects
Details
By Door type

Panel
Bypass
Bifold
Pocket
Others

By Material

Wood
Metal
Glass
Fiberboard
Fiberglass
Vinyl
Others

By Mechanism

Swinging
Sliding
Folding
Revolving and Other

By End-user

Residential
Non-residential

By Region

North America (U.S., Canada, Mexico)
Europe (Germany, France, U.K., Italy, Rest of Europe)
Asia-Pacific (China, India, Japan, South Korea, Rest of Asia-Pacific)
LAMEA (Latin America, Middle East, Africa)

Key Market Players
Artisan Hardware, Bayer Built Woodworks Inc., Concept SGA Inc., Contractors Wardrobe, Inc., Hume Doors & Timber Pty Ltd, JB Kind, Ltd., Jeld-Wen Holdings Inc., marvin windows and doors, Masonite International Corporation, rustica hardware