The global internet of things in healthcare market was valued at $113.75 billion in 2019 and is expected to reach $332.67 billion by 2027, registering a CAGR of 13.20% from 2020 to 2027.
The internet of things (IoT) is described as a network of physical devices that uses connectivity to enable the exchange of data. In addition, in healthcare filed, IoT is used for the data collection, analysis for research, and monitoring electronic health records which contains personally identifiable information, protected health information, and for other machine-generated healthcare data. Further, IoT applications in healthcare facilitate important tasks such as to improve patient outcomes, and also take some burden off health practitioners. Internet of Things (IoT)-enabled devices have made remote monitoring in the healthcare sector possible, unleashing the potential to keep patients safe and healthy, and empowering physicians to deliver superlative care. Furthermore, from 2017 to 2022, growth in IoT healthcare applications is indeed projected to accelerate as the Internet of Things is a key component in the digital transformation of the healthcare industry and various stakeholders are stepping up their effort in this field.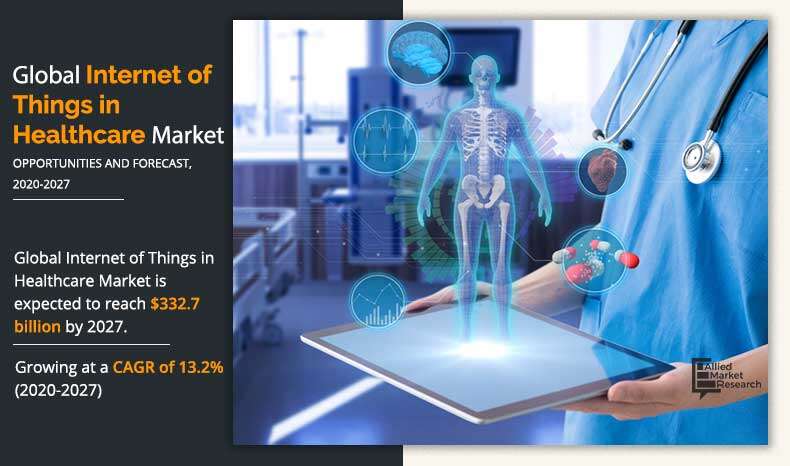 The pandemic has caused change in providers' willingness to implement IoT solutions which helped in diagnosing the virus using internet of things. Further, many IoT technology is playing a growing role in helping authorities to prevent the further spread of COVID-19, while also treating those that have been infected. IoT, specifically and especially when combined with other transformative technologies such as Cloud and Artificial intelligence (AI). This led to wide range of applications of IoT in healthcare during this crisis. For instance, According to the WHO, in 2020, patients and staff at a field hospital in Wuhan, China, wore bracelets and rings synced with an AI. This platform from CloudMinds the Beijing-based operator of cloud-based systems for intelligent robots to provide constant monitoring of vital signs, including temperature, heart rate, and blood oxygen levels during Covid-19 pandemic. In addition, in India, the mobile application named as aarogya setu app, launched by the Union Health ministry on April 2, 2020 which helps users identify whether they are at a risk of COVID-19 infection. Therefore, Covid-19 has uplifted the demand of internet of things in healthcare market and provides opportunities for the manufacturers in various applications in the healthcare domain during the forecast period.
The major factors that contribute toward the growth of the internet of things in healthcare market include owing to technological advancements, rising incidence rates of chronic diseases such as COPD, genetic diseases, respiratory diseases, and others, better accessibility to high-speed internet, implementation of favorable government regulatory policies. Furthermore, growing demand for cost-effective treatment and disease management, increased adoption of smart devices and wearables, increasing interest in self-health measurement, and reduced healthcare cost with advanced and cost effectives IoT in healthcare products and solutions. Moreover, rising interest of the startup companies in IoT healthcare industry such as MedAngelONE, Amiko, SWORD health, and Aira, is expected to boost the market growth. However, factors such as high costs associated with IoT infrastructure development, data privacy and security issues, lack of awareness among public in developing regions, and limited technical knowledge are expected to impede the market growth. Various factors such as government initiatives to support IoT platform, improvement in healthcare infrastructure in developing countries, and high R&D spending are expected to boost the market growth. 
Global Internet Of Things In Healthcare market Segmentation  
This report segments the internet of things in healthcare market on the basis of component, application, end user, and region. On the basis of component, the market is segmented into devices, system & software and services. The devices segment is further segmented into implantable sensor devices, wearable sensor devices, and other sensor devices. System & software segment are further categorized into network layer, database layer, and analytics layer. Moreover, services segment covers architecture, consulting, and application development services. Based on application, the market is segmented into patient monitoring, clinical operation & workflow optimization, connected imaging, fitness & wellness measurement, and drug development. Based on end user, global internet of things in healthcare market is segmented into healthcare providers, patients, healthcare payers, research laboratories of pharmaceutical & biotechnology companies, and government authorities. The market has been analyzed across four regions namely North America, Europe, Asia-Pacific, and LAMEA. 
Segment Review
On the basis of component, the market is divided into devices, system & software, and services. In addition, the service segment held the major internet of things in healthcare market share in 2019, owing to growing demand for uninterrupted data flows boost the efficiency of the medical systems, enhance security, and improve informed decision-making in real-time is the key factor driving the services segment. However, the devices segment is estimated to be the fastest growing segment in the global internet of things in healthcare market during forecast period owing to the advancements of the wearable sensor devices, implanted sensor devices and other stationary devices. Among these devices, wearable device is the highest growing devices market. This is attributed to surge in awareness to adopt the wearable devices, increase in trend of self-monitoring and analysis the health data. In addition, medical wearable devices can also help measure information such as blood pressure, cholesterol, blood sugar, and others, which resulted in boosting the growth of the devices market during the forecast period.
Internet of Things in Healthcare Market

---
By Component
Internet of Things in Healthcare services segment holds a dominant position in 2019.
By application, the patient monitoring segment is accounted for the highest revenue generator in 2019, owing to as patient monitoring enables data from devices to be collected and made available to healthcare professionals in real-time. 
Internet of Things in Healthcare Market

---
By Application
Drug Development segment is projected as one of the most lucrative segment.
In 2019, North America accounted for a major share of the internet of things in healthcare market size and is expected to continue this trend owing to rapid technological advancements, increasing investments from top players, supportive governmental rules, rise in prevalence of chronic disease patient population and increase in demand for cost effective disease treatment. However, Asia-Pacific is expected to witness growth at significant rate during the forecast period, by registering a CAGR of 17.40%. This is mainly due to rapidly changing healthcare infrastructure in the developing countries such as India and China, large patient population, rising public awareness, and increasing healthcare spending.
Internet of Things in Healthcare Market

---
By Region
Asia-Pacific region would exhibit the highest CAGR of 17.4% during 2019-2027.
The global internet of things in healthcare market is highly competitive, and prominent players have adopted various strategies for garnering maximum market share. These include collaboration, product launch, partnership, and acquisition. Major players operating in the market include Apple Inc., Cisco Systems Inc., GE Healthcare Ltd., Google (Alphabet), International Business Machines Corporation, Medtronic PLC, Microsoft Corporation, Proteus Digital Health, Koninklijke Philips N.V., QUALCOMM Incorporated, and Abbot Laboratories.
Key Benefits For Stakeholders
This report entails a detailed quantitative analysis along with the current global internet of things in healthcare market trends from 2019 to 2027 to identify the prevailing opportunities along with the strategic assessment.
The internet of things in healthcare market forecast is studied from 2019 to 2027. 
The internet of things in healthcare market size and estimations are based on a comprehensive analysis of key developments in the industry.
A qualitative analysis based on innovative products facilitates strategic business planning.
The development strategies adopted by the key market players are enlisted to understand the competitive scenario of the market
Key Market Segments
By Component
Devices

Implantable Sensor Devices
Wearable Sensor Devices
Others Sensor Devices

System and Software

Network Layer
Database Layer
Analytics Layer

Services

Architecture (System integration)
Consulting
Application Development (support and maintenance)
By Application
Patient Monitoring
Clinical Operation and Workflow Optimization
Clinical Imaging
Fitness and Wellness Measurement
Drug Development
By End User
Healthcare Providers
Patients
Healthcare Payers
Research Laboratories (Biotech/Pharma)
Government Authority
By Region
North America
Europe

Germany 
France 
UK 
Rest of Europe

Asia-Pacific

Japan 
China 
India 
Australia
Rest of Asia-Pacific

LAMEA

Latin America
Middle East
Africa