Aviation IoT Market - 2031
The global IoT in aviation market size was valued at $1.3 billion in 2021, and is projected to reach $8.6 billion by 2031, growing at a CAGR of 20.5% from 2022 to 2031.
Internet of things (IoT) is amalgamation of hardware and software, designed to exchange data over wireless network. IoT does not require any human interface, and aids in reducing the need for manual interference. Aviation industry has started adopting internet of things to enhance their operations. Moreover, several airports utilize IoT for baggage tracking, air traffic management, in-flight communication, and others. Furthermore, airline companies have started to implement IoT based solutions for aircraft monitoring, to improve cabin passenger experience, and others.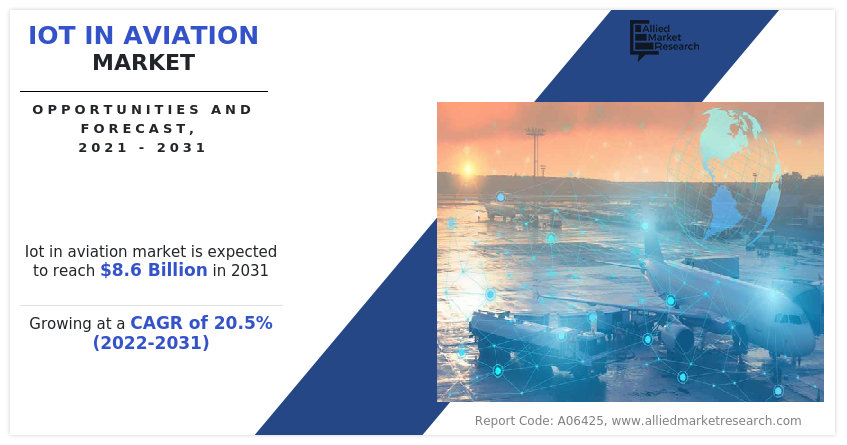 The significant factors impacting the growth of IoT in aviation market comprise increase in air traffic across the globe, need to enhance the passenger experience, and greater need for improved air safety. However, potential risks associated with cyber threats is expected to hamper the market growth. Furthermore, greater demand for air traffic solutions from emerging nations, and automated aircraft monitoring are the factors expected to create new growth opportunities for airline IoT market during the forecast period.
The IoT in aviation market is segmented on the basis of component, end user, application, and region. By component, it is fragmented into hardware, software, and services. By end user, it is categorized into airline, airport, MRO, and manufacturers. By application, it is classified into ground operations, passenger experience, asset management, and air traffic management. By region, the report is analyzed across North America, Europe, Asia-Pacific, and LAMEA.
North America includes the U.S., Canada, and Mexico. Airlines companies in the U.S. are partnering with IoT solution provider companies to introduce new digital services to enhance travel experience of customers, which in turn contributes to the growth of the market in the the region. For instance, in December 2021, United Airlines partnered with Amazon Web Services to introduce new digital services which will personalize the travel experience of airlines' customers. United Airlines will leverage AWS technology along with internet of things (IoT), analytics, and machine learning to enhance airport operations. United Airlines is already using Amazon's SageMaker service, which aids the company in baggage routing operations, flight scheduling, and other operations.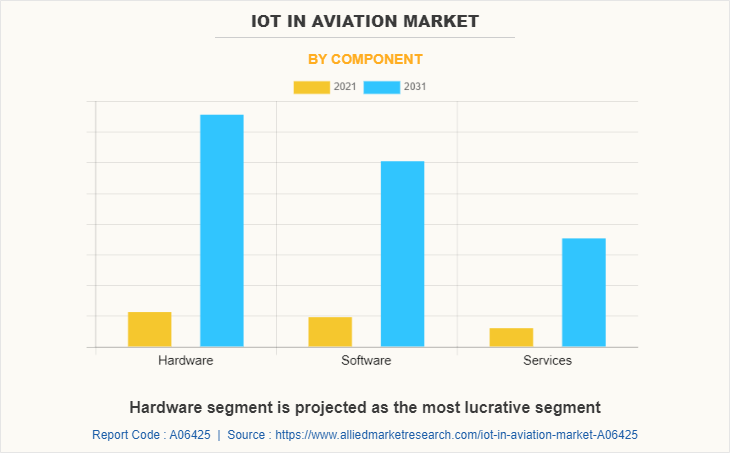 Investments in several projects by the government of Canada to strengthen Canada's trade corridors and improve supply chain efficiency, contributes to the growth of the market across Canada. For instance, in June 2022, Omar Alghabra, Canadian Minister of Transport, announced close to $105 million under the National Trade Corridors Fund for three new projects with NAV Canada. The Canadian government will contribute up to $39.2 million to enhance safety & performance of Canada's air transportation system. Canadian government will contribute up to $34.5 million to implement technology to enhance air traffic management, which also includes the implementation of drone traffic management services.
In addition, Canadian government will also contribute up to $31.2 million to enhance infrastructure & technology at four airports such as Montreal-Trudeau International Airport, Toronto Pearson International Airport, Calgary International Airport, and Vancouver International Airport. Moreover, the remaining fund support for the projects will be provided NAV Canada.
Europe includes countries such as UK, Germany, France, Italy, and rest of Europe. Rest of Europe includes Spain, Netherlands, Sweden, Poland, and others. The European IoT in aviation market is anticipated to grow during the forecast period, owing to factors such as growth in demand for air travel, and upgradation of existing airport infrastructure with the aid of new technological advanced solutions.
In recent years, Europe has observed rapid growth in passenger traffic, which has encouraged airlines to include new aircrafts into their active fleet, which in turn has resulted in an increased aircraft movements at airports. Owing to this, demand for advanced digital solutions is expected to increase, which in turn will contribute to the growth of the market. In addition, introduction of aviation initiatives in the European Union are also fueling the growth of the market in the region. For instance, European Union's SESAR (Single European Sky ATM Research) technological program focuses on enhancing air traffic management (ATM) performance by modernizing ATM systems within Europe. In addition, under this SESAR initiative, European Union plans to reform the European ATM in order to cater to the air traffic growth.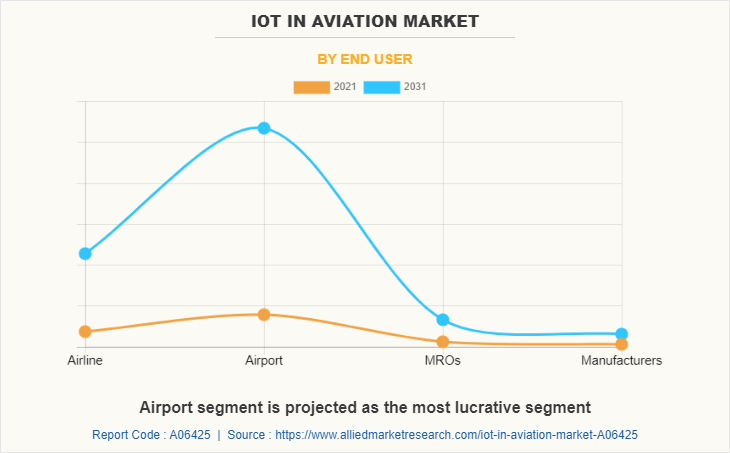 UK is a technologically advanced country with a thriving aviation sector. Aviation sector in the country enables convenient and safe travel and business opportunities, and brings with it significant benefits, including employment, economic growth, and investment in the country. In addition, few airports in the UK are looking forward to implement the IoT based solutions to enhance passenger experience. For instance, in 2021, Gatwick airport in UK partnered with Veovo to deploy passenger predictability solution for smooth passenger flow. The Veovo solution utilizes artificial intelligence (AI) to monitor passenger movement at North and South terminal of the airport in real-time. Moreover, the Gatwick airport is also looking for integration of its stereo vision cameras with internet of things (IoT) sensors and data sources. Such factors are expected to propel the growth of the aviation iot market in the country during the forecast timeframe.
Germany remains a frontrunner in the development of cutting-edge technologies across different industry verticals. The aviation industry is one of the most important industries in the country and Germany spends significantly on the production of next-generation technologies that improve the efficiency and safety of the aircrafts. In addition, Germany has observed increase in the air traffic across Germany, which demand for implementation of IoT in aviation sector of Germany and supplements the growth of the market.
Some leading companies profiled in the IoT in aviation industry report include Cisco Systems, Inc., Globeranger Corporation, Honeywell International Inc., Huawei Technologies Co., Ltd., IBM Corporation, Microsoft Corporation, SAP SE, Sita, Tata Communications Ltd., and Wind River Systems, Inc.
The prominent companies operating in the market are adopting strategies such as product launch and partnerships to strengthen their IoT in aviation market share. In April 2019, Honeywell unveiled IoT enabled airport solutions at The Airport Show 2019 in Dubai.
Increase in air traffic across the globe
Increase in air traffic has been witnessed over the years, owing to introduction of low-cost flights. Rise in air passenger traffic has encouraged airline companies to expand their aircraft fleet and enhance comfort level and services in both domestic and international flights. The Boeing's annual marketplace outlook predicts the worldwide fleet of industrial airplanes will increase from 25,900 in 2019 to 49,405 planes through 2040, with nearly 90% planes with new developments to cater to the growing demand.
Similarly, Airbus predicts that over the next 20 years the demand for new aircraft will gradually shift from fleet growth to accelerating replacement of older, less fuel-efficient aircrafts. This means there will be need for more than 39,000 new passenger and freighter aircrafts, including replacement of around 15,250 aircrafts.
Moreover, according to International Air Transport Association (IATA), the number of air passengers is projected to reach 7.2 billion by 2035. Significant increase in air traffic requires greater efficiency and air transportation safety. The aviation industry is increasingly investing in advanced solutions to offer secure operations of air traffic management systems.
Air transportation is considered as the safest mode of transportation when compared with all the other modes of transportation. In addition, global increase in population is anticipated to create demand for additional aircrafts and airports to facilitate the ease for air transportation, which is expected to drive the airline iot market growth during the forecast period.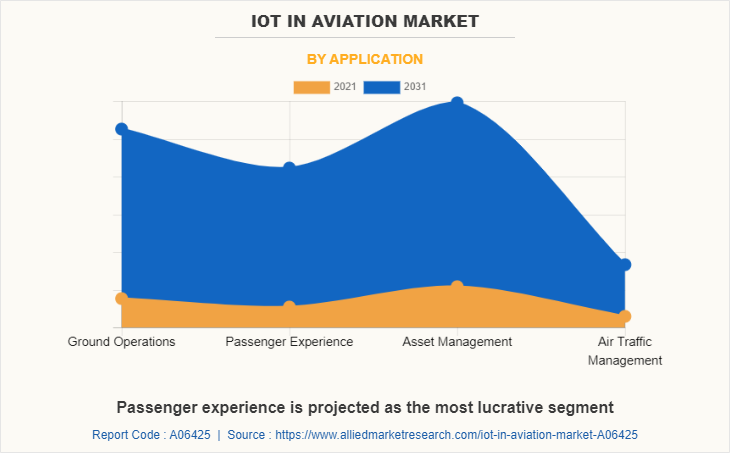 Need to enhance the passenger experience
Airports across the globe are focusing on improving passenger travel experience through adoption of several new technologies and equipment. Airports have started adopting internet of things (IoT) based solutions to enhance the overall passenger travel experience. Rise in investments in smart airports is projected to lead to utilization of advanced IoT technologies to enhance passenger experience and is anticipated to aid the airports to save money over time. For instance, IoT enabled beacons are installed throughout the airport to provide real-time notifications for several types of updates such as flight departure time, check-in time, and others.
In addition, advanced IoT solutions can aid the airport authorities to guide the passengers from check-in to take off points with digital beacon linked maps for easier navigation through notifications. Moreover, as per the ICAO, the number of air passenger carried from January to April 2022 increased by 65% compared to the same period in 2021, while aircraft flight departures increased by 30%. This increase in air passenger in turn is projected to create demand for IoT solutions at the airport to enhance the passenger experience, and is projected to contribute toward the growth of the market.
Greater need for improved air safety
The demand of air travelers is increasing the need to offer enhanced safety and efficiency to offer improved customer experience. Governments are investing in modernized IoT and ATM solutions to streamline traffic and ensure safe and timely operations. Increase in passenger safety concerns have been observed across the globe. Airline operators are investing in advanced and high-quality IoT solutions to prevent accidents and offer safe travel to their passengers, which is a key factor contributing toward the market growth. For instance, IoT security mechanism can be implemented in airlines structure and offices, with centralized administration of IoT devices from smartphones.
SESAR defines, develops and deploys technologies to transform air traffic management in Europe and ensure safe operations of aircrafts. Founded by the European Union and Eurocontrol, the SESAR JU has 19 members, who together with their partners and affiliate associations represent over 100 companies working in Europe and beyond. The SESAR JU also works closely with staff associations, regulators, airport operators, airspace users, the military and the scientific community to offer enhanced safety to passengers through development of advanced ATM solutions.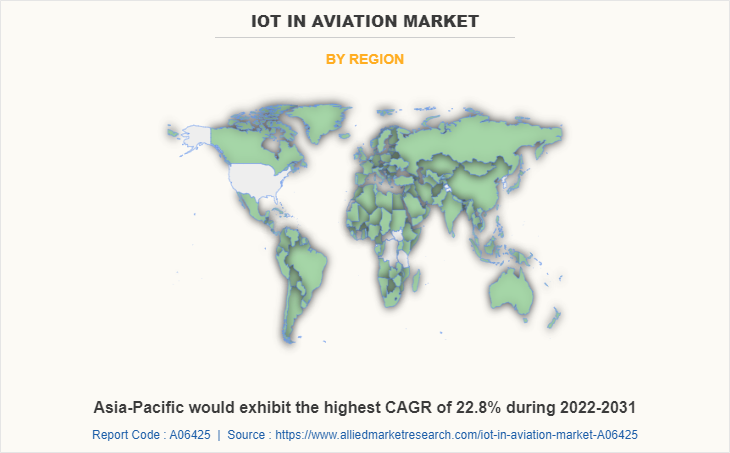 The IoT in aviation market is segmented into Component, End User, and Application.
The spread of the COVID-19 pandemic has impacted the IoT in aviation market owing to travel restrictions, grounding of aircrafts, and closure of airports. However, post pandemic use of IoT sensors, mobile apps, and artificial intelligence algorithms in aviation industry is expected to increase, which in turn will boost the market growth during the forecast period. For instance, airports are focusing on utilizing IoT sensors such as LIDAR sensors, 3D stereoscopic sensors, video cameras at the airport to analyze physical distancing, crowd planning, and others.
Key Benefits For Stakeholders
This report provides a quantitative analysis of the market segments, current trends, estimations, and dynamics of the iot in aviation market analysis from 2021 to 2031 to identify the prevailing iot in aviation market opportunities.
The market research is offered along with information related to key drivers, restraints, and opportunities.
Porter's five forces analysis highlights the potency of buyers and suppliers to enable stakeholders make profit-oriented business decisions and strengthen their supplier-buyer network.
In-depth analysis of the iot in aviation market segmentation assists to determine the prevailing market opportunities.
Major countries in each region are mapped according to their revenue contribution to the global market.
Market player positioning facilitates benchmarking and provides a clear understanding of the present position of the market players.
The report includes the analysis of the regional as well as global iot in aviation market trends, key players, market segments, application areas, and market growth strategies.
 IoT in Aviation Market Report Highlights
Aspects
Details
Market Size By 2031
USD 8.6 billion
Growth Rate
CAGR of 20.5%
Forecast period
2021 - 2031
Report Pages
270
By Component

Hardware
Software
Services

By End User

Airline
Airport
MROs
Manufacturers

By Application

Ground Operations
Passenger Experience
Asset Management
Air Traffic Management

By Region

North America (U.S., Canada, Mexico)
Europe (UK, Germany, France, Italy, Rest of Europe)
Asia-Pacific (China, Japan, India, South Korea, Rest of Asia-Pacific)
LAMEA (Latin America, Middle East, Africa)

Key Market Players
Globeranger Corporation, Honeywell International Inc., IBM Corporation, Cisco Systems, Inc., Tata Communications Ltd, Wind River Systems, Inc., Microsoft Corporation, Huawei Technologies Co., Ltd., Sita, SAP SE