IoT in Construction Market Outlook - 2027
The global IoT in construction market size is expected to reach $19,039.8 million in 2027, from $8,179.9 million in 2019, growing at a CAGR of 14.0% from 2020 to 2027. Internet of Things (IoT) has penetrated in nearly all industries, households, and offices, making human activities simpler. The inclusion of internet-connected devices in the construction industry also known as IoT in construction has benefitted the industry by reducing operational costs, enhanced productivities, and efficient project management. Smart technologies such as sensors, RFID tags, building information modelling, augmented reality, and others assist in recognizing potential risks on a construction site; thereby, optimizing resource requirement, avoiding accidents and fatalities, and wastage of time and money. Moreover, IoT can be integrated in nearly all construction activities, including plastering, bricklaying, surveying, construction site management, asset tracking, worker tracking, and risk management. 
The COVID-19 pandemic has negatively affected the IoT in construction market mainly due to the halt in international trade, prolonged lockdowns, and ceased construction processes.
Moreover, the construction industry is highly labor intensive and includes working in highly risky environment. According to the Occupational Safety and Health Administration (OSHA), a part of the U.S. Department of Labor, there are approximately 252,000 construction sites in the U.S., which employ around 6.5 million people. The rate of fatal injuries in the construction industry is very high than the national average of any other industry in the U.S. Construction sites are prone to hazards such as trench collapse, falls, scaffold collapse, unavailability of proper protective equipment, repetitive motion injuries, and others. Inclusion of IoT in construction with the use of smart wearables such as smart glasses, wearble sensors, safety vests, wearable hexoskeletons, smart helmets, and others enable real-time safety management on sites. In addition, active monitoring of data with such wearable technologies allow measurement of breathing rate, heart rate, as well as active monitoring of worker's body response to certain work environment. Therefore, the advantages such as microsleep prevention, fall prevention, smart monitoring of hazardous gases, vital sign tracking, and others can boost the demand for IoT based wearables on construction sites, which drives the growth of IoT in construction market. Furthermore, IoT based products connect construction sites by the use of sensors, drones, CCTV cameras, and Radio-frequency Identification (RFID) tags which assist in obtaining real time data statistics about the workers, inventory, and on-going activities. Sensors and RFID tags on materials enable smooth workflows, as well as allow proactive material ordering, servicing of equipment, equipment usage monitoring, and preventive maintenance among other benefits. Proper time management on construction sites reduce the downtime of equipment and workers which save time and costs incurred due to delays. Thus, the implementation of IoT technologies boost the productivity and efficiency on construction sites, which in turn drives the growth of the IoT in construction industry.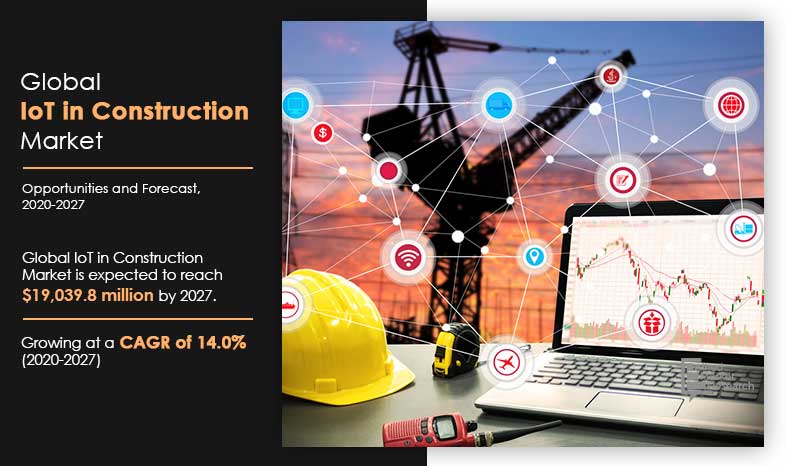 However, information technology systems and networks are mainly managed by third party companies related to the business activities. Processing and maintenance of data collected through the IoT connected devices is prone to cyber-attacks, which maybe targeted and coordinated. This compromises the confidentiality and integrity of the data. In addition, such cyber-attacks not only cause informational damage, but also reputational damage with consumers, which may lead to penalties, government enforcement actions, litigation with third parties, and others. Such vulnerabilities are a major threat for the implementation of IoT especially in construction industry; thereby, restraining the growth of the IoT in construction market. In addition, the COVID-19 pandemic has shut-down the on-going construction projects, mainly owing to the prolonged lockdown in major global countries including the U.S., Italy, the UK, and others. This has hampered the growth of the IoT in construction market significantly within the past few months, as is likely to continue during 2020. 
IoT in Construction Market

---
By Application
Wearables segment is projected to grow at a significant CAGR
On the contrary, better waste management and resource optimization provided by IoT technologies on construction sites is likely to augment growth for the industry during the forecast period. Data driven decision-making at the planning stage of construction projects is likely to anticipate better management of resources; thereby, improving project efficiency.
The global IoT in construction market is segmented on the basis of application, end user, component, and region. Based on application, the market is fragmented into machine control, site monitoring, fleet management, wearables, and others. According to end user, it is categorized into residential and non-residential. By component, the market is classified into hardware, software, connectivity, and services. 
IoT in Construction Market

---
By Component
Connectivity segment is projected to grow at a significant CAGR
The global IoT in construction market is analyzed across North America (the U.S., Canada, and Mexico), Europe (the UK, Germany, France, and rest of Europe), Asia-Pacific (China, Japan, South Korea, and rest of Asia-Pacific), and LAMEA (Latin America, the Middle East, and Africa). Asia-Pacific is expected to hold the largest market share throughout the study period, and LAMEA is expected to grow at the fastest rate.
IoT in Construction Market

---
By End User
Non-residential segment holds dominant position in 2019
Many competitors in the IoT in construction market adopted product launch as their key developmental strategy to expand their geographical foothold and upgrade their product technologies. For instance, in July 2020, the company Triax Technologies based in the U.S. launched the Intrinsically Safe (IS) variant of its IoT solution for application on construction sites. The IS version is available Spot-r network and Proximity Trace hardware products which offer contact tracing and social distancing technologies on construction sites during the COVID-19 pandemic. Similarly, in September 2017, the company Autodesk, Inc. based in the U.S. launched Fusion 360 software platform, which combines data from CAM, CAD, and CAE on cloud. The product is especially designed for streamlining service operations and enabling predictive maintenance in industrial applications.
IoT in Construction Market

---
By Region
Asia-Pacific holds a dominant position in 2019 and LAMEA is expected to grow at a highest rate during the forecast period.
Key Benefits For Stakeholders
The report provides an extensive analysis of the current and emerging global IoT in construction market trends and dynamics.  
In-depth analysis of the market is conducted by constructing market estimations for the key market segments between 2019 and 2027. 
Extensive analysis of the market is conducted by following key product positioning and monitoring of the top competitors within the market framework.
A comprehensive IoT in construction market opportunity analysis of all the countries is also provided in the report.
The global IoT in construction market forecast analysis from 2020 to 2027 is included in the report.
The key players within the market are profiled in this report and their strategies are analyzed thoroughly, which help understand the competitive outlook of the industry. 
 IoT in Construction Market Report Highlights
Aspects
Details
BY APPLICATION

Asset monitoring
Predictive maintenance
Fleet management
Wearables
Others

BY END USER

Residential
Non-residential

BY COMPONENT

Hardware
Software
Services
Connectivity

BY REGION

North America (US, Canada, Mexico)
Europe (Germany, UK, France, rest of Europe)
Asia-Pacific (China, Japan, South Korea, rest of Asia-Pacific)
LAMEA (Latin America, Middle East, Africa)

Key Market Players
Advanced Opto-Mechanical Systems and Technologies Inc., Autodesk, Inc., CalAmp Corporation, HEXAGON AB, Hilti Corporation, Oracle Corporation, Pillar Technologies, Inc., Topcon Corporation, Triax Technologies, Inc., Trimble, Inc.