IoT Sensors Market Outlook – 2030 
The global IoT sensors market size is expected to reach $141.80 billion by 2030 from $12.37 billion in 2020, growing at a CAGR of 28.1% from 2021 to 2030. Sensors play an important role in creating solutions using IoT technology. Sensors are devices that detect external information, replacing it with a signal that humans and machines can distinguish. IoT sensors made it possible to collect data in most any situation and are used in various fields such as medical care, nursing care, industrial, logistics, transportation, agriculture, disaster prevention, tourism, and regional businesses. 
The Automotive and Transportation industry impacted negatively, due to COVID-19 Pandemic.
With expansion of fields in which sensors play an important role, the market is still growing with a variety of sensors. IoT sensors have applications in almost every industry vertical, however, have highest usage in industrial sector followed by automotive, agriculture, and healthcare.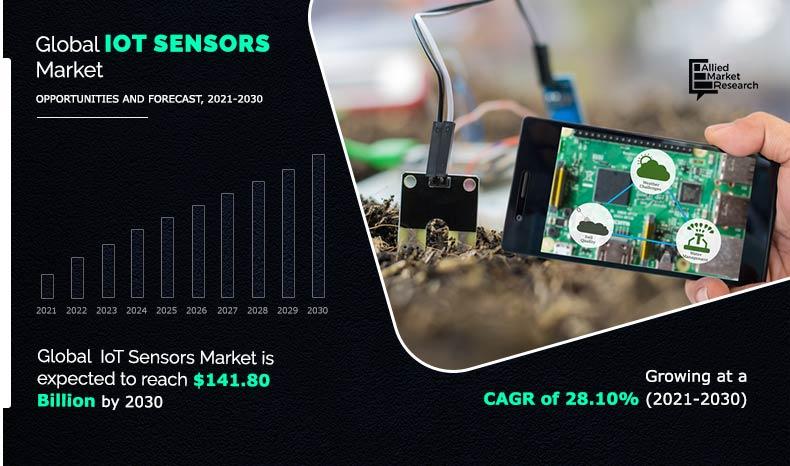 A wide variety of industrial IoT sensors are available for practically any industrial needs. For mission-critical industrial applications, these sensors can help to improve processes and offer unmatched asset protection. Sensing technology and its various applications are constantly evolving in line with advancements in technology and business needs. IoT sensors are available to detect a wide variety of real-world properties–from distance to heat to pressure. 
In addition, IoT sensors are used to measure physical, chemical, or biological quantities with accuracy and repeatability. Their reliability has resulted in widespread adoption and use across various industries ranging from healthcare to infrastructure to manufacturing. Furthermore, infrastructure systems such as smart grid, smart homes, smart water networks, and intelligent transportation connect through the concept of Internet of Things (IoT), where there is extensive use of sensors. Prominent factors that drive the IoT sensors market size includes increasing use of sensors in IoT applications, high demand for connected and wearable devices, and growing usage of IoT sensor in automotive and industrial sectors. 
The advent of IoT technology in automotive industry has opened new opportunities for carmakers and buyers all across the world. With use at both industrial and commercial level, IoT sensor in the automotive sector has become a prominent hotspot for various multi-purpose applications. From connected cars to automated transport systems, applications of Internet of Things (IoT) have made a deep impression in the global automotive market. Nowadays an ordinary car is equipped with a large number of IoT sensors, services, and devices that connect and work via the Internet. All these connections create a common network for IoT for automotive development.   
However, one of the major restraints is data privacy and security related concern, which hampers the IoT sensors market growth. On the contrary, surge in demand for IoT sensors in development of smart cities is anticipated to provide lucrative opportunities for the expansion of the IoT sensors industry during the forecast period.  
Segment Overview 
The global IoT sensors market is segmented into type, network technology, end use, and region. On the basis of sensor type, it is categorized into temperature sensor, proximity sensor, pressure sensor, level sensor, gas sensor, image sensor, optical sensor, gyroscope sensor, humidity sensor, accelerometer sensors, and others. On the basis of network technology, it is categorized into wired and wireless. The wireless technology segment is further divided into Wi-Fi, Bluetooth, Zigbee, Z-Wave, NFC, RFID, and others. Depending on end use, it is fragmented into consumer electronics, automotive, industrial healthcare, food & beverages, aerospace & defense, transportation, agriculture, and others.
Region wise, the IoT sensors market trends are analyzed across North America (U.S., Canada, and Mexico), Europe (UK, Germany, France, Italy, and rest of Europe), Asia-Pacific (China, Japan, India, South Korea, and rest of Asia-Pacific), and LAMEA (Latin America, Middle East, and Africa).   
Top Impacting Factors
Prominent factors that drive growth of the IoT sensors market include increase in use of sensors in IoT applications, high demand for connected and wearable devices, and growth in use of IoT sensors in automotive and industrial sectors. However, data privacy and security related concern restricts the IoT sensors market growth. Conversely, surge in demand for IoT sensors in development of smart cities is anticipated to provide potential opportunities for expansion of the IoT sensors market.   
Competitive Analysis
Competitive analysis and profiles of the major key players such as Texas Instruments (U.S.), Siemens (Germany), STMicroelectronics (Switzerland), Honeywell (U.S.), TE Connectivity (Switzerland), NXP Semiconductors (Netherlands), Infineon Technologies (Germany), General Electric (U.S.), OMRON Corporation (Japan), and Murata Manufacturing Co., Ltd. (Japan) are provided in this report. These key players have adopted various strategies, such as product portfolio expansion, mergers & acquisitions, agreements, geographical expansion, and collaborations, to increase their market penetration and strengthen their foothold in the industry.    
COVID-19 Impact Analysis 
COVID-19 has a large impact on both consumers and economies. Manufacturing hubs have been temporarily working at low efficiency to contain COVID-19 spread. This has majorly affected supply chain of the market by creating shortages of materials, components, and finished goods. Lack of business continuity has ensured significant negative impacts on shareholder returns and revenue, which are expected to create financial disruptions in the IoT sensors industry.  
Impact of COVID-19 on the manufacturing industry has significantly affected the global economy. Electronic components and semiconductor devices are mostly imported from China. Attributed to the temporary shutdown of manufacturing units, prices of semiconductor components have increased, owing to shortage of supplies. Shortages of components and materials have significantly impacted the global supply chains. In addition, reductions in various capital budgets and delay in various planned projects in various end-use industries hampers the global economy.
The COVID-19 outbreak has positively as well as negatively affected major businesses worldwide by disrupting production cycles and supply chains across industries. However, as vaccines roll out across the globe and the pandemic situation is better controlled, especially in North America and Europe. This boosts recovery of the IoT sensors market.  
Key Benefits For Stakeholders
This study comprises analytical depiction of the global IoT sensors market outlook along with the current trends and future estimations to depict the imminent investment pockets. 
The overall IoT sensors market analysis is determined to understand the profitable trends to gain a stronger foothold.  
The report presents information related to key drivers, restraints, and IoT sensors market opportunities with a detailed impact analysis.  
The current IoT sensors market forecast is quantitatively analyzed from 2020 to 2030 to benchmark the financial competency.   
Porter's five forces analysis illustrates the potency of the buyers and the IoT sensors market share of key vendors.    
IoT Sensors Market Key Segments
By Type
Temperature Sensor
Proximity Sensor
Pressure Sensor
Level Sensor
Gas Sensor
Image Sensor
Optical Sensor
Gyroscope Sensor
Humidity Sensor
Accelerometer Sensor
Other
By Network Technolgoy
Wired
Wireless

Wi-Fi    
Bluetooth     

Bluetooth Smart
Bluetooth Smart/Ant+
Bluetooth 5

Zigbee    
Z-Wave    
NFC    
RFID    
Others    
By End Use
Consumer Electronics
Automotive
Industrial
Healthcare
Food & Beverage
Aerospace & Defense
Transportation
Agriculture
Others
By Region
North America
Europe

UK
Germany
France    
Italy
Rest of Europe 

Asia-Pacific

China 
Japan
India
South Korea
Rest of Asia-Pacific

LAMEA

Latin America
Middle East 
Africa
Key Market Players
Texas Instruments
TE Connectivity
STMicroelectronics
NXP Semiconductor
Infineon Technologies
Honeywell 
Siemens
General Electric  
OMRON Corporation
Murata Manufacturing Co.