IoT Testing Market Insights
Internet of Things (IoT) is a network that consists of devices, buildings, vehicles, or any other connected electronic devices. IoT is an integration of specific embedded devices with internet infrastructure.  In simple terms, IoT is an era of "smart", connected products that communicate and transfer a large amount of data and upload it to cloud. IoT testing is an approach to test or check operations of IoT devices. Nowadays, there is rise in need to deliver better and faster services. There is a vast demand to access, create, use, and share data from any device. The focus is to provide greater insight and control over various interconnected IoT devices. IoT testing devices broadly revolve around security, analytics, device, networks, processors, operating systems, platforms, and standards.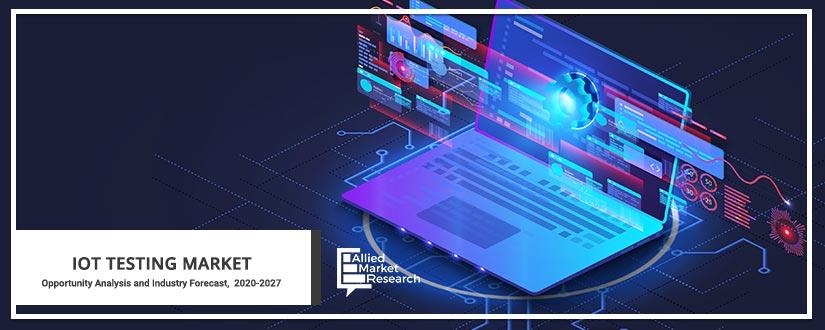 Impact of COVID-19 on IoT Testing Market:
Organizations are encouraged to sensitize their employees around information security outside office space. Working from public spaces should be restricted and organization must utilize technologies that ensure confidential information remains secure on these devices in case of theft or damage.
Organizations should take proactive steps by advising their staff and customers to be more vigilant and cautious especially while opening links, emails, or documents related to the subject COVID-19. Organizations should ensure their detection and alerting capabilities are functional while keeping an eye on impact of having many remote workers.
Presently, many employees are working from home and students are learning virtually, hence enterprise virtual private network (VPN) servers have now become a lifeline for companies/schools and their security and availability would be a major focus going forward. There is a possibility that an organization's unpreparedness can lead to security misconfiguration in VPNs. This, in turn, could expose sensitive information on the internet and devices to Denial of Service (DoS) attacks. In addition, some users utilize personal computers to perform official duties, which could also pose a great amount of risk to organizations.
IoT Testing Market: Top impacting factors, Market Scenario Analysis, Trends, Drivers, and Impact Analysis
Increase in inclination toward DevOps, growth in need for IP testing services for IoT devices, and rise in adoption of API monitoring solutions are factors expected to drive growth of the IoT testing market during the forecast period. However, issues associated with data privacy can hamper growth of the market. Contrarily, advent of software defined IoT testing application platform and controllers and growth in IoT service virtualization are opportunistic factors for the IoT testing market.
Increase in inclination toward DevOps
Risk-based testing and software developer manual testing are dominant IoT testing strategies. DevOps is considered the most effective strategy, when it comes to creating best coverage and test efficiency metrics along with tangible cost savings, owing to its open source tools and technology benefits. In addition, DevOps or intelligent automation is being implemented by organizations to handle IoT at large scale and achieve rapid innovation. It also responds to the needs of IoT test automation, deployment, covering build, network, testing, and infrastructure automation. 
DevOps can be applied to test various IoT product pipelines and application endpoints of an IoT platform. At the same time, testing a device-to-cloud use case, functionality of each component in IoT platform, including sensors, cloud, web, network protocols, mobile, or APIs are thoroughly tested. In such cases different technologies and tools of DevOps can assist. Moreover, DevOps can help achieve an organization's IoT strategy goals such as gaining competitive advantage through rapid release of new features and providing a better customer experience through workflow automation, which enhances product uptime and reduces operational costs.  
Data privacy issues 
Quantity of data collected and communicated by connected devices is often huge. When such high volume of data is generated, it also raises concerns related to data leaks or unauthorized access to systems from outside entities. Subsequently IoT devices are vulnerable to security threats and are critical to test and identify security vulnerabilities and address them instantly. In IoT testing, it is critical to test passwords and credentials, as well as data interface and continuously update devices to make sure that there are no security breaches. Many IoT engineers are implementing layered security, where multiple security layers protect a system, assisting in prevention of any data leaks or potential attacks on the system.
A huge distributed denial-of-service (DDOS) attack on Dyn's servers brought down giants such as Twitter, PayPal, and Spotify.  The attackers had contaminated thousands of vulnerable IoT devices with malware, which caused devices to generate traffic. With more than 70% of IoT devices currently vulnerable to security issues, testing for security holes is a crucial activity. IoT device testers should pay attention to devices password policy, making sure that minimum password requirements are built into the device.
Key benefits of the IoT Testing Market report:
This study presents the analytical depiction of the global IoT testing industry along with the current trends and future estimations to determine the imminent investment pockets.
The report presents information related to key drivers, restraints, and opportunities along with detailed analysis of the share.
The current market is quantitatively analyzed from 2020 to 2027 to highlight the global IoT testing market growth scenario.
Porter's five forces analysis illustrates the potency of buyers & suppliers in the market. 
The report provides a detailed market analysis based on the present and future competitive intensity of the market.
 IoT Testing Market Report Highlights
Aspects
Details
By Testing Type

Functional Testing
Performance Testing
Network Testing
Compatibility Testing
Usability Testing
Security Testing

By Service Type

Managed Services
Professional Services

By Application

Smart Building & Home Automation
Capillary Network Management
Smart Utilities
Vehicle Telematics
Smart Manufacturing
Smart Healthcare

By Region

North America (U.S., Canada)
Europe (Germany, UK, France, Rest of Europe)
Asia-Pacific (China, Japan, India, Rest of Asia-Pacific)
LAMEA (Brazil, Mexico, Rest of LATAM)

Key Market Players
Apica System, Capgemini S.A, Cogizant Technology Solutions Corporation, HCL Technologies Ltd, Happiest Minds Technologies, Infosys Limited, Rapid7 Inc, Rapidvalue Solutions, Saksoft Limited, Smatbear Software.