Jackhammer Market Outlook: 2026
The global jackhammer market size was valued at $202.8 million in 2018, and is projected to reach $361.2 million by 2026, growing at a CAGR of 7.8% from 2019 to 2026. The jack hammer is a percussive rock-drilling equipment, used to demolish or break the pavement, rock, and concrete. It includes piston rod, which moves up and down to push drill rod. There are three types of jack hammers-pneumatic, electric, and hydraulic.
There is an increase in adoption of jack hammers owing to its advantages such as durability, quiet operation, outstanding operator comfort, and low maintenance. Moreover, increase in construction of roads, tunnels, and railway tracks drives the jackhammer market growth. In addition, the increased demand for improving the transportation has also been noticed globally. Therefore, there is an increase in demand for jack hammers in construction industries. Further, increase in demand for metal and mineral commodities globally is the major factor that boosts the growth of the mining and quarry industries. This in turn fuels the need for jack hammers.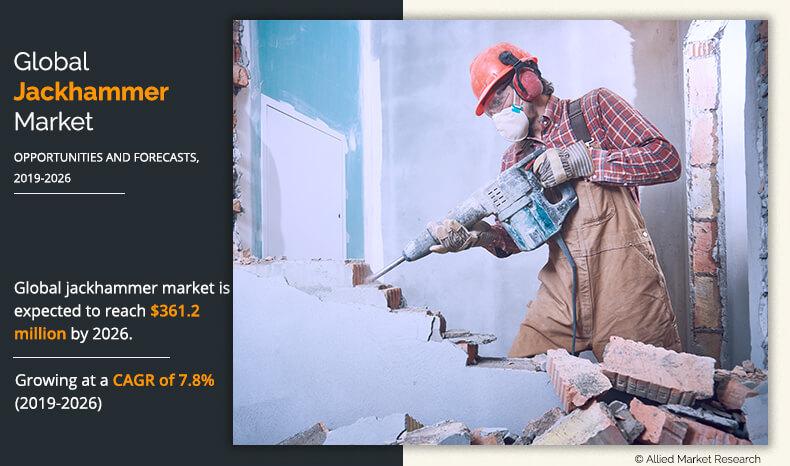 However, rise in prices of raw materials and government regulations for mining operations hamper the market growth. For instance, governments of many countries, such as China, the U.S., and others, have implemented stringent regulations and tariffs for mining operations. These regulations and laws have a great impact on the mining industries. For instance, in 2017, Tanzania has legislated tough laws for mining industries by increasing the royalties tax for mining projects. Factors such as delay in issuing of mining permit by government authorities hinder the process of starting a new mining project. Furthermore, the technical advancements in electrical jackhammers offers lucrative growth opportunities for the jackhammer market players during the forecasting period.
Jackhammer Market

---
By Type
Electric segment is projected to grow at a significant CAGR
The global jackhammer market is segmented into type, application, and region. Depending on type, the market is classified into pneumatic, electric, and hydraulic. On the basis of application, it is categorized into mining, construction, tunneling, and well drilling. Region wise, the market is analyzed across North America, Europe, Asia-Pacific, and LAMEA. Asia-Pacific has largest share in terms of revenue in 2018. In the Asia-Pacific region, metal and coal mining is done at the highest level, owing to huge metal and coal deposits at the surface and at the underground level, in countries such as China, Australia, and India. China is the largest contributor to the Asia-Pacific metal and coal mining industry in terms of production, consumption, and reserves. The demand for high quality machinery can be an opportunity for the players in the jack hammer industry.
Jackhammer Market

---
By Application
Mining segment holds dominant position in 2018
LAMEA is projected to grow during the forecast period owing to the expansion of mining sector in the region. For instance, in September 2017, more than 140 Australian companies invest more than $31,200 million in the mining sector of Africa. Thus, the demand for jack hammers can be an opportunity for the players in the jackhammer industry.
Jackhammer Market

---
By Region
Europe holds a dominant position in 2018. Asia-Pacific is expected to grow at a highest rate during the forecast period.
COMPETITION ANALYSIS
The key market players profiled in the report of jackhammer market include Atlas Copco, DEWALT, Einhell Germany AG, HiKOKI Power Tools, Hilti Corporation, Makita Corporation Milwaukee Tool, Robert Bosch Tool Corporation, STANLEY Infrastructure, and TR Industrial.
The major players operating in the global jackhammer market have adopted key strategies such as product development to strengthen their market outreach and sustain the stiff competition in the market. For instance, in November 2019, Atlas Copco launched the new RTEX handheld pneumatic breaker. The new product works on Constant Pressure Control operating principle. It features 50% reduction in compressed air consumption, reduced fuel consumption and easier transportation. Similarly, in April 2018, Hilti Corporation launched the new demolition hammer TE 2000-AVR and a pointed chisel attachment, TE-SPX SM. The new product is in 26 ft-lbs category and has a weight of 33 lbs. It also features AVR sub-chassis system, which improves the product performance and allows maximum working comfort.
Key Benefits for Jackhammer Market:
The report provides an extensive analysis of the current and emerging jackhammer market trends and dynamics.  
In-depth jackhammer market analysis is conducted by constructing estimations for the key segments between 2019 and 2026. 
Extensive analysis of the market is conducted by following key product positioning and monitoring of the top competitors within the market framework.
A comprehensive analysis of all the regions is provided to determine the prevailing opportunities.
The global jackhammer market forecast analysis from 2019 to 2026 is included in the report.
Key market players operating in the global market are profiled in this report, and their strategies are analyzed thoroughly, which help to understand the competitive outlook of the jackhammer industry. 
Jackhammer Key Market Segments:
By Type
Pneumatic 
Electric 
Hydraulic 
By Application
Mining
Construction
Tunneling
Well drilling
By Region
North America
Europe

Germany
France
UK
Belgium
Russian
Rest of Europe

Asia-Pacific

China
India
Australia 
Rest of Asia-Pacific

LAMEA

Latin America
Middle East 
Africa
Key Players
Atlas Copco
DEWALT
Einhell Germany AG
HiKOKI Power Tools
Hilti Corporation
Makita Corporation
Milwaukee Tool
Robert Bosch Tool Corporation
STANLEY Infrastructure
TR Industrial
 Jackhammer Market Report Highlights
Aspects
Details
By TYPE

Pneumatic
Electric
Hydraulic

By APPLICATION

Mining
Construction
Tunneling
Well drilling

By Region

North America (U.S., Canada, Mexico)
Europe (France, Germany, Italy, Spain, UK, Russia, Rest of Europe)
Asia-Pacific (China, Japan, India, South Korea, Australia, Thailand, Malaysia, Indonesia, Rest of Asia-Pacific)
LAMEA (Brazil, South Africa, Saudi Arabia, UAE, Argentina, Rest of LAMEA)

Key Market Players
Hilti Corporation, Robert Bosch GmbH, Techtronic Industries Company Limited, Makita Corporation, Stanley Black & Decker, Inc., INDECO Ind. SpA, Einhell Germany AG, TR Industrial, Atlas Copco AB, Koki Holdings Co., Ltd.