Japan Windows and Doors Market Overview:
The Japan Windows and Doors Market was valued at $9,756 million in 2016 and is expected to reach $14,267 million in 2023, growing at a CAGR of 5.6% from 2017 to 2023. The windows and doors market has witnessed notable growth in the past few years, and is expected to maintain this trend during the forecast period. Various types of windows and doors are available in the market that include awning, bay, bow, casement, single hung, double hung, garden, horizontal slider, radius, and specialty windows; and swinging, sliding, and bi-folding doors.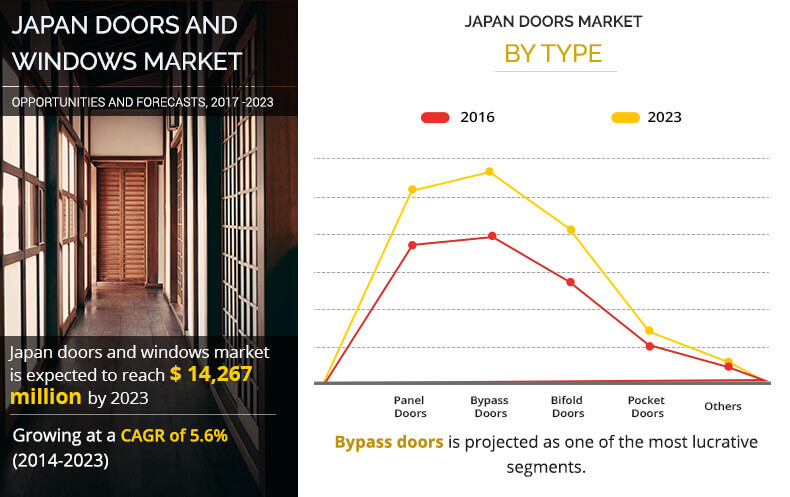 Advancements by market players to develop eco-friendly windows, surge in residential & nonresidential construction, and increase in expenditure on home remodeling have fostered the growth of the Japan windows and doors market. However, high price packages of eco-friendly products restrain the market growth. Rapid urbanization & industrialization and rise in disposable income in emerging markets are expected to offer lucrative opportunities for market expansion.
Segment Overview
The windows market is segmented by material type, mechanism, and end user, whereas, the doors market is segmented by door type, material type, mechanism, and end user. Based on material, the windows market is categorized into wood, metal, and plastic; while the doors market is categorized into wood, metal, glass, fiberboard, fiberglass, and vinyl. The fiberboard segment held the largest market share in the material type segment, owing to its widespread usage in windows and exterior doors.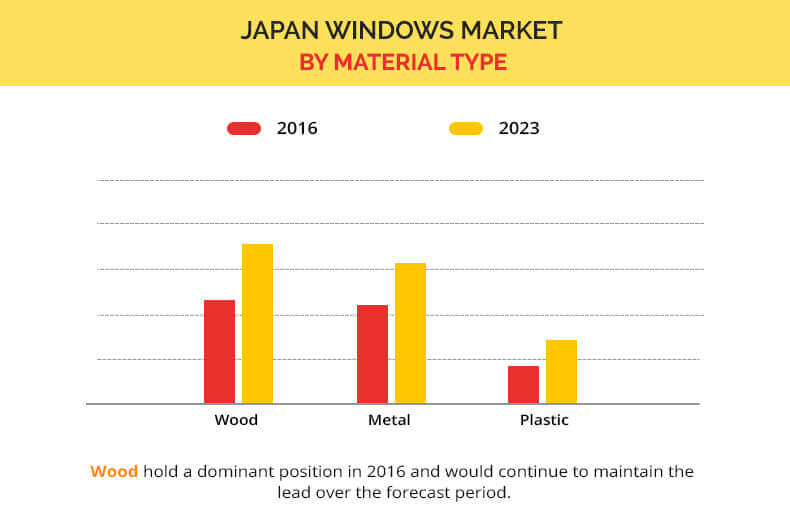 Leading players profiled in the report include Atrium Corporation, Arbo Windows, LIXIL Group Corporation, M SORA, Nabtesco Corporation, NENDO, Open Door Inc., Sankyo Tateyama Inc., WUXI FEILONG DOOR INDUSTRY CO. LTD., and YKK AP Inc.
Market Segmentation
The Japan windows & doors market has witnessed significant growth over the past few years, owing to rise in new construction activities and surge in home remodeling expenditure. Windows are manufactured using various materials such as wood, metal, and plastic. Plastic is projected to witness the highest growth rate as compared to other material types, owing to its lower cost and multiple benefits. The residential construction dominates the market; however, nonresidential construction is expected to grow at relatively higher rate in the market.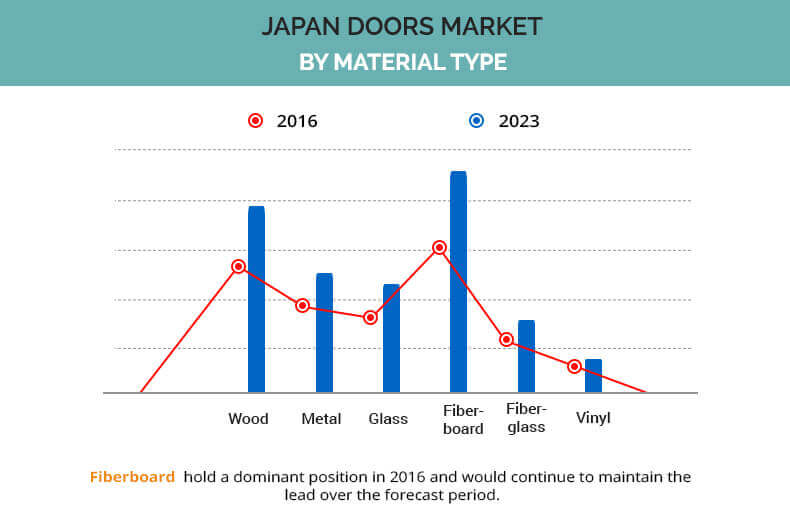 Top Investment Pockets for Doors
The analysis elaborates the attractiveness of each material type to identify the lucrative market area for investment. Currently, doors are witnessing increased penetration among both residential and nonresidential users. Wood and metal have witnessed considerable demand, owing to their various features such as easy availability in the market, durability, and strong aesthetics properties.
Key Benefits for Stakeholders
The study provides an in-depth analysis of the Japan windows and doors market and current & future trends to elucidate the imminent investment pockets.
Information about key drivers, restrains, and opportunities and their impact analysis on the market is provided.
Porters Five Forces analysis illustrates the potency of buyers & suppliers operating in the industry.
The quantitative analysis of the Japan windows and doors market from 2017 to 2023 is provided to determine the market potential.
Japan Windows and Doors Market Key Segments:
By Type
Panel Doors
Bypass Doors
Bifold Doors
Pocket
Others
By Material Type
Wood
Metal
Glass
Fiberglass
Fiberboard
Vinyl
Others
By Mechanism
Swinging
Sliding
Bypass
Folding
Revolving & Others
By End User
Residential
Non-residential
Key Market Players
Atrium Corporation
Arbo Windows
LIXIL Group Corporation
M SORA
Nabtesco Corporation
NENDO
Open Door Inc.
Sankyo Tateyama Inc.
WUXI FEILONG DOOR INDUSTRY CO. LTD.
YKK AP Inc.