A jet bridge also termed as jetway, air gate, skybridge, airbridge, or passenger boarding bridge (PBB) is an enclosed, movable connector, which majorly extends from an airport terminal gate to an airplane, and in some instances from a port to a boat or ship, allowing passengers to go on board without going outside and being exposed to the elements. Depending on building design, sill heights, fueling positions, and operational requirements, a jet bridge may be fixed or movable, swinging radially, and/or extending in length. Smaller airports usually do not use jet bridges, instead they opt for flight stairs or wheelchair lifts. Terminal gate allows one aircraft to park at a time, thus short of terminals is the major disadvantage of jet bridges market. Jet bridges provide all-weather dry access to aircraft and enhance the security of terminal operations. They are often permanently attached at one end by a pivot (or rotunda) to the terminal building and have the ability to swing left or right. The cabin, at the end of the loading bridge, may be raised or lowered, extended or retracted, and may pivot, to adjust aircraft of different sizes.
The major factors that drive the growth of the jet bridge market are construction of new airports across the globe. In addition, increase in passenger traffic and high turnaround time of the aircraft are putting pressure on airport agencies to develop a better infrastructure including the advanced jet bridges. Initial cost for making jet bridge is high because of high price of materials restrain the market growth. However, there is an increase in the investments in airport infrastructure in the region, thus providing huge opportunities for the growth of the market in the coming years.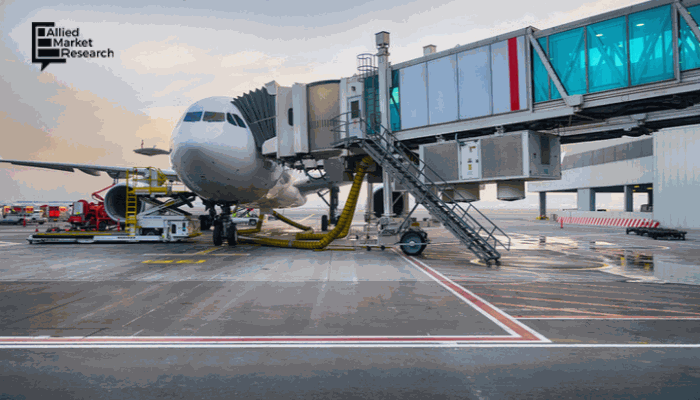 The global jet bridge market is segmented into type, technology, product, structure, application, and region. By type, the market is bifurcated into movable passenger boarding bridge and fixed passenger boarding bridge. By technology, it is divided into electro-mechanical and hydraulic. On basis of product type, it is classified intoapron Drive Bridge, dual boarding bridge system, Commuter Bridge, nose-loader Bridge, over-the-wing bridge, and T-bridge. By structure type, it is categorized into steel-walled and glass-walled. The classification based on application is done into airport and seaport. By region, the global jet bridge market is analyzed across North America, Europe, Asia-Pacific and LAMEA (Latin America, Middle East, and Africa).
Some of the key players operating in the global jet bridge market are ADELTE, Adelte Airport Technologies, JBT Corporations, China International Marine Containers (Group) (CIMC), FMT Aircraft Gate Support Systems, ThyssenKrupp Airport System, Ameribridge, Avicorp Middle East, PT Bukaka Teknik Utama TBK, and John Bean Technologies.
Key Benefits for Stakeholders:
The jet bridge market size has been analyzed across all regions.

Porter's five force analysis helps to analyze the potential of buyers & suppliers and the competitive scenario of the carbon brush for strategy building.

The report outlines the current market trends and future scenario of the market size from 2018 to 2027 to understand the prevailing opportunities and potential investment pockets.

Major countries in the region have been mapped according to their individual revenue contribution to the regional market

The key drivers, restraints, opportunities & jet bridge market trends along with their detailed impact analysis are elucidated in the study

The jet bridge market analysis covers in-depth information of major industry participants.
Key Market Segmentation
By Type
Movable Passenger Boarding Bridge
Fixed Passenger Boarding Bridge
By Technology
Electro-mechanical
Hydraulic
By Product
Apron Drive Bridge
Dual Boarding Bridge System
Commuter Bridge
Nose-loader Bridge
Over-the-wing Bridge
T-bridge
By Structure
By Application
By Region
North America 
Europe

Germany
UK
France
Spain
Italy
Russia
Rest of Europe

Asia Pacific 

China
India
Japan
South Korea
Australia
Rest of Asia-Pacific

LAMEA

Latin America
Middle East
Africa
Key Players
ADELTE
Adelte Airport Technologies
JBT Corporations
China International Marine Containers (Group) (CIMC)
FMT Aircraft Gate Support Systems
ThyssenKrupp Airport System
Ameribridge
Avicorp Middle East
PT Bukaka Teknik Utama TBK   
John Bean Technologies