Keystroke Dynamics Market Overview:
Keystroke dynamics solution is used for authorization and authentication by examining typing activities of its users such as rhythm pattern, overall speed, common errors, and others. Rise in adoption of multimodal biometrics drives the adoption of keystroke dynamics solutions as an additional security layer across different industry verticals such as BFSI and education. The global keystroke dynamics market was valued at $129.76 million in 2017, and the keystroke dynamics market forecast is projected to reach $754.86 million by 2025, registering a CAGR of 24.7% from 2018 to 2025.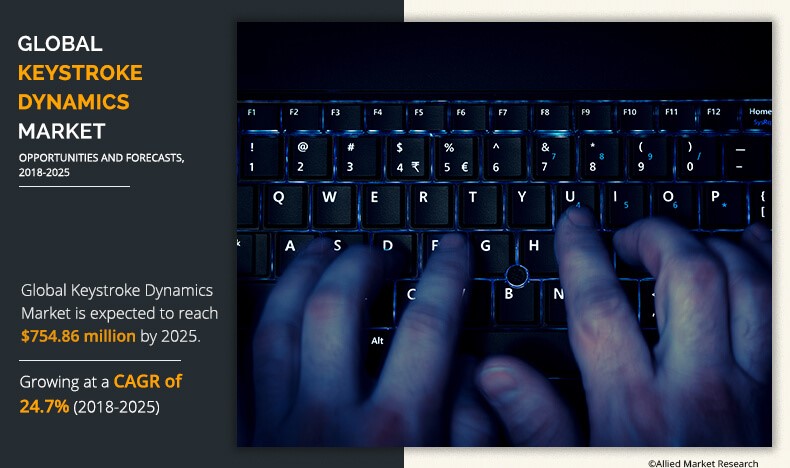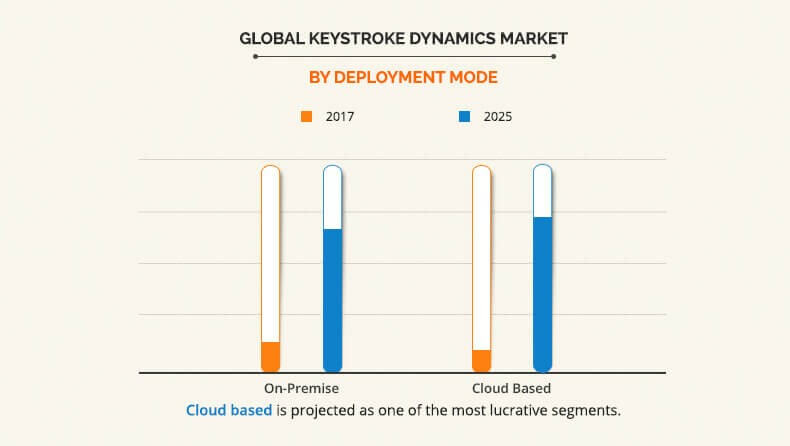 The on-premise segment dominated the overall market in 2017, owing to significant adoption of these solutions as they offer enhanced security features, which drive their adoption in large-scale financial institutions and other organizations. However, the SMEs segment is expected to exhibit the highest growth rate during the forecast period, owing to rise in investments among small and medium businesses in this technology.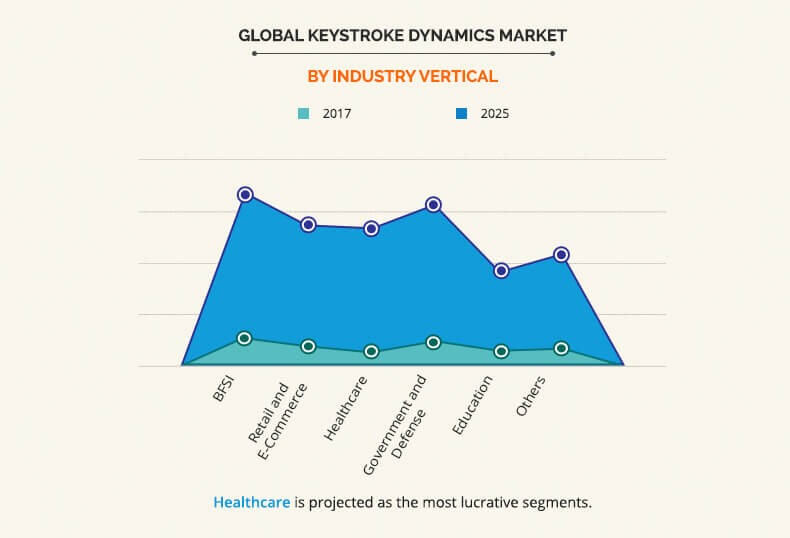 The BFSI segment dominated the global market in 2017, owing to significant adoption of keystroke dynamics solutions for authentication and fraud detection purposes. However, the healthcare segment is expected to grow at the highest rate, due to the rise in applications of these solutions in different areas, such as fake billing, claim processing, and others.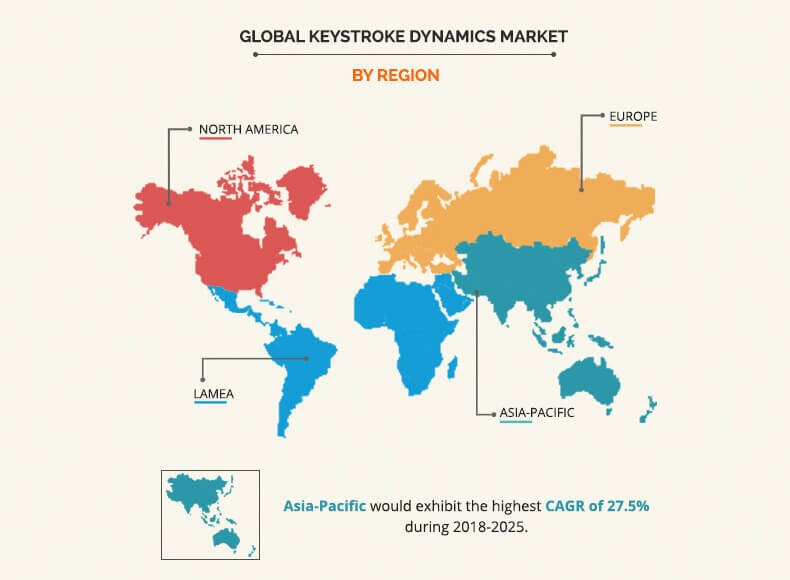 North America governed the overall keystroke dynamics market share, in terms of revenue, in 2017, owing to significant adoption of keystroke dynamics industry solutions supported by high ICT spending among organizations for data security solutions across the region. However, Asia-Pacific is expected to witness the highest growth rate during the forecast period, owing to factors such as rise in need of security solutions in growing vulnerable landscape and development in the smartphones market in the emerging economies across the region.
The report focuses on the growth prospects, restraints, and trends of global keystroke dynamics market analysis. Moreover, the study includes the Porter's five forces analysis of the industry to understand the impact of various factors such as bargaining power of suppliers, competitive intensity of competitors, threat of new entrants, threat of substitutes, and bargaining power of buyers on the growth of the market.
Segment review
The global keystroke dynamics market is segmented based on component, authentication type, deployment model, application, organization size, industry vertical, and region. Based on component, the market is bifurcated into software and service. Based on authentication type, it is classified into static authentication and continuous authentication. Based on deployment model, it is divided into on-premise and cloud based. The applications covered in the study includes continuous authentication, fraud detection & prevention, identity proofing, risk & compliance management, and others. By organization size, it is fragmented into large enterprises and SMBs. According to industry vertical, it is classified into BFSI, retail & e-commerce, healthcare, government & public sector, education, and others. Based on region, it is analyzed across North America, Europe, Asia-Pacific, and LAMEA.
The key players operating in the global keystroke dynamics market include KeyTrak, Inc., TypingDNA, ID Control, BehavioSec Inc., Delfigo Security, Intensity Analytics, Authenware Corporation, DeepNet Security, SERBAN Biometrics, Daon, Inc., and others.
Top impacting factors
The growth of the global keystroke dynamics market is driven by rise in number of frauds in online transactions, need of advanced security systems in IoT landscape, and surge in need for multimodal biometrics system. Furthermore, performance and interoperability issues associated with keystroke dynamics solutions and lack of awareness about these solutions are expected to considerably impact the growth of the keystroke dynamics market during the forecast period. Moreover, the emergence of cloud-based solutions and rise in number of applications in the smartphones market are expected to drive the growth of the global keystroke dynamics market application during the forecast period. These factors collectively provide opportunities for the market growth. However, each factor has its definite impact on the market.
Rise in adoption of multimodal biometrics
The growing number of advanced cyber-attacks have raised the security concerns offered by traditional biometric systems. The critical data handled by different end users such as BFSI, government, and defense need advanced multimodal biometrics, which can increase the accuracy and reliability to overcome the drawbacks of a single biometric system. To satisfy the security demand, these multimodal biometric systems can capture and authenticate their users on different parameters. In addition, there are several reasons to combine different modalities. One of these includes improvement of the recognition effectiveness. Moreover, growth in trend of multimodal biometric systems is customer preference that needs higher level of security. Furthermore, multimodal biometric system also deals with a variety of issues such as intra-class variations, limited degrees of freedom, non-universality, noisy data, spoof attacks, and unacceptable error rates caused by unimodal biometric systems. Keystroke dynamics is considered as one of the ideal options for multimodal biometrics for authentication and authorization. Therefore, it is widely adopted among different end user organizations and thus drives the growth of the market.
Performance and interoperability issues
Though keystroke dynamics has been one of the advanced evolving technologies in biometrics industry, interoperability issues are associated with these solutions. In addition, high error rates have been recorded in several cases which affects its performance and hinders its adoption. Moreover, the technology lacks in terms of authentication accuracy as variations in typing rhythm can be caused by external factors such as injury, fatigue, or distraction of a user which may affect the authentication process. Furthermore, small commercial widespread of technology also impacts global keystroke dynamics market growth.
Emerging applications of keystroke dynamics in the developing smartphones market
Developing economies have been constantly moving toward technology adoption, supported by government initiatives, and rise in expenditure. According to a study, there has been a significant adoption of smartphones over the past years in the developing economies. Several developing countries have reported very high penetration of smartphones, which is a major indicator of their progress. For instance, smartphone ownership is extremely high in South Korea, say about 94% and Israel with 83%. In addition, about one-third of the world's population across developing nations own a smartphone. The development in smartphones market and growth in number of different applications make way for several cyber-attacks. Several traditional methods for authentication include smartcards or face recognition. This can be changed owing to hardware and environment limitations such as dark environments or camera restricted places. For such applications, a combination of keystroke dynamics and any other form of authentication technology can be used for authentication purposes. In addition, constant growth in different biometrics technology in smartphones has created a scope for keystroke dynamics, which is expected to be the global keystroke dynamics market opportunity.
Key Benefits for Keystroke Dynamics Market:
This study includes the analytical depiction of the global keystroke dynamics market trends and future estimations to determine the imminent investment pockets.
The report presents information related to key drivers, restraints, and opportunities.
The current keystroke dynamics market size is quantitatively analyzed from 2017 to 2025 to highlight the financial competency of the industry.
Porter's five forces analysis illustrates the potency of buyers & suppliers in the global keystroke dynamics market.
 Keystroke Dynamics Market Report Highlights
Aspects
Details
By Component
By Authentication Type

Static Authentication
Continuous Authentication

By Deployment Model
By Application

Identity Proofing
Continuous Authentication
Risk and Compliance Management
Fraud Detection & Prevention

By Organization Size
By Industry Vertical

BFSI
Retail & E-commerce
Healthcare
Government & Defense
Education
Others

By Region

North America (U.S., Canada)
Europe (UK, France, Germany, Rest of Europe)
Asia-Pacific (China, India, Japan, Singapore, Rest of Asia-Pacific)
LAMEA (Latin America, Middle East, Africa)

Key Market Players
Intensity Analytics Corporation, Serban Biometrics, KeyTrac, Daon, Delfigo Security, BehavioSec Inc., ID Control, TypingDNA, DeepNet Security, AuthenWare Corporation