The global kids smartwatch market size was valued at $1,125.0 million in 2020, and is projected to reach $4,268.7 million by 2030, registering a CAGR of 14.6% from 2021 to 2030.
Smartwatches are portable computers or mobile phones in the form of watches; modern smartwatches provide local touchscreen interfaces for everyday use. Although early models can perform basic tasks like calculations, digital timekeeping, translation, and games, whereas smartwatches from the 2010s have universal features closer to smartphones, including mobile apps, mobile operating systems, and WiFi/Bluetooth connectivity.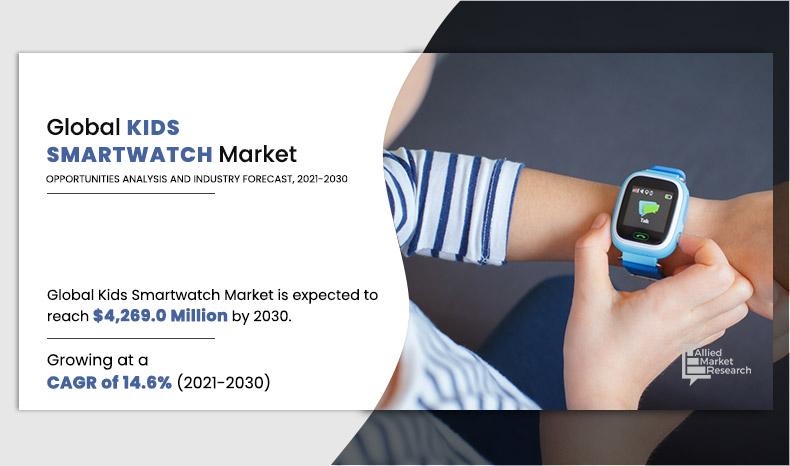 Increased health awareness among people is a key factor driving the growth of the kids smartwatch market. People can use smartwatches to take the necessary steps ahead of time based on their health parameters. Doctors can easily track their patients' health status and provide them with appropriate treatment. The number of people is using digital tools such as smartwatches to keep the track of the health of their kids. Thus, the increase in health awareness among the consumers is propelling the growth of kids smartwatch market. 
The majority of wearable devices are small in size but can hold a lot of data. Because of their small size, these devices are prone to being misplaced. GPS navigation systems are also used by smartwatches to receive location-based information. In order to obtain specific information, users may be required to reveal their location. Furthermore, network operators, which include mobile content providers, own and control subscriber location data. Despite legal frameworks designed to protect it, consumers are concerned about their privacy because operators have access to such information. Thus, the lack of data privacy and security will hinder the growth of kids smartwatch market.
Kids Smartwatch Market

---
By Product Type
Standalone segment held the major share of 70.8% in 2020
Nowadays, people have become more health conscious. They keep track of their health with utmost care. The same way parents are worried about their kids' health. This has resulted in the increase in demand for smartwatches for both adult and kids population. People are more stressed about their health and wellbeing, and this has driven to a growth in the shipment of wellness trackers. 
Since each smartwatch includes a component of a fitness tracker, the product development of the smartwatch is expanding altogether, because it has multi-functional highlights for recording health parameters. Smartwatches are equipped with health and fitness monitors that allow parents to track their children's glucose and blood pressure levels before and after they engage in physical activities, as well as when they visit various locations on the school campus. This is anticipated to provide market players with several opportunities in the coming years. 
Kids Smartwatch Market

---
By Compatibility
Android segment held the major share of 71.7% in 2020
COVID-19 had a negative impact on the kids smartwatch industry. The closure of manufacturing units, disruptions in the supply chain, a decline in shopping, and the closure of schools and colleges all had a negative impact on the kids smartwatch market. Nonetheless, after the COVID-19 pandemic, sales are expected to rise.
The kids smartwatch market analysis is done according to segmentation on the basis of product type, compatibility, connectivity, distribution channel, and region. On the basis of product, the kids smartwatch market is categorized into integrated and standalone. By compatibility, the market is divided into IOS, android, and others. On the basis of connectivity, the kids smartwatch market is segmented into Bluetooth, Wi-Fi, cellular networks, and NFC. According to distribution channel, the market is fragmented into supermarket/hypermarket, convenience stores, specialty stores, and online sales channel. Region wise, the kids smartwatch market is analyzed across North America, Europe, Asia-Pacific, and LAMEA.
Kids Smartwatch Market

---
By Connectivity
Cellular networks segment held the major share of 45.7% in 2020
As per the kids smartwatch market forecast, in 2020, the standalone segment was the highest revenue contributor by product type. This is attributed to standalone smartwatches that include parental controls, which allow parents to enable or disable what their children can and cannot do with their smartwatch, as well as view the photo and music files stored within. As per the kids smartwatch market trends, by compatibility, the android segment was the highest contributor as an android smartwatch includes a heart rate sensor, accelerometer, gyroscope, ambient light sensor, and two microphones for improved call quality. 
In 2020, the cellular networks segment held the largest kids smartwatch market share by connectivity. This is attributed to the inclusion of cellular networks in smartwatches has resulted in an increase in their performance capabilities. By distribution channel, specialty stores had the largest market share because they offer a wide range of kids smartwatch with varying specifications and features.
Kids Smartwatch Market

---
By Distribution Channel
Specialty Store segment held the major share of 62.4% in 2020
By region, the North America is the highest revenue contributor to the kids smartwatch market. In 2022, North America is expected to have the most 5G connections via wearable devices. With speeds that could be 100 times faster than standard 4G, the new standard will dramatically improve the smartwatch's streaming and downloading capabilities. The ongoing trend toward self-sufficient smartwatches rather than relying on smartphone connectivity offers enormous market potential.
The prominent industry participants include Doki Technologies Ltd., Huawei Technologies Co. Ltd, LG Electronics Inc., Omate Inc., Precise Innovation LLC, Tencent Holdings Ltd., Tinitell AB, Vtech Holdings Ltd., and Xiaomi Global Community. These key players are constantly engaged in various developmental strategies in order to increase their market share and exploit the kids smartwatch market opportunity.
Kids Smartwatch Market

---
By Region
North America region held the higest market share of 33.8% in 2020
Key Benefits For Stakeholders
This report provides a quantitative analysis of the current trends, estimations, and dynamics of the global kids smartwatch market from 2021 to 2030 to identify the prevailing market opportunities.
Porter's five forces analysis highlights the potency of buyers and suppliers to enable stakeholders to make profit-oriented business decisions and strengthen their supplier–buyer network.
In-depth analysis of the market segmentation assists to determine the prevailing kids smartwatch market opportunities.
Major countries in each region are mapped according to their revenue contribution to the global industry. 
The market player positioning segment facilitates benchmarking while providing a clear understanding of the present position of the key market players.
The report includes analyses of the regional as well as global market, key players, market segments, application areas, and growth strategies.
Key Market Segments
By Product Type
By Compatibility
By Connectivity
Bluetooth
Wi-Fi
Cellular Networks
NFC
By Distribution Channel
Supermarket/Hypermarket
Convenience Stores
Specialty Stores
Online Sales Channel
By Region
North America
Europe 

UK
Germany
France
Spain
The Netherlands
Italy
Rest of Europe

Asia-Pacific

China
Japan
India
South Korea
Australia
Rest of Asia-Pacific

LAMEA

Brazil
South Africa
Saudi Arabia
Rest of LAMEA
 Kids Smartwatch Market Report Highlights
Aspects
Details
By Product Type
By Compatibility
By Connectivity

Bluetooth
Wi-Fi
Cellular Networks
NFC

By Distribution Channel

Supermarket/Hypermarket
Convenience Stores
Specialty Stores
Online Sales Channel

By Region

North America (U.S., Canada, Mexico)
Europe (France, Germany, Italy, Spain, UK, Russia, Rest of Europe)
Asia-Pacific (China, Japan, India, South Korea, Australia, Thailand, Malaysia, Indonesia, Rest of Asia-Pacific)
LAMEA (Brazil, South Africa, Saudi Arabia, UAE, Argentina, Rest of LAMEA)

Key Market Players
Tinitell AB, VTech Holdings Ltd., Omate Inc., LG Electronics Inc., Precise Innovation, LLC., Huawei Technologies Co., Ltd., Neptune Computer Inc, Xiaomi Global Community, Tencent Holdings Ltd., Fitbit Inc