Kinetic Tiles Market Research, 2031
The global kinetic tiles market was valued at $28.9 million in 2021, and is projected to reach $44.0 million by 2031, growing at a CAGR of 4.5% from 2022 to 2031.
Kinetic tiles are kind of tiles which generate energy from footsteps. When individuals walk across kinetic tiles, energy is captured. Kinetic tiles are the latest technology in energy harvesting. The kinetic tiles transform footsteps into electricity which can illuminate any outdoor and indoor lighting products. The kinetic tiles are made from 80% to 100% recycled materials (mostly rubber) and marine grade stainless steel. These tiles are easily designed into any new flooring system and can be retrofitted to already-existing structures.
The global energy demand has increased enormously during the pandemic situation. Notably, there has been a heavy exploitation of renewable sources. The research on new renewable energy sources were on going during the pandemic. Although, kinetic tiles industry has also been impacted by COVID-19. In short term, the COVID-19 situation has drastically decreased production of kinetic tiles products, raw material storage and distribution facilities shut down. Post COVID-19, most players are hopeful of a quick recovery as infrastructural projects have decided for the energy transmission to renewable sources which boosts the demand for kinetic tiles in near future.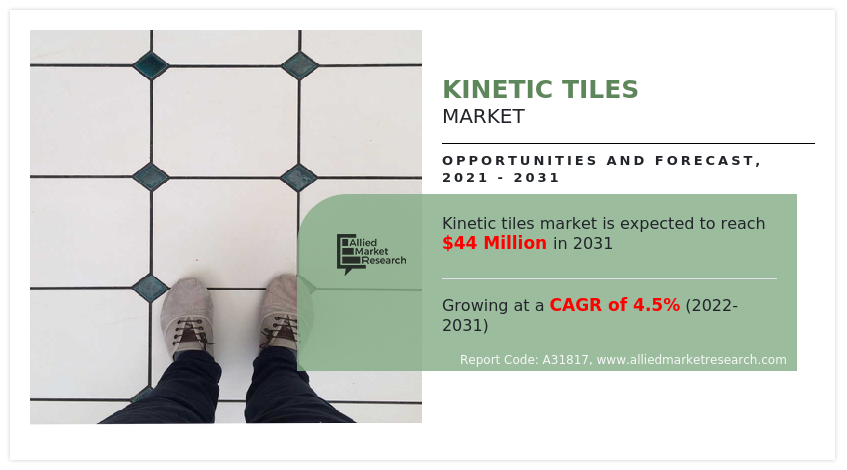 The report includes the study of the kinetic tiles market with respect to the growth prospects and restraints based on the regional analysis. The study includes Porter's five forces analysis of the kinetic tiles industry to determine the impact of suppliers, competitors, new entrants, substitutes, and buyers on the market growth. In addition, these tiles are particularly helpful for outdoor spaces and can be installed on high footfall place, which is expected to support the expansion of the global kinetic tiles market in the coming years.
The gradually growing requirement of energy and the limited resource of traditional energy sources are challenging for both developed and developing countries. Kinetic tiles provide a clean, effective, environment-friendly power to outdoor lighting solution. Awareness related to clean energy is increasing in the developing nations boosting the global kinetic tiles market trends in near future.
A wide variety of off-grid lighting products, ranging from large installations powering to small portable lights are gaining popularity in low- and middle-income countries. Prices for kinetic tiles have decreased in the past 2-3 years and are expected to drop even further which is driving the growth of kinetic tiles market. Infrastructural projects and sports auditoriums are accelerating the adoption of kinetic tiles through tax cuts, awarding strategies for people, subsidies which is creating more favorable opportunity for kinetic tiles market growth in the near future.
Energy harvesting constitutes a simple and environmentally friendly method of obtaining energy from a variety of environmental sources, including light, heat, wind, salinity gradients, and kinetic energy from human or vehicular motion. According to kinetic tiles market forecast, harvesting of kinetic energy have become a research area of primary interest for the scientific community and companies. However, these tiles constitute a sustainable way to collect energy from various sources.
Specifically, the kinetic energy related to the human and vehicle motions represents a valuable energy source which is commonly wasted, despite being used to generate electric energy. Globally, technological innovation has increased which booting the kinetic tiles market share in energy harvesting industry. Kinetic tiles assist in converting kinetic energy into electricity, which can illuminate low-voltage lighting solution and help to reduce the emission of carbon gases in environment.
Kinetic tiles are mainly designed for use in high foot-traffic areas. Kinetic tiles are installed in a high-traffic area such as grand central station, times square, lollapalooza, or playing areas. Kinetic tiles convert the kinetic energy from the footsteps of pedestrians into renewable electricity. The energy is stored in a lithium polymer battery or directly used to power low-wattage, off-grid applications like street lighting, displays, speakers, alarms, signs, and advertising boards. Strategically placing kinetic tiles in key areas of a city, can help in fulfilling the on-demand lighting, mobile phone charging stations at bus stops and interactive displays which are powered by foot traffic. Developments are going on related to kinetic tiles technology to increase the potential of tiles in gather power from higher energy producing sources such as airport runways and railroad tracks which will help to boost the kinetic tiles market size in future.
Kinetic energy generated from people's footsteps in a crowded area is sufficient to power smart electronic devices with low consumption. Public walkways are useful testing grounds for innovative materials which are used in kinetic tiles. The use of kinetic tiles is increasing in events, launches, and brand activations. Interactive kinetic floor tiles are sustainable energy floors which will create an interactive environment in events and brand activations. Moving forward, kinetic tiles will serve as a source of energy for low voltage.  Governments, companies, and industries will be persuaded to invest in "clean" source of energy as kinetic tile installations proliferate worldwide and the technology becomes more common.
Kinetic tiles can be installed in any area which has more footfall. More people walking means more energy production. As per the kinetic tiles market analysis, the demand for the kinetic tile product is increasing in various sports infrastructural projects and urban areas such as shopping malls, clubs, walking areas, commercial properties, and national parks worldwide which have been benefited from kinetic tiles. Urban areas are constantly searching for clean energy alternatives, which is anticipated to accelerate the growth of the kinetic tiles market in the near future.
In all regions, cities are trying to convert into smart cities. Smart cities are trying to solve the energy cries in regions. Electricity-generating flooring is a key component of smart city concepts. Smart cities are highly active in adapting the green energy solation as to lower the environmental impact. Kinetic tiles are attached with the phone and give the information of total energy generated on daily basis. All data displays linked to the kinetic tiles are fully customizable. Kinetic tiles are used in the commercial spaces such as retail and public spaces also which collect the people data also which can be analyses for several other purposes. Kinetic tiles come with the several new features of data collection and energy generation which creates kinetic tiles market opportunity in near future.
Kinetic tiles have some downsides such as loose wiring issues, low efficiency and less reliable design which result in low energy out. Since each step on kinetic tile lasts for half a second, it becomes difficult for technology to absorb the motion and transform it into energy, resulting in relatively low energy output. Like all cutting-edge technologies, kinetic tiles are relatively expensive. The initial cost of kinetic tile is very high as compared to other energy harvesting solutions. The usage kinetic tiles in residential application is exceptionally low because of the high cost of installation per square meter. The cost kinetic tile can be recovered after 6-7 years of installation which limits the growth of the global kinetic tiles market.
Energy crisis is the most critical issue facing these developing countries. Renewable energy sources can be an extraordinary method to tackle the energy issue, increasing of energy costs and decreasing of fossil fuels production. Low voltage interior, outdoor lighting products and dance floors are powered by the energy generated by the kinetic tiles. This energy helps in overcoming the constraints which are associated with traditional grid-powered lighting solutions.
Several commercial products are present in the market which capture energy from people's steps such as Pavegen and Energy Floors are into the commercial system which generates power from footsteps. Pavegen company invented and produce the kinetic tiles to convert energy from human footsteps. The Energy Floors company focuses on harvesting energy from humans dancing and playing games.
The need for kinetic tiles has increased due to a boom in the global energy harvesting industry. A surge in the investigation of new renewable energy sources has grown over the past five years, aside from the pandemic period. The report further outlines the details about the revenue generated through the sale of kinetic tiles across North America, Europe, Asia-Pacific, and LAMEA. Major players operating in the kinetic tiles market include Pavegen, Energy Floors, POWERleap Inc. , ENGOPLANET ENERGY SOLUTIONS LLC, Kinergypower, ECO RENEWABLE ENERGY., Studio Roosegaarde, Global Energy Harvest Co., Ok.Power. and Shaw Industries Group, Inc..
The kinetic tiles market is segmented into Floor Mechanism, Shape, Application and Region.
Kinetic Tiles Market

---
By Floor Mechanism
Piezoelectric segment is dominating the segment in the forecast period
By floor mechanism, the market is classified into piezoelectric, magnetic, generators and static. In 2021, the piezoelectric segment dominated the global kinetic tiles market as kinetic tiles are based on the piezoelectric mechanism for conversion of foot moment to energy. Piezoelectric is the mostly used technology for kinetic energy production.
Kinetic Tiles Market

---
By Shape
Triangle is the most lucrative segment
By shape, the market is classified into triangle and square. In 2021, the triangle shape segment dominated the global kinetic tiles market as triangle tiles come with several advantages such lower the energy loss, capture the moment from every corner and easy installation. Triangle tiles can easily be customized and able to collect the data.
Kinetic Tiles Market

---
By Application
Footpaths segment witnessed the highest market in the forecast period
By application, the market is classified into footpaths, public spaces, athletics field and courts, dance floors. In 2021, the footpath segment dominated the global kinetic tiles market as footpath has highest foot traffic by which maximum energy can be generated through kinetic tiles.
Kinetic Tiles Market

---
By Region
Europe is dominating region and maintain its dominace in forecast period
By region, the market is classified into North America, Europe, Asia-Pacific, and LAMEA. In 2021, Europe region dominated the global kinetic tiles market owing to increased production of kinetic tiles products. In UK and Netherlands, large companies have already entered the production of the products and are also expanding the production capacity. This is expected to drive the growth of the Europe kinetic tiles market during the forecast period.
The conflict between Russia and Ukraine has a significant impact on the energy sector. Russia's invasion of Ukraine has created shock waves in global energy markets, leading to price volatility, supply shortages, and security issues. War has led to a rise in the price of producing batteries and kinetic tile products as well as serious supply chain issues. War can significantly decrease the renewable energy transition in Europe. The Russia-Ukraine war has a major impact on the global kinetic tiles industry. Production has decreased sharply, while demand has also declined.
The booming world economy has caused exponential population growth and high energy demand which is becoming very difficult to satisfy. Some of the non-renewable sources are depleting which are used to produce power. Kinetic tiles products also reduce the dependence on the fossil fuels. The infrastructural sector is shifting toward green energy sources for power production. Several companies are investing in business expansion, production capacity and agreement in the kinetic tiles market.
Key Strategic Activities By Market Players:
In September 2022, KinergyPower decided to sign of an MOU agreement with an Ontario Railway company, for a joint venture to produce and install in the regional rail tracks, a device which will harvest the energy from a moving train. This development will help the company to earn more revenue in near future.
In May 2019, Pavegen company which converts footsteps into energy to power smart cities is partnering with the Hinduja Group and launching a crowdfunding campaign to support its expansion
In February, 2018 Pavegen has signed a Memorandum of Understanding (MoU) with global engineering and technology company Siemens, to bring its technology to smart city projects around the world. Pavegen produces an interactive flooring technology which converts the kinetic energy of footfall into off-grid electricity. This development helped the company to earn revenue.
Key Benefits For Stakeholders
This report provides a quantitative analysis of the market segments, current trends, estimations, and dynamics of the kinetic tiles market analysis from 2021 to 2031 to identify the prevailing kinetic tiles market opportunities.
The market research is offered along with information related to key drivers, restraints, and opportunities.
Porter's five forces analysis highlights the potency of buyers and suppliers to enable stakeholders make profit-oriented business decisions and strengthen their supplier-buyer network.
In-depth analysis of the kinetic tiles market segmentation assists to determine the prevailing market opportunities.
Major countries in each region are mapped according to their revenue contribution to the global market.
Market player positioning facilitates benchmarking and provides a clear understanding of the present position of the market players.
The report includes the analysis of the regional as well as global kinetic tiles market trends, key players, market segments, application areas, and market growth strategies.
 Kinetic Tiles Market Report Highlights
Aspects
Details
Market Size By 2031
USD 44 million
Growth Rate
CAGR of 4.5%
Forecast period
2021 - 2031
Report Pages
310
Floor Mechanism

Piezoelectric
Magnetic
Generators
Static

Shape
Application

Footpaths
Public Spaces
Athletics Field and Courts
Dance Floors

By Region

North America (U.S., Canada, Mexico)
Europe (UK, Germany, Spain, Italy, Netherlands, Rest of Europe)
Asia-Pacific (China, Japan, India, South Korea, Rest of Asia-Pacific)
LAMEA (Brazil, Saudi Arabia, UAE, Rest of LAMEA)

Key Market Players
ECO RENEWABLE ENERGY., ENGOPLANET ENERGY SOLUTIONS LLC, Pavegen, Ok.Power., Kinergypower, studio roosegaarde, Shaw Industries Group, Inc., Energy Floors, POWERleap Inc., Global Energy Harvest Co.