Korea China Spark Plug Market Overview:
Korea & China Spark Plug Market was valued at $670 million in 2016, and is projected to reach at $947 million by 2023, growing at a CAGR of 5.2% from 2017 to 2023.
Spark plug is an electrical device, threaded into the cylinder of spark ignition engine, which produces a spark for igniting the combustible air–fuel mixture in the cylinder bore of an internal combustion engine. During the engine operation, when a high tension current flows through the center electrodes, it ionizes the gas present between the electrode gaps; hence, produces a spark. The modern spark plug is designed to deliver a powerful ignition spark around 500 to 3,500 times per minute.
Factors such as increase in sales and production of gasoline-powered vehicles, as well as rise in use of gasoline based generators, small & recreational boats, and jet skis, drive the market growth. However, factors such as technical advancements to downsize automotive engines and growth in penetration of electric vehicles & electrically powered working equipment such as mowers, and saws, hinder the growth of Korea & China spark plug market. Likewise, advancements in technology, such as new electrode material is expected to fuel the growth further.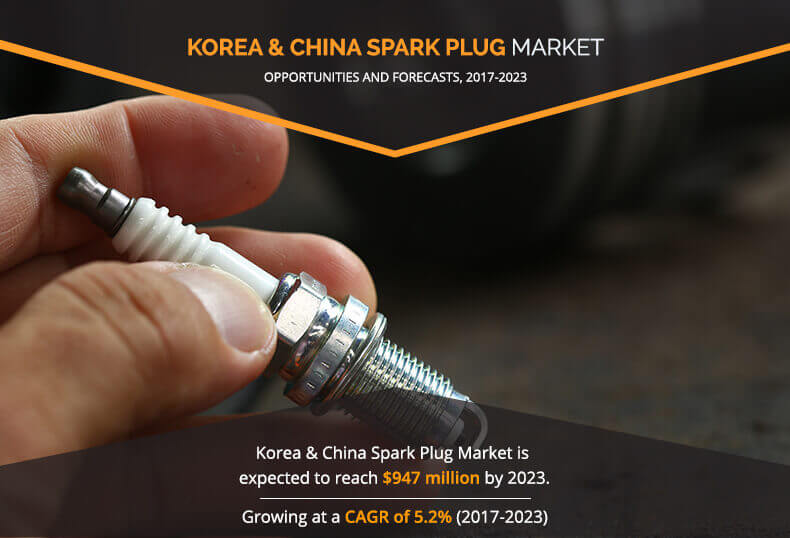 The key players operating in the Korea & China spark plug market include NGK Spark Plug Co. Ltd., Federal-Mogul Corporation, Denso Corporation, Robert Bosch GmbH, FRAM Group IP LLC. (Autolite), Enerpulse Technologies Inc., Stitt Spark Plug, Acdelco Corporation, E3 Sparkplugs, Zhuzhou Torch Spark Plug, Weichai Power Co. Ltd., MSD Performance, Ford Motor Company, and Valeo.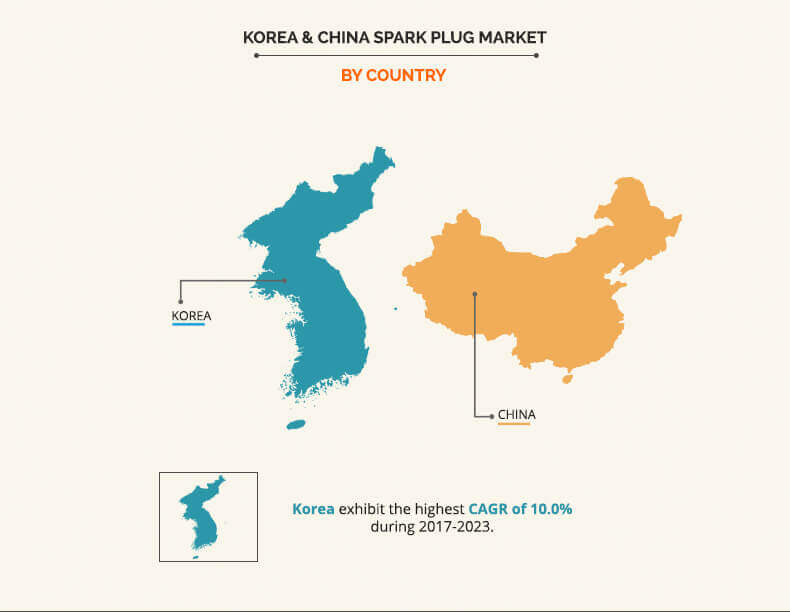 The Korea & China spark plug market is segmented based on electrode material, application, and country. Copper, platinum, and iridium are studied under the electrode material segment. Based on application, the market is divided into automobile, marine, industrial, and others. Based on country, the market is analyzed across China and Korea.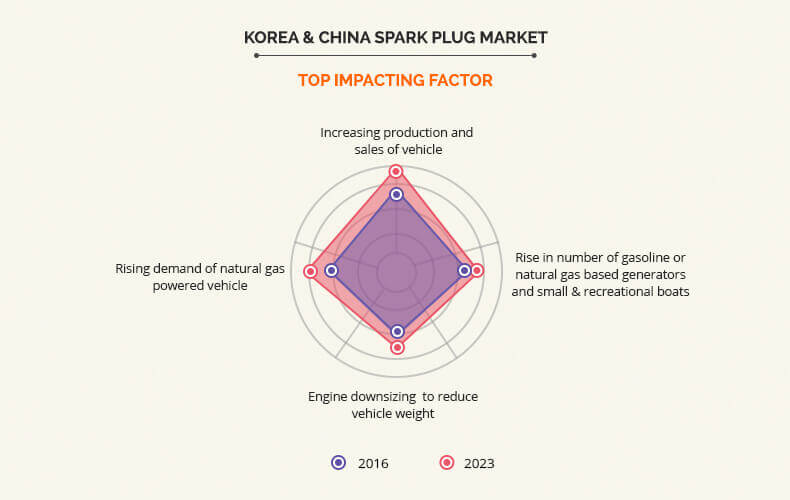 Increase in Production and Sales of Vehicles
The China market is one of the dominant markets of gasoline-powered cars, and is anticipated to maintain its dominance throughout the forecast period. As the automobile industry becomes more standardized, manufacturing facilities have shifted towards countries such as China and Korea. Leading automotive manufacturers continue to increase their investment in developing countries owing to low cost of labor, which further decreases the production cost and caters to the increase in demand for vehicles. These factors collectively propel the growth of the spark plug market.
Rise in Number of Gasoline or Natural Gas Based Generators and Small Recreational Boats
The gasoline or natural gas-powered generators are used to provide temporary power supply to various industries, such as construction & automotive, IT & telecom sector, and residential applications. In addition, recreational boating is gaining popularity mainly due to change in lifestyle, growth in personal expenditures, and rise in disposable income.  Therefore, surge in industrialization and urbanization has fueled the demand for gasoline or natural gas-powered generators, which further boosts the Korea & China spark plug market.
Engine Downsizing to Reduce Vehicle Weight
The trend of engine downsizing is on the rise, owing to the increase in concern regarding the vehicle weight, fuel economy, and stringent vehicular emission rules and regulations by governments. Leading automotive manufacturers are in the process of further reducing the number of cylinders in gasoline or natural gas-powered engine, which acts as a restraint for the spark plug market.
Key Benefits for Stakeholders
This report provides an extensive analysis of the current and emerging market trends and dynamics in the Korea & China spark plug market.
In-depth analysis is conducted by constructing market estimations for the key market segments between 2016 and 2023.
Extensive analysis of the market is conducted by following the key product positioning and monitoring of the top competitors within the market framework.
Key players are profiled and their strategies are analyzed thoroughly to understand the competitive outlook of the spark plug market.
 Korea & China Spark Plug Market Report Highlights
Aspects
Details
By Electrode Material
By Application

Automobile
Marine
Industrial
OTHERS (WORKING EQUIPMENT, BRUSH CUTTERS, SCYTHES, MOWERS, SAWS)

By Country
Key Market Players
ZHUZHOU TORCH SPARK PLUG CO., LTD., FEDERAL-MOGUL CORPORATION, E3 SPARK PLUGS, DENSO CORPORATION, ROBERT BOSCH GMBH, AUTOLITE, GENERAL MOTORS COMPANY (ACDELCO), ENERPULSE TECHNOLOGIES, INC., NGK SPARK PLUG CO., LTD., STITT SPARK PLUG