Korean Personal Care Encapsulating Materials Market Overview:
Korean Personal Care Encapsulating Materials Market was valued at $25,268 thousand in 2016, and is expected to reach $59,880 thousand by 2023, registering a CAGR of 10.9% during the forecast period. Encapsulation is defined as a process of capturing the active agents within a carrier material. It is a beneficial method adopted for improving the delivery of bioactive molecules and living cells. Encapsulation is a technology used for completely enclosing, covering, and securing bioactive components using a physical barrier. Encapsulation technology is now well-developed and widely used in chemical, cosmetics, pharmaceutical, food, printing industries, and others.
The Korean personal care encapsulation materials market is driven by significant demand for personal care products such as shower and bath gels, anti-aging creams, and color cosmetics. Consumers in Korea link microencapsulation process with science-based fineness and enhanced performance. The perception of consumers that visible capsules means presence of beneficial actives is expected to boost the demand for encapsulation materials. In addition, formulators are driven by cost reduction targets attained by protecting fragrances and exclusive actives. The market growth is characterized by numerous opportunities to market players, owing to use of encapsulation materials by fragrance formulators.
Segment Review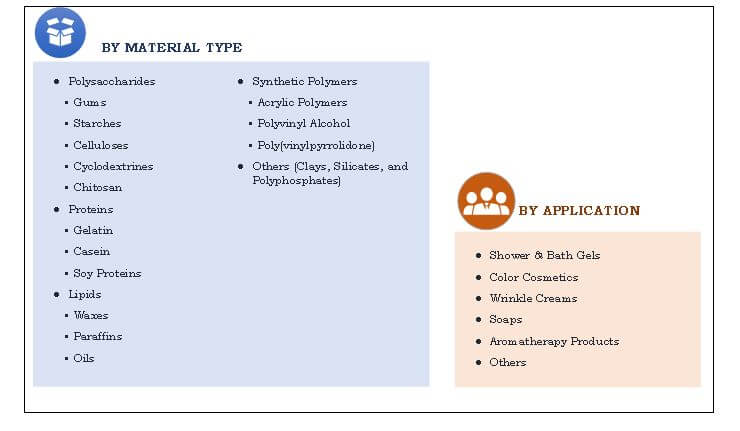 The Korea personal care encapsulating materials market is segmented on the basis of material type and application. Based on material type, the market is segmented into polysaccharides, proteins, lipids, synthetic polymers, and others. The polysaccharides segment is bifurcated into gums, starches, celluloses, cyclodextrins, and chitosan. The proteins segment is classified into gelatin, casein, and soy proteins. The lipids segment is segmented into waxes, paraffins, and oils. The synthetic polymers segment is bifurcated into acrylic polymers, polyvinyl alcohol, and poly(vinylpyrrolidone). On the basis of application, the market is segmented into shower & bath gels, color cosmetics, wrinkle creams, soaps, aromatherapy products, and others.
Top Investment Pockets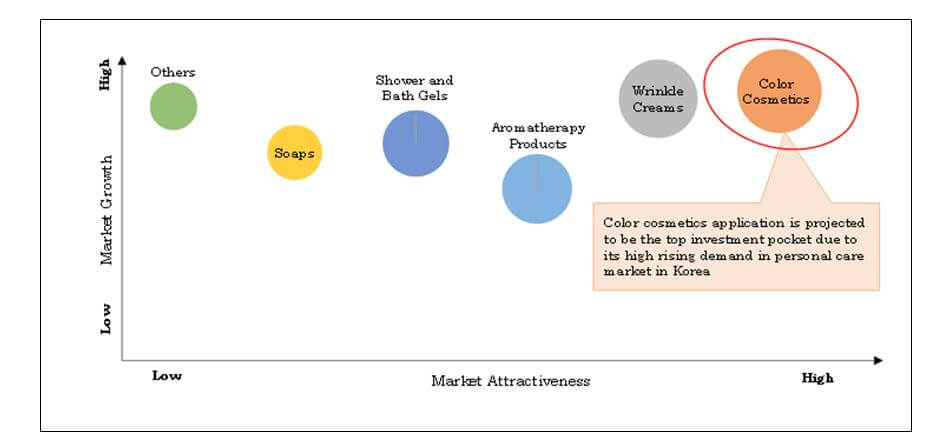 The Korea encapsulation materials market in personal care is segmented based on application into shower & bath gels, color cosmetics, wrinkle creams, soaps, aromatherapy products, and others. In 2016, the color cosmetics and wrinkle cream segments accounted for the major share in the Korean personal care encapsulation materials market. In terms of value, these segments accounted for approximately half of the overall market.
Color cosmetics segment is the top investment pocket, owing to its growing demand in Korean personal care market. Changing lifestyle in Korea is expected to drive customers to try new color cosmetics to create different looks for certain occasions or get better make-up. In addition, willingness of consumers to pay for color cosmetics to improve their appearance is anticipated to drive the encapsulation materials market in Korea. The key factors impacting the color cosmetic market is extensive demand for natural and organic cosmetic products. In addition, use of multifunctional makeup, increase in demand for high-end color cosmetic products and efficient distribution channels, rise in preference for ecofriendly cosmetic products are expected to drive the color cosmetics market in Korea. Strong branding and advertising campaigns for color cosmetics are expected to fuel the demand for color cosmetics in Korea.
Encapsulation Materials Detailed Analysis
New wall materials have emerged in the recent years for spray drying microencapsulation. Investigations of other natural gums, such as mesquite gums and their shells & emulsification properties, have been reported. Mesquite gums offer higher encapsulation efficiency and better stability of oil/water emulsions as compared to gum acacia. Recent developments in complex shell formulations, such as introduction of aqueous two phase systems (ATPSs) have facilitated designing of double-encapsulated ingredients in a single spray drying step. Spray drying of multiple emulsions result in a double layered microcapsule, which can provide enhanced protection to sensitive materials such as flavor oils.
Personal care encapsulation materials manufacturers have to ensure that their materials comply with Chinese regulations. Manufacturers need to demonstrate that their products are toxicologically safe without using animal tests, as these are banned in the cosmetics industry.
The prominent players in the Korean personal care encapsulating materials market have strategically focused on product launches as their key strategy to gain significant shares in the market. The key players profiled in the report are Sumitomo Corporation, Biogenoci Co. Ltd.,Korea Particle Technology Inc. (K.P.T), Chongqing Pellets Techniques (Pellets) and Durae Corporation.
Key Benefits for Stakeholders:
This report provides an extensive analysis of the current trends and future projections of the Korean personal care encapsulating materials market.
In-depth analysis of the industry is conducted through market estimations of key segments for the period of 2016-2023.
Competitive intelligence of leading manufacturers and distributors of personal care encapsulating materials helps in understanding the competitive scenario in Korea.
Comprehensive analysis of factors that drive and restrain the growth of the Korean personal care encapsulating materials market is provided in the report.
Extensive analysis of the industry is conducted by following key product positioning and monitoring the top competitors within the market framework.
The key players are profiled along with their strategies to determine the competitive outlook of the market.
 Korea Personal Care Encapsulation Materials Market Report Highlights
Aspects
Details
By Material

Polysaccharides
Proteins
Lipids
Synthetic polymers
Others

By Application

Shower and bath gels
Color cosmetics
Wrinkle creams
Soaps
Aromatherapy products
Others

Key Market Players
SUMITOMO AND SUBSIDIARIES & PERSPERSE CORP, BIOGENOCI CO. LTD., CHONGQING PELLETS, DURAE CORPORATION, KOREA PARTICLE TECHNOLOGY