The global lab grown diamonds market size was valued at $19.3 billion in 2020, and is projected reach $49.9 billion by 2030, registering a CAGR of 9.4% from 2021 to 2030. The CVD segment led in terms of lab grown diamonds market share in 2020 and is expected to retain its dominance throughout the forecast period.
Lab grown diamonds are made in laboratories and factories. These diamonds are identical to natural diamonds in their composition and appearance. Lab grown diamonds are manufactured using techniques such as HPHT, which stands for high pressure and high temperature and CVD, which stands for chemical vapor deposition. Diamonds made in labs are generally of better quality than natural diamonds as they are made in controlled environments with constant monitoring and quality control. Increase in adoption of lab grown diamonds in the fashion and jewelry sector, along with increasing application of these diamonds in the industrial sector have spurred the demand for lab grown diamonds across myriad of industry verticals. Theselab grown diamonds can also be customized and personalized as per requirement, which further adds advantages apart from them being highly economical, sustainable, and environment friendly.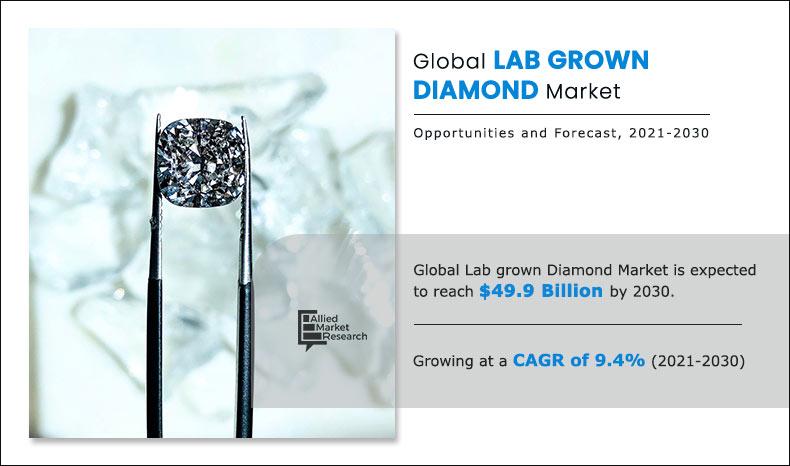 Lab grown diamonds are very highly used in a myriad of applications. Some of these applications have existed for a long time, however, some applications are newer as research has led to discoveries about newer properties of diamonds that can be applied to a wide variety of newer applications. The most traditional use of diamonds in the industrial sector is for cutting, drilling and mining. As these field of usage are defined and limited in application, there is next to no growth in these fields. As the quality of diamonds doesn't matter for these applications, HPHT diamonds are used. Newer applications of diamonds, in optics, lasers, and electronics to name a few are slowly emerging, leading to more growth potential for lab grown diamonds. The use of synthetic diamonds in jewelry making is increasing, with more focus being given to fashion jewelry.
Segment review
The global lab grown diamonds market is segmented on the basis of manufacturing method, size, nature, application, and region. By manufacturing method, the global market is bifurcated into HPHT and CVD. By size it is segmented into below 2 carat, 2–4 carat, and above 4 carat. By nature, it is bifurcated into colorless and colored. On the basis of application, it is studied across fashion and industrial. The global lab grown diamonds market is also studied across North America, Europe, Asia-Pacific, and LAMEA.
According to the method of manufacturing, HPHT was the first method used for creation of lab grown diamonds, while CVD is a relatively new technique. Low costs associated with CVD production of diamonds and low space consumption of the CVD machines has led to a greater adoption of the CVD manufacturing technique for lab grown diamond.
Depending on size of the diamonds, diamonds below 2 carats are the most commonly used form of lab grown diamonds as they are the most affordable for jewelry and the most commonly used size of diamonds industrial uses.
Depending on the nature of the diamonds, colorless diamonds are completely transparent and shiny diamonds that are used for jewelry and the rough diamonds are used for industrial purposes. Colored diamonds are slowly emerging as a new option for fashionable diamonds jewelry.
According to the application, most of the bigger and better quality lab grown diamonds are used for the manufacturing of different types of jewelry pieces. Diamonds for industrial use are more in volume but the total coast associated with industrial use diamonds is very less compared to fashion diamonds.
The report focuses on the lab grown diamonds market growth prospects, restraints, and opportunities of the global lab grown diamonds market. The study provides Porter's five forces analysis to understand the impact of various factors such as competitive intensity of competitors, bargaining power of suppliers, threat of substitutes, threat of new entrants, and bargaining power of buyers of the lab grown diamonds market.
Some of the major players profiled for in the lab grown diamonds market analysis include ABD Diamonds, Clean Origin, De Beers Group, Diam Concept, Diamond Foundry Inc., Henan Huanghe Whirlwind Co., Ltd, Mittal Diamonds, New Diamond Technology LLC, Swarovski AG, and WD Lab Grown Diamonds. Other prominent players analyzed in the report are Applied Diamond Inc., D.NEA Diamonds, Zhengzhou Sino-Crystal Diamond Co., Sahajanand Laser Technology Limited (SLTL Group), Finegrowndiamonds, Zhongnan Diamond Co. Ltd, and Sumitomo Electric Industries Ltd.
Covid-19 Impact Analysis
Lab grown diamonds industry was negatively impacted by the pandemic owing to disruption in supply chains and exports form countries like China and India
Online channels have witnessed surge in demand owing to closure of brick and mortar shops.
Sale of lab grown diamonds is predicted to increase post pandemic as more importance is being given to sustainability and environment friendliness.
More focus is given on the sustainable production of lab grown diamonds.
Key Benefits For Stakeholders
The report provides an extensive analysis of the current and emerging lab grown diamonds market trends and opportunities.
The report provides detailed qualitative and quantitative analysis of the current trends and future estimations that help evaluate the prevailing lab grown diamonds market opportunities in the market.
The lab grown diamonds market forecast is offered along with information related to key drivers, restraints, and opportunities.
The market analysis is conducted by following key product positioning and monitoring the top competitors within the market framework.
The report provides extensive qualitative insights on the potential and niche segments or regions exhibiting favorable growth.
Lab grown diamonds Market Segments
By Manufacturing Method
By Size
Below 2 Carat
2-4 Carat
Above 4 Carat
By Nature
By Application
By Region
North America
Europe

UK
Germany
France
Italy
Spain
Rest of Europe

Asia-Pacific

China
Japan
India
Australia
South Korea
Rest of Asia-Pacific

LAMEA

Brazil
Argentina
Saudi Arabia
United Arab Emirates
South Africa
Rest of LAMEA