Lab Grown Diamonds Market Research, 2031
The global lab grown diamonds market size was valued at $22.3 billion in 2021, and is projected to reach $55.6 billion by 2031, growing at a CAGR of 9.8% from 2022 to 2031.
increase the sales was the partial or complete closing of diamond mines, while the laboratory diamond manufacturers could still operate at some capacity. There was a massive boost to online sales of lab-grown diamonds, as the brick-and-mortar shops were closed. There were also concerns regarding sustainability and environmental protection that were raised during this time, and consumers started to become aware that lab grown diamonds are more sustainable than mined diamonds.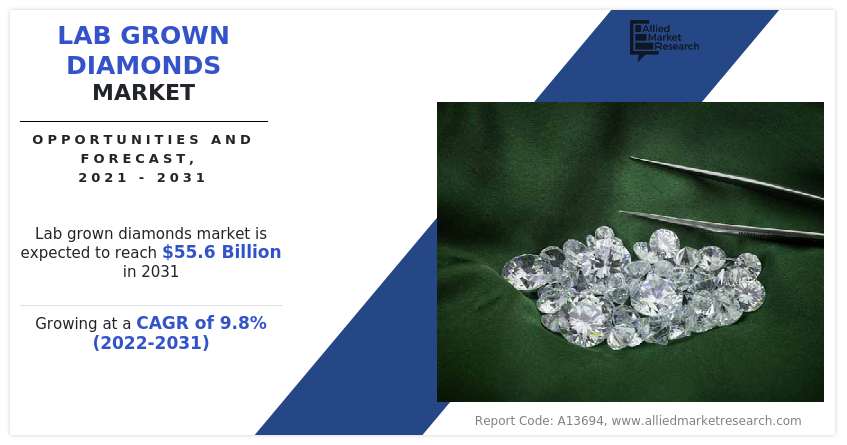 The lab grown diamonds market is segmented into Manufacturing Method, Nature, Size and Application.
Lab grown diamonds are made in laboratories and factories. These diamonds are identical to natural diamonds in their composition and appearance. Lab grown diamonds are manufactured using techniques such as HPHT, which stands for high pressure and high temperature, and CVD, which stands for chemical vapor deposition. Diamonds made in labs are generally of better quality than natural diamonds as they are made in controlled environments with constant monitoring and quality control.
Increase in adoption of lab grown diamonds in the fashion and jewelry sector, along with the increasing application of these diamonds in the industrial sector has spurred the demand for lab grown diamonds across a myriad lab grown diamonds industry verticals. This lab grown diamonds can also be customized and personalized as per requirement, which further adds advantages apart from them being highly economical, sustainable, and environment friendly.
The use of lab grown diamonds in the creation of jewelry has increased significantly. Many companies are including lab grown diamond jewelry as a cost-effective alternative to naturally mined diamond jewelry. Lab grown diamonds are available in a myriad of shapes and sizes, which provide multiple avenues to use them effectively. Many companies such as Pandora, which is a well-renowned jewelry company across the world, has completely transitioned over to lab grown diamonds from natural diamonds. Several jewelry companies and designers are collaborating with lab grown diamond manufacturers, especially in Europe, to create pieces of jewelry that are unique, stylish, and exclusive.
These pieces of jewelry are being displayed at fashion weeks and are being endorsed by celebrities, which is leading to an increased demand for fashionable diamond jewelry, especially among the millennial population. Greater adoption of lab grown diamonds by the jewelry and fashion jewelry industry propels the growth during the lab grown diamonds market forecast.
The global lab grown diamonds market is segmented on the basis of manufacturing method, size, nature, application, and region. By manufacturing methods, the global market is bifurcated into HPHT and CVD. By size, it is segmented into below 2 carats, 2–4 carat, and above 4 carat. By nature, it is bifurcated into colorless and colored. On the basis of application, it is studied across fashion and industry. The global lab grown diamonds market is also studied across North America, Europe, Asia-Pacific, and LAMEA.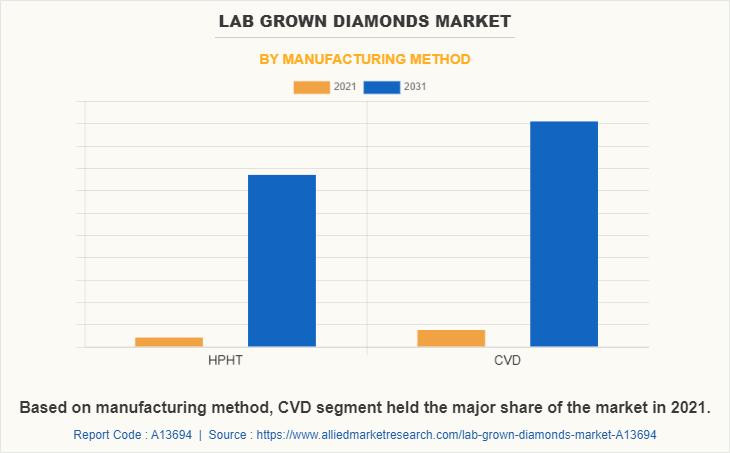 Based on the manufacturing method, the CVD segment held 51.4% lab grown diamonds market share in 2021. Techniques for growing diamonds in labs and factories were first invented in the 1950s, in the form of HPHT. It was used for the creation of diamonds that were small and mostly useful for industrial applications. CVD technology for creating diamonds was invented in the 1980s, and further innovation in diamond manufacturing technology led to the creation of techniques for making diamonds that were bigger and could reach sizes of 10 carats and more.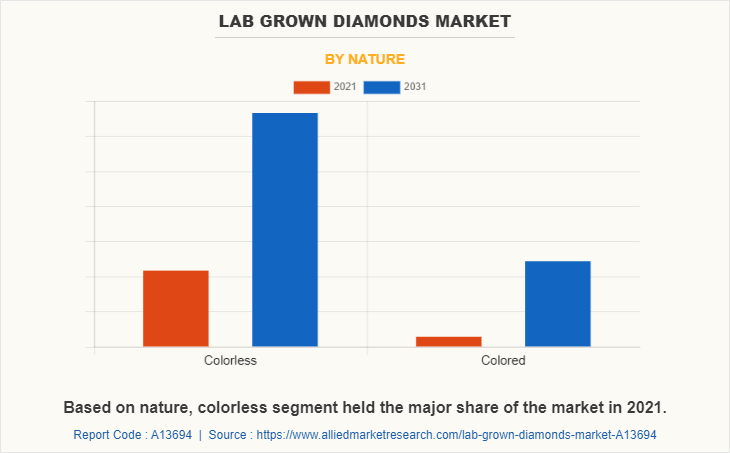 Based on nature, the colorless segment held the major share of the market in 2021. Colorless lab-grown diamonds are highly popular for making jewelry such as engagement rings and wedding rings. They are also widely used for the production of jewelry pieces such as necklaces, bracelets, nose pins, and pendants. These diamonds can also be used for embedding in accessories such as belts, watches, phone cases, brochures, and tiaras. Colorless lab-grown diamonds are the purest types of diamonds. The colored segment is the fastest-growing segment of the market in 2021. Different colors of lab-grown diamonds are formed due to different impurities, changes in the crystalline structure, or radiations. Yellow and brown color diamonds are formed due to the presence of nitrogen during the production by HPHT which is expected to propel lab grown diamonds market growth in the upcoming years.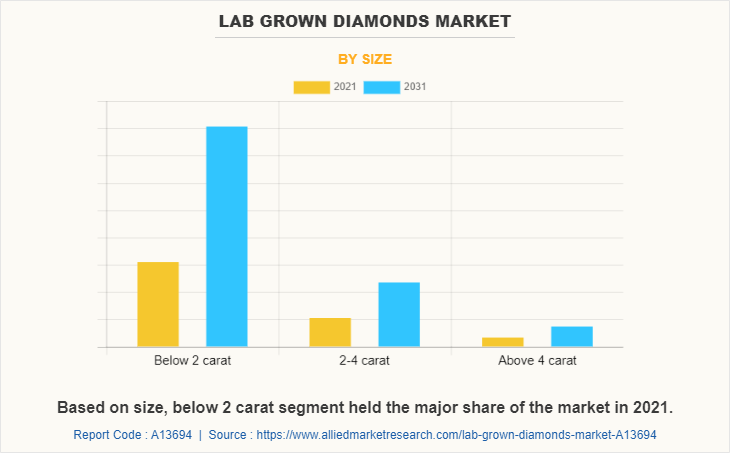 Based on the size, the below 2-carat segment held the major share of the market in 2021. Most of the lab-grown diamonds that are available in the market for jewelry production and industrial tools production are below 2 carats. Diamonds that are below 0.15 carats are called melee diamonds, and these are the most abundant types of diamonds available. However, these diamonds are not of jewel quality and are mostly used for industrial tools. Diamonds above 0.3 carats are generally considered the best for jewelry production, however, many industrial applications also make use of these diamonds for various applications which is expected to propel lab grown diamonds market demand in the upcoming years.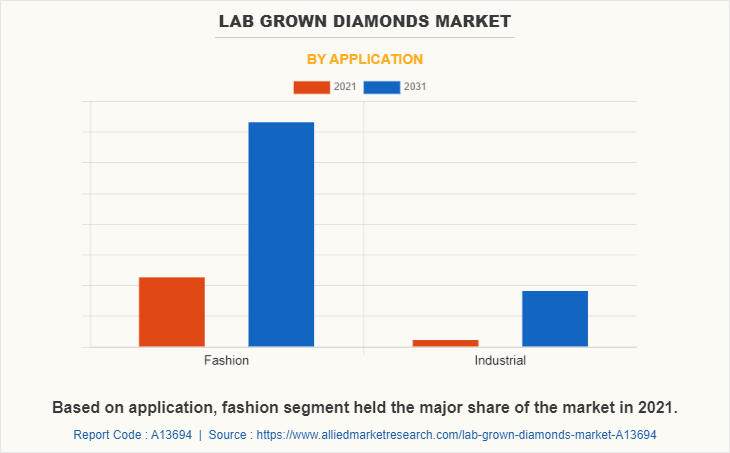 Based on application, the fashion segment held the major share of the market in 2021. Lab grown diamonds are heavily used in the fashion industry for the creation of different types of unique jewelry pieces and jewelry sets. Colorless, as well as colored diamonds, are used in jewelry made with silver, gold, platinum, tungsten, and other types of metals. The availability of custom sizes and carats of diamonds made possible by growing diamonds in labs makes these diamonds highly appealing to the fashion industry. Besides jewelry, smaller lab-grown diamonds are also being used as accents in designer clothing and other types of accessories such as purses, watches, and frames for glasses or sunglasses.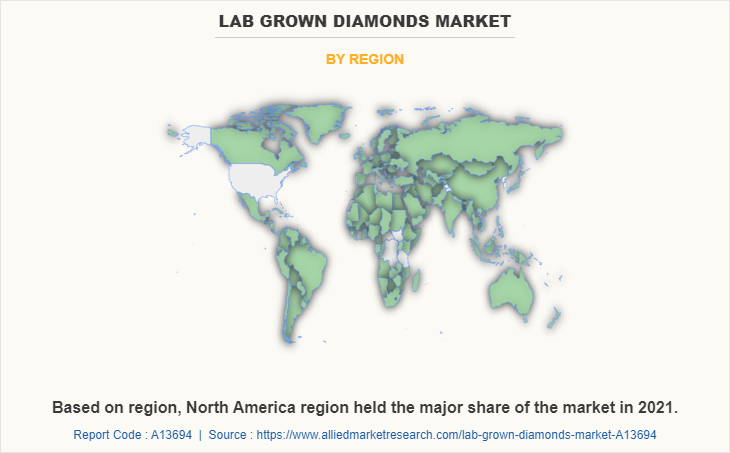 Based on region, the Asia-Pacific region held the major share of the market in 2021. Asia-Pacific is one of the largest producers of lab grown diamonds in the world. China is the top country in terms of lab grown diamond production and export, while India is set to become a major hub of lab grown diamonds in the world. The Asia-Pacific market is growing significantly, owing to improvements in living standards and rise in disposable income, thereby leading customers to adopt a lavish lifestyle, which is also driving the demand for jewelry in the region.
Some of the major players profiled in the lab grown diamonds market analysis include ABD Diamonds, Clean Origin, De Beers Group, Diam Concept, Diamond Foundry Inc., Henan Huanghe Whirlwind Co., Ltd, Mittal Diamonds, New Diamond Technology LLC, Swarovski AG, and WD Lab Grown Diamonds. Other prominent players analyzed in the report are Applied Diamond Inc., D.NEA Diamonds, Zhengzhou Sino-Crystal Diamond Co., Sahajanand Laser Technology Limited (SLTL Group), Finegrowndiamonds, Zhongnan Diamond Co. Ltd, and Sumitomo Electric Industries Ltd.
Key Benefits For Stakeholders
This report provides a quantitative analysis of the market segments, current trends, estimations, and dynamics of the lab grown diamonds market analysis from 2021 to 2031 to identify the prevailing lab grown diamonds market opportunities.
The market research is offered along with information related to key drivers, restraints, and opportunities.
Porter's five forces analysis highlights the potency of buyers and suppliers to enable stakeholders make profit-oriented business decisions and strengthen their supplier-buyer network.
In-depth analysis of the lab grown diamonds market segmentation assists to determine the prevailing market opportunities.
Major countries in each region are mapped according to their revenue contribution to the global market.
Market player positioning facilitates benchmarking and provides a clear understanding of the present position of the market players.
The report includes the analysis of the regional as well as global lab grown diamonds market trends, key players, market segments, application areas, and market growth strategies.
 Lab Grown Diamonds Market Report Highlights
Aspects
Details
Market Size By 2031
USD 55.6 billion
Growth Rate
CAGR of 9.8%
Forecast period
2021 - 2031
Report Pages
330
By Manufacturing Method
By Nature
By Size

2-4 carat
Above 4 carat
Below 2 carat

By Application
By Region

North America (U.S., Mexico, Canada)
Europe (UK, Germany, France, Italy, Spain, Rest of Europe)
Asia-Pacific (China, Japan, India, Australia, South Korea, Rest of Asia-Pacific)
LAMEA (Brazil, Argentina, Saudi Arabia, United Arab Emirates, South Africa, Rest of LAMEA)

Key Market Players
Henan Huanghe Whirlwind CO., Ltd., Diam Concept, WD Lab Grown Diamonds, Diamond Foundry Inc., Swarovski AG, Clean Origin LLC., Mittal Diamonds, De Beers Group, ABD Diamonds Pvt. Ltd., New Diamond Technology LLC