Land Mobile Radio System Market Outlook: 2022
The global market is estimated to reach $43,707 million by 2022, registering a CAGR of 17.1% from 2016 to 2022. Land mobile radio (LMR) is a communication equipment, which offers seamless and mission critical voice communication and data services. The increasing focus on improving communication technologies among law enforcing agencies and public safety organizations is primarily driving the adoption of LMR systems. The leading players in the land mobile radio system market are developing customized solutions and applications to cater to the customers growing needs, besides exploring novel technologies and applications through scientific research and technology innovation. LMR systems are majorly used in defense, public safety, law enforcement, and emergency response applications. However, LMR systems are rapidly being adopted for effective communication other commercial sectors such as transportation, construction, utilities, manufacturing, hospitality, healthcare, and others. The increase in demand for land mobile radio system industry from emerging economies such as Asia-Pacific and LAMEA, coupled with increasing safety measures during natural disasters, terrorist activities, and other situations is expected to supplement the growth of land mobile radio system market.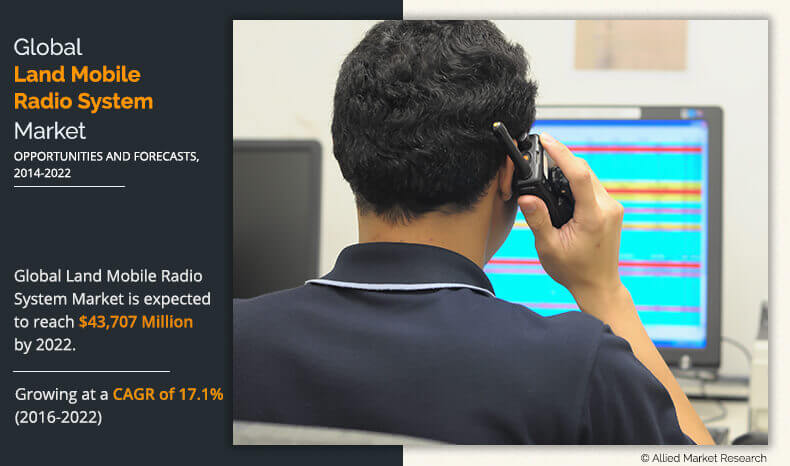 The well-known companies profiled in the report include Airbus DS Communications, Motorola Solutions Inc., Harris Corporation, Thales Group S.A., JVC Kenwood Corporation, Raytheon Company, Cassadian Communications, Inc., Cartel Communication Systems, TE Connectivity Ltd, RELM Wireless Corporation. These companies consistently launch products and explore novel technologies to meet the customers increasing needs and requirements. A significant increase in investments is observed for the R&D in private and public organizations involving product innovation and development of customized solutions.
Segment Overview
The global land mobile radio system market is segmented into type, technology, end user, and region. Based on type, the land radio system industry is divided into mobile, and portable. Based on technology, the market is divided into analog, and digital. On the basis of end user, the market is segmented into defense and public safety, commercial, transportation, construction, and others. The market is segmented based on region into North America, Europe, Asia-Pacific, and LAMEA.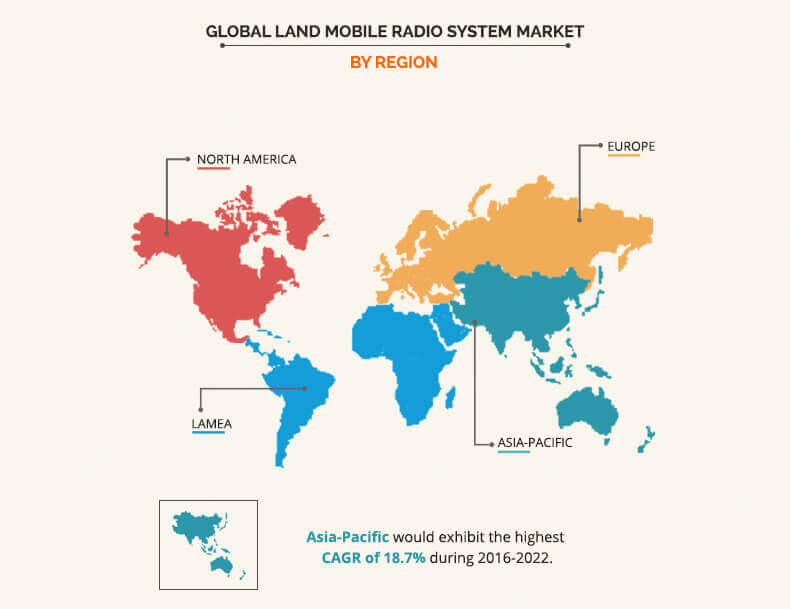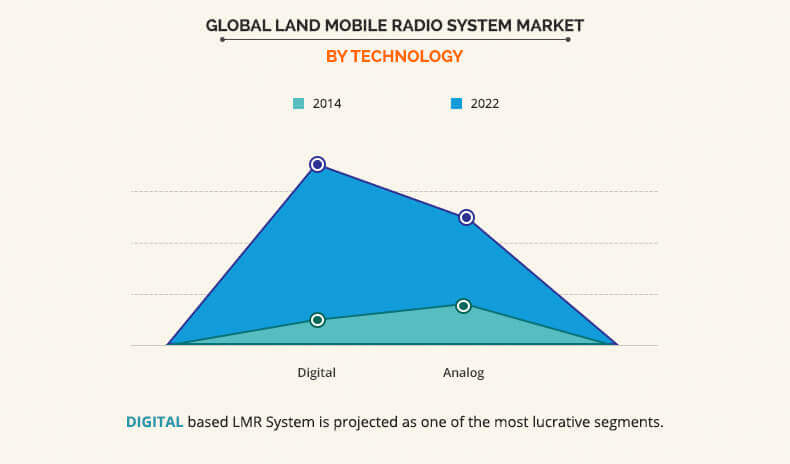 The above graph depicts the top investment pockets with respect to the growth rate and market attractiveness. The top investment pockets in the land mobile radio system industry are the commercial, defense and public safety, and transportation sectors.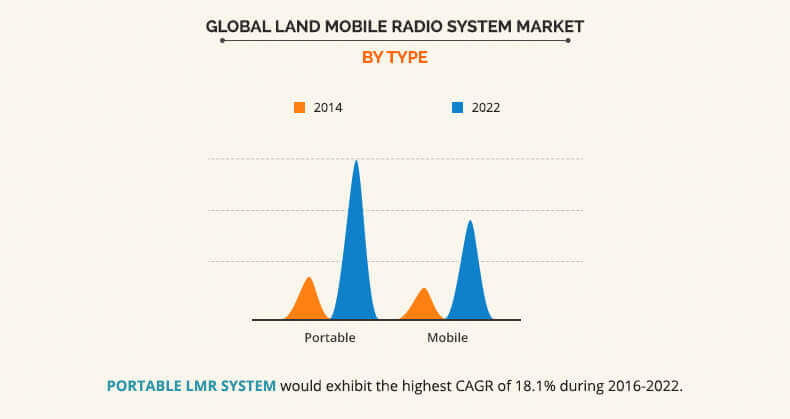 Presently, the defense and public safety sector dominates the global land mobile radio system market. LMR systems are increasingly being used in the defense and public safety sector by law enforcers and emergency responders for providing rescue services during natural disasters, terrorist activities, and other situations. Mission critical communication and intelligence enables law enforcement organizations to stream video, access data, and collaborate in real time. A LMR system enables responders to improve real-time decision-making capabilities through integration of voice communications, data applications, and command centers, which has increased its demand in the defense sector.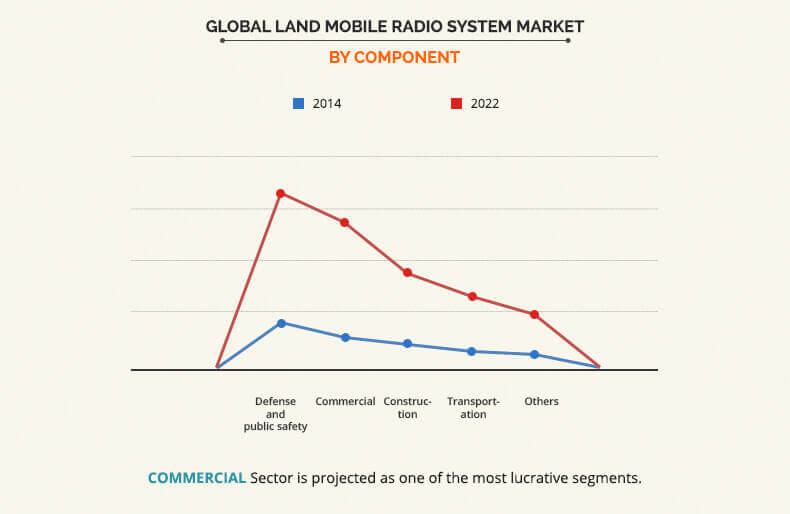 The commercial sector is another lucrative investment area, and is anticipated to drive the market in the coming years. The commercial sector includes manufacturing centers, retail stores and malls, airports, and corporate spaces. Small, medium, and large organizations are increasingly adopting LMR systems for streamlining of business operations and enhancing customer experience. In the manufacturing sector, application of LMR systems increases workforce productivity, reduces response time, and enhances safety. A LMR system connects workers and devices, while simplifying plant communications, managing risks, and automating processes.
Key Benefits
This report provides an in-depth analysis of the global land mobile radio system market to identify the potential investment pockets.
It outlines the current trends and future scenario of the global land mobile radio system market from 2016 to 2022 to understand the prevailing opportunities and investment pockets.
The key drivers, restraints, and opportunities along with their detailed impact analyses have been elucidated.
Porters Five Forces model analysis illustrates the impact of factors such as threat of new entrants, threat of substitutes, strength of the buyers, and strength of suppliers on the land mobile radio system industry growth.
The quantitative analysis of the global land mobile radio system market size from 2014 to 2022 is provided in the report to elaborate the market potential.
 Land Mobile Radio System Market Report Highlights
Aspects
Details
By Type
By Technology
By End User

Defense and Public Safety
Commercial
Construction
Transportation
Others

By Geography

North America
Europe

UK
Germany
France
Rest of Europe

Asia-Pacific

China
India
Japan
Rest of Asia-Pacific

LAMEA

Latin America
Middle East
Africa

Key Market Players
CASSADIAN COMMUNICATIONS, INC., AIRBUS DS COMMUNICATIONS, JVC KENWOOD CORPORATION, RELM WIRELESS CORPORATION, MOTOROLA SOLUTIONS INC., RAYTHEON COMPANY, HARRIS CORPORATION, TE CONNECTIVITY LTD, CARTEL COMMUNICATION SYSTEMS, THALES GROUP S.A.
Other Market Players Mentioned in the Report
KT Telecom, SK Telecom, Samsung Group, Nokia Corporation, Telstra Corporation Limited, Telefonaktiebolaget L. M. Ericsson, Agilent Technologies