Automotive LKAS Market – 2031:
The global lane keep assist system market was valued at $7.9 billion in 2021, and is projected to reach $45.7 billion by 2031, growing at a CAGR of 20.4% from 2022 to 2031.
The lane keeping assist system is a technical application that combines cameras, sensors, and autonomous assistance. It is applied to vehicles to make the vehicle drive in a specific lane. When the vehicle deviates from a specific lane, these systems notify the driver that it is dangerous or there is a risk of collision. The surge in vehicle sales requires increased production through better infrastructure and safety features, which is expected to affect the growth of lane keep assist system market. Moreover, technological advancements along with favorable government regulations are also expected to create a huge demand for lane keep assist system as well as lifting the growth of the lane keep assist system industry.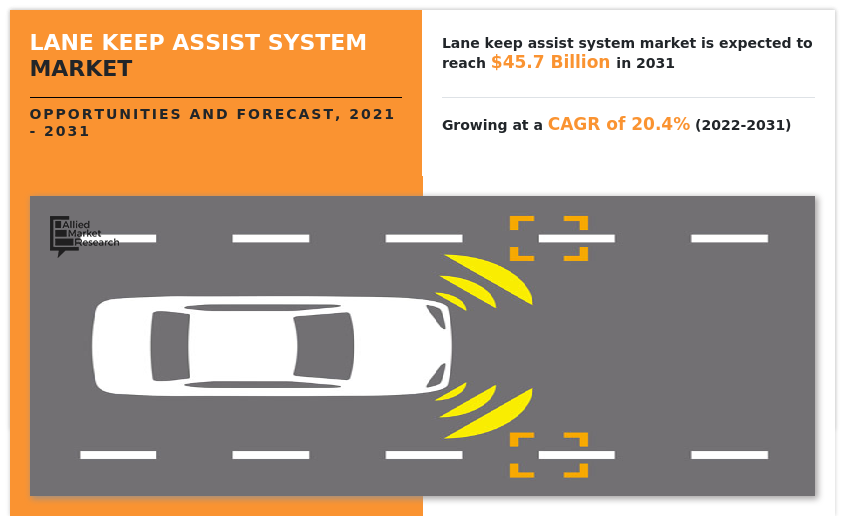 Factors such as increase in demand for safety features, and rise in demand for semi-autonomous & autonomous driving technologies are anticipated to boost the growth of the global lane keep assist system market during the forecast period. However, software failures associated with sensors, and high initial cost and complex structure are expected to hinder the growth of the market during the forecast period. Moreover, strict rules and regulations for safety features, and rise in demand for comfort while driving is expected to create opportunities for the market growth in the future
The lane keep assist system market is segmented on the basis of function type, component, vehicle type, propulsion, and region. By function type, it is bifurcated into direct lane keeping system, and lane departure Warning. By component, it is classified into vision sensor/camera, electronic power assisted steering (EPAS) actuator, electronic control unit, and others. By vehicle type, it is divided into passenger vehicles, and commercial vehicles. By propulsion, it is categorized into ICE, electric &hybrid, and alternate fuel vehicle. By region, the LKAS market is analyzed across North America, Europe, Asia-Pacific, and LAMEA.
Key players that operate in this lane keep assist system market include Autolive Inc., Bendix Commercial Vehicle Systems LLC, Continental AG, Delphi Technologies (Borgwarner Inc.), Denso Corporation, Hitachi Ltd., Hyundai Mobis, Magna International Inc., Mobileye, Panasonic Corporation, NXP Semiconductors, Robert Bosch GmbH, Valeo, Visteon Corporation, and ZF Friedrichshafen AG.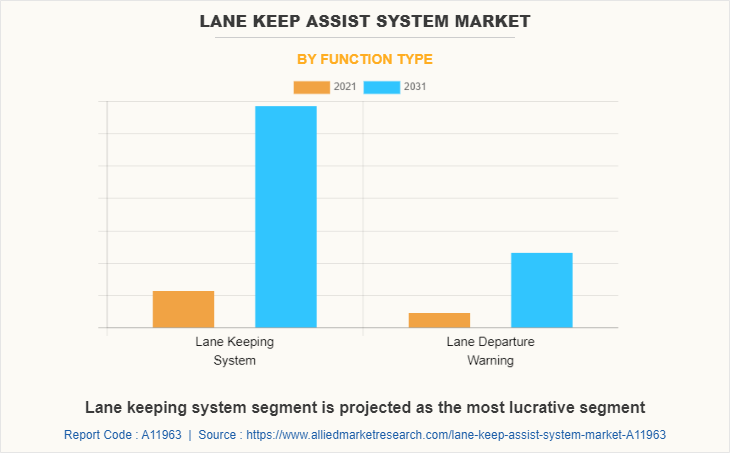 Increase in demand semi-autonomous and autonomous driving technologies
Semi-autonomous and autonomous driving technologies are used to automate, adapt, and enhance vehicle technology. Through its ability to sense its surroundings, an autonomous vehicle or self-driving car may drive and perform necessary functions by analyzing the external and internal environment with the help of cameras, sensors, radars, and other equipment without the need for human interaction. Leading car manufacturers are incorporating technological improvements in automobile technology such as Advanced Driver Assistance System (ADAS) level 1, ADAS level 2, and ADAS level 3, into their vehicles. For instance, in August 2022, Kenworth introduced new Class 8 T680, T880 and W990 trucks with lane keeping assist system. The Kenworth lane keeping assist system uses camera input to identify when the truck is departing the lane and provides a "nudge" to help keep the truck centered in the lane.
Moreover, the automotive customers have increased acquisition of vehicles equipped with ADAS technologies owing to increased convenience and luxury provided by advanced vehicles. Owing to all these factor increase in demand for semi-autonomous and autonomous systems is expected to propel the demand for lane keep assist system market.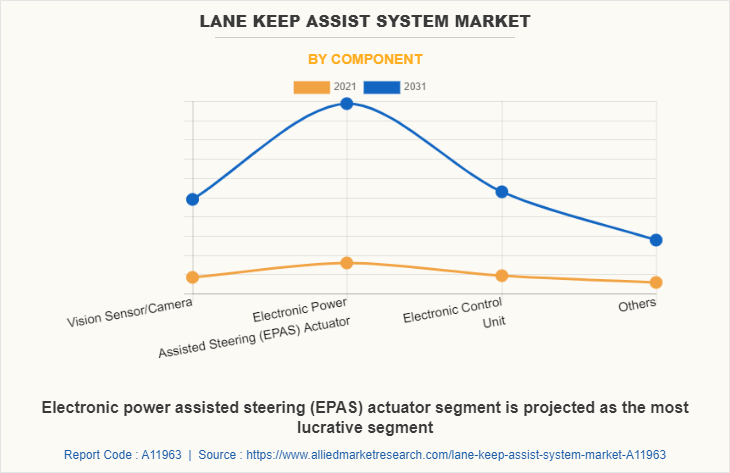 Increase in demand for safety features
Road accidents are a major cause of death globally and tremendous increase in death rates, owing to road accidents has been observed in last few years. For instance, according to the World Health Organization report published in 2021, nearly 1.3 million people died in road traffic crashes each year. Moreover, road traffic injuries leading to death are higher among teenagers. These factors surge the demand for safety features in vehicles. Companies operating in the automobile sector are developing and introducing the safety features to meet needs of customers. Demand for safety features, such as lane keep assist, lane departure warnings, parking assistance, collision avoidance systems, traction control, electronic stability control, and tire pressure monitors, is experiencing an upward trend, owing to increase in number of road accidents worldwide. In addition, these systems ensure safety and security of the vehicle as well as passengers on-board by creating an advanced alert related to the vehicle condition. Moreover, prominent players operating in the industry have developed advanced vehicle safety features, which include numerous subcomponents such as sensors and microcontrollers such as lane keep assist system, which are intended to provide real-time information of the vehicle, thus ensuring safety of the vehicle. Moreover, increased government norms for inclusion of numerous safety features in vehicles creates a wider scope, thus supplementing the growth of the lane keep assist system market across the globe.
Software failures associated with sensors
Increase in installation of sensors and devices in vehicle has made the driving safer and convenient. Built-in computer systems and sensors provide a better driving experience, but if mismanaged or incorrectly updated, they can cause catastrophic accidents and injuries. Automotive software failure, depending on where and how it occurs, can place vehicle occupants in severe danger of catastrophic injury. Automotive software has evolved into complicated and sophisticated programs for operating advanced automobile technology and components such as camera systems, sensors, and others. The risk of failure increases as the automotive software gets intricate. Many modern vehicles contain multiple electronic control units (ECUs) connected through network connections, most of which are required to perform essential safety systems such as lane keep assist system, and others. The failure of the sensors and ECUs might result in accidents and injuries. Moreover, accidents can occur when software malfunctions and essential vehicle systems cease operating. In addition, software bugs create misalignment or disruption in the automotive sensors' real-time environmental monitoring capability. The failure of automotive software and sensors has a negative effect on the performance of lane keep assist system, limiting the growth of the lane keep assist system market.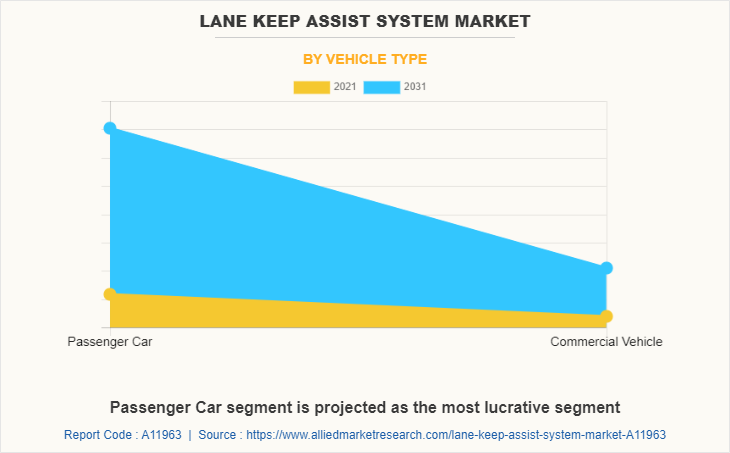 Strict rules and regulations for safety features
Several countries across the world have implemented laws and regulations for vehicles to install safety systems such as lane departure warning system and lane keep assist system in their vehicles within a stipulated time period. For instance, in 2018, the road transport minister publicized at the Society of Indian Automobile Manufacturers (SIAM) conference that the Indian government was focused toward making Indian roads safer by including advanced driver-assistance systems (ADAS) as a mandate for all cars by 2022. In addition, installation of automotive radar system is made mandatory in various countries along with technologies such as lane keep assist, lane departure system, and driver monitoring system. Moreover, in the U.S., the automobile manufactures need to obtain safety ratings from organizations such as the Insurance Institute of Highway Safety (IIHS), New Car Assessment Program (NCAP), to access the sales license of vehicles in the market. The emergence of safety rules and regulations made by the government are anticipated to boost the growth of the automotive radar market in the coming years.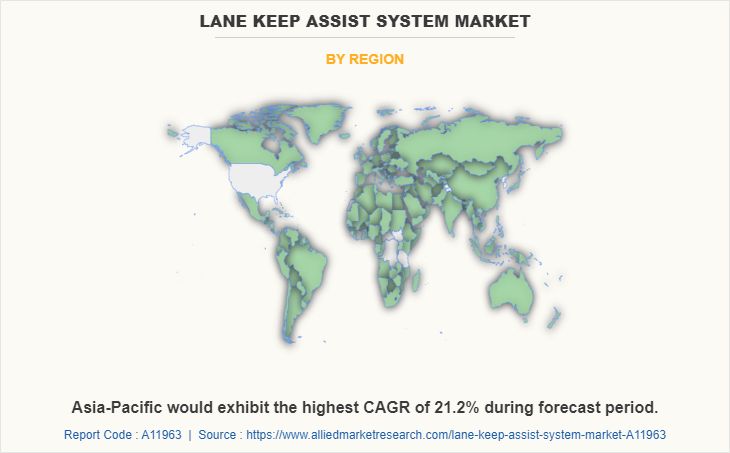 The automotive sector faced four significant challenges during COVID-19, including the shutdown of production facilities, reduced sales of new vehicles, limited supply of vehicle parts, and a decline in working capital. According to industry experts, the Canadian transportation industry faced consequences of COVID-19 pandemic, as 49,000 truck drivers lost their jobs during the first two quarters of 2020. In addition, the Goodyear Tire & Rubber Co. reported a 41% drop in sales and a 45% decrease in tire unit volumes compared to its Q2 2020 financial results. However, vaccination enabled lowering of barriers to economic activity, as well as domestic and international travel. The overall service activities & advancement in technology of vehicles regarding safety & fuel efficiency have registered a steady and favorable recovery in the subsequent months with increase in sales of passenger cars and commercial vehicles, thus resulting in rise in demand for lane keep assist.
Key Benefits For Stakeholders
This report provides a quantitative analysis of the market segments, current trends, estimations, and dynamics of the lane keep assist system market analysis from 2021 to 2031 to identify the prevailing lane keep assist system market opportunities.
The market research is offered along with information related to key drivers, restraints, and opportunities.
Porter's five forces analysis highlights the potency of buyers and suppliers to enable stakeholders make profit-oriented business decisions and strengthen their supplier-buyer network.
In-depth analysis of the lane keep assist system market segmentation assists to determine the prevailing market opportunities.
Major countries in each region are mapped according to their revenue contribution to the global market.
Market player positioning facilitates benchmarking and provides a clear understanding of the present position of the market players.
The report includes the analysis of the regional as well as global lane keep assist system market trends, key players, market segments, application areas, and market growth strategies.
 Lane Keep Assist System Market Report Highlights
Aspects
Details
Market Size By 2031
USD 45.7 billion
Growth Rate
CAGR of 20.4%
Forecast period
2021 - 2031
Report Pages
380
By Propulsion

ICE
Electric and Hybrid
Others

By Function Type

Lane Departure Warning
Lane Keeping System

By Component

Vision Sensor/Camera
Electronic Power Assisted Steering (EPAS) Actuator
Electronic Control Unit
Others

By Vehicle Type

Passenger Car
Commercial Vehicle

By Region

North America (U.S., Canada, Mexico)
Europe (Germany, France, Russia, Netherlands, UK, Poland, Spain, Rest Of Europe)
Asia-Pacific (China, India, Japan, South Korea, Asean, Rest Of Asia-Pacific)
LAMEA (Brazil, UAE, Saudi Arabia, South Africa, Rest Of LAMEA)

Key Market Players
Panasonic Corp., Hitachi Ltd, CONTINENTAL AG, HYUNDAI MOBIS, WABCO Holdings Inc., Visteon, ZF Friedrichshafen AG, Bendix, SDS, Magna, Denso Corporation, VALEO, Robert Bosch GmbH, Delphi Automotive PLC., MOBILEYE