Language Translation Software Market Research, 2031
The global language translation software market was valued at $9.3 billion in 2021, and is projected to reach $44.8 billion by 2031, growing at a CAGR of 17.3% from 2022 to 2031.
The COVID-19 pandemic has devastated a number of industries as it has ravaged the globe. However, the majority of translators now work from home and use digital documents, thus the pandemic lockdowns did not have much of an influence on the market for translation services. With the use of pertinent information that has been properly translated, transcribed, and disseminated globally, experts are continually looking forward to working together to limit the spread of the COVID-19 pandemic.
A language translation software is designed to facilitate and speed up the translator's work by providing a stable and safe environment. Additionally, software for translation provides features, tools, and resources that may be utilised to streamline the entire translation process and produce high-quality translations rapidly. The finest translation software centralises translation itself as well as data analysis, reporting, content distribution, and project management. Furthermore, by switching from the laborious practise of blindly translating through a spreadsheet to a fully automated and transparent process, brands may use translation and localization tools to empower translators. 
Increase in prevalence of smartphones around the globe and the rise in government investments are driving the growth of language translation software market share. However, alternative tools and free language translators accessibility limits the growth of this market. Conversely, expanding business communication needs are anticipated to provide numerous opportunities for the expansion of language translation software market forecast.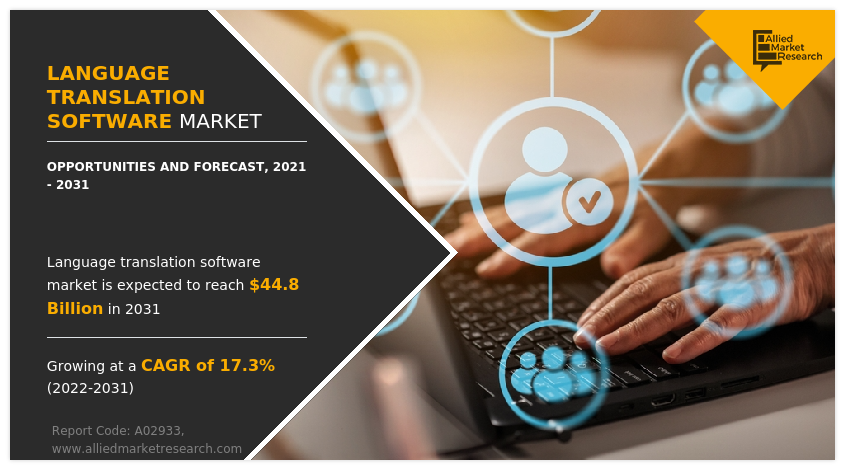 The language translation software market is segmented into Component, Solution Type, Enterprise Size and Industry Vertical.
The global language translation software market is segmented on the basis of component, solution type, enterprise size, industry vertical and region. On the basis of component, it is segregated into solution and services. On the basis of solution type, it is segregated into rule-based machine translation, statistical based machine translation, and hybrid machine translation. On the basis of enterprise size, it is bifurcated into large enterprise and SMEs. By industry vertical, it is categorized into BFSI, IT & telecom, education, travel and tourism, manufacturing, healthcare, and other. On the basis of region, it is analyzed across North America, Europe, Asia-Pacific, and LAMEA.  
The global language translation software market is dominated by key players such as Languageline Solutions, Microsoft Corporation, Acolad, Alphabet Inc, Babylon Software, Inriver, International Business Machines Corporation, Lingotek, Apptek, and Global Linguist Solutions. These players have adopted various strategies to increase their market penetration and strengthen their position in language translation software industry.
Language Translation Software Market

---
By Component
Solution dominated the language translation software market in 2021, owing to the adoption of solution to the language, cultural, and technological requirements of target audience.
Get more information on this report :
Request Sample Pages
Depending on the component, the solution segment dominated the language translation software market share in 2021 and is expected to continue this trend during the forecast period, owing to rise in creating publishable quality translations for businesses to close the gap in internal and external multilingual communications. However, the services segment is expected to witness significant growth in the upcoming years, as it enable users the chance to communicate with a global audience and with human translation services, users can expand their worldwide reach in ways that have never been possible for a business.
Language Translation Software Market

---
By Region
North America dominated the language translation software market in 2021, owing to to the huge investments of the investors in the tools and technology for the betterment of productivity in their business.
Get more information on this report :
Request Sample Pages
Region-wise, the language translation software market size was dominated by North America in 2021 and is expected to retain its position during the forecast period, owing to high demand for high-quality translation services, presence of a substantial industrial base in the U.S., government initiatives to promote innovation, and large purchasing power are some of the driving factors in the region. However, Asia Pacific is expected to witness significant growth during the forecast period, as various companies are also creating new technological advancements to improve the translation process, such as AI enabled translators. These elements are projected to propel market expansion. Thus, these factors are expected to witness considerable growth during the forecast period.
Top impacting factors 
Increase in prevalence of smartphones around the globe   
The reason behind language translation software market growth is the rise in the adoption of smartphones and internet access in non-English speaking nations such as Spain, Russia, Mexico, and Brazil. Majorities of adults in each of the emerging and developing countries now use their personal smartphones. Moreover, apps for socializing and messaging have grown immensely popular. People around the world are trying to stay connected with different cultures and regions. This has significantly boosted the adoption of language translation software. Furthermore, most of the non-English speaking regions are increasingly using LTS in-built smartphones. Thus, many smartphone companies are adding this software with modifications to attract customers. This is anticipated to boost the market growth significantly.  
Rise in Government investments 
The modern world is turning into a global village. Moreover, there is a massive exchange of human resources between different countries. The main obstacles in this process are the variation in social norms, communication styles, and cultural norms, as well as language barriers. These distinctions are prominent among different countries and also among the distinct regions of the same country. People depend on the government for a variety of daily services, including banking, healthcare, trains, agriculture, public-sector businesses, employment opportunities, and government policies that are in their best interests. Therefore, the government attempts to provide a user-friendly interface that enables the public to access these services quickly. The government driven website's content must, however, be presented in "local languages", if it is intended for all citizens. The bulk of the populace is expected to become more aware as a result of the government's efforts. Localizing a website can help the governments to reach this goal. Hence, majority of the government organizations are investing on LTS to enhance relationship with fellow citizens.
Digital Capabilities 
Language translation software is increasingly relevant in advanced technologies where advanced control techniques such as Statistical Machine Translation (SMT),  Neural Machine Translation (NMT),  Rule-based Machine Translation (RBMT) and Multimodal Machine Translation. In addition, a technique called statistical machine translation (SMT) uses statistical models to translate text from one language to another. To understand how words and phrases are translated from one language to another, SMT uses a significant quantity of multilingual text data. SMT systems typically use techniques such as Hidden Markov Models (HMMs) or Phrase-Based Models (PBMs) to analyze the bilingual text data and generate translations. Additionally, SMT's ability to handle a broad variety of languages and ease of implementation are two of its primary advantages. However, idiomatic language, wordplay, and cultural allusions might be challenging for it to learn from the data. It can also result in translations that are semantically incorrect or that are not grammatically accurate. Many different organizations are shifting towards the machine translation technology to achieve more accurate result. For instance, according to the paper published in December 2021 by IEEE,  in recent years, machine translation (MT) become very essential in many applications and achieved advances for almost all languages. Such features further expand the growth of the language translation software market.
End-User Adoption 
The growing digitalization and increasing need of translation software is accelerating end-user adoption. Language translation software can be adopted by different end users such as individual consumers, businesses, and government organizations. Individual users of language translation software use it for a variety of personal purposes, including travel, intercultural communication, and language acquisition. Microsoft Translator and Google Translate are two well-known consumer-oriented language translation programmes. For instance, StoryWeaver, a multilingual children's storytelling platform. It currently hosts more than 50,000 open-licensed stories across reading levels in more than 300 languages from around the world. 
Furthermore, the availability and quality of the software, the requirement for communication in several languages, and the cost of the programme are some of the variables that influence end user adoption of language translation software. The creation of more precise and user-friendly language translation software has expanded its use among end users in recent years as a result of developments in the field of natural language processing and the expansion of data availability. For instance, in January 2022, Kotozna Inc., a Japan-based software startup, debuted its latest digital concierge platform namely Kotozna In-room, that deciphers 109 different languages for hotels and travel markets. The system allows guests and hotel staff to communicate in real-time in their native tongues but have the messages translated to whatever language the person speaks. This unlocks new potentials and innovation value, enhancing the translation role and creating opportunities for translation software.
Government Initiatives 
Various companies and government bodies are collaborating to strengthen R&D in the many industries with evolving productive alliances that lead to indigenous design, development, manufacturing, and deployment of cost-effective products and solutions. Additionally, government organizations also adopt language translation software for different purposes such as immigration services, diplomacy, and foreign trade. For instance, in September 2020, the government of Estonia is to allocate one million euros for the development of machine translation software and a further €400,000 for creating an option to automatically add Estonian-language subtitles to television programs. The option to automatically add Estonian-language subtitles to television programs would bolster the availability of information for people who are unable to follow most live broadcasts in the Estonian language. Moreover, this initiative will augment the indigenous intellectual property and create new avenues for wider adoption and language translation products & solutions. 
Furthermore, the overall goal of government activities on language translation software industry is to foster the growth of the technology, encourage its use, and enhance the services offered to residents.
Key Benefits For Stakeholders
This report provides a quantitative analysis of the market segments, current trends, estimations, and dynamics of the language translation software market analysis from 2021 to 2031 to identify the prevailing language translation software market opportunities.
The market research is offered along with information related to key drivers, restraints, and opportunities.
Porter's five forces analysis highlights the potency of buyers and suppliers to enable stakeholders make profit-oriented business decisions and strengthen their supplier-buyer network.
In-depth analysis of the language translation software market segmentation assists to determine the prevailing market opportunities.
Major countries in each region are mapped according to their revenue contribution to the global market.
Market player positioning facilitates benchmarking and provides a clear understanding of the present position of the market players.
The report includes the analysis of the regional as well as global language translation software market trends, key players, market segments, application areas, and market growth strategies.
 Language Translation Software Market Report Highlights
Aspects
Details
Market Size By 2031
USD 44.8 billion
Growth Rate
CAGR of 17.3%
Forecast period
2021 - 2031
Report Pages
451
Component
Solution Type

Rule-Based Machine Translation
Statistical Based Machine Translation
Hybrid Machine Translation

Enterprise Size
Industry Vertical

IT and Telecom
Healthcare
Manufacturing
BFSI
Education
Travel and Tourism
Others

By Region

North America (U.S., Canada)
Europe (UK, Germany, France, Italy, Spain, Netherlands, Rest of Europe)
Asia-Pacific (China, India, Japan, Australia, South Korea, Rest of Asia-Pacific)
LAMEA (Latin America, Middle East, Africa)

Key Market Players
LanguageLine Solutions, Microsoft Corporation, Acolad, Alphabet Inc, Babylon Software, inriver, International Business Machines Corporation, Lingotek, apptek, global linguist solutions