Laptops Market Research, 2031
The global laptops market was valued at $168.6 billion in 2021, and is projected to reach $257.4 billion by 2031, growing at a CAGR of 4.4% from 2022 to 2031.
Businesses have been severely impacted by the COVID-19 outbreak around the world. However, it has positively benefited the popularity of laptops because of the lockdowns implemented by many governments. This forced the worldwide laptops market to reconsider its current production processes, which largely drives industry 4.0 and the digital transformation across the production lines. The manufacturers are also required to work together to develop and implement a variety of fresh, flexible strategies for product and quality control.
A laptop, sometimes known as a notebook computer, is a small, portable computer that is powered by a battery and recharged via an AC adapter. Laptops typically have a thickness of less than 3 inches, a weight of less than 5 pounds, and a low power consumption design. The linked thin LCD or LED laptops display can be folded flat for transportation. The majority of people use laptops for a wide range of tasks, including work, education, gaming, Internet browsing, personal entertainment, and everyday home computer use. Increase in levels of internet usage, more disposable incomes, an expanding world population, and greater consumer knowledge of emerging technologies are some of the main factors which drive the growth of the market. One of the main elements contributing to a favorable outlook for the market is the significant growth of the information technology (IT) sector globally. High-performance laptops are becoming more and more necessary across a variety of industries, including education, automotive, manufacturing, and medicine, as a result of rise in digital convergence. Bring-your-own-device (BYOD) trends are being adopted by businesses to streamline operations, which boosts the market. In addition, the increased demand for multipurpose laptop and the spread of high-speed internet influences the market. It is expected to develop as a result of a number of other factors, rise in spending power of the consumers and their growth in predilection for gaming laptop, particularly among millennials.  
Surge rise in adoption of laptops in educational institutions and increase in consumer demand primarily drive growth of the laptops market. However, increased adoption of smartphones and tablets hamper the market growth to some extent. Moreover, rise in demand in the corporate sectors are expected to provide lucrative opportunities for the market growth during the forecast period.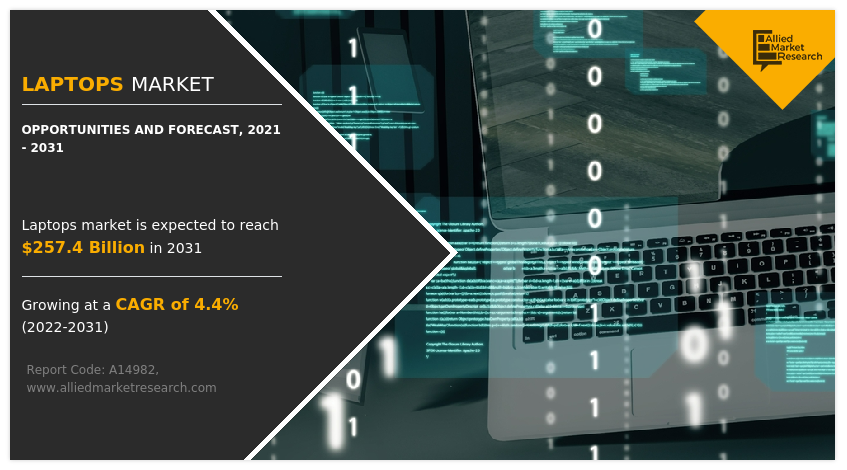 The laptops market is segmented into Type, Design, Screen Size and End User.
The laptops market growth has been segmented into type, screen size, design, end user, and region. On the basis of type, the laptops market is bifurcated into traditional laptops and 2-in-1 laptops. On the basis of design, it is divided into ultrabook, notebook and others. On the basis of screen size, it is classified into up to 10.9" inch, 11" to 12.9" inch, 13" to 14.9" inch, 15.0" to 16.9" inch, and more than 17" inch. On the basis of end user, it is divided into personal, business, gaming, and others. On the basis of region, the market is analyzed across North America, Europe, Asia-Pacific, and LAMEA. 
The global laptops industry is dominated by key players such as Acer Inc., Apple Inc., Asustek Computer Inc., Dell Technologies Inc., Haier Inc., Hewlett Packard Enterprise Company, Lenovo, Samsung Electronics Co Ltd, Sony Corporation, Toshiba Corporation. These players have adopted various strategies to increase their market penetration and strengthen their position in laptops industry.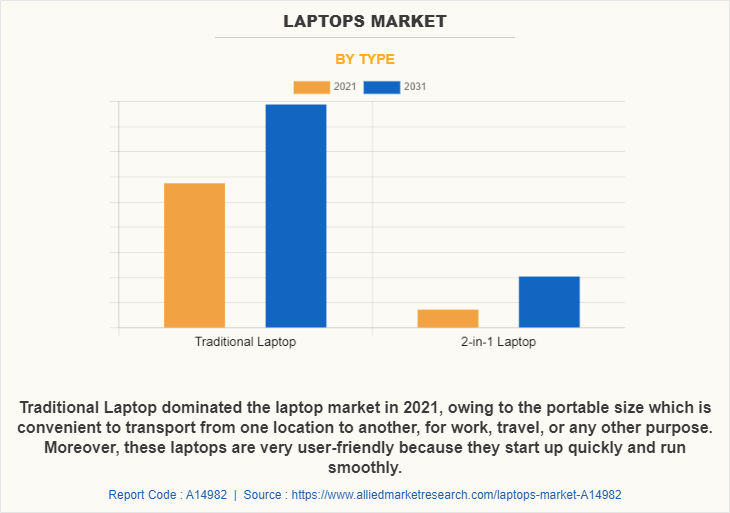 On the basis of type segment, traditional laptop dominated the laptops market share in 2021, and is expected to maintain its dominance in the upcoming years, owing to its increased adoption by end users, particularly gamers. Traditional ones offer advantages such as more storage space, powerful processor, bigger screen size, and increased Random Access Memory (RAM), among others. However, 2-in-1 Laptop is expected segment is expected to witness highest growth, owing to integrates capabilities of a laptop and tablet into one device, offering benefits such as energy efficient processors, light weight, and increased number of ports.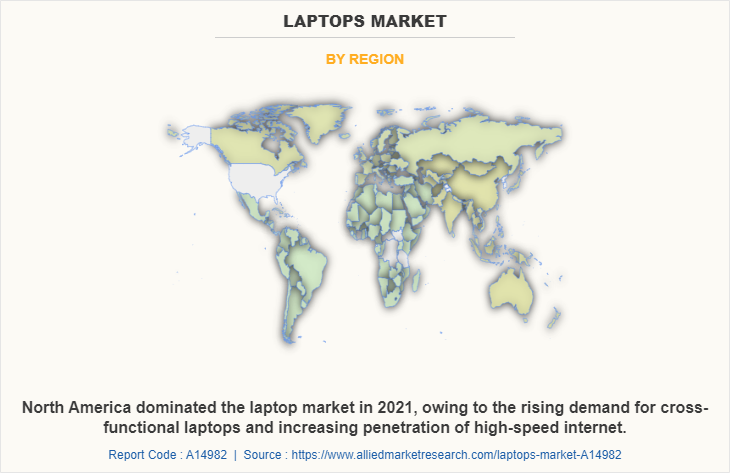 Region-wise, the laptops market size was dominated by North America in 2021 and is expected to retain its position during the forecast period, owing to the adoption of new technology and heterogeneity aiding the growth of the laptop market. However, Asia Pacific is expected to witness significant growth during the forecast period, owing to adoption of laptops has been fuelled by trends like work from home and online learning, which is expected to fuel the market growth in this region. Furthermore, several major laptop solution providers including Acer Inc., Apple Inc., Dell Technologies Inc., Hewlett Packard Enterprise Company, Lenovo, Samsung Electronics Co Ltd, Sony Corporation, Toshiba Corporation are introducing new products & services to laptop.
Top impacting factors 
Rise in adoption of laptops in educational institutions 
One of the key drivers of the expansion of laptops market is the growth in use of laptops in educational institutions. Educational institutions like schools and colleges are implementing laptops computers in their classrooms due to advantages including affordability, wireless connection, and convenience. It supports students' notetaking, group collaboration, writing and editing options of the students, assignment and assessment organization, and interactive learning. In addition, schools are implementing virtual technology and offering online courses, enabling students to learn whenever it is convenient for them. Laptops adoption is widespread in educational institutions around the world as a way to increase the' effectiveness of a teacher and aid students in their learning.  
 Increase in Consumer Demand   
The improvement in internet infrastructure and rise in consumer demand drive the global laptops market. The demand for laptop on the part of businesses helps the sector even more. In addition, the market also is benefited by the falling price of the purchases soar, enabling market expansion. The use and adoption of laptops across various classes and demographics is being made possible by a number of governments programs in the developing countries, which may contribute to the growth of the laptops market during the forecast period. Furthermore, the expansion in the focus on domestic production, FDI flows, and growth in digitization are also anticipated to drive the laptops market in various regions.
Technological Trends 
In the twenty-first century, many people's lives have come to depend on their laptops. This is not at all surprising given how portable they are and how many things can be done on them. Still, the potential for further growth of laptops is extremely limited. People witness the introduction and improvement of fascinating new technology every year. Many consumers are demanding longer battery lives as the number of laptops sold grows and users utilize their computers for both personal and professional purposes. This is especially true for those who frequently use laptops on the go and are unable to plug their charger into a power outlet. The typical battery life of modern laptops is eight to twelve hours. However, in the near future, things could get even better. Impressive battery life is offered by recent releases. For instance, the 2021 MacBook Pro's 14-inch model offers up to 17 hours of video playback, while the 16-inch model increases this to 21 hours. Therefore, customers should expect to see laptops with significantly better battery lives in 2022.  
The laptops that people see today are incredibly lightweight in comparison to their predecessors. And the weight loss will continue indefinitely. Many individuals prefer to use two screens when working, and it's not unusual to go into an office and see someone's laptop connected to an external monitor. However, due to the ever-increasing desire for convenience, dual-screen displays are now beginning to appear in some commercial laptops. The dual-screen ASUS Zenbook Duo 14, which was released in 2021, features a tiny screen above the keyboard in addition to the larger one. Integration of AR and VR on laptops isn't necessarily a novel idea. The zSpace AIO laptop, the first laptop to offer these features, was released in the first half of 2019. This device includes a set of zSpace smart glasses, a stylus, and holographic AR projection and VR technology. The laptop's main purpose is to better envelop the user in the user interface and give them access to more realistic experiences. Similar to how standard VR and AR can be entertaining for consumers in a more leisurely context, such a laptop is extremely helpful in instructional settings.. 
Government Initiatives: 
Some of the government initiatives foe the laptop market are: 
The government's plan to implement a one-charger policy similar to the one being implemented by the European Union has divided the Indian electronics industry (EU). To eliminate the need for consumers to buy separate charges for various gadgets, the EU wants electronics products to utilize standard chargers. While phone manufacturers have been transitioning to standard chargers for a while now, it will be challenging for manufacturers of other devices, including laptops, to do the same 
Public Procurement (Preference to Make in India) [PPP-MII] has been issued by the government. Order 2017 pursuant to Order No. P-45021/2/2017-B.E.-II of the Department for Promotion of Industry and Internal Trade (DPIIT) dated June 15, 2017, and revisions thereto pursuant to With a view to boosting revenue and employment, Order No. 45021/2/2017-PP(BE-II) dated 28.05.2018, 29.05.2019, 04.06.2020, and 16.09.2020 promotes manufacturing and production of goods, services, and works in India. In accordance with General Financial Rules 2017 Rule 153 (iii), this Order is being issued. 

The Central Pollution Control Board (CPCB), a division of the MoEFCC, Government of India, issues EPR Authorizations for laptop imports. Laptop importers fall under the PIBO category and are considered participants in the market for electronic and electrical equipment. They were recently highlighted in the updated PWM guidelines 2016, which were published in March 2021. A person with an Importer Exporter Code one imports or wants to import is referred to as an importer (IEC). According to the PWM Rules, the businesses which market-introduce products that would produce e-waste once their useful lives are up have been designated as makers, brand owners, and importers. They are responsible for returning the plastic waste produced as a result of their product. 

Regulations for Consumer Protection in Distance Selling The rights of consumers who buy products and services via websites are safeguarded by this law in the UK. 
Key Benefits For Stakeholders
This report provides a quantitative analysis of the market segments, current trends, estimations, and dynamics of the laptops market analysis from 2021 to 2031 to identify the prevailing laptops market opportunities.
The market research is offered along with information related to key drivers, restraints, and opportunities.
Porter's five forces analysis highlights the potency of buyers and suppliers to enable stakeholders make profit-oriented business decisions and strengthen their supplier-buyer network.
In-depth analysis of the laptops market forecast assists to determine the prevailing market opportunities.
Major countries in each region are mapped according to their revenue contribution to the global market.
Market player positioning facilitates benchmarking and provides a clear understanding of the present position of the market players.
The report includes the analysis of the regional as well as global laptops market trends, key players, market segments, application areas, and market growth strategies.
 Laptops Market Report Highlights
Aspects
Details
Market Size By 2031
USD 257.4 billion
Growth Rate
CAGR of 4.4%
Forecast period
2021 - 2031
Report Pages
201
By Type

Traditional Laptop
2-in-1 Laptop

By Design

Notebook
Ultrabook
Others

By Screen Size

Up to 10.9" Inch
11" to 12.9" Inch
13" to 14.9" Inch
15.0" to 16.9" Inch
More than 17" Inch

By End User

Personal
Business
Gaming
Others

By Region

North America (U.S., Canada)
Europe (UK, Germany, France, Italy, Spain, Rest of Europe)
Asia-Pacific (China, India, Japan, Australia, South Korea, Rest of Asia-Pacific)
LAMEA (Latin America, Middle East, Africa)

Key Market Players
AsusTek Computer Inc., TOSHIBA CORPORATION, Sony Corporation, Haier Inc., Samsung Electronics Co Ltd, Lenovo, Hewlett Packard Enterprise Company, Apple Inc., Acer Inc., Dell Technologies Inc.