Laser Cutting Machines Market Overview:
Global Laser Cutting Machines Market is expected to reach $5.7 billion by 2022, growing at a CAGR of 9.3% from 2016 to 2022. Laser cutting machines involve casting a laser beam on the work piece, melting it and subsequently evaporating the targeted area by using enough heat by the laser.
The increase in production requirements in various industries and the need to reduce human involvement for improving the metal processing quality drive the need for automation in manufacturing industries. These requirements are fulfilled by the laser cutting machines.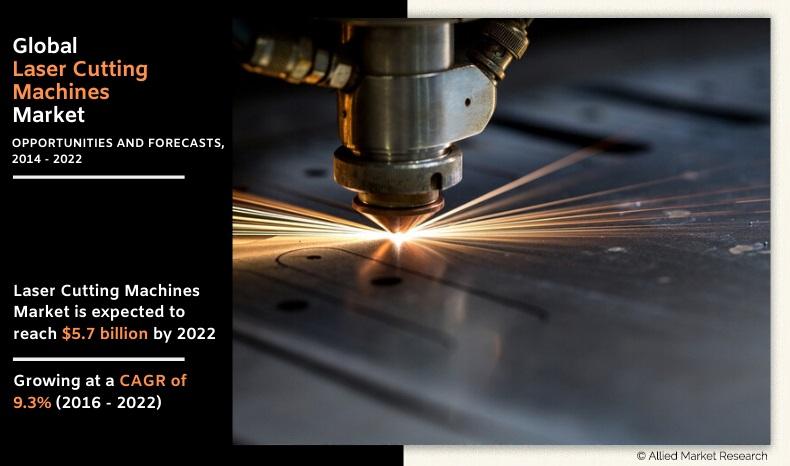 Increase in sales and production in the respective markets of automotive, consumer electronics, and defense boost the requirement of these machines to be installed for manufacturing. The decrease in life span of products also supports the sales growth phenomena. The machines are required for keeping up with the demand for products.
There are substitutes available in the market that help in cutting; these offer similar features but use different cutting tool instead of laser. These substitutes affect the market in current scenario by offering alternate solutions for the shortcomings of laser cutting machines. The effect of these substitutes is expected to reduce in the future as the laser cutting machines undergo continuous improvements to counter the technological shortcomings.
Segment Review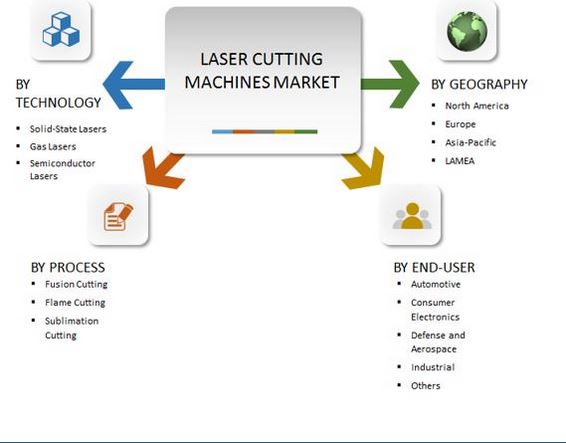 Top Impacting Factor
The significant impacting factors include growth of markets that require laser cutting machines and increase in need of automation in the manufacturing industry. Along with these factors, the market is influenced by the introduction of new technologies for improving machines. The above-mentioned factor creates opportunities for the market growth while factors such as availability of substitute machinery and expensive R&D limit the market growth. However, each factor is expected to impact the market during the forecast period.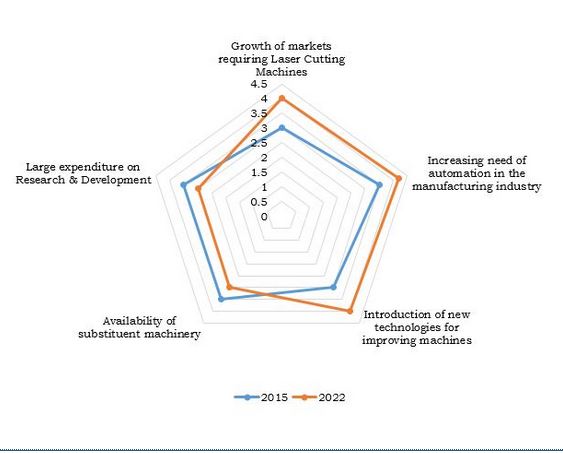 Growth of Automotive and Consumer Electronics Industry
The growth in consumer electronics and automotive drives the growth of laser cutting machines as shown in the figure below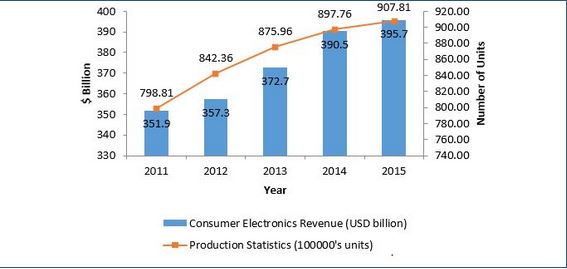 Key Benefits
The report gives extensive details about the current and possible future scenarios of the laser cutting machines market.
The report covers in depth study about the new emerging strategies and the present strategies adopted by the companies involved in the market.
The report provides Porters Five Forces analysis to understand all the factors that affect the market.
This report provides in depth quantitative analysis about the current market and predicts the future behavior, which assists in finding new market opportunities.
This report provides comprehensive segmentation of the market along with the market leaders of different categories.
 Global Laser Cutting Machines Market Report Highlights
Aspects
Details
By Technology

Solid-State Lasers
Gas Lasers
Semiconductor Lasers

By Process

Fusion Cutting
Flame Cutting
Sublimation Cutting

BY END USER INDUSTRY

Automotive
Consumer Electronics
Defense and Aerospace
Industrial
Other Users

By Geography

North America
LAMEA
Asia Pacific
LAMEA

Key Market Players
Coherent Incorporation, Jenoptik Laser GmbH, ALPHA Laser GmbH, Bystronic Incorporated, Epilog Laser Inc., IPG Photonics Corporation, Trumpf GMBH + Co. Kg, Amada Miyachi Company, Ltd.