The global last mile delivery market was valued at $131.5 billion in 2021, and is projected to reach $288.9 billion by 2031, growing at a CAGR of 8.13% from 2022 to 2031.

Last mile delivery, also known as last mile logistics, is the last leg of a journey comprising movement of goods from a transportation hub or warehouse to the final delivery destination. Last mile delivery aims to deliver items to customers as quickly as possible while minimizing company costs. Last mile delivery accounts for more than 50% of the total shipping cost. It is mostly used in food, e-commerce, retail, or pharmaceutical industries. Present, increased use of internet along with the expansion of the e-commerce industry fuel the adoption of online shopping, which in turn requires better and efficient means to deliver the product to the customer. Thus, various product delivery services have been adopted by companies such as use of drones and ground delivery vehicles.
COVID-19 has created a short-term disruption and long-term structural changes due to which the e-commerce sector is experiencing a sluggish growth in new online categories such as groceries and home care. Due to COVID-19 pandemic, the overall sales of e-commerce business in the U.S. have increased by over 30%. As per the industry experts, with the increased urbanization, approximately 60% people will be living in cities in the near future and among those, 2.1 billion customers are expected to buy goods online by the year 2021. Also, in March 2021, the AIN pharmacy in town began autonomous delivery of medication to patients' homes. In 2020, Starship Technologies started delivering food during the pandemic. Factors such as rise in demand for contactless delivery from customers, growth of the e-commerce sector during pandemics, and partnership and collaboration between various companies and autonomous vehicle and ground delivery bots manufacturers, are expected to boost the market growth during pandemic.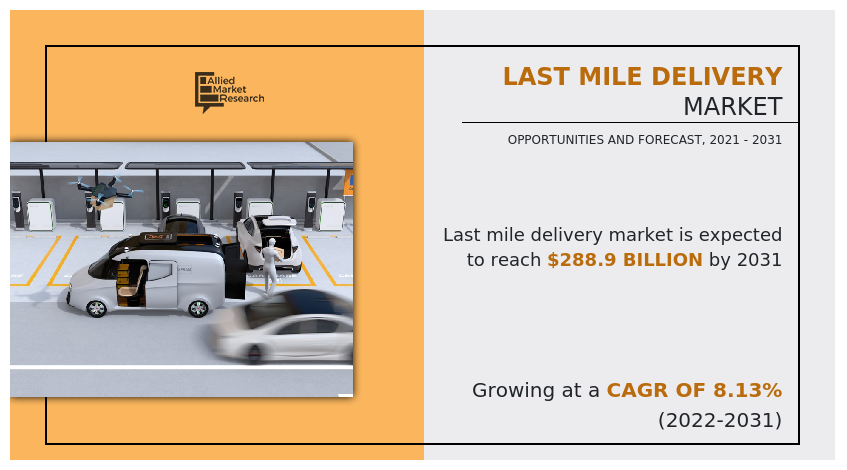 In addition, last mile delivery has gained more popularity during the COVID-19 pandemic, owing to growth in demand for contactless and home-based delivery service. For instance, in March 2020, Matternet, developer of world's leading urban drone logistics platform, unveiled its new Matternet Station to support peer-to-peer drone logistics networks for urban environments. Autonomous M2 drone and Cloud Platform provide an intuitive user interface for sending & receiving medical payloads and a safe & secure drone portal for hospital campuses.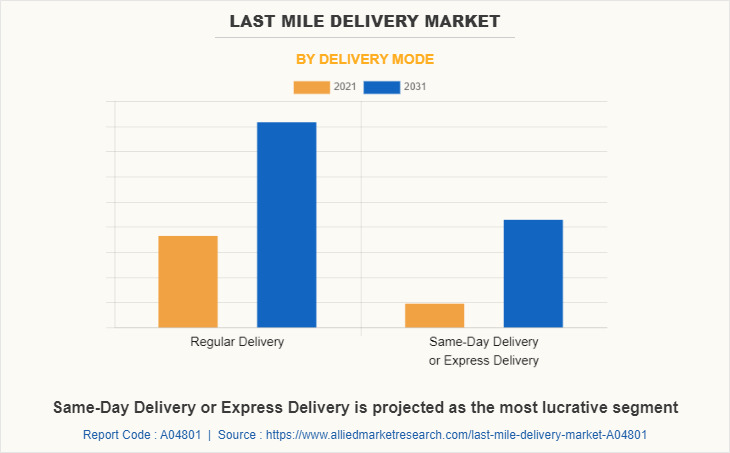 Furthermore, innovations & investments by top market players boost growth of the last mile delivery industry. For instance, Amazon launched its delivery robot called Scout, which is of the size of a small cooler and can roll along sidewalks and deliver packages at the doorstep of customers. This has encouraged Amazon to introduce a new concept in the field of autonomous last mile delivery service. The automotive last mile delivery market forecast is expected to witness various developments carried out by top companies, which leads to growth of the market.
Factors such as development of e-commerce industry and increase in trading activities, owing to globalization, technological advancements in delivery vehicles, and increase in demand for fast delivery of packages drive the last mile delivery market growth. However, poor infrastructure & higher logistics costs, lack of control of manufacturers and retailers on logistics services, and imprecise postal address system are expected to hamper the growth of the market.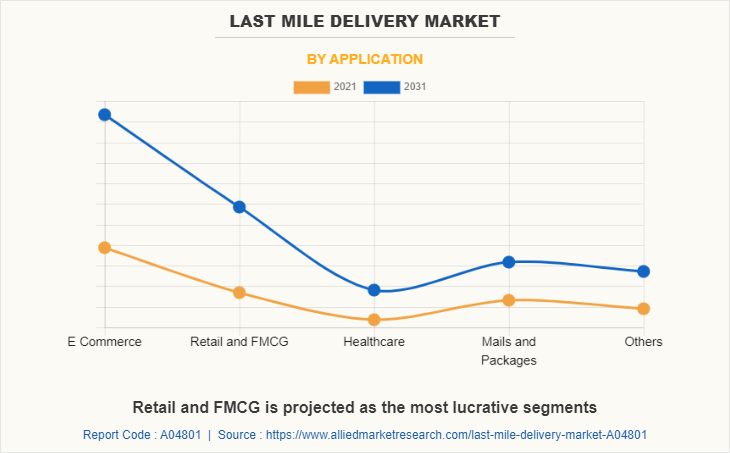 Further, adoption autonomous delivery to reinforce demand, cost cutting, and lead time reduction, owing to adoption of multi-modal system and growth in e-commerce industry, coupled with rise in B2C deliveries are expected to create numerous opportunities for growth and expansion of the last mile delivery market.
The last mile delivery market is segmented into delivery mode, application, destination, service type, vehicle type, mode of operation and region. By service, the market is categorized into business-to-business (B2B), business-to-consumer (B2C), and customer-to-customer (C2C). By vehicle type, it is fragmented into motorcycles, light commercial vehicles (LCV), heavy commercial vehicles (HCV), and drones. Depending on the mode of operation, it is classified into non-autonomous and autonomous. By delivery mode, it is fragmented into regular delivery and same-day delivery or express delivery. By application, it classified into e-commerce, retail & FMCG, healthcare, mails & packages, and others. By region, the market has been studied across North America, Europe, Asia-Pacific and LAMEA.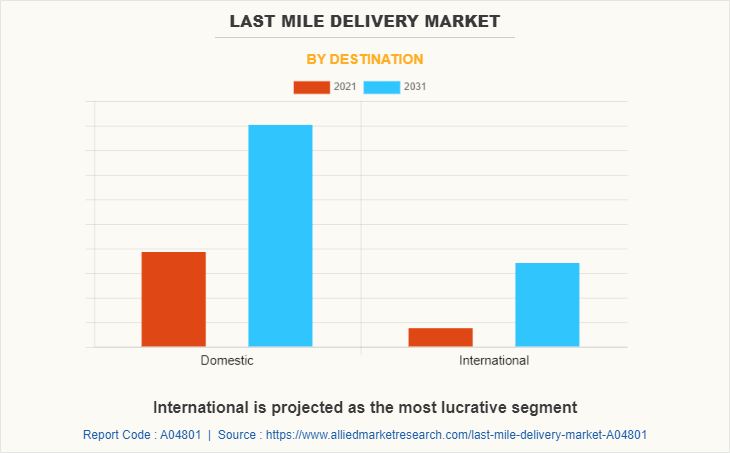 Global key players profiled in the last mile delivery market report include A1 Express Services Inc., Amazon.com, Aramex, BEST Inc., DB Schenker, Deutsche Post AG (DHL GROUP), DPD, Drone Delivery Canada, Dropoff, Inc., DSV (DSV PANALPINA), FedEx, Flirtey, Flytrex, Geodis, Jet Delivery, Inc., Kerry Logistics Network Limited, Marble Robot, Matternet, Power Link Expedite, Savioke, SF Express, United Parcel Service, Inc. (UPS), USA Couriers, XPO Logistics, Inc. and YTO Express Group Co. The key innovators operating in the industry includes companies such as Care to Beauty, Desertcart, Fetchr, JAZP and Jeebly LLC.
Development of the e-commerce industry
Demand for better and efficient delivery services for products has increased with the advent in online shopping along with inclination of customers toward buying products through an online source. Over past few years, the e-commerce industry has witnessed astonishing growth in various regions around the world. Factors such as access to multiple products, availability of a wide range of options for a single product, expected delivery time, and a variety of shipping options including tracking options and easy returns drive growth of the e-commerce industry. For instance, in January 2022, DPD Group collaborated with Asendia USA to provide quick and cost-effective e-commerce package delivery services to Europe from the U.S., enabling exceptional growth potential in the region. In addition, online grocery stores and retailers, such as Big Basket, Flipkart, and Amazon, are developing delivery robots to perform last-mile delivery of goods. For instance, both Amazon and FedEx are developing delivery robots, where FedEx's bot Roxo, which looks like a small refrigerator, has completed on-road tests in four cities.
Increase in trading activities
Dynamic market conditions and global economy movement are the key factors driving globalization. Various activities related to trade have been witnessed to increase, owing to rise in globalization from last several years. In addition, development of the overseas market is a significant factor that fuels growth of the industry. Trade activities within cities & nearby countries are anticipated to support growth of the last mile delivery market in the coming years.
Manufacturers or retailers find it difficult to keep a track of transportation activities in an effective manner; hence, freight transportation companies support these manufacturers to keep a track and control transportation and supply chain activities, including warehousing, distribution, and fulfillment services. Growth in trade activities and increase in concern toward seamless transportation activities, owing to globalization are expected to drive growth of the last mile delivery market across the globe.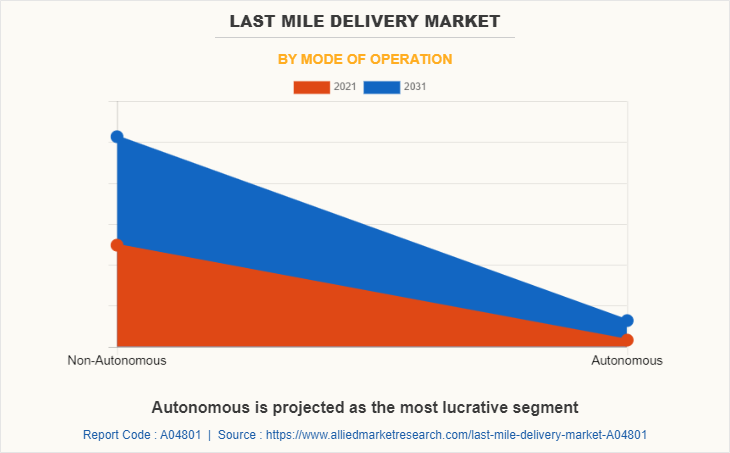 Poor infrastructure and higher logistics costs
Logistics needs good infrastructure, supply chain, and trade facilitation. Without these, firms have to build up more stock reserves and working capital, which can strongly affect national and regional competitiveness, owing to high financial costs. Moreover, lack of infrastructure hinders the logistics market as it increases costs and reduces supply chain reliability, including significant inefficiencies in transport, poor condition of storage infrastructure, complex tax structure, low rate of technology adoption, and poor skills of logistics professionals. Furthermore, lack of skilled workers, IT standard, and equipment and poor system integration have been among the key reasons for under development of the overall supply chain. Infrastructure directly influences transport costs and indirectly affects the level of inventories and consequently financial costs. Therefore, owing to poor transport infrastructure, firms need to have high levels of inventories to account for contingencies, which can result in higher overall logistics cost. Therefore, poor infrastructure along with high inventory prices and insufficient warehousing space are expected to hamper growth of last mile delivery market.
Adoption of autonomous delivery to reinforce the demand
Technological advancements in autonomous vehicles play a vital role in adoption of autonomous last-mile delivery services in the e-commerce industry. For instance, major players in the e-commerce industry such as Amazon and Alibaba have invested billions of dollars in their respective supply chains, aimed at promising faster deliveries. In 2019, Amazon invested $1billion in its one-day delivery initiative for Prime customers. Walmart and Target Corporation also offer same-day delivery programs in several locations.
Further, during the height of the pandemic, consumers gravitated toward online shopping for their domestic products, such as groceries, appliances, and other items. For instance, according to a CNBC report, total e-commerce sales in the U.S. in 2020 increased by more than 30% from 2019, before the pandemic, and in Germany, DHL saw parcel shipments increase from 5.3 million parcels to 9.0 million parcels per day, similar to Christmas peak times. Hence, to meet the demand, it has collaborated with different companies to introduce autonomous vehicles for package delivery. Such collaborations and developments carried out by several other players is anticipated to provide lucrative growth opportunities for the market during the COVID-19 pandemic situation globally.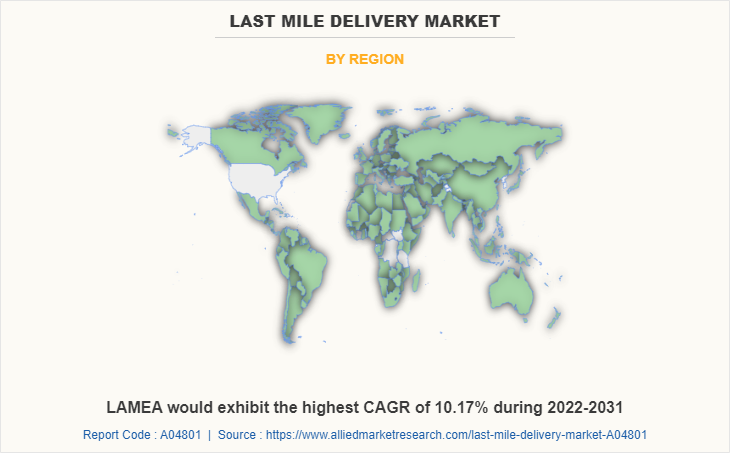 Key Benefits For Stakeholders
This study presents analytical depiction of the global last mile delivery market analysis along with current trends and future estimations to depict imminent investment pockets.

The overall last mile delivery market opportunity is determined by understanding profitable trends to gain a stronger foothold.

The report presents information related to the key drivers, restraints, and opportunities of

the global last mile delivery market with a detailed impact analysis.

The current last mile delivery market is quantitatively analyzed from 2021 to 2031 to benchmark the financial competency.

Porter's five forces analysis illustrates the potency of the buyers and suppliers in the industry.
 Last Mile Delivery Market Report Highlights
Aspects
Details
By Delivery Mode

Regular Delivery
Same-Day Delivery or Express Delivery

By Application

E Commerce
Retail and FMCG
Healthcare
Mails and Packages
Others

By Destination
By Service Type

Business-To-Business (B2B)
Business-To-Consumer (B2C)
Customer-To-Customer (C2C)

By Vehicle Type

Motorcycle
LCV
HCV
Drones

By Mode of Operation

Non-Autonomous
Autonomous

By Region

North America (U.S., Canada, Mexico)
Europe (U.K., Germany, France, Russia, Spain, Italy, Rest of Europe)
Asia-Pacific (China, Japan, India, South Korea, Australia, Vietnam, Rest of Asia-Pacific)
LAMEA (Latin America, Middle East, Africa)

Key Market Players
Drone Delivery Canada, Aramex, DB Schenker, FedEx, Flirtey, Amazon.com, XPO Logistics, Inc., Jet Delivery, Inc., SF Express, Power Link Expedite, Geodis, A1 Express Services Inc., Kerry Logistics Network Limited, Flytrex, YTO Express Group Co., Dropoff, Inc., DPD, DSV (DSV PANALPINA), Deutsche Post AG (DHL GROUP), BEST Inc, United Parcel Service, Inc. (UPS), Savioke, Matternet, USA Couriers, Marble Robot