The global lateral flow assay market was valued at $8,351.30 million in 2020 and is projected to reach $13,352.90 million by 2030 registering a CAGR of 4.70% from 2021 to 2030.
Lateral flow assays (LFA), also known as lateral flow immunochromatographic assays, are techniques used to detect presence (or absence) of a target analyte in a sample (matrix). These assays are widely used in hospitals and clinical laboratories for qualitative and quantitative detection of specific antigens and antibodies. Furthermore, lateral flow assay kits are used to rapidly test for infectious diseases, cardiac markers, pregnancy & fertility, cholesterol testing/lipid profiling, and drug abuse. They are also used for testing food & beverages.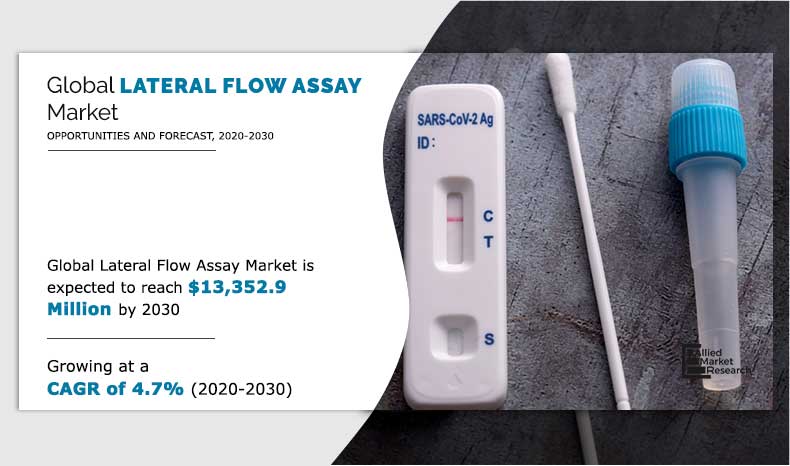 Growth in the lateral flow assays market is mainly driven by factors such as spread of various chronic and infectious diseases, increase in use of home-based lateral flow assay kits, growth in government initiatives toward promoting health awareness, growth in demand for point-of-care testing, increase in adoption of LFA due to innovations and advantages of LFA rapid tests over laboratory tests. Moreover, recent outbreak of the COVID-19 has positively affected growth of the lateral flow assays market. However, stringent and time-consuming regulatory policies for assays performed to detect presence or absence of any analyte and unwillingness of people toward changing existing medical practices restrain the market growth. Advancements in technology and increase in applications of lateral flow assay tests in clinical diagnostics provide lucrative opportunities for the lateral flow assay market growth.
Lateral flow assays (LFA) market has seen considerable growth due to the COVID-19 pandemic. Lateral flow assay-based tests are being used worldwide for diagnosing COVID-19 infections as LFA test kits have demonstrated the potential to detect both symptomatic and asymptomatic COVID-19 infections. Many healthcare companies are focused on developing lateral flow assay devices that can detect patient antibodies (IgG and IgM) or COVID-19 viral antigens in blood samples using a finger prick, saliva samples, or nasal fluid swabs. Factors that boost demand for LFA-based devices for COVID-19 testing include low cost of LFA devices and the fact that no trained personnel are required for performing these tests. The potential of LFA devices in detecting symptomatic and asymptomatic COVID-19 infections is its main advantage over other detection methods. For instance, RT-PCR can only determine active infections in patients, whereas LFA-based testing devices can determine patients who are asymptomatic, have been cured of the infection, and are no longer at risk of spreading the virus to others. Furthermore, LFA-based tests can diagnose different stages of COVID-19 infection in a patient. Hence, to a large extent, LFA-based tests shape medical and economic decisions for countries that continue to be affected by the COVID-19 pandemic and those preparing for the third wave in the future. 
Lateral Flow Assays Market Segmentation  
The lateral flow assay market is segmented on the basis of product, technique, application, end user, and region. By technique, the market is classified into competitive assay, sandwich assay, and multiplex detection assay. By product, it is bifurcated into lateral flow readers and kits & reagents. The lateral flow readers segment is further sub segmented into digital/mobile readers, mobile/smartphone readers, and benchtop readers. Applications covered in the study include veterinary diagnostics, clinical testing, food safety & environment testing, and drug development & quality testing. The clinical testing segment is further divided into infectious disease testing, cardiac marker testing, pregnancy & fertility testing, cholesterol & lipid testing, drugs-of-abuse testing, and others. According to end user, the market is segmented into home care, diagnostic laboratories, hospitals & clinics, pharmaceutical & biotechnology companies and others.. Region wise, the market is analyzed across North America, Europe, Asia-Pacific, and LAMEA.
Segment Review
By technique, the sandwich assays segment accounted for the largest share of the lateral flow assay kits & reagents market. Wide applications of these assays in clinical testing and advantages associated with the use of these assays, such as higher sensitivity and specificity for larger analytes are the major factors that drive growth of the sandwich assays market. 
Lateral Flow Assays Market

---
By Technique
Sandwich Assay segment holds a dominant position in 2020 and would continue to maintain the lead over the forecast period.
By product, the lateral flow readers segment is expected to grow at the highest CAGR in the market. It allows quantitative analysis of lateral flow strips in sandwich, competitive, and reverse-competitive test formats. Readers measure intensity of the test line to determine quantity of analytes in samples and provide a fully quantitative assay result. Readers perform multiple readings from a single device or a single read for multiple devices, followed by automatic statistical analysis of results to give a consolidated value. Moreover, lateral flow readers are highly sensitive and can quantify and accurately capture and transmit data. These factors promote high growth of this segment. 
Lateral Flow Assays Market

---
By Product
Kits and Reagents Segment is projected as one of the most lucrative segment.
Snapshot Of North America Lateral Flow Assays Market  
North America is expected to dominate the overall LFA market throughout the forecast period, owing to rise in incidences of various infectious diseases such as Lyme disease, COVID-19, tuberculosis, and increased mortality rate associated with HIV/AIDS in the region. In North America, the U.S holds the largest market share, owing to increased patient pool and high affordability with increasing disposable income.
Lateral Flow Assays Market

---
By Country
Asia Pacific region would exhibit the highest CAGR of 6.2% during 2020-2030.
The key market players profiled in the report include Abbott Laboratories, Danaher Corporation, F. Hoffmann-La Roche AG, Siemens Healthineers AG, Becton, Dickinson and Company, bioMérieux SA, Bio-Rad Laboratories, Inc., Thermo Fisher Scientific Inc., QIAGEN N.V., and PerkinElmer Inc.
Key Benefits For Stakeholders
The study provides an in-depth analysis of the global lateral flow assays market along with the current trends and future estimations to elucidate the imminent investment pockets.
A comprehensive analysis of the factors that drive and restrict the market growth is provided in the report.
Comprehensive quantitative analysis of the industry from 2020 to 2030 is provided to enable the stakeholders to capitalize on the prevailing market opportunities.
Extensive analysis of the key segments of the industry helps to understand the application and products the market used across the globe.
Key market players and their strategies have been analyzed to understand the competitive outlook of the lateral flow assay market.
 Lateral Flow Assays Market Report Highlights
Aspects
Details
By TECHNIQUE

Sandwich assays
Competitive Assays
Multiplex detection assays

By PRODUCT

Kits & Reagents
Lateral Flow Readers

Digital/Mobile Readers
.Benchtop Readers
Mobile/Smartphone Readers

By APPLICATION

Clinical testing

Infectious Disease Testing
Cardiac Marker Testing
Pregnancy & Fertility Testing
Cholesterol Testing/Lipid Profile
Drug Abuse Testing
Other Clinical Tests

Veterinary Diagnostics
Food safety & environment testing
Drug Development & Quality Testing

By END USER

Hospitals & Clinics
Diagnostic Laboratories
Home Care
Pharmaceutical & Biotechnology Companies
Other End Users

By Region

North America (U.S., Canada, Mexico)
Europe (France, Germany, Italy, Spain, UK, Russia, Rest of Europe)
Asia-Pacific (China, Japan, India, South Korea, Australia, Thailand, Malaysia, Indonesia, Rest of Asia-Pacific)
LAMEA (Brazil, South Africa, Saudi Arabia, UAE, Argentina, Rest of LAMEA)

Key Market Players
DANAHER CORPORATION, BIOMÉRIEUX, INC., HOLOGIC, INC., BIO-RAD LABORATORIES, INC., SIEMENS AG, PERKINElMER, INC., BECTON, DICKINSON AND COMPANY, ABBOTT LABORATORIES, F. HOFFMANN-LA ROCHE LTD., THERMO FISHER SCIENTIFIC, INC.