Latin America Commercial Satellite Imaging Market
Commercial satellite imaging refers to obtaining images of Earth and space with the help of satellites. Many private companies offer satellite images of Earth along with processing, and analyze them for various purposes, including monitoring & detection of vegetation, habitat, oil pipelines infrastructure construction, generation of digital elevation model (DEM), and exploration of natural resources & archaeological sites.
In the current business scenario, the adoption of satellite imagery has been witnessed to increase considerably across various verticals such as defense, government, energy, construction, real estate, media & entertainment, and agriculture, which fuels the growth of the Latin America commercial satellite imaging market. Rise in applications of satellite imaging services such as geospatial mapping, disaster mapping, urban planning, and energy management has contributed toward the growth of the market.
In addition, the growth of the market is driven by increase in trend of location-based service (LBS) and rise in applications of satellite imagery in sectors such as government, retail, manufacturing, transportation, construction, defense, and healthcare. However, aerial imaging services provide cost-effective & high-resolution images and videos as compared to satellite imaging, which is one of the major restraining factors. In addition, various limitations of satellite imaging include time-consuming image processing, dependence on weather conditions, and image sensing incapability in dense forests, which hamper the market growth. On the contrary, decrease in prices of satellite imaging solutions and availability of technological advanced satellite imaging systems such as next-generation GPS satellites, advanced remote sensing technology, high-resolution cameras, light detection and ranging (LIDAR) technology, electric propulsion technology, and others are expected to create numerous opportunities for market expansion.
The major players operating in the Latin America commercial satellite imaging market include DigitalGlobe, Inc., Galileo Group, Inc., Threetek, Telespazio, SkyLab Analytics, Harris Corporation, Satellogic, Trimble Navigation Ltd, Airbus, and UrtheCast Corp.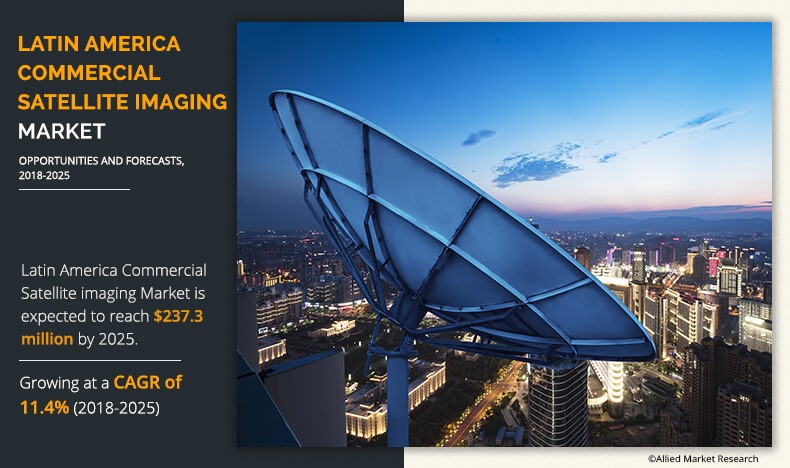 Segmentation
Latin America commercial satellite imaging market is segmented on the basis of end user, type, application, and country. Commercial satellite imaging has gained increased adoption across various industries, including government, defense, forestry & agriculture, energy, civil engineering & archaeology, and others (media & entertainment, insurance, and real estate). On the basis of type, the market is bifurcated into shortwave infrared (2070 meters) and visible RGB (520 meters). The applications covered in the study include geospatial data acquisition & mapping, urban planning & development, disaster management, energy & natural resource management, and surveillance & security. County wise, the market is studied across Brazil, Chile, Argentina, and rest of Latin America
Top Impacting Factors
Increase in trends of LBS, high resolution offered by aerial imaging services, and decrease in prices of satellite imaging solutions are the significant factors that affect the growth of the Latin America commercial satellite imaging market. These factors are anticipated to either drive or hamper the market growth.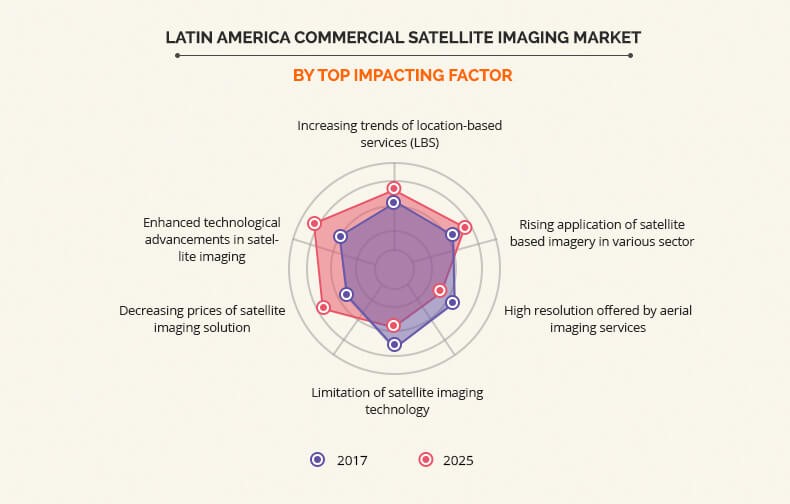 Increase in Trend of LBS
LBS is a software service, which utilizes real-time geographical data through internet-capable devices to provide information about the current location of a place or person. LBS uses satellite images to facilitate users to use this service for various applications, including shopping services, emergency services, navigation services, weather information, traffic information, and others. Satellite imaging technology offers high-resolution imagery for the production of updated, highly accurate, and real-time maps used in LBS. Moreover, LBS is gaining high importance in various sectors of economy such as government authorities, defense & intelligence, transportation, telecommunication, manufacturing, e-retailing, energy, and natural resource management, thus boosting the market growth.
High Resolution Offered by Aerial Imaging Services
Aerial imagery has certain advantages over satellite imagery. Various features of aerial imaging such as frequent flying capability, flexibility against weather conditions, enhanced clarity, and higher resolution of images are expected to limit the utilization of commercial satellite imaging for certain applications. Aerial images provide wide and detailed view of topography through area near-view images with high resolution in comparison with satellite imagery. In addition, satellite imaging provides lower image resolution as compared to aerial imaging. Satellites usually provide images with a resolution of 50 cm, however, efforts are being made by leading players in the market to decrease the image resolution limit to 30 cm in the coming years. On the other hand, digital aerial cameras can capture images with resolution of up to 25 mm (2.5 cm). For instance, GeoEye-1 provides panchromatic imagery of 0.41 m resolution. Thus, advanced features offered by aerial imaging when compared to satellite imaging can be a major restraining factor of the Latin America commercial satellite imaging market.
Decrease in Prices of Satellite Imaging Solutions
Commercial satellite imaging system is gradually emerging as a cost-effective imaging method in the recent years. Satellite data is less expensive to obtain and process, and less time-consuming in comparison with aerial imaging technology. Satellite imaging may be costly for small projects, however, it is cost-effective and time-efficient for large projects such as border mapping, dam construction, monitoring oil & gas pipelines, securing nuclear plants, and others. Satellite imagery ranging from 60 cm to 15 m are available free of cost on the internet for commercial usage. Thus, this decrement in price of satellite imagery is expected to provide huge opportunity for the growth of the market.
Key Benefits For Stakeholders
This study comprises an analytical depiction of the Latin America commercial satellite imaging market along with current trends and future estimations to depict the imminent investment pockets.
The overall market potential is determined to understand the lucrative trends to gain a stronger foothold in the Latin America commercial satellite imaging industry.
The report includes information related to key drivers, restraints, and opportunities with a detailed impact analysis.
The current market is quantitatively analyzed from 2017 to 2025 to highlight the financial competency of the market.
Porters five forces analysis illustrates the potency of the buyers and suppliers in this market.
 Latin America Commercial Satellite Imaging Market Report Highlights
Aspects
Details
By End User

Government
Defense
Forestry & Agriculture
Energy
Civil Engineering & Archaeology
Others

By Type

Shortwave Infrared (20-70 Meters)
Visible RGB (5-20 Meters)

By Application

Geospatial Data Acquisition & Mapping
Urban Planning & Development
Disaster Management
Energy & Natural Resource Management
Surveillance & Security

By Country

Latin America

Brazil
Chile
Argentina
Rest of Latin America

Key Market Players
DIGITAL GLOBE, INC. (MAXER TECHNOLOGY), GALILEO GROUP, INC., HARRIS CORPORATION, URTHECAST CORP, TRIMBLE NAVIGATION LTD, THREETEK, TELESPAZIO, SATELLOGIC, ESRI, AIRBUS GROUP INC