Latin America Heavy Construction Equipment Market:
Latin America Heavy Construction Equipment Market size was valued at $4,310 million in 2016, and is expected to reach $6,391 million by 2022, registering a CAGR of 6.8% from 2016 to 2022. Latin America heavy construction equipment, namely, excavators, loaders, dumpers, and compactors among others are used for heavy construction tasks such as lifting, mining, excavation, and demolition. These heavy equipment are used to move raw materials from one place to another.
Some of the factors that drive the Latin America heavy construction equipment market are recovery from the construction sector, the surge in private-public partnerships, and rapid urbanization. In addition, development of low-emission and energy-efficient equipment provides opportunities to the Latin America heavy construction equipment market growth. However, fluctuation in oil prices, increased carbon footprint, and weak economic conditions restrain the Latin America heavy construction equipment market growth.
Fuel consumption and carbon emissions are the major concerns for most of the construction companies which expend more on fuel consumption than on maintenance of the machine. Fuel expenditure accounts for a significant portion of the overall construction expenditure of the equipment. Heavy construction equipment manufacturers have launched several machines with high fuel efficiency. However, they are reluctant towards investment in these equipment that consume less fuel due to their high prices compared to the conventional machines. Extensive R&D activities conducted by equipment manufacturers are expected to enable development of low-cost machines with better fuel efficiency and lower carbon emissions.
The Latin America heavy construction equipment market is segmented on the basis of equipment, application, end user, and country. Based on equipment, it is divided into earthmoving, material handling, heavy construction vehicles, and others. Earthmoving equipment is further classified into excavators, loaders, backhoe loaders, and motor graders. Material handling is further bifurcated into a crane and telescopic handlers while heavy construction vehicles are divided into dumpers, tippers, and others (compactors and pavers). By application, the Latin America heavy construction equipment industry is categorized into excavation & demolition, heavy lifting, material handling, tunneling, and recycling & waste management. Based on the end user, Latin America heavy construction equipment market is classified as infrastructure, mining, construction, oil & gas, manufacturing, and others. The Latin America heavy construction equipment market is analyzed across countries such as Brazil, Argentina, Chile, Colombia, Peru, rest of South America, and Central America.
The report includes a comprehensive analysis of the key players such as AB Volvo, Caterpillar Inc., Komatsu Ltd., Doosan Infracore Co. Ltd., Hitachi Construction Machinery Co. Ltd., JC Bamford Excavators Ltd. (JCB), Liebherr Group, CNH Industrial N.V., Atlas Copco, and Terex Corporation.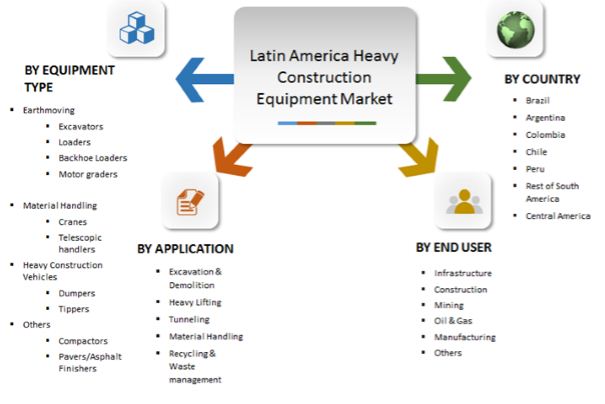 Segment Overview
Heavy lifting equipment, such as mobile cranes, boom trucks, lifting beams, and stand jacks, are used to offload trucks and move heavy items onto and around the construction site. Warehouses and manufacturing firms use lifting and material handling equipment to move and shift the goods. Rapid infrastructural development projects, such as roads, highways, metro construction in countries, such as Colombia and Chile, and increase in construction activities in these countries boost the demand for construction equipment required for heavy lifting. Heavy lifting is required in manufacturing, construction, and mining industries to move materials between factories and warehouses.
Key Benefits
This report provides an in-depth analysis of the Latin America heavy construction equipment market to identify the potential investment pockets.
It outlines the current trends and future scenarios to determine the overall market potential and gain a stronger market foothold.
Key drivers, restraints, and opportunities and their detailed impact analysis are elucidated.
Quantitative analysis of the market from 2014 to 2022 is highlighted to recognize the financial competency of the market.
Porters Five Forces model illustrates the threat of new entrants and substitutes and strength of the buyers and suppliers.
Latin America Heavy Construction Equipment Market Key Segments:
By Equipment
Earthmoving

Excavators
Loaders
Backhoe Loaders
Motor Graders

Material Handling

Cranes
Telescopic Handlers

Heavy Construction Vehicles
Others
By Application
Excavation & Demolition
Heavy Lifting
Material Handling
Tunneling
Recycling & Waste Management
By End User
Infrastructure
Construction
Mining
Manufacturing
Oil & Gas
Others
By Country
Brazil
Argentina
Colombia
Chile
Peru
Rest of South America
Central America
Key Players
AB Volvo
Caterpillar Inc.
Komatsu Ltd.
Doosan Infracore Co. Ltd.
Hitachi Construction Machinery Co. Ltd.
JC Bamford Excavators Ltd. (JCB)
Liebherr Group
CNH Industrial N.V.
Atlas Copco
Terex Corporation