The global lawn mowers market size was valued at $26,248.5 million in 2020, and is projected to reach $53,715.1 million by 2030, registering a CAGR of 6.8% from 2021 to 2030. Lawn mowers are machines that cut grass to an even height with the help of one or more revolving blades. The blades of lawn mowers can be manually powered or have a self-contained power source such as electric motor or internal combustion engine. Lawn mowers are equipped with a wide range of cut height adjustments that enable the operator to achieve desired height of the grass.
Small lawns and backyard gardens are an important component of housing units in North American and European regions as they significantly increase the aesthetical appearance of the property. This has surged the number of lawn maintenance activities, which has created a demand for lawn mowers, and fueled consumer interest in gardening activities and boosted demand for lawn mowers market growth. Furthermore, the availability of a wide range of lawn mowers in various cutting capacities makes it suitable for use in small as well as large lawns. Thus, lawn mowers are extensively used for maintaining turf in recreational gardens, resorts, golf courses, and playgrounds. The development of advanced battery technologies has helped to ease the process of owning and operating lawn mowers. In addition, integration of GPS and other mapping technologies have fueled the development of robotic lawn movers that require minimal operator input.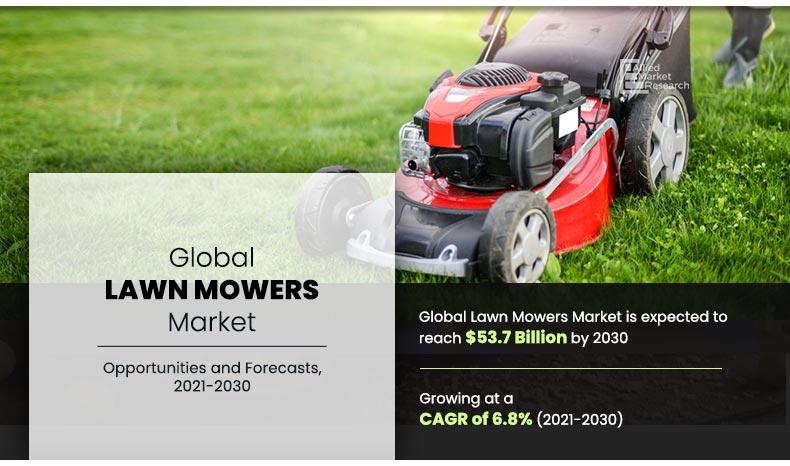 Major players in the industry have focused on development of high-performance cordless lawn mowers and robotic lawn mowers. For instance, in March 2020, Makita U.S.A., Inc., a leading provider of power equipment launched XML06, XML07, XML08, which are three brushless cordless lawn mowers that are powered by two 18V LXT batteries. These lawn mowers consist of a commercial-grade steel deck, IPX4 rated weather-resistant construction, and a single lever cutting height adjustment feature that offers 10 optional cutting heights. Advancements in mapping technologies have played a key role in development of new robotic lawn mowers. For instance, iRobot Corporation, which is primarily involved in developing innovative home robots, has developed Terra t7 Robot Mower that is an autonomous robotic lawn mower used for smart mapping technology for mowing operations and is capable of avoiding obstacles. The Terra t7 Robot Mower is capable of handling rough terrains and can be controlled using smart phones through iRobot HOME App.
Lawn Mowers Market

---
By Type
Ride-on Mowers is expected to hold a majority share of the market throughout the study period
The novel coronavirus has rapidly spread across various countries and regions, causing an enormous impact on the lives of people and the overall community. It began as a human health condition and has now become a significant threat to global trade, economy, and finance. The COVID-19 pandemic has halted the production of many components of lawn mowers due to lockdown. The economic slowdown initially resulted in reduced spending on lawn equipment from home owners and commercial users. Furthermore, the number of COVID-19 cases is expected to reduce in the near future as the vaccine for COVID-19 is introduced in the market. This has led to the reopening of lawn movers manufacturing companies at their full-scale capacities. This is expected to help the market to recover by the start of 2022.After COVID-19 infection cases begin to decline, lawn mowers manufacturers must focus on protecting their staff, operations, and supply networks to respond to urgent emergencies and establish new methods of working.
Furthermore, the increased global tourism has significantly boosted the number of hospitality buildings such as hotels, resorts, and amusement parks across the globe, thereby increasing the use of lawn mowers for maintaining the aesthetical appearance of these properties. In addition, rise in popularity of Do-It-Yourself culture has surged the number of home owners involved in lawn maintenance activities and has positively influenced the lawn mower industry.
Lawn Mowers Market

---
By End-user
Non-residential segment is projected to grow at a significant CAGR
The global lawn mowers market is segmented on the basis of type, end user, fuel type and region. By type, the market is categorized into ride-on mower, push mower, and robotic mower. On the basis of end user, it is categorized into residential, and non-residential. And on the basis on fuel type, the market is categorized into electronic and non-electronic. Region wise, the market is analyzed across North America, Europe, Asia-Pacific, and LAMEA. North America dominated the market in 2020, accounting for the highest share, and is anticipated to maintain this trend throughout the forecast period. This is attributed to increase in spending of lawn maintenance activities from residential and non-residential users.
Competition Analysis
Key companies profiled in the lawn mowers market report include Andreas Stihl AG & Co. KG, Deere & Company, Honda Motor Co., Ltd., Husqvarna Group, Koki Holdings Co., Ltd., Robert Bosch GmbH, Stanley Black & Decker Inc., Stiga S.p.A, Textron and The Toro Company.
Lawn Mowers Market

---
By Region
North America held a dominant position in 2020 and would continue to grow at a significant CAGR during the forecast period.
Key Benefits For Stakeholders
The report provides an extensive analysis of the current and emerging lawn mowers market trends and dynamics. 
In-depth lawn mowers market analysis is conducted by constructing market estimations for key market segments between 2021 and 2030.
Extensive analysis of the lawn mowers market is conducted by following key product positioning and monitoring of top competitors within the market framework.
A comprehensive analysis of all the regions is provided to determine the prevailing lawn mowers market opportunities.
The global lawn mowers market forecast analysis from 2021 to 2030 is included in the report.
The key players within lawn mowers market are profiled in this report and their strategies are analyzed thoroughly, which help understand the competitive outlook of the lawn mower industry.
 Lawn Mowers Market Report Highlights
Aspects
Details
By Type

Ride-On Mower
Push Mower
Robotic Mower

By END USER

Residential
Non-residential

By FUEL TYPE

Electronic
Non-electronicBY REGION

By Region

North America (U.S., Canada, Mexico)
Europe (UK, Germany, France, Spain, Italy, Rest of Europe)
Asia-Pacific (China, Japan, India, Australia, South Korea, Rest of Asia-Pacific)
LAMEA (Latin America, Middle East, Africa)

By KEY PLAYERS

Andreas Stihl AG & Co. KG
Deere & Company
Honda Motor Co., Ltd.
Husqvarna Group
Koki Holdings Co.
Robert Bosch GmbH
Stanley Black & Decker Inc.
Stiga S.p.A
Textron.
The Toro Company