Led Mask Market Research, 2032
The global led mask market size was valued at $267.3 million in 2022, and is projected to reach $702.9 million by 2032, growing at a CAGR of 10.8% from 2023 to 2032. LED light therapy is a skin treatment that promotes collagen formation, kills acne-causing bacteria, and reduces inflammation. LED lights come in a variety of colors, each of which produces a unique effect on the skin. Furthermore, LED face masks might assist to tighten and lift the skin. LED light therapy has become such a popular treatment in recent years as it offers several advantages.
The COVID-19 pandemic had a substantial impact on the LED mask industry. As the world faced lockdowns and restrictions, the supply chains and production of LED light face masks were disrupted, resulting in supply shortages and delayed product introductions. The economic uncertainty caused by the pandemic impacted consumer spending on non-essential items such as LED light face masks. However, the pandemic's emphasis on personal health and wellbeing encouraged some people to invest in LED light face masks for at-home beauty treatments. With the rise of e-commerce and online purchasing, LED mask producers and retailers have shifted their focus to digital sales channels. The impact of the pandemic also increased innovation and development activities in the LED mask sector.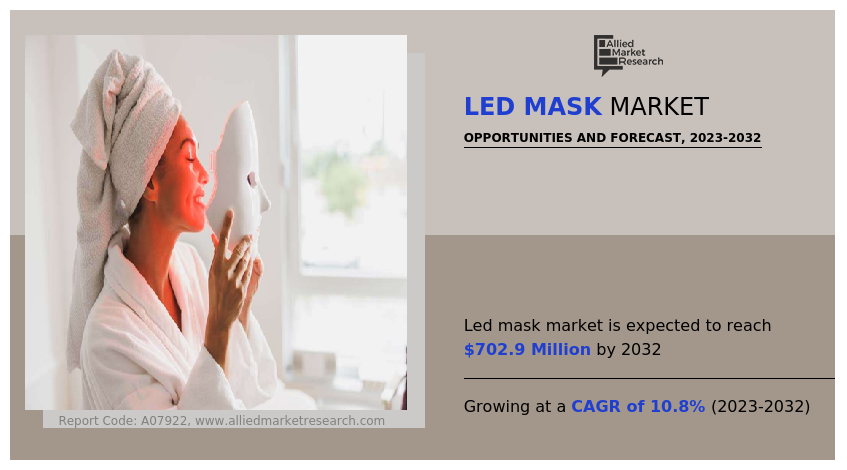 LED mask market demand has increased due to changes in people's lifestyles, greater disposable income, and an expansion in the metropolitan population. LED masks are becoming increasingly important as people's attention to their appearance increases. Spending extra money on skincare treatments has become popular in recent years as a result of social media's enormous effect. On such forums, an increasing number of dermatologists, celebrities, and influencers demonstrate the efficacy and appreciation for these masks. This has led to an increase in demand for them, particularly among millennials and Generation Z.
The high cost of face masks is expected to limit the growth of the LED mask market in the upcoming years. For these products, most companies target the elderly people. This age group may not have sufficient financial to purchase such costly items. Furthermore, different people have different needs based on their age and skin type. The difficulty for LED masks to suit the needs of a diverse variety of consumers with varying ages, skin types, and economic levels, is projected to hamper the market growth.
Increased investment in R&D and technological advances in LED masks is anticipated to create growth opportunities for the key players operating in market. LED masks have grown in popularity in the beauty and skincare industries due to its ability to improve a variety of skin issues while also promoting overall skin health. Ongoing investments in R&D can result in the introduction of unique features in LED masks. For example, advances in LED technology may result in more exact wavelengths and intensities, allowing LED masks to target certain skin issues more efficiently. More clinical evidence confirming the efficacy of LED masks in various skincare applications can be produced through robust R&D initiatives. Having scientific support can build trust in consumers and experts, resulting in increased adoption rates.
The key players profiled in this report include LG, CURRENTBODY, Skin Gym, MZ SKIN LIMITED, Aduro, Project E Beauty, DMH Aesthetics, Kahlia Skin, CELLRETURN, and Harpar Grace International (Déesse PRO). Investment and agreement are common strategies followed by major market players. In July 2022, OVE, an LED light face mask was created by Dior in collaboration with Lucibel, a French lighting firm. The LED light face mask has a wavelength of 635 nanometers, which allows it to penetrate deeper into the skin and alleviate ageing indications. This LED face mask will be accessible in Dior Spas and Dior Beauty Corners, as well as luxury getaways.
The LED mask market is segmented on the basis of type, application, end user distribution channel, and region. By type, the market is divided into red & blue LED, near infrared LED, amber LED, and others. By application, the market is classified into anti-aging, acne treatment, and others. By end user, the market is classified into hospitals, beauty salons, rehabilitation centers, and others. By distribution channel, the market is classified into offline and online. By region, the market is analyzed across North America, Europe, Asia-Pacific, and LAMEA.
The led mask market is segmented into Type, Distribution Channel, Application and End user.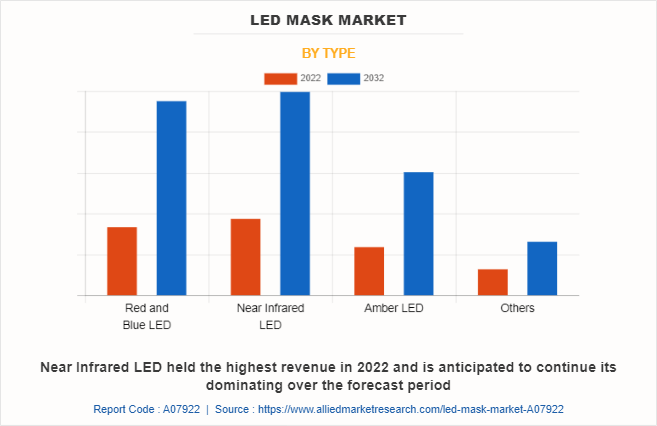 By type, the near infrared LED sub-segment dominated the market in 2022. This mask aids in the improvement of skin complexion, stress reduction, relaxation, and the reduction of aging indications. Clinical studies have shown that red and near-infrared light treatment increases the development of elastin and natural collagen in skin cells, controls sebum and oil production, and promotes cell turnover. Rio faceLITE LED face mask, for example, utilizes red and near-infrared light to reduce the appearance of wrinkles and face lines. Therefore, the growing use of near-infrared light therapy to treat skin problems is projected to drive segment expansion in the future.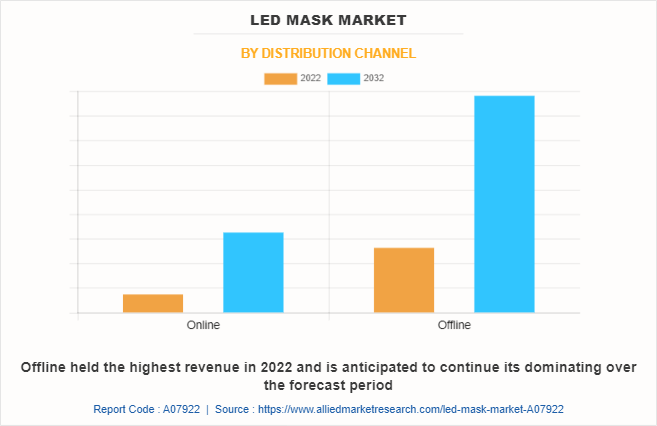 By distribution channel, the offline sub-segment dominated the global LED Mask market share in 2022. Traditional brick-and-mortar retail stores, such as beauty specialty shops, skincare boutiques, and department stores, provide consumers with the opportunity to check and experience the LED masks in person before making a purchase. This physical experience can be essential for consumers considering the price of this device. In addition, many spas and beauty salons offer LED light therapy treatments as part of their skincare services. To supplement these services, they often sell LED masks to customers who wish to continue the treatments at home. Recommendations from beauty professionals can carry significant weight, driving consumer interest in LED masks. These factors are anticipated to drive the LED mask market growth in the upcoming years.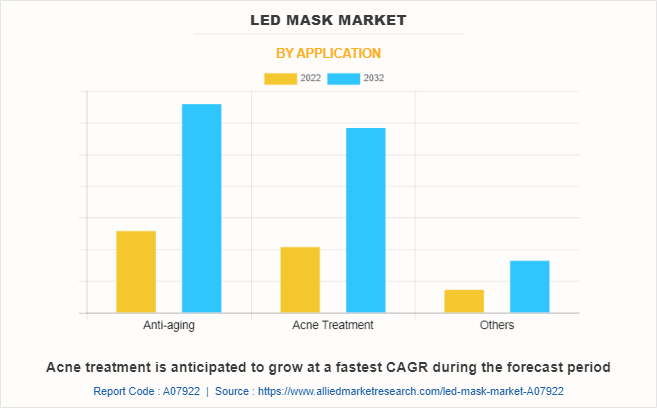 By application, the anti-aging sub-segment dominated the global LED mask market share in 2022. The segment growth is expected to be driven by rising consumer awareness about age-related skin problems such as wrinkles, fine lines, and skin dullness, as well as an increasing willingness to spend on clinical treatments and products that help to restore skin's youthfulness. Although aging is a physiological change, environmental factors such as air pollution, UV exposure, alcohol intake, and smoking are known to have negative impacts on skin cells, contributing to premature aging. LED masks can make a significant difference in a person's life by increasing collagen production for younger-looking skin.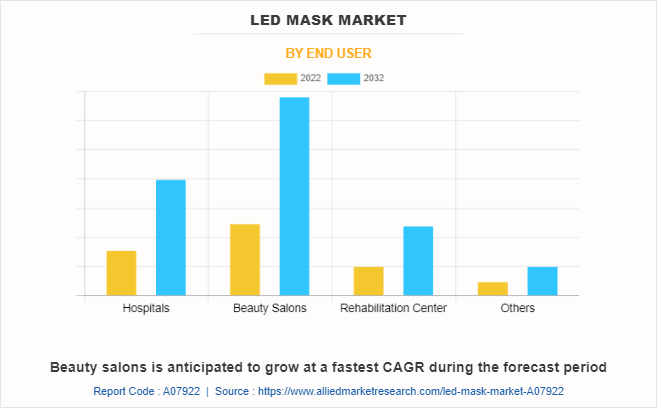 By end user, the beauty salons sub-segment dominated the global LED mask market share in 2022. One of the primary reasons driving the sub-segment growth is the growing presence of beauty salons in emerging markets around the world. The segment is predicted to grow in the upcoming years due to an increase in the number of skin-conscious women and an increase in the prevalence of pollution in metropolitan areas. Growing awareness among the public and professionals such as actors and models about LED masks, is predicted to boost segment growth during the Led mask market forecast period.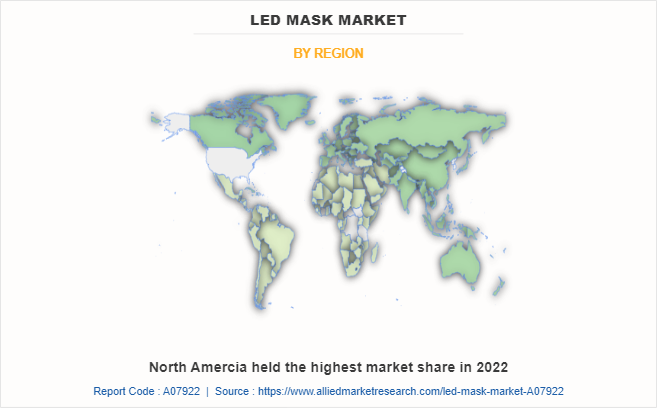 By region, North America dominated the global market in 2022. One of the primary factors driving the regional market expansion is the presence of technological advancement. Growing skin-related concerns among the population, as well as rising disposable income, are likely to drive market growth in the region during the forecast period. The market growth in North America is being driven by an increase in awareness about light therapy for skin treatments. The growing use of LED masks in beauty salons and hospitals in developed countries is likely to drive demand for LED masks in the region. The well-established healthcare industry and the presence of important players in developed countries in North America are factors projected to have a positive impact on the market during the forecast period.
Impact of COVID-19 on the Global Led Mask industry
The COVID-19 pandemic hampered the expansion of several industries, including beauty and personal care, due to supply chain disruption, manufacturing delays, and government restrictions on the beauty retail establishments around the world. Strict lockdown measures led to the closure of beauty salons, cosmetic medical clinics, and premium beauty product outlets, affecting market growth.
Furthermore, a shift in customer demand from high-end beauty products to necessities led in a drop in sales of LED masks. However, the global market for LED masks is expected to rebound and rise rapidly in the post-pandemic period as a result of resumed activities, sales, and the global skincare trend.
The coronavirus pandemic led to an immense strain on businesses and industries all around the world. All governments implemented lockdowns to control the spread of COVID-19.
Key Benefits For Stakeholders
This report provides a quantitative analysis of the market segments, current trends, estimations, and dynamics of the led mask market analysis from 2022 to 2032 to identify the prevailing led mask market opportunities.
The market research is offered along with information related to key drivers, restraints, and opportunities.
Porter's five forces analysis highlights the potency of buyers and suppliers to enable stakeholders make profit-oriented business decisions and strengthen their supplier-buyer network.
In-depth analysis of the led mask market statistics segmentation assists to determine the prevailing market opportunities.
Major countries in each region are mapped according to their revenue contribution to the global market.
Market player positioning facilitates benchmarking and provides a clear understanding of the present position of the market players.
The report includes the analysis of the regional as well as global led mask market trends, key players, market segments, application areas, and market growth strategies.
 Led Mask Market Report Highlights
Aspects
Details
Market Size By 2032
USD 702.9 million
Growth Rate
CAGR of 10.8%
Forecast period
2022 - 2032
Report Pages
320
By Type

Red and Blue LED
Near Infrared LED
Amber LED
Others

By Distribution Channel
By Application

Anti-aging
Acne Treatment
Others

By End user

Hospitals
Beauty Salons
Rehabilitation Center
Others

By Region

North America (U.S., Canada, Mexico)
Europe (Germany, UK, France, Spain, Italy, Rest of Europe)
Asia-Pacific (China, Japan, India, South Korea, Australia, Rest of Asia-Pacific)
LAMEA (Brazil, Saudi Arabia, United Arab Emirates, South Africa, Rest of LAMEA)

Key Market Players
Project E Beauty, Skin Gym, Kahlia Skin, Harpar Grace International (Déesse PRO), Aduro, CELLRETURN, CURRENTBODY, LG, MZ SKIN LIMITED, DMH Aesthetics