Life Jacket Market Research, 2031
The global life jacket market was valued at $1.0 billion in 2021, and is projected to reach $1.8 billion by 2031, growing at a CAGR of 6.1% from 2022 to 2031.
The outbreak of COVID-19 had a huge impact on all of the businesses. It also had negative impact on the life jacket market. The supply chain disruption was a major challenge faced by life jacket market. The shutdown of production units hampered the supply of life jacket in the market. However, this situation is expected to improve as government has started relaxing norms around the world for resuming business activities.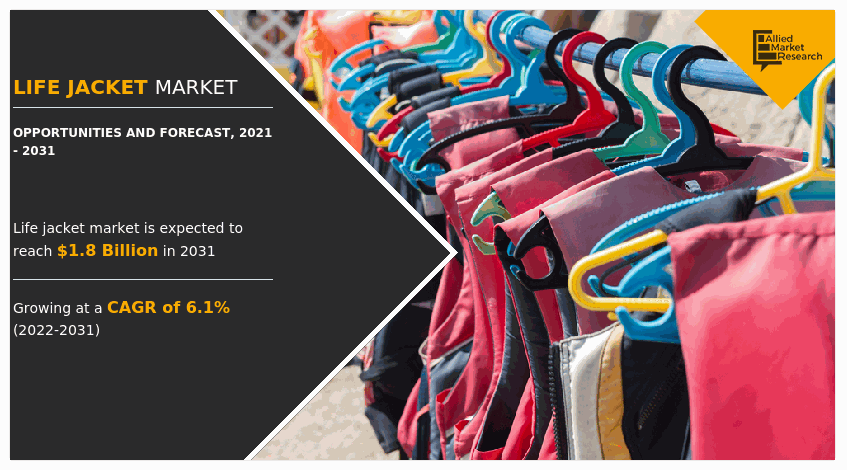 The life jacket market is segmented into Material, End use and Type.
Life jacket is a life preserver as it prevents individual from drowning when exposed to water. It is made from material such as nylon, polyester, and neoprene that aid in buoyancy. In addition, it is generally used in water sports, military & safety operation as well as in emergency incidents such as flood.
In recent years, generation y as well as millennial age group tends to be a significant consumer of life jacket due to participation in various water sports and water activities. A life jacket is widely preferred considering factors such as material, durability, and comfort. 
Drowning risk in aquatic activities is one of the driving factors in the life jacket market growth. Moreover, individuals are fascinated toward various adventure water sports so the risk of their drowning rate is pretty high. To prevent drowning, life jacket is mandatory to wear while going for such activities. Government rules and regulation for life jacket boost the demand for life jacket. However, high cost of life jacket hampers the growth of the market.
The life jacket market is segmented on the basis of type, material, end use, and region. On the basis of type, the market is categorized into non-inflatable, inflatable, and hybrid. By material, it is divided into nylon, polyester, and others. According to end use, the life jacket market is fragmented into water sports, boating, military & safety operation, and others.
Region-wise, the market is analyzed across North America (the U.S., Canada, and Mexico), Europe (Germany, France, UK, Italy, Spain, Netherlands, and the rest of Europe), Asia-Pacific (Japan, China, Australia, India, South Korea, Thailand and the rest of Asia-Pacific), and LAMEA (Brazil, South Africa, UAE, Argentina, and the rest of LAMEA).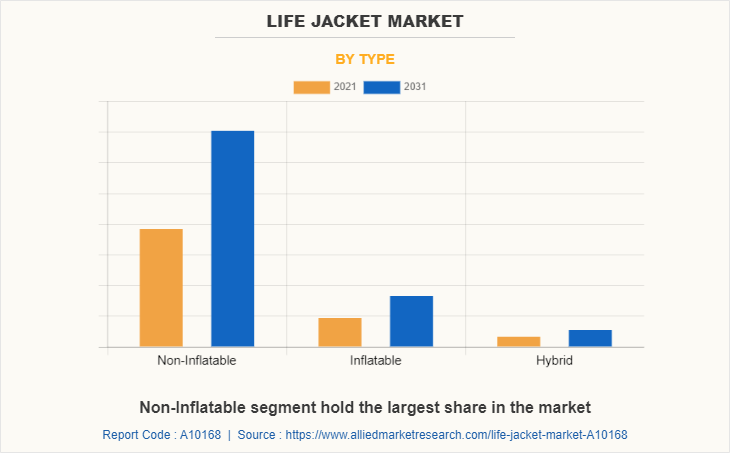 By type, the non-inflatable segment was the contributer in highest life jacket market share  in 2021 with a CAGR of 6.3%. Non- inflatable does not require any procedure to operate it, which attributes toward the largest share. Moreover, non-inflatable life jackets have wide application in various areas such as construction site, fire safety as well as airplanes. Owing to its reasonable price, it has high demand and it is expected to register huge growth rate during the life jacket market forecast period.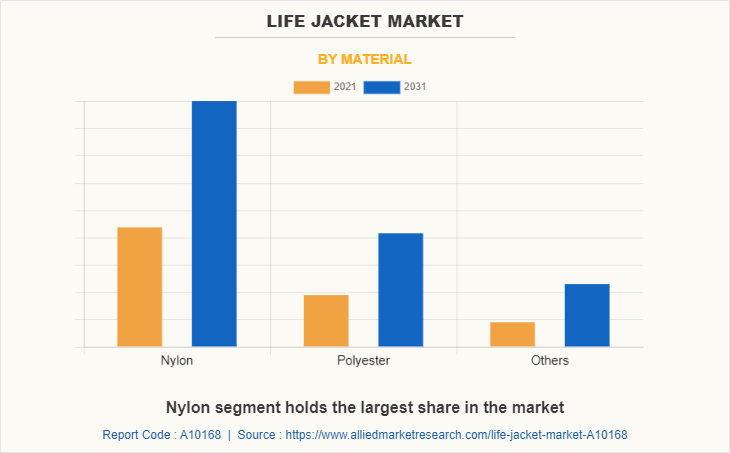 By material, the nylon networks segment was the highest revenue contributor in 2021 i.e., $ 537.6 million in 2021 and is expected to reach $999.4 million by 2031 at a CAGR of 6.4%. This is due to its features such as elasticity and durability. Such features not only contribute in its demand however provide comfort to the consumer as well. Nylon is a widely preferred material in life jacket market and it facilitates the noticeable growth in this material.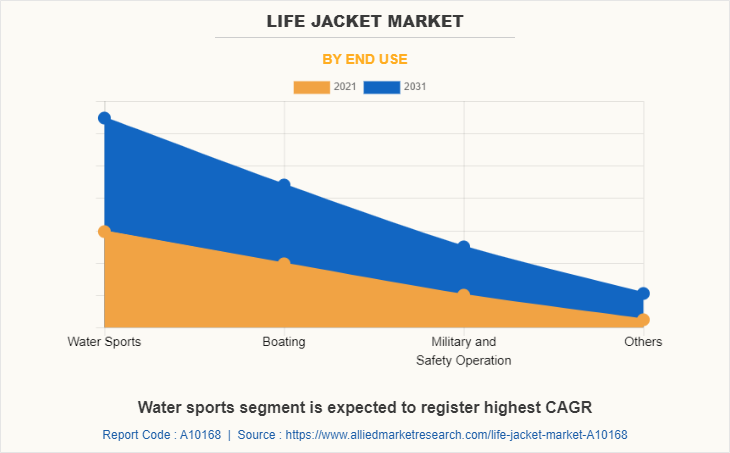 By end use, water sports held the largest market share i.e., $395.2 million in 2021 and is expected to reach $ 746.9 million by 2031 at a CAGR of 6.6% owing to rise in water sports activities. Post COVID-19 period, this sub segment has seen drastic growth for short period of time due to revenge tourism.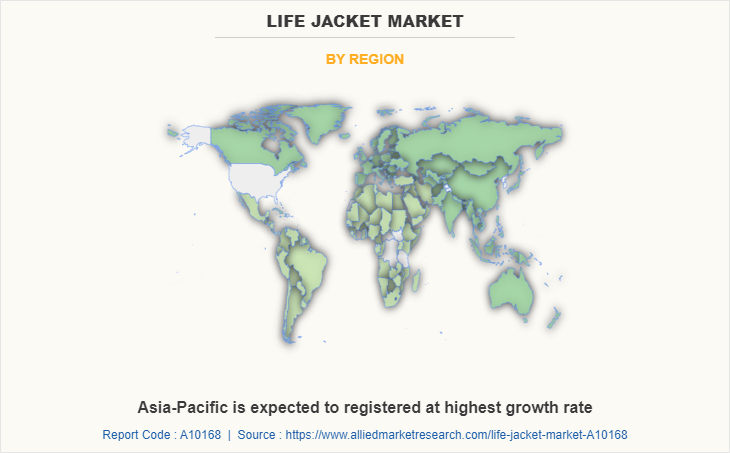 Europe holds the largest share in the market due to huge number of water parks in Germany and others countries including France and UK. Moreover, the enormous scope for travel industry contributes toward growth of the life jacket in this region. In addition, development of micro-firms and small- & medium-sized enterprises in the life jacket industry has a positive impact on demand.
As a result competitive strategies used by key players, the demand of life jacket mrket and life jacket market size is expected to increased significantly in Europe region. Demand from countries such as France, UK, and Germany helps to propel regional growth. The overall growth is predicted to be aided by growth in population and rise in living standards.
The market is being driven by factors such as rapid growth in the tourism industry in developing countries and increase in disposable income. The major players that operate in the global life jacket market are Dongguan Bestway Sports Goods Co., Ltd., Ganesh Manufacturing, Grand Ocean Marine Co., Ltd., Jiangsu Baizhou Safety Technology Co., Ltd., Kent Safety Products, Majestic Marine & Engineering Services, Onyx Outdoor, SeaSafe Systems Ltd, SHM, Stormy Lifejackets Pty Ltd. The market players have implemented strategies such as business expansion and product launch to increase the demand and sale of the life jacket in the market.
Key Benefits For Stakeholders
This report provides a quantitative analysis of the market segments, current trends, estimations, and dynamics of the life jacket market analysis from 2021 to 2031 to identify the prevailing life jacket market opportunities.
The market research is offered along with information related to key drivers, restraints, and opportunities.
Porter's five forces analysis highlights the potency of buyers and suppliers to enable stakeholders make profit-oriented business decisions and strengthen their supplier-buyer network.
In-depth analysis of the segmentation assists to determine the prevailing life jacket market opportunity.
Major countries in each region are mapped according to their revenue contribution to the global market.
Market player positioning facilitates benchmarking and provides a clear understanding of the present position of the market players.
The report includes the analysis of the regional as well as global life jacket market trends, key players, market segments, application areas, and market growth strategies.
 Life Jacket Market Report Highlights
Aspects
Details
By Material
By End use

Water Sports
Boating
Military and Safety Operation
Others

By Type

Non-Inflatable
Inflatable
Hybrid

By Region

North America (U.S., Canada, Mexico)
Europe (Germany, France, United Kingdom, Italy, Spain, Netherlands, Rest of Europe)
Asia-Pacific (China, Japan, India, South Korea, Thailand, Australia, Rest of Asia-Pacific)
LAMEA (Brazil, South Africa,, UAE, Argentina, Rest of LAMEA)

Key Market Players
Onyx Outdoor, Majestic Marine & Engineering Services, Kent Safety Products, Ganesh Manufacturing, Stormy Lifejackets Pty Ltd., Grand Ocean Marine Co.,Ltd., SHM, Dongguan Bestway Sports Goods Co., Ltd., Jiangsu Baizhou Safety Technology Co., Ltd., SeaSafe Systems Ltd