The lipstick market size was valued at $8.2 billion in 2018, and is expected to reach $12.5 billion by 2026, registering a CAGR of 5.5% from 2019 to 2026. Lipstick is a beauty product that contains oils, pigments, waxes, and emollients, which gives texture, color, and protection to lips. There is a wide assortment of lipsticks available in the market including matte, sheer, satin stain, powder lipstick, and others. Also these lipsticks are available in variety of shades such as red, nude, brown, purple, maroon, pink, and others. In addition, herbal and organic lipsticks are gaining popularity among the consumers worldwide. This is due to the benefits associated with these lipsticks over traditional lipstick that includes healing lips, moisturizing lips, and others. Thus, this fact is driving the growth of the lipstick market.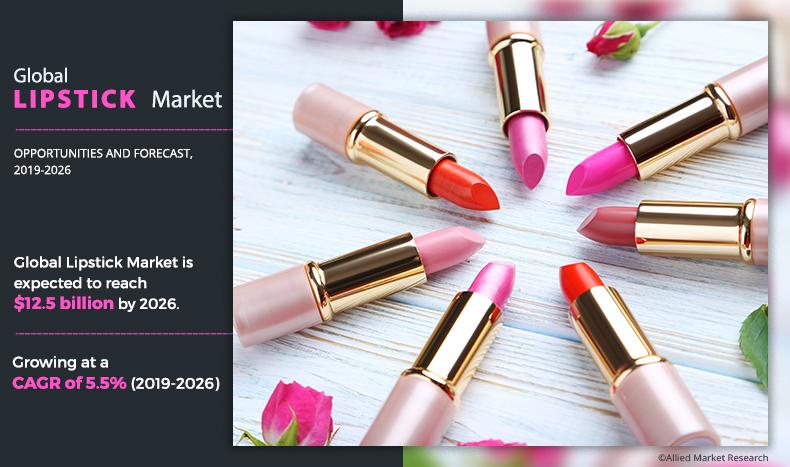 Furthermore, expansion of distribution channels such as online stores, supermarkets, hypermarkets, and specialty stores have made these lipsticks market easily accessible to consumers. Thus, this fact has also contributed in driving the growth of the lipstick market. The global lipstick market segment are categories into product type, form, distribution channel, and region. By product type, the market is classified into matte, glossy, lip powder, and others. By form, the market is divided into stick, liquid, and palette. Depending on distribution channel, the market is divided into supermarkets/hypermarkets, specialty stores, and online stores. Region wise, it is analyzed across North America (U.S., Canada, and Mexico), Europe (Germany, France, UK, Italy, Spain, and rest of Europe), Asia-Pacific (China, India, Australia, New Zealand, and rest of Asia-pacific), and LAMEA (Latin America, Middle East, and Africa).
Lipstick Market

---
By Product Type
Lip powder segment would exhibit the highest CAGR of 6.6% during 2019-2026.
By product type, the matte lipstick segment accounted for the highest market share in 2018. This is attributed to upsurge in demand for matte lipstick among consumers as it offers a good coverage and provides a smooth glide to the lips. Moreover, it is long lasting lipstick and consumers do not need to reapply it thus, saving their time in their busy days. It also it offers an easy application and is available in both stick and liquid form. Furthermore, lipstick manufacturers are providing matte lipstick in wide varieties including vegan matte lipstick, herbal matte lipstick, and moisturizing matte lipstick in many shades and colors. Thus, meeting the requirements of different consumers. Therefore, this key characteristic feature possessed by matte lipstick is one of the key factors in driving the growth of the lipstick market.
Palette segment would exhibit the highest CAGR of 6.4% during 2019-2026.
By form, the stick segment in lipstick market accounted for the highest market share in 2018.This is because these tubes can be twisted to push up the colored wax and comes in different sizes, colors, and styles. Lipstick in cylindrical tube form are easy to apply and provides a good coverage to the lip. The crayons and pencils lipsticks are great for those consumers who find it difficult to make lines around their lips. The lipsticks come in the form of a pencil are easy to as they usually come with a pointed sharp tip which makes it easy to apply to the every part of the lip. Additionally the lipstick in pencil form can be sharpened that keep the tip sharp and pointed for a longer time. Thus, all these benefits offered by the lipsticks available in this form is the key factor in driving the growth of the segment.
Lipstick Market

---
By Distribution Channel
Online store segment would exhibit the highest CAGR of 6.2% during 2019-2026.
The distribution of lipstick through supermarkets/hypermarkets is considerably of higher value in the global lipstick market. This is attributed to the fact that consumers have advantages of scanning different lipsticks and the shades and colors as per the skin tone and choices. Moreover, the presence of store associates for helping the customers to choose right product and provide product knowledge boosts the growth of the segment. Thus, the above mentioned factors have driven consumers to prefer this distribution channel over others for the purchase home fragrances. Moreover, over the past one decade, there has been a significant increase in the internet penetration especially in the North America, Europe, and Asia-Pacific regions. Consumers now rely on internet to gain information about the new product and consider online shopping as the most convenient factor as heavy discounts and offers are provided by online stores on products like cosmetics. Thus, most of the key manufacturers have gone online and have created their own web portals for selling products. Thus, rise in internet penetration creates lipstick market opportunity.
Lipstick Market

---
By Regions
Asia-Pacific would exhibit the highest CAGR of 7.1% during 2019-2026.
Region wise, Europe accounted for the highest lipstick market share in 2018. Countries including Germany, UK, Spain, and France are the prominent markets in this region. The rise in trend of consumers looking for natural and organic beauty products such as lipsticks due to the increase in concerns on the harmful effects of traditional cosmetics is a key driving factor and results in rise in organic and natural lipstick market demand. 
The key players for lipstick industry profiled in the report include L'Oréal S.A, Shiseido Company Limited, Revlon Inc., Coty, Estée Lauder Companies Inc., Christian Dior SE, Unilever, Guerlain, Inglot Sp. Z. O. O., and Relouis.
Key Benefits for Lipstick Market:
 Lipstick Market Report Highlights
Aspects
Details
BY PRODUCT TYPE

MATTE
GLOSSY
LIP POWDER
OTHERS

BY FORM
BY DISTRIBUTION CHANNEL

SUPERMARKETS/HYPERMARKETS
SPECIALTY STORES
ONLINE STORES

BY REGION

NORTH AMERICA (U.S., CANADA, MEXICO)
EUROPE (GERMANY, FRANCE, UK, ITALY, SPAIN, REST OF EUROPE)
ASIA-PACIFIC (CHINA, INDIA, AUSTRALIA, NEW ZEALAND, REST OF ASIA-PACIFIC)
LAMEA (LATIN AMERICA, MIDDLE EAST, AFRICA)

Key Market Players
L'ORéAL S.A, SHISEIDO COMPANY LIMITED, REVLON INC, COTY, ESTéE LAUDER COMPANIES INC, CHRISTIAN DIOR SE, UNILEVER, GUERLAIN, INGLOT SP. Z. O. O, RELOUIS