LNG Bunkering Market Overview:
Global LNG bunkering market size was valued at $0.38 billion in 2019, and is projected to reach $5.14 billion by 2027, growing at a CAGR of 45.2% from 2020 to 2027. LNG bunkering is the process of transferring LNG to a ship for its own consumption. The advantages of using LNG as a marine fuel in the shipping industry include less shipping emissions, lower operating & shipment costs, safety, non-toxic, and others. Stringent environmental regulation toward pollution caused by ship transportation is expected to be the primary growth factor in the LNG bunkering market. In the last five years, LNG has become popular fuel among shipping industry. In addition, focus toward strengthening distribution infrastructure of LNG and number of LNG driven ships are also increasing, which in turn is expected to fuel the market growth during the forecast period.
The COVID-19 outbreak has impacted negatively on the global LNG bunkering market. This is attributed to temporary ban on the maritime trade and transportation activities, thereby disrupted the supply chain and fuel demand from shipping industry.
IMO regulation on sulfur content in the marine fuel and increase in gas exploration and production activities are the key driving factors in the growth of the global LNG bunkering market. However, demand-supply gap in LNG bunkering is the key factor restraining the growth of the global market. Increase in focus toward LNG as an alternative marine fuel is expected to create opportunity in the global market.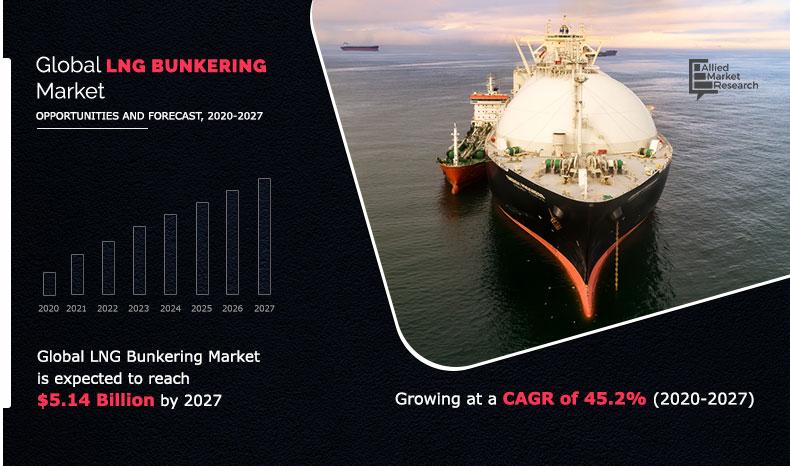 Increase in exploration activities in offshore destinations is a key factor impacting the growth of the LNG (liquefied natural gas) bunkering market. Many bunker fuel suppliers have shifted their operations to offshore ports and destinations that are strategically located near hydrocarbon resource sites. This is due to the high demand for LNG bunker fuels for the operation of support vessels in these areas.
The growing demand for LNG in developing countries has also led to an increase in the number of tankers shipping LNG. This rise in the number of LNG shipping vessels directly contributes to the growth in the consumption of LNG as bunker fuel, thereby enhancing the growth of the LNG bunkering market.
Furthermore, the discovery of new natural gas producing regions with vast untapped reserves is expected to positively impact the demand for shipping vessels. These untapped reserves have the potential to meet the growing energy demand in the future. As exploration activities increase in these unexplored reserves, it is anticipated that the demand for shipping vessels will increase, thereby boosting the demand for LNG bunkering in the projected years.
Additionally, the rise in investment toward liquefaction projects is expected to deliver additional export capacity in various regions such as North America, Asia, Middle East, Africa, and Russia. This expanded export capacity will further support the growth of the LNG bunkering market by increasing the availability of LNG as a bunker fuel.
Introduction of new low sulfur fuels is expected to be priced at a premium compared to existing heavy fuel oil. This price differential between the two fuels will have an impact on sectors that are sensitive to shipping costs. To address this, shipping companies may opt for abatement technologies such as Exhaust Gas Cleaning Systems (scrubbers) for their existing fleet in the short term.
In the long run, the shipping industry will explore various options to comply with regulations and manage fuel costs. These options include equipping new-build vessels with scrubbers, utilizing low sulfur fuel variants, and exploring alternative fuels such as LNG, Methanol, and Hydrogen. This shift in fuel preferences and adoption of abatement technologies will create new opportunities in the LNG bunkering market.
Furthermore, the LAMEA (Latin America, Middle East, and Africa) region presents significant potential for LNG bunkering in the coming years. Currently, domestic players are utilizing these trade hubs in minor capacities, but major oil and gas companies have been restricted by technological barriers and limited infrastructure investment. However, with IMO regulations in place, favorable geographic locations, and low tax rates, the LAMEA region offers profitable venture opportunities for LNG bunkering. Increased expenditure toward filling station infrastructure and equipment in these regions can unlock the potential for LNG bunkering and attract investment from major players.
Breakbulk shipping is used to transport cargo or goods that cannot fit into standard shipping containers. Breakbulk goods encompass a wide range of items, including reels & rolls, structural steel, heavy or oversized goods, manufacturing equipment, construction equipment, wind turbine structures, and vehicles. In the context of LNG, breakbulk services are part of the growth of the small-scale LNG sector, providing storage, breakbulk, and reload services.
Breakbulk shipping offers several benefits, such as the ability to transport non-containerized goods, reduced deconstruction time, accessibility to smaller ports, and more. The use of LNG as bunker fuel in breakbulk shipping is expected to grow significantly, driven by the introduction of stringent government regulations aimed at reducing marine pollution.
Furthermore, the investment in developing port infrastructure to provide LNG breakbulk shipping services creates opportunities for key players in the market. For example, the Gate LNG terminal in the Port of Rotterdam opened a new LNG breakbulk infrastructure in 2016. This facility aimed to promote the use of LNG as a transportation fuel in the Netherlands and Northwest Europe, facilitating the distribution and utilization of LNG as a fuel alternative for maritime vessels, ferries, trucks, and industrial applications.
Additionally, the growing demand for breakbulk shipping in the Middle East and Asia-Pacific regions for transporting heavy machinery, equipment, structures, and other goods related to building & construction, oil & gas mining, and infrastructure projects presents opportunities for breakbulk services in the forecast period.
To capitalize on the development of LNG breakbulk shipping services, key players in this sector should consider several strategies. These may include enhancing breakbulk facility infrastructure to establish strong supply chain ties, adopting technological developments and digitization to minimize operational costs, and embracing innovations that promote efficient and streamlined services. Implementing these strategies is expected to create opportunities for key players in LNG breakbulk services in the near future.
The global LNG bunkering market is segmented on the basis of product type, application, and region. The study highlights various product types of LNG bunkering available in the market such as truck-to-ship, port-to-ship, ship-to-ship, and portable tanks. Furthermore, it focusses on various applications of LNG bunkering covered in the study, which include container fleet, tanker fleet, cargo fleet, ferries, inland vessels, and others. The report covers the revenue generated by LNG bunkering across various regions such as North America, Europe, Asia-Pacific, and LAMEA.
Global LNG bunkering market analysis covers in-depth information of the major industry participants. Some of the major players in the market include Broadview Energy Solutions B.V., Crowley Maritime Corporation, Gasum Oy, Harvey Gulf International Marine, Klaw LNG, Korea Gas Corporation, Polskie LNG S.A., Royal Dutch Shell Plc, SHV Energy, Total SE, PETRONAS, and Exxon Mobil Corporation.
Other players in the value chain of the LNG bunkering industry include ENN Energy Holdings, Ltd., Statoil ASA, Gas Natural Fenosa, Eagle LNG, EVOL LNG, Fjord Line, and others.
The key players are adopting numerous strategies such as product launch, agreement, partnership, business expansion, collaboration, and acquisition to stay competitive in the LNG bunkering market.
For instance, Total SE acquired Engie's portfolio of upstream liquefied natural gas (LNG). This portfolio includes liquefaction plants, Cameron LNG project, the U.S., long term LNG sales & purchase agreements, an LNG tanker fleet, and access to regasification capacities in Europe.
LNG bunkering market, by product type
By product type, the ship-to-ship segment held the highest market share of around 60.5% in 2019, and is expected to maintain its dominance during the forecast period. This is attributed to rise in number of ships using LNG due to the need for cleaner fuel in compliance with stringent government regulations to minimize air pollution and preserve sustainability. In addition, due to advantages such as fast transfer operations and high capacity of 700-7,500 tons, the ship-to-ship LNG bunkering segment is expected to witness substantial revenue growth during the forecast period.
LNG Bunkering Market

---
By Product Type
Ship-to-Ship is projected as the most lucrative segment.
LNG bunkering market, by application
By application, in 2019, the cargo fleet segment holds the largest share, in terms of revenue, and is expected to grow at a CAGR of 45.4%. This is owing to increase in demand for cargo transportation through ships and rise in trade-related agreements. In addition, rise in number of manufacturing units and factories in the region such as Asia-Pacific and LAMEA is anticipated to drive the growth of the market for cargo shipping. 
LNG Bunkering Market

---
By Applications
Cargo Fleet is projected as the most lucrative segment.
LNG bunkering market, by region
Europe garnered the highest share in the LNG bunkering market in 2019, in terms of revenue, and is anticipated to maintain its dominance throughout the forecast period. This is attributed to numerous factors such as presence of huge consumer base and increase in maritime trade activities in the region. Moreover, rise in LNG bunkering infrastructure development activities in the European region is anticipated to contribute toward the growth of the market in Europe.
LNG Bunkering Market

---
By Region
Europe holds a dominant position in 2019 and would continue to maintain the lead over the forecast period.
COVID-19 impact on the market
Lockdown imposed due to the outbreak of the COVID-19 pandemic has resulted in temporary ban on the import and export; thereby, disrupting the supply chain and hampering the LNG bunkering market growth in the second, third, and fourth quarter of 2020. However, the market is expected to recover in the late year or by the first quarter of 2021 as the demand for LNG as bunker fuel from the maritime transport and shipping industry increases. 
Key Strategies
In June 2018, Total and Pavilion Energy, through their subsidiaries Total Marine Fuels Global Solutions and Pavilion Gas, have signed Heads of Agreement (HOA) to jointly develop a Liquefied Natural Gas (LNG) bunker supply chain in the port of Singapore. It also comprises an LNG supply arrangement between the two companies allowing Total to deliver LNG bunker to its customers. This agreement has enabled company to reinforce its place in Asia.
In May 2018, Total SE signed an agreement with the Government of Oman. This agreement aimed at developing natural gas resources in Oman with covering upstream and downstream business. Total and Shell aimed at developing natural gas resources with an aim of producing gas of around 500 million cubic feet per day (MMcfd) at primary stage and potential to reach 1 billion cubic feet per day (bcf/d) at secondary stage. In addition, it will develop LNG plant in the port of Sohar. This plant will supply LNG ship bunkers in the future.
In February 2018, Total Marine Fuels Global Solutions (TMFGS) subsidiary of Total SA and Mitsui O.S.K. Lines, Ltd. (MOL) has signed a long-term charter contract for a large LNG bunker vessel of 18,600 m³ to be delivered in 2020. It will operate in Northern Europe and will be the first ever capable of supplying large quantities of LNG in one single bunkering operation. This agreement is a significant milestone in the cooperation between MOL and Total Marine Fuels Global Solutions, with developments in both conventional fuels and LNG ahead of 2020 IMO sulfur regulations.
Key Benefits For Stakeholders
The report includes in-depth analysis of different segments and provides market estimations between 2020 and 2027.
A comprehensive analysis of the factors that drive and restrict the growth of the global liquid natural gas (LNG) bunkering market is provided.
Porter's five forces model illustrates the potency of buyers & sellers, which is estimated to assist the market players to adopt effective strategies.
Estimations and LNG bunkering market forecast are based on factors impacting the global market growth, in terms of value and volume.
Key market players are profiled to gain an understanding of the strategies adopted by them.
This report provides a detailed analysis of the current global LNG bunkering market trends and future estimations from 2020 to 2027, which helps identify the prevailing market opportunities.​​​
 LNG Bunkering Market Report Highlights
Aspects
Details
By Product Type

Truck-to-Ship
Port-to-Ship
Ship-to-Ship
Portable Tanks

By Application

Container Fleet
Tanker Fleet
Cargo Fleet
Ferries
Inland Vessels
Others

By Region

North America (U.S., Canada, Mexico)
Europe (Germany, France, UK, Italy, Russia, Rest of Europe)
Asia-Pacific (China, India, Japan, Singapore, South Korea, Rest of Asia-Pacific)
LAMEA (Brazil, Saudi Arabia, South Africa, Rest of LAMEA)

Key Market Players
GASUM OY, HARVEY GULF INTERNATIONAL MARINE, BROADVIEW ENERGY SOLUTIONS B.V., KLAW LNG, CROWLEY MARITIME CORPORATION, TOTAL SE, ROYAL DUTCH SHELL PLC, POLSKIE LNG S.A., KOREA GAS CORPORATION, PETROLIAM NASIONAL BERHAD (PETRONAS), EXXON MOBIL CORPORATION, SHV ENERGY