Load Balancer Market Outlook (2020-2027)
The global load balancer market size was valued at $3.39 billion in 2019, and is projected to reach $8.90 billion by 2027, growing at a CAGR of 12.9% from 2020 to 2027. A load balancer is a device that distributes network or application traffic across a cluster of servers. Its key role is to balance load, which manages the flow of information or data traffic between the server and an endpoint device. Core load balancing capabilities include layer 4 (L4) load balancing, layer 7 (L7) load balancing, content switching, and local & global server load balancing (GSLB).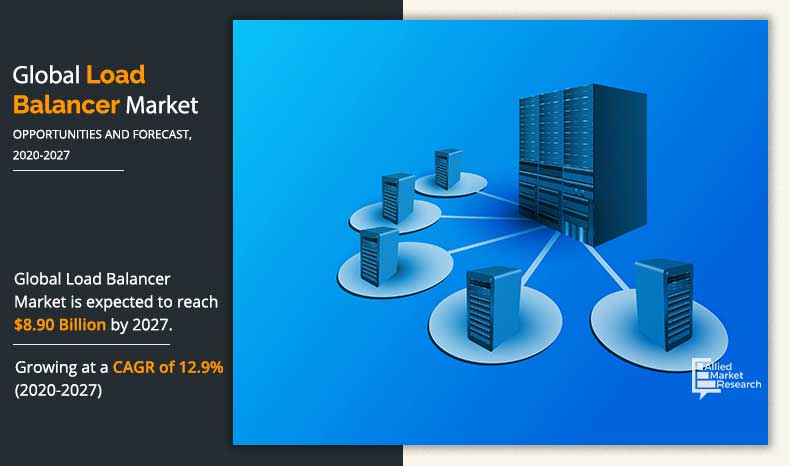 Get more information on this report : Request Sample Pages
Proliferation of cloud load balancing services & server virtualization, surge in investments for new digital transformation initiatives by governments, and increase in data center traffic are some of the major factors that are driving the growth of the global load balancer market. Rapid rise in global IP traffic coupled with increase in network connectivity, varied traffic pattern, and advancements in the networking infrastructure in telecommunication industries are expected to boost the market growth. However, dearth of high bandwidth providers and complications associated with implementation of advanced load balancer components in traditional networking ecosystem are anticipated to restrict the load balancer market growth. On the contrary, integration of IoT, AI with load balancer, and rise in demand for load balancers by SMEs are anticipated to provide lucrative growth opportunities for the expansion of global market during the analysis period.
Get more information on this report : Request Sample Pages
On the basis of type, the global load balancer segment is expected to dominate the overall load balancer market size in 2027. This is attributed to the advantage of delivering mission-critical business continuity and global disaster recovery support in the event of site or regional-level outages.
Get more information on this report : Request Sample Pages
According to industry vertical, the IT & telecom segment accounted for the highest share in the global load balancer market in 2019, as data center servers are primary end users of load balancers. Moreover, ongoing digital transformation across the globe and rise in cloud migration services are further fueling the growth of this segment.  
Get more information on this report : Request Sample Pages
In 2019, North America accounted for the highest market share, due to high ICT spending and early adoption of advanced technologies in this region. In addition, North America serves as a lucrative market for new technologies and services, as this region is developed and exhibits high investment capabilities. The need for better web services and continuous evolving technology act as the key driving forces of the North America load balancer market.
Get more information on this report : Request Sample Pages
The report focuses on the growth prospects, restraints, and global load balancer market trends. Moreover, the study includes Porter's five forces analysis of the industry to understand the impact of various factors such as bargaining power of suppliers, competitive intensity of competitors, threat of new entrants, threat of substitutes, and bargaining power of buyers on the growth of the load balancer market.
Get more information on this report : Request Sample Pages
Segment review
The global load balancer market is segmented into component, product type, deployment, enterprise size, industry vertical, and region. By component, the market is divided into hardware, software, and services. In terms of product type, it is bifurcated into local load balancers and global load balancers. Depending on deployment, it is categorized into cloud and on-premises. According to enterprise size, the load balancer market is segregated into large enterprises and small & medium enterprises. As per industry vertical, it is fragmented into BFSI, IT & telecom, retail, government, manufacturing, media & entertainment, healthcare, and others. Region wise, it is analyzed across North America, Europe, Asia-Pacific, and LAMEA.
Get more information on this report : Request Sample Pages
The key players operating in the global load balancer market analysis include Google LLC, Imperva, Inc., Radware Ltd., F5 Networks, Inc., Citrix Systems, Inc., IBM Corporation, A10 Networks, Inc., Microsoft Corporation, Kemp Technologies, Inc., and Amazon Web Services, Inc.
Impact of COVID-19 Pandemic on Load Balancer Market:
The emergence of COVID-19 is expected to have a positive impact on the growth load balancer market. Cloud service providers (CSPs) realize that service outages can lead to affecting their brand. Thus, for coherent business continuity, CSPs are concentrating on local and global load balancing solutions, along with WAN optimization, web performance optimization to implement disaster recovery scenarios, and to decrease user latency. In addition, demand for load balancing across is also expected to increase owing to increase in internet traffic because of remote working trend.
Top impacting factors
High adoption of cloud-based load balancing services in data centers to manage data traffic and server virtualization
IT & telecommunication industry witnesses the fastest growth in terms of cloud adoption. With growing interconnectivity, many organizations are focusing toward responding fast to client or user request. Increase in internet users has augmented the adoption of cloud, especially for storage and applications. This, in turn, has propelled the need to balance workloads on multi-load servers efficiently. Thus, rise in cloud adoption is a major factor that significantly contributes toward the growth of the global load balancer market. 
From the recent past, industries are shifting toward multi-cloud and cloud computing due to increase interactions through digital platform by individuals across the globe. This has generated massive volume of data silos and is continuously generating data in the current cloud adoption trend. Interchange and exchange of data over the networks have become a necessity. Thus, telecommunications & IT industry is improving its capitalization for significant investments in network technologies and infrastructure.
Transforming telecommunications infrastructure has increased network complexity and varied traffic pattern
Load balancers have transformed the way telecommunication industry operates. Proliferating trends such as internet connectivity, Wi-Fi, work from home, 4G technology, and cloud have compelled the telecommunication industry to deploy load balancing solutions. Rise in varied traffic patterns due to these trends have propelled the demand for load balancing services, which contributes toward the growth of the market. 
Moreover, maintaining data center load balancing has boosted the growth of the market. Many enterprises have deployed cloud-native applications in data centers and public clouds, which broadened the load balancer capabilities with features such as cloud traffic distribution on multi-server mode and predictive bottleneck detection. Surge need for network traffic load balancing and virtual server load balancing due to increased traffic is further boosting the deployment of load balancers in the telecommunication industry 
Emergence of IoT, AI, and software-defined networking technologies
Surge in penetration of connected devices has augmented the demand for load balancing, which is expected to drive the growth of the market in the coming years. In addition, IoT environment is proliferating the adoption of load balancers, as interconnectivity of devices requires high request handling capabilities. 
Multi-access edge computing with high adoption of sensors among various industries across the globe is further boosting the load balancer market growth. Artificial intelligence products require high responsive time and models, thus fueling the demand for load balancing components at a significant rate. In addition, advanced technologies require high-performance systems that care capable to manage and handle tremendous workload is expected to propel the deployment of load balancers in the coming years. 
Advent of software-defined networking technologies with innovations in platform-independent applications is further expected to offer remunerative opportunities for the expansion of the market.
Key Benefits For Stakeholders
This study includes the analytical depiction of the global load balancer market forecast and trends to determine the imminent investment pockets.
The report presents information related to key drivers, restraints, global market opportunity.
The current market size is quantitatively analyzed from 2019 to 2027 to highlight the financial competency of the load balancer industry.
Porter's five forces analysis illustrates the potency of buyers & suppliers in the global market.
 Key Market Segments
By Component

Hardware
Software
Services



By Type

Local Load Balancers
Global Load Balancers



By Deployment

By Enterprise Size

Large Enterprises
Small & Medium Enterprises (SMEs)



By Industry Vertical

BFSI
IT & Telecom
Retail
Government
Manufacturing
Media & Entertainment
Healthcare
Others



By Region

North America
Europe

UK
Gremany
France
Rest of Europe

ASIA-PACIFIC

China
India
Japan
Australia
Rest of Asia-Pacific

LAMEA

Latin America
Middle East
Africa



 Key Market Players
A10 NETWORKS, INC.
.AMAZON WEB SERVICES, INC.
CITRIX SYSTEMS, INC.
F5, INC.
GOOGLE LLC
IMPERVA
INTERNATIONAL BUSINESS MACHINES CORPORATION
KEMP TECHNOLOGIES, INC.
MICROSOFT CORPORATION
RADWARE