Loaders Market Research, 2032
The global loaders market size was valued at $33.3 billion in 2022, and is projected to reach $50.7 billion by 2032, growing at a CAGR of 4.5% from 2023 to 2032. A loader generally refers to a type of heavy machinery or equipment used in construction and various industries for loading materials such as dirt, gravel, sand, or other bulk substances onto trucks or conveyor belts. Loaders have a front-mounted bucket or scoop that can be raised or lowered using hydraulic arms. Commonly, loaders are used for tasks such as earthmoving, and material handling at construction sites, mines, and other such as sites.
The loaders market is anticipated to grow with a considerable CAGR in the coming decade, owing to increased spending in the construction sector. However, the market is negatively impacted by the economic downturn triggered by the war in Ukraine and the impact of the coronavirus pandemic. The high prices of raw materials and the continued rise in energy cost have severe impacts on the end-users of loaders, including construction as well as industrial sector.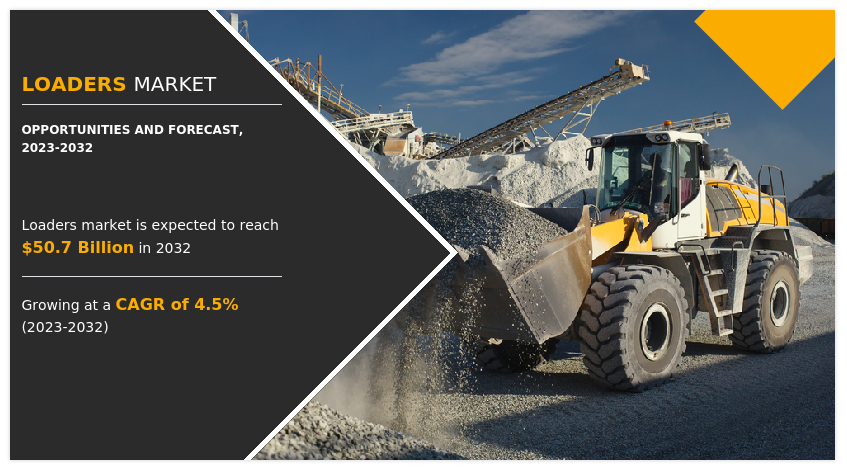 Market Dynamics
The loaders market has witnessed a significant rise, owing to growth in investments in the construction sector across the globe. The rise in construction is attributed to the high rate of growth of the population growth and rapid urbanization, especially in developing countries. For example, according to the estimates of United Nation, the world population is anticipated to increase from 8 billion in 2023 to 9.5 billion by the end of 2050. Asia-Pacific and Africa are expected to play a major role in this growth. Moreover, urbanization has also risen significantly across the globe. For instance, according to the world bank there were 794,432 Built Up Areas (BUAs) globally in 2016, which it had estimated to reach 849,407 by 2022. Owing to such population growth, public and private entities have invested significantly in the construction of buildings as well as public infrastructure. For example, owing to overcrowding in the capital city Jakarta, Indonesia, government officials have planned to shift its capital to Nusantra, where numerous new buildings are projected to be constructed. Similarly, in March 2023, the government of India has considered a proposal to build eight new cities across the country, which may cost more than $360 million. Moreover, as of January 2023, a well-known building developer 'Triple Five Group' has planned to construct American Dream Mall near Everglades National Park in Florida. In addition, with the new National Infrastructure Pipeline project of India, the country aims to develop social and economic infrastructure such as roads & highways, railway networks, ports, shipping, and inland waterways infrastructure. Expenditure for this is expected to be around $759.76 billion over a period of five years between 2020 and 2025. Similarly, the $1 trillion bi-partisan infrastructure law of the U.S. is expected to positively influence the market. Thus, such factors, which have resulted in increased construction activities, have fuelled the demand for loaders and other construction equipment.
Moreover, over the past few years the demand for minerals such as coal, zinc, iron, copper, and various others from the industrial sector have increased substantially; eventually having a tremendous positive impact on the mining industry. For example, iron ore production of India stood at 250 metric tons in FY22, an increase of 23% compared with 204 metric tons in FY21. Similarly, according to the data from the government of Canada, China has over 1,500 major mining operations, which produces over $400 billion/year. In addition, it is estimated that the green mining industry of China is expected to grow by 30%-50% in the next 20 years. Other major mining countries such as Australia, South Africa, Brazil, the U.S., Canada, and others have also witnessed an increase in the extraction of minerals. These and other countries, therefore, experience a high demand for loaders which are utilized for loading debris, and mined materials from ground onto the trucks, eventually having a positive impact on the loaders market.
However, regulations related to carbon emissions by construction equipment including loaders impact the market negatively. Commonly loaders use diesel as a fuel for operation and release large volumes of greenhouse gases, which is dangerous for the environment. The increase in the level of carbon emissions exhibits a challenge to the market; thus, governments across the world have imposed strict regulations for construction equipment machines to reduce carbon emissions. Such factors have a negative impact on the loaders market growth.
Moreover, technological advancements, including the integration of IoT and AI, have helped in making automated loaders that can finish a task in less time while exhibiting higher fuel efficiency. In addition, the probability of any human error is also reduced to a greater degree. For instance, in 2020, 38-tonne Sandvik launched an autonomous mining loader, known as Sandvik LH514. Moreover, in September 2022, the same company launched battery powered AutoMine® Concept Underground Drill. In addition, in June 2023, Sandvik Mining and Rock Solutions unveiled AutoMine® AutoLoad 2.0, a new feature that enables fully automated production cycles for loaders in fixed draw point and dump point mining applications. Thus, integration of advanced technologies is a major loaders market opportunity for growth.
The loaders market has witnessed various obstructions in its regular operations due to the COVID-19 pandemic and inflation. Earlier, the global lockdowns resulted in reduced industrial activities, eventually leading to reduced demand for loaders from the construction and industrial sectors. However, COVID-19 has subsided, and the major manufacturers in 2023 have been performing well. Contrarily, the rise in global inflation is a new major obstructing factor for the entire industry. The inflation, which is a direct result of the Ukraine-Russia war and few long-term impacts of the coronavirus pandemic, has introduced volatility in the prices of raw materials used for construction which is a major end-user sector of leaders and other such as construction equipment. In addition, inflation is expected to worsen in the coming years, as the possibility of the ending of the war between Ukraine and Russia is less. However, a peace agreement between Ukraine and Russia can be devised, with the continued talks between different countries, which is expected to end the war between them and reduce global inflation.
Segmental Overview
 The loaders market is segmented on the basis of loader type, type, end user, and region. On the basis of loader type, the market is divided into compact track loader, skid steer loader, wheeled loader, and backhoe loader. On the basis of type, the market is categorized into heavy and compact. On the basis of end user, the market is divided into construction, mining, manufacturing, and others. On the basis of region, the market is analyzed across North America (the U.S., Canada, and Mexico), Europe (Germany, France, Italy, the UK, and rest of Europe), Asia-Pacific (China, India, Japan, South Korea, and the rest of Asia-Pacific), and LAMEA (Latin America, Middle East, and Africa).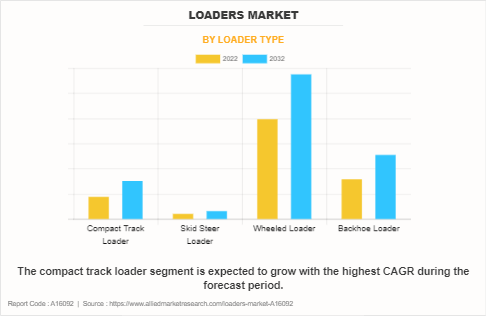 By loader type: The loaders market is divided into compact track loader, skid steer loader, wheeled loader, and backhoe loader. In 2022, the new wheeled loader segment dominated the loaders market share, in terms of revenue, and the compact track loaders segment is expected to grow with a higher CAGR during the forecast period. Rapid ongoing construction of buildings across the globe especially in developing nations is a major factor that dominates the growth of the new construction segment. On the other hand, the backhoe segment is anticipated to grow with a higher CAGR owing to the high growth rate of the Indian construction sector which is a major market for backhoe loaders in the globe.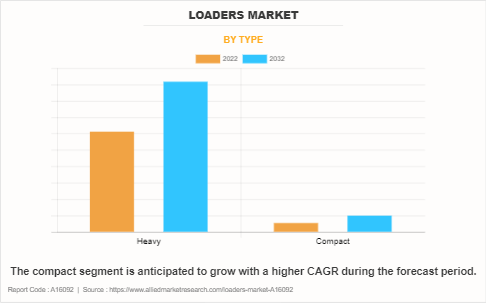 By type: The loaders market is bifurcated into heavy and compact. In 2022, the heavy segment dominated the loaders market, in terms of revenue, and the compact segment is expected to witness growth at a higher CAGR during the forecast period. Heavy loaders are widely used in construction and mining sectors as a large volume of earth, mined material, or other such as material need to be handled in these sectors. In addition, large loaders can perform a task relatively quicker in an open area with no obstructions. However, the high CAGR of compact segment is attributed to the affordability of compact loaders and their ability to perform a smaller task in less duration. In addition, places with less open room also make significant use of compact loaders.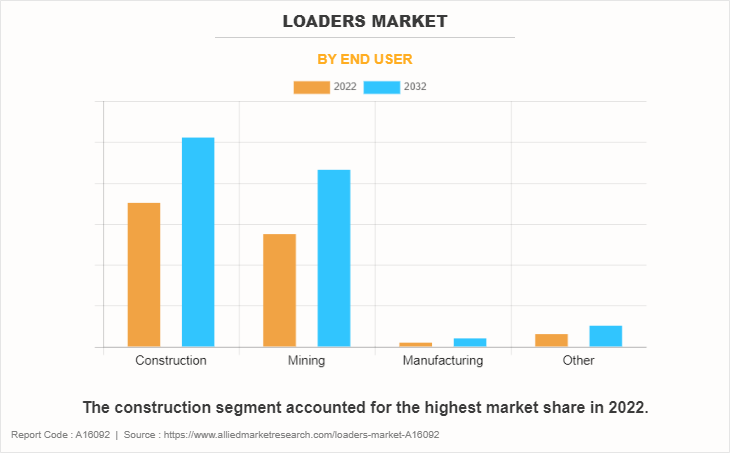 By end user: The loaders market is divided into construction, mining, manufacturing, and others. The construction segment accounted for the highest market share in 2022, owing to the growth in urban population, which drives the demand for buildings and various other public infrastructure such as roads, bridges, and others. However, the manufacturing segment is anticipated to dominate the loaders market forecast by growing with the highest CAGR during the forecast period, owing to the rise in industrialization in developing regions.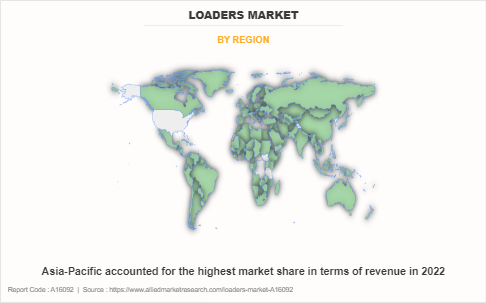 By region: Asia-Pacific accounted for the highest market share in 2022 and the same region is expected to grow with the highest CAGR during the forecast period. Asia-Pacific is a highly developing region with the fastest-growing population. According to the United Nations, nearly two-thirds of the world population resides in Asia-Pacific, with China and India alone accounting for one-third of the global population. In addition, the rate of urbanization in Asia-Pacific is also high. Thus, owing to high population growth and urbanization in the region, the construction sector witnessed a rapid rise, thereby, demand for loaders, which are extensively used in these sectors is anticipated to rise in the coming years.
  Competition Analysis
Competitive analysis and profiles of the major players in the loaders market are provided in the report. Major companies in the report include Caterpillar Inc., Deere & Company, Hitachi, Ltd, KOMATSU Ltd, Liebherr-International AG, Doosan Corporation, Sandvik AB, AB Volvo, Atlas Copco AB, and J C Bamford Excavators Ltd. (JCB). Major players to remain competitive adopt development strategies such as product launches, business expansion, acquisitions, expansion, partnerships, and mergers. For instance, in August 2023, Caterpillar Inc. launched new Cat 988 GC Wheel Loader. This loader presents a notable improvement, boasting a reduction of up to 5% in fuel consumption and 15% decrease in maintenance costs compared to the Cat 988K. Tailored for optimal life-cycle value in moderate production scenarios spanning up to 2,000 hours annually, the 988 GC demonstrates its capability by achieving production levels within a 6% range of the 988K in truck loading applications. Similarly in May 2023, Deere and Company broadened its Performance Tiering lineup by transitioning from L-Series to P-Tier for the 244, 324, and 344 Compact Wheel Loader models. The upgraded P-Tier compact wheel loaders retain all the features of the L-Series while introducing new productivity enhancements. These include standard ride control in base models and optional factory-installed features, such as the auto-reversing fan option.
Key Benefits for Stakeholders
The report provides an extensive analysis of the current and emerging loaders market trends.
In-depth loaders market analysis is conducted by constructing market estimations for key market segments between 2022 and 2032.
Extensive analysis of the loaders market is conducted by following key product positioning and monitoring of top competitors within the market framework.
A comprehensive analysis of all the regions is provided to determine the prevailing opportunities.
The loaders market revenue and volume forecast analysis from 2023 to 2032 are included in the report.
The key players within the loaders market are profiled in this report and their strategies are analyzed thoroughly, which help understand the competitive outlook of the loaders industry.
 Loaders Market Report Highlights
Aspects
Details
Market Size By 2032
USD 50.7 billion
Growth Rate
CAGR of 4.5%
Forecast period
2022 - 2032
Report Pages
194
By Loader Type

Compact Track Loader
Skid Steer Loader
Wheeled Loader
Backhoe Loader

By End User

Construction
Mining
Manufacturing
Other

By Type
By Region

North America (U.S., Canada, Mexico)
Europe (Germany, France, UK, Italy, Rest of Europe)
Asia-Pacific (China, Japan, South Korea, India, Rest of Asia-Pacific)
LAMEA (Latin America, Middle East, Africa)

Key Market Players
Sandvik AB, KOMATSU Ltd, Caterpillar Inc., Deere & Company, Atlas Copco AB, Liebherr-International AG, Hitachi, Ltd, Doosan Corporation, AB Volvo, J C Bamford Excavators Ltd. (JCB)
Analyst Review
The loaders market has experienced substantial growth in recent years, driven by the increase in construction and infrastructure development activities.
The demand for compact loaders has particularly surged in countries like the U.S., Canada, the UK, Germany, and China, contributing to market expansion. In addition, the growth of infrastructure projects has had a positive impact on market dynamics, notably in developing nations such as India, China, and Vietnam. Heavy loaders, with their larger capacities, are extensively employed in construction sites.
 The market faces challenges due to stringent government regulations on carbon emissions from loaders despite these favorable factors. However, the integration of advanced technologies, such as automation, presents promising opportunities for market growth.