The global logistics automation market was valued at $49.7 billion in 2020, and is projected to reach $147.4 billion by 2030, growing at a CAGR of 11.9% from 2021 to 2030.
Logistics automation involves integration of machinery, control systems, and software to improve the efficiency of logistic processes. Logistics automation offers improved efficiency, control, and organization for procurement, production, inventory management, distribution, customer service, and recovery. Logistics automation systems comprise a variety of automated storage and transportation systems such as automatic guided vehicles, robotic arms, autonomous mobile robots, automated storage & retrieval systems (AS/RS), warehouse management software, and transportation management software. Logistics automation provides several benefits such as real-time access to loading & data analysis, organizational control, improved customer service, and scalability & speed.
The impact of the COVID-19 pandemic has resulted in workforce changes, temporary restriction on movement of goods, and adoption of automation solutions. The pandemic has resulted in supply-chain disruptions causing temporary restriction on movement of goods. In 2019, online shopping increased by 20% and then by 30% during lockdown. Rise in online sales compelled companies to restructure their warehouse to manage e-commerce logistics. At the same time, companies have also had to safeguard the health & safety of their employees working along the entire supply chain. In order to fulfill e-commerce demand, and adapt to new situation, several logistics companies introduced changes in their workforces, and opted for logistics automation. However, with the removal of lockdown restrictions, several logistics companies have started to invest in industry 4.0 technologies in order to deal with labor shortages issue, and to fulfill rising demand from e-commerce sector. Companies are adopting autonomous robots for automating the tasks within warehouse as well as drones for last-mile delivery.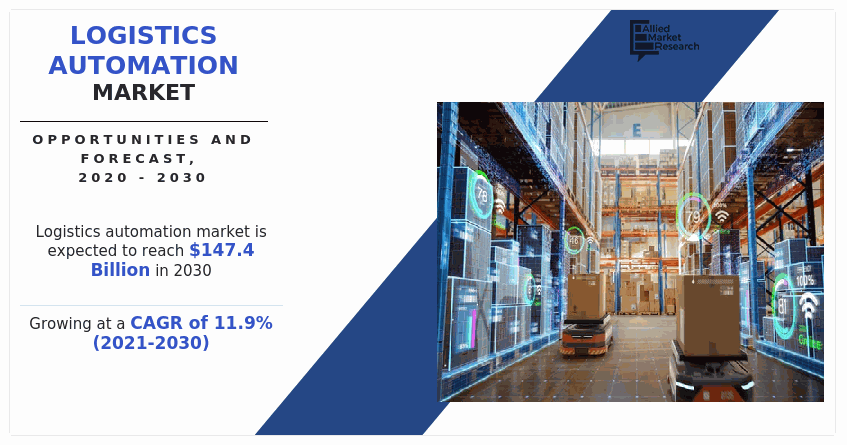 There has been a rapid growth in adoption of e-commerce over the past few years. Supply chains and logistics management is increasingly evolving to adapt and cater to the growing switch to online delivery platforms, click-and-collect models, and curbside collections. Logistics providers are investing in warehouse robotics, sorting systems, and warehouse management software. Robotics platforms such as collaborative robots are also being used in automating tasks. Large-scale conveyor systems, automated storage, and retrieval systems are used in automated warehouses for greater productivity. Integration of technologies such as artificial intelligence, machine learning, and data analytics, is gaining increased traction for simplified and informed operational decisions.
Improved efficiency & workforce safety, growth in e-commerce, adoption of industry 4.0 technologies, and advancements in robotics technologies drive the growth of the market. However, high initial investment is expected to hamper the growth of the market. Moreover, adoption of autonomous vehicles and drones, and greater demand for warehouse automation from emerging economies are expected to offer opportunities for the growth of the market.
Logistics Automation Market

---

By Component
Software is projected as the most lucrative segment
The logistics automation market is segmented into Organization Size, End-Use Industry, Component and Application. By organization size, it is fragmented into small and medium enterprises and large enterprises. On the basis of end-use industry, it is classified into manufacturing, healthcare & pharmaceuticals, fast-moving consumer goods, retail and e-commerce, automotive, and others. Based on component, the market is categorized into hardware, software, and services. The application segment has been divided into warehouse & storage management, and transportation management. By region, the report is analyzed across North America, Europe, Asia-Pacific, and LAMEA.
Some leading companies profiled in the logistics automation industry report include Beumer Group GmbH & Co. KG, Daifuku Co., Ltd., Honeywell International Inc., Jungheinrich AG, Kion Group AG, Knapp AG, Mecalux, S.A., Murata Machinery, Ltd., SSI Schaefer Group, and TGW Logistics Group GmbH.
Improved efficiency and workforce safety
Automation has become popular among companies due to its cost-cutting, and increased efficiency benefits. Automation technology can aid in improving workplace safety as automated systems can reduce the risk of accidents, prevent work injuries, resulting in safer workplace for workers. Robotic lifting devices in workplace reduce the risk of lifting and bending injuries. Automation also reduces strain injuries by taking over repetitive tasks.
In addition, automated systems such as autonomous mobile robot (AMR) contribute in improving efficiency as AMRs handle & move dangerous materials across factory floors avoiding potentially costly injuries to human workers and boosting their productivity.
Moreover, automated systems monitor performance on an ongoing basis. This enables automated systems to respond to emergency situations much faster than human reactions. Automated systems prevent accidents, and equipment damage by shutting down equipment or alerting employees before a potentially dangerous situation escalates.
Logistics Automation Market

---
By Organization Size
Small and Medium Enterprises is projected as the most lucrative segment
Growth in E-commerce
E-commerce refers to the buying and selling of goods by utilizing internet. Growth in e-commerce industry across the globe has resulted in need for efficient warehousing and inventory management. Increase in e-commerce activities, and customer demand has forced companies to adopt automation solutions in order to fulfill rising consumer demand.
For instance, in August 2021, FedEx subsidiary FedEx Ground implemented a new AI-enabled robotics system to handle thousands of small packages daily as it seeks new innovations to meet demand in e-commerce delivery. The robotic product operates at FedEx Ground's station in Queens, New York. In addition, it can autonomously pick, identify, sort, collect, and containerize small packages at scale.
Moreover, customer demand for same day delivery is also creating the need for automation systems, which in turn is expected to drive the growth of the logistics automation industry during the forecast period.
Adoption of industry 4.0 technologies
Industry 4.0 refers to fourth industrial revolution. It describes growing trend toward automation and data exchange technology & processes within the manufacturing industry. Industry 4.0 technologies comprises Big data & artificial intelligence, data analytics, cloud computing, augmented reality, industrial internet of things, additive manufacturing, autonomous robots, and digital twins.
Manufacturers and logistics companies are adopting these technologies for improved productivity & efficiency, better flexibility & agility, and improved customer experience. Amazon, Fetch, DHL, Ceva Logistics, and Geek+ are some companies already employing robotic solutions such as autonomous mobile robots, to automate operations of warehouses or distribution centers.
Logistics Automation Market

---

By Region
Asia-Pacific would exhibit the highest CAGR of 13.4% during 2021-2030
Key Benefits For Stakeholders
This report provides a quantitative analysis of the market segments, current trends, estimations, and dynamics of the logistics automation market analysis from 2020 to 2030 to identify the prevailing logistics automation market opportunities.
The market research is offered along with information related to key drivers, restraints, and opportunities.
Porter's five forces analysis highlights the potency of buyers and suppliers to enable stakeholders make profit-oriented business decisions and strengthen their supplier-buyer network.
In-depth analysis of the logistics automation market segmentation assists to determine the prevailing market opportunities.
Major countries in each region are mapped according to their revenue contribution to the global market.
Market player positioning facilitates benchmarking and provides a clear understanding of the present position of the market players.
The report includes the analysis of the regional as well as global logistics automation market trends, key players, market segments, application areas, and market growth strategies.
 Logistics Automation Market Report Highlights
Aspects
Details
By Organization Size

Small and Medium Enterprises
Large Enterprises

By End-Use Industry

Manufacturing
Healthcare and Pharmaceuticals
Fast-Moving Consumer Goods
Retail and E-commerce
Automotive
Others

By Component

Hardware
Software
Services

By Application

Warehouse and Storage Management
Transportation Management

By Region

North America (U.S., Canada, Mexico)
Europe (Germany, United Kingdom, France, Italy, Rest of Europe)
Asia-Pacific (China, Japan, India, South Korea, Rest Of Asia Pacific)
LAMEA (Latin America, Middle East, Africa)

Key Market Players
Beumer Group GmbH & Co. KG, Daifuku Co., Ltd., Honeywell International Inc., Jungheinrich AG, Kion Group AG, Knapp AG, Mecalux, S.A., Murata Machinery, Ltd., SSI Schaefer Group, TGW Logistics Group GmbH