Global Logistics Market Statistics 2021-2027:
The global logistics market was valued at $7,641.20 billion in 2017, and is projected to reach $12,975.64 billion by 2027, registering a CAGR of 6.5% from 2020 to 2027.        
The outbreak of COVID-19 has brought effects on many aspects, such as flight cancellations, travel bans and quarantines, which made the massive slowing of the supply chain and logistics activities across the world. Logistics firms, which are involved in the movement, storage, and flow of goods, have been directly affected by the COVID-19 pandemic. However, there are some industries that are struggling due to the pandemic, but some are thriving such as healthcare & pharmaceuticals. Also, e-commerce and daily essentials goods industry is expected to affect the logistics industry positively during the COVID-19 outbreak globally. In addition, there has been an increasing demand for medical and FMCG supplies such as hospital supplies, gloves, sanitizers, vaccinations, perishable food items propelling the growth of logistics market during COVID pandemic.
Logistics is widely known as the process of coordinating and moving resources, such as equipment, food, liquids, inventory, materials, and people, from one location to the storage of the desired destination. It is the management of the flow of goods from one point of origin to the point of consumption, to meet the requirement of customers. Logistics management focuses on the efficiency and effective management of daily activities concerning the production of the company's finished goods and services. This type of management forms a part of the supply chain management; and plans, implements, & controls the efficient, effective forward, reverse flow, and storage of goods. Logistics mainly comprises various services such as Third-Party Logistics (3PL), Fourth-Party Logistics (4PL), inbound logistics, outbound logistics, reverse logistics, green logistics, construction logistics, digital logistics, military logistics, and others logistics services.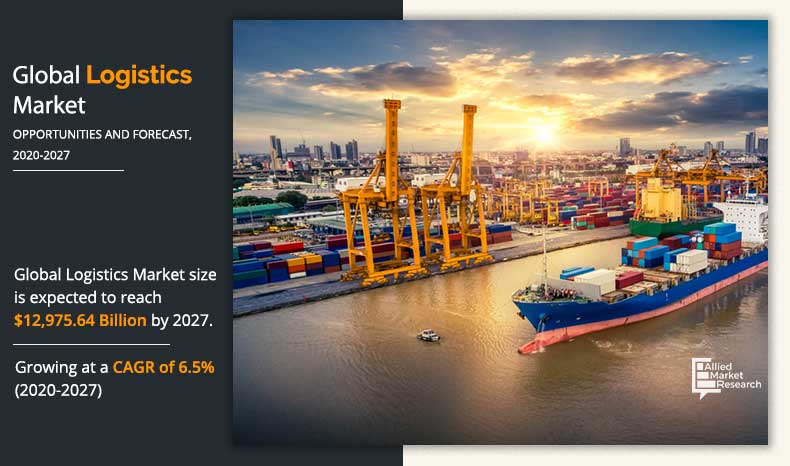 The factors, such as growing e-commerce industry coupled with rise in reverse logistics operations and rise in trade related agreements, fuel the market growth. In addition, rise of tech-driven logistics services and growing adoption of IoT-enabled connected devices are also expected to drive the market growth. However, lack of control of manufacturers on logistics service, poor infrastructure, and higher logistics costs hinder the market growth. Further, emergence of last mile deliveries, logistics automation, and cost cutting & lead time reduction due to adoption of multi-modal system are some of the factors that are anticipated to foster the market growth.
The market is segmented on the basis of mode of transport, end use, and region. On the basis of mode of transport, the market is divided into railways, airways, roadways, and waterways. On the basis of end use, it is categorized into healthcare, manufacturing, aerospace, telecommunication, government & public utilities, banking & financial services, retail, media & entertainment, technology, trade & transportation, and others. Region-wise, it is studied across North America, Europe, Asia-Pacific, and LAMEA. 
The key players operating in the logistics market are A.P. Moller–Maersk, C.H. Robinson Worldwide, Inc., DB Schenker, Deutsche Post AG (DHL Group), DSV, FedEx, Geodis, Kuehne+Nagel, Nippon Express, and United Parcel Service, Inc.
Growing e-commerce industry coupled with rise in reverse logistics operations
E-commerce refers to the buying and selling of goods by using internet. Third-party logistics service providers encompass shipping of products to consumers. In addition, the e-commerce industry utilizes logistics service to manage and oversee the supply chain of e-commerce companies, which allow these companies to focus on marketing and other business operations. Thus, due to numerous benefits provided by logistics to the e-commerce industry, adoption of logistics service is rising at a significant rate, which is driving the growth of the logistics market. For instance, according to the latest report by the UN's trade and development body (UNCTAD) released on April 2020, e-commerce sales hit $25.6 trillion globally in 2018, which was equivalent to 30% of the global gross domestic product (GDP). The value of global B2B e-commerce in 2018 was $21 trillion, representing 83% of all e-commerce, whereas B2C e-commerce was valued at $4.4 trillion. The growth is attributed to fast growth in consumers and cross-border purchases. According to a report, more than 1.4 billion people shopped online in 2018 while the U.S., China, and Japan dominate e-commerce sales to consumers.
Rise in trade related agreements
Dynamic market conditions and improvement in global economy are the key factors driving globalization. Attributed to rise in globalization, various activities related to trade are witnessing increase. Therefore, it is becoming difficult for manufactures or retailers to keep track of these activities in an efficient manner. This factor is expected to drive the logistics market for logistics companies. Moreover, development of the overseas market is a significant factor that fuels the growth of the market. Logistics services are becoming extremely vital for price-sensitive customers who require a wider choice of high-quality products with timely delivery. Thus, increase in trading activities due to globalization fuels the growth of the logistics market. For instance, in December 2020, India and the UK announced a plan to finalize free trade agreement (FTA) in areas such as pharmaceuticals, fintech, chemicals, defense manufacturing, petroleum, and food products by 2021.  
Logistics Market

---
By Mode Of Transport
Waterways is projected as the most lucrative segment
Lack of control of manufacturers on logistics service
By using logistics service, a manufacturing or retailing company has to rely on the reliability, competency, and honesty of logistics service providers. In this scenario, manufacturers or retailers must rely on logistics service provider, which results in lack of direct control. In addition, the manufacturer is not able to monitor the operations at warehouse, which is a serious threat to the quality of products. Moreover, outsourcing to a third-party logistics (3PL) could potentially lead to breach of confidentiality, resulting in the exposure of customer personal data or sharing of commercially-sensitive information. Thus, lack of control of manufacturers on logistics service is anticipated to hinder the growth of the logistics market.
Logistics Market

---
By End Use
Helthcare is projected as the most lucrative segment
Emergence of last mile deliveries coupled with logistics automation
Last mile logistics refers to the final step of the delivery process from a distribution center or facility to the end-user. With continuously increasing proliferation of e-commerce companies, the provision of efficient last mile deliveries is witnessing a major upswing in the logistics industry. In addition, getting a package within the same day of delivery is almost common in the present day, resulting in the growth of the last mile delivery services. Moreover, rising pharmaceuticals and food & beverages e-commerce industries are also witnessing greater emphasis on last mile delivery options across logistics industries. Furthermore, continuous effort of logistics companies to offer efficient last mile deliveries is another opportunity that is expected to fuel the logistics market growth in near future. In addition, automation has also been gaining traction in the logistics industry. The inception of logistics 4.0 is one of the key logistics trends offering lucrative opportunities in the logistics industry. For instance, in July 2020, Movile Group, a mobile commerce platform company, invested in a Colombia-based last-mile delivery startup Mensajeros Urbanos. It aims to expand its operations in 10 major cities in Colombia and Mexico. It is expected to open 50 urban warehouses within 10 cities that it serves to reduce delivery time windows further and provide certain items for same-day delivery. 
Logistics Market

---
By Region
Asia-Pacific would exhibit the highest CAGR of 6.90% during 2020-2027.
Covid-19 Scenario Analysis 
Travel restrictions, nightly curfews, border closures, and flight cancellations imposed by several countries led to decline in logistics activities and also revenues of logistics and transportation service providers.
The lockdown restrictions due to COVID-19 are expected to fuel the online delivery and e-commerce industry.  
COVID-19 is anticipated to negatively affect non-essential goods retail and ground cargo demand across the world.
The COVID-19 crisis may affect commodity chains in the short & long term and decline the foreign investment.
Key Benefits For Stakeholders
This study presents analytical depiction of the global logistics market analysis along with current trends and future estimations to depict imminent investment pockets.
The overall logistics market opportunity is determined by understanding profitable trends to gain a stronger foothold.
The report presents information related to the key drivers, restraints, and opportunities of the global logistics market with a detailed impact analysis.
The current logistics market is quantitatively analyzed from 2017 to 2027 to benchmark the financial competency.
Porter's five forces analysis illustrates the potency of the buyers and suppliers in the industry.
 Logistics Market Report Highlights
Aspects
Details
By MODE OF TRANSPORT

Railways
Airways
Roadways
Waterways

By End Use

Healthcare
Manufacturing
Aerospace
Telecommunication
Government & Public Utilities
Banking & Financial Services
Retail
Media & Entertainment
Technology
Trade & Transportation
Others

By Region

North America (U.S., Canada, Mexico)
Europe (UK, Germany, France, Spain, Italy, Rest of Europe)
Asia-Pacific (China, Japan, India, Australia, Rest of Asia-Pacific)
LAMEA (Latin America, Middle East, Africa)

Key Market Players
MOLLER – MAERSK, DSV (DSV Panalpina), Kuehne+Nagel, Nippon Express, GEODIS, United Parcel Service, Inc. (UPS), Deutsche Post AG (DHL Group) (DHL Group), H. Robinson Worldwide, Inc., FEDEX, DB SCHENKER (Deutsche Bahn Group (DB Group))