The global long steel market size was valued at $476,213 million in 2020, and is projected to reach $731,934 million by 2030, registering a CAGR of 4.1% from 2021 to 2030. Long steel products, also known as long products in the steel industry, refer to steel products such as wire, rod, rail, and bars, as well as different forms of steel structural sections and girders. Bridge which comes under fabricated structural unit are also known as long steel products. Blooms and billets, from which bars, rods, and structural shapes are rolled are termed as products of long steel. 
The COVID 19 outbreak has affected the growth of the long steel industry owing to the lockdown measure in the countries and delay in manufacturing and production of long steel which are utilized in construction and industrial activities.
Long steel is an important component of the building and construction industry, and its market is expanding as demand from the infrastructure and construction industries grows. Builders and construction organizations are increasingly using it to construct buildings and other infrastructure projects. The long steel industry offers fresh prospects for growth due to new metro rail projects, dedicated freight lanes, and the repair and upgrading of highway and railway bridges. Around the globe, people are preferring major key players to provide long steel for heavy construction purpose. For instance, in December 2020, ArcelorMittal has provided special rebars and thread bars Krybar to Kuwait for its new liquified natural gas terminal.  Similarly, capital goods, aircraft, and railroads are among the other industries that have adopted long steel products, fueling the demand for the long steel products in the market. Some long steels, such as merchant bars and special sections, are utilized in body constructions in the automobile sector, whereas wire rode is used in tires. Hence, rise in heavy construction and automotive sectors is projected to have a positive impact on the long steel market growth.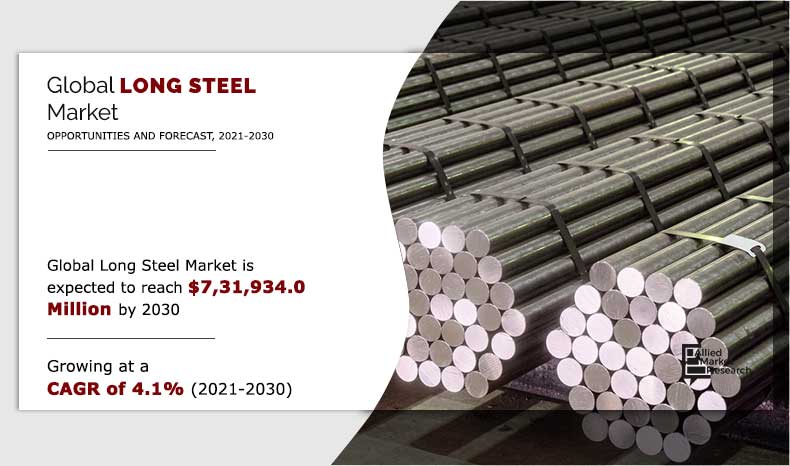 The novel coronavirus has rapidly spread across various countries and regions, causing enormous impact on lives of people and overall community. Originating as a crisis to human health, it now poses significant threat to worldwide trade, economy, and finance. The continuous lockdown in key global countries due to the COVID-19 pandemic has halted production of many items in the long steel business. Market players can afford a complete lockdown only for a limited period, after which they would have to alter their investment plans. Furthermore, number of COVID-19 cases are expected to reduce in the near term as vaccine for COVID-19 has been introduced in the market. This is further expected to lead to re-initiation of long steel companies at their full-scale capacities, which would aid the market to recover by the start of 2022.
After COVID-19 infection instances start to decline, equipment and machinery producers must focus on protecting their staff, operations, and supply networks to respond to urgent emergencies and establish new methods of working. 
Rails and other structural steel products are used in a variety of sectors, and the long steel market share is growing due to the development of lines and routes, as well as the necessity for rapid maintenance and replacement. Structural steel railings offer a higher tensile strength than other materials, as well as stronger corrosion resistance and weather resistance, making them ideal for heavy construction applications.
Furthermore, various key players are building their product portfolio by launching long steel structural materials to provide high strength in the construction sector. For instance, in January 2021, Baowu Steel Group has launched high strength bridge steel HiBriTM 690qE, which possesses higher strength, low-temperature toughness, weldability, and seismic resistance to bridge structure. Hence, growth in infrastructure and urbanization is anticipated to provide opportunity for the growth of the long steel market.
Long Steel Market

---
By Product Type
Wire rod segment is projected to grow at a significant CAGR
Furthermore, due to growth of the construction sector and urbanization sectors, companies are getting opportunities to manufacture long steel and are expanding its business to increase the production and manufacturing of long steel. For instance, in February 2021, Nucor Corporation has built a TrueCore manufacturing facility in Brigham City, Utah, which will manufacture insulated wall and roof panels and is expected to be operational in year 2022.
The long steel market  is segmented on the basis of process, product type, application, and region. By process, the market is divided into basic oxygen furnace and electric arc furnace. By product type, it is segmented into rebar, wire rod, merchant bar, and others. By application, it is divided into construction, industrial, and others.
Long Steel Market

---
By Application
Construction segment holds dominant position in 2020
Region wise, the long steel market  analysis is conducted across the North America (U.S., Canada, and Mexico), Europe (Germany, Russia, Italy, France, and rest of Europe), Asia-Pacific (China, India, Japan, and rest of Asia-Pacific), and LAMEA (Latin America, the Middle East, and Africa).
Competition Analysis
Key companies profiled in the long steel market report include Arcelor Mittal, Baowu Steel Group Corporation Limited, Gerdau S.A., HeSteel Group Company Limited, Hyundai Steel Co., Ltd, Nippon Steel Corporation, Nucor Corporation, POSCO Corporation, Ternium S.A., and Votorantim S.A.
Long Steel Market

---
By Region
Asia-Pacific holds a dominant position in 2020 and is expected to grow at a significant rate during the forecast period.
Key Benefits For Stakeholders
The report provides an extensive analysis of the current and emerging long steel market trends and dynamics.  
In-depth emerging long steel market analysis is conducted by constructing market estimations for key market segments between 2020 and 2030. 
Extensive analysis of the emerging is conducted by following key product positioning and monitoring of top competitors within the market framework.
A comprehensive analysis of all the regions is provided to determine the prevailing opportunities.
The global emerging long steel market forecast analysis from 2021 to 2030 is included in the report.
The key players within emerging long steel industry are profiled in this report and their strategies are analyzed thoroughly, which help understand the competitive outlook of the emerging long steel industry. 
Key Segments
By Process
Basic Oxygen Furnace
Electric Arc Furnace
By Product Type
Rebar
Wire Rod
Merchant Bar
Others
By Application
Construction
Industrial
Others 
By Region
North America
Europe

Germany
Russia
France
Italy
Rest of Europe

Asia-Pacific

China
India
Japan
Rest of Asia-Pacific

LAMEA

Latin America
Middle East 
Africa
 Long Steel Market Report Highlights
Aspects
Details
By Process

Basic Oxygen Furnace
Electric Arc Furnace

By Product Type

Rebar
Wire Rod
Merchant Bar
Others

By Application

Construction
Industrial
Others

By Region

North America (U.S., Canada, Mexico)
Europe (France, Germany, Italy, Spain, UK, Russia, Rest of Europe)
Asia-Pacific (China, Japan, India, South Korea, Australia, Thailand, Malaysia, Indonesia, Rest of Asia-Pacific)
LAMEA (Brazil, South Africa, Saudi Arabia, UAE, Argentina, Rest of LAMEA)

Key Market Players
.Nippon Steel Corporation, Nucor Corporation, Ternium S.A., Votorantim S.A., Hesteel Group Company Limited, China Baowu Steel Group Corporation Limited, Gerdau S.A., Hyundai Steel Co., Ltd,, POSCO Corporation, ArcelorMittal