Lubricant And Grease Market Research, 2031
The global lubricant and grease market size was valued at $123.8 billion in 2021, and is projected to reach $168.2 billion by 2031, growing at a CAGR of 3.2% from 2022 to 2031.
The demand for bio-based lubricant increased owing to their significantly low environmental footprint, zero toxicity, and low operation and maintenance costs during product life-cycle. Bio-based lubricants have been gaining significant importance in a number of industries as they are highly biodegradable, has less toxic effect on environment, low skin problems on personnel and as compared to mineral oil or petroleum lubricants.
Lubricant & grease is a friction-reducing film between moving objects and helps in reducing the heat generated. Lubricants perform functions such as transmitting forces, transporting foreign particles, and heating & cooling surfaces. Depending on the nature of lubricants, they are used to eliminate heat and wear debris, supply additives into the contact, transmit power, protect, and seal.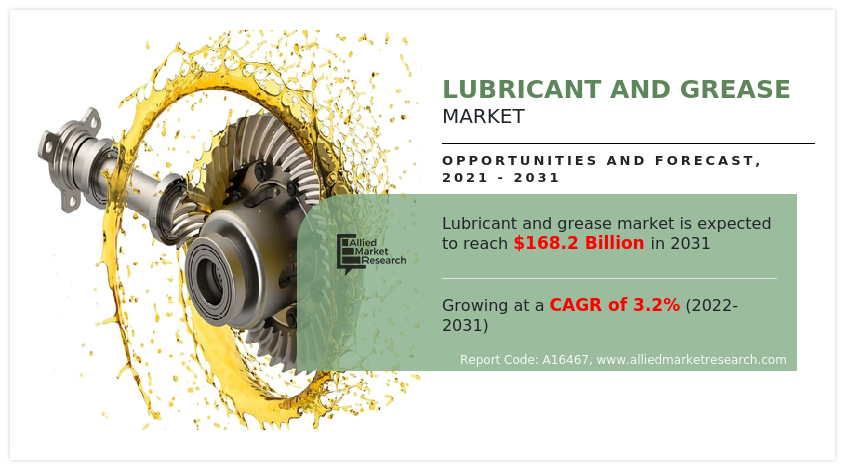 Growth in demand for lubricants made from bio-based materials has left in shift in terms of raw materials. The demand for automotive oils and greases is expected to increase as the trade in automobiles and their replacement parts expands. The consumer cars segment is anticipated to grow, which is good for the automotive industry as a result of the significant economic recovery in North America and Europe. During the forecast period, rising auto sales are anticipated to boost worldwide lubricant and grease market industry growth. Countries like India, China, the U.S., and Brazil are principally responsible for increase in global vehicle sales. Furthermore, rapid expansion in specialized manufacturing industries such as 3D printing & medical devices is anticipated to support industrial growth in these areas. Hence, rapid industrialization in Brazil, Russia, India, China & South Africa (BRICS) is expected to drive industrial fluids demand, which, in turn, is expected to complement the global lubricants and grease market growth.
Key industries driving the rise in need for lubricant and grease include automotive, manufacturing, foods & beverages, and construction. The automotive industry utilizes grease in several car parts, such as CV joints, gear assemblies, and electrically operated windows, sunroofs, and seats. Numerous varieties of grease are used depending on component and temperature setting. Some of the most common ones are white grease, high-temperature wheel bearing grease, electronic grease, and chassis grease. Chassis grease, the most popular type of grease is used on suspension and steering joints of cars, high-temperature wheel bearing grease is used in hot, frictional places such as disc brakes and wheel bearings, electronic grease is used on electronic connections where heat cannot build up for safety and white grease, which is waterproof and non-toxic, is used on white-colored surfaces.
Rise of the automobile industry ultimately leads to increase in demand for lubricant and grease, owing to rising per capita income, expanding need for customized transportation, and rising aspiration to own a vehicle. For instance, ExxonMobil Lubricants Pvt. Ltd. announced introduction of next-generation passenger car lubricants on July 1, 2022, in New Delhi. These lubricants feature higher technology and adhere to the BS-VI guideline by the government of India. Through its Mobil Super All-In-One Protection series and Mobil Super Friction Fighter Series, lubricants offer benefits for fuel economy as well as increased wear protection and engine cleanliness. Packaging of new lubricants incorporates QR codes to stop sales of fake goods. Users should experience improved fuel economy, owing to new synthetic lubricants and packaging changes, which will also make it easier for customers to handle the products.
The chemical industry uses lubricant and grease a lot. Usage of lubricant and grease can help chemical manufacturing facilities maintain a consistently high output. In addition, entire production process is more efficient and operational costs are reduced. Paper and packing industries make substantial use of various lubricants and grease. Paper and packaging business requires continuous operation of production lines to consistently create goods of a high caliber. Large stress levels must be able to be absorbed by rotating equipment such as pulpers, drum barkers, and rotary kilns. These factors have caused the grease market to grow dramatically.
Demand for increased renewable energy has positively affected the lubricant and grease market 
The equipment required for generation of renewable energy must be lubricated so that they function properly. For instance, wind turbines are very expensive types of machinery and require proper lubrication for smooth functioning. The gearbox, which can be positioned at a height of up to 300 feet, is the specific component of a wind turbine that is exposed to the greatest winds. A lubricant is used to increase viscosity of gearbox as it is subjected to particularly harsh environmental conditions, such as extreme temperatures and potential corrosion from saltwater exposure. As a result, gearboxes withstand any effects that cold weather conditions may have on it. In addition, lubricants with higher heat capacities than hydrocarbon oils enable the gearbox to transport and release more heat as required. Gearbox of a wind turbine must be regularly lubricated to maintain its lifespan. When wind turbines are situated in isolated areas, such as desert, where the entry of airborne dust and other types of abrasive particles might ultimately lead to failure of the entire system, such greasing systems provide excellent oil purity, which can be crucial. Owing to these factors, demand for the lubricant and grease market have increased tremendously.
The lubricant and grease market is segmented on the basis of type, application, and region. On the basis of type, the market is classified into heavy-duty engine oils (HDEO), passenger car motor oil (PCMO), gear oil, hydraulic fluids, turbine oils, greases, compressor oil, and others. On the basis of application, it is categorized into power generation, automotive, heavy equipment, foods & beverages, chemical manufacturing, and others. Region-wise, the market is analyzed across North America, Europe, Asia-Pacific, Latin America, and Middle East.
Major players operating in the lubricant and grease market industry include, Armor Lubricants, Total, Petromin, Aljomaih And Shell Lubricating Oil Company Limited, Behran Oil Co., FUCHS, Exxon Mobil Corporation, GULF OIL Middle East Limited (GULF OIL International), Emarat, and Idemitsu Kosan Co., Ltd. These players have adopted product launch, acquisition, and business expansion as their key strategies to increase their lubricant and grease market shares.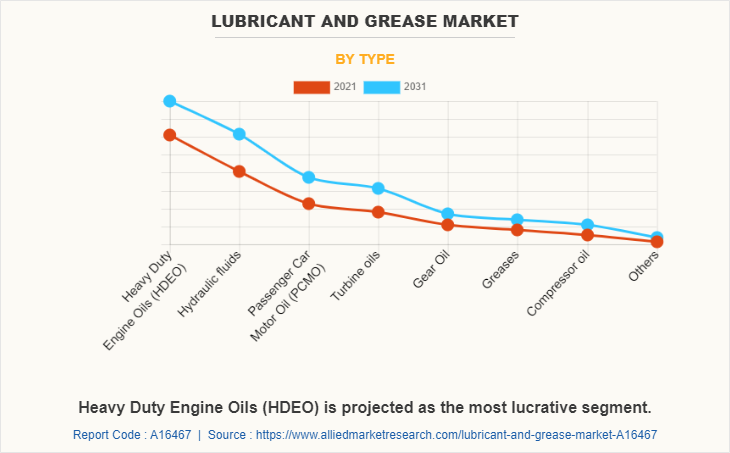 By type, the heavy duty engine oils (HDEO) segment is expected to lead the global lubricant and grease market during the forecast period. Dominance of engine oil is mainly attributed to its wide usability in the transportation sector as compared to other types and its demand from the construction industry, especially from the construction vehicles. Engine oil lubricates engine parts for its efficient movement, thereby reducing the extent of metal contact, friction, and heat generation within the engine. In addition, cleaning & cooling the engine parts, sealing gaps, and rust prevention are other functions carried out by engine oil.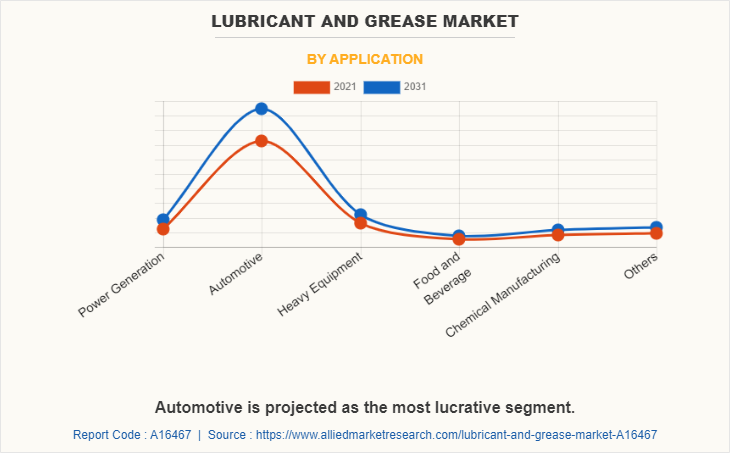 By application, the automotive segment accounted for around 72.6% of the global lubricant and grease market share in 2021. The demand for lubricants is high in the automotive segment, owing to rise in number of vehicles on the road in China and rise in transportation demands in India and ASEAN. For instance, in August 27, 2020, the FUCHS Group, launched new product named FUCHS BluEV. It operates globally in the lubricants industry. The FUCHS BluEV product line will initially comprise three product categories: FUCHS BluEV DriveFluid-transmission oils in electric and hybrid drives, FUCHS BluEV MotorGrease-grease products for electric motors designed especially for e-mobility applications, and FUCHS BluEV ThermalFluid-dielectric heat transfer media for automotive applications. This way, FUCHS offers an efficient and optimally aligned 360-degree solution for lubrication, thermal management, and protection of the components for all areas of e-mobility from a single source. This product launch has reinforced the company's product portfolio.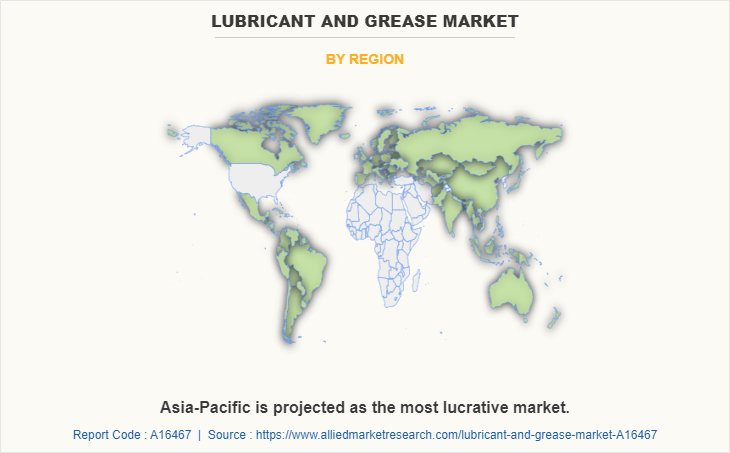 By region, Asia-Pacific is expected to account for the largest share in the global lubricants and grease industry during the forecast period, in terms of both volume and value. Rise in population in the region, accompanied by rising spending in the industrial sector and infrastructural developments in developing markets of China, India, and Indonesia is projected to make this region an ideal destination for the lubricants industry. For instance, in April 28, 2022, BASF SE and China Petroleum & Chemical Corporation (Sinopec Corporation) on March 19 submitted the technical and commercial feasibility study for the approval of the planned $900 million expansion of their joint chemical Verbund site in Nanjing to the government of China. The site is operated by the joint venture BASF-YPC Company Ltd. (BYC). Expansion includes new capacities of several downstream chemical plants and a new tert-butyl acrylate plant to serve growing demand from various industries in China.
Latest Advancement - Graphene-based lubricant
There is an increase in the latest advancements in lubricant market i.e., the use of graphene-based lubricant. Graphene being two-dimensional material, offers unique friction and wear properties that is not typically seen in conventional materials. The extreme mechanical strength of graphene suppresses material wear. Secondly, graphene has been shown to be impermeable to liquids and gases, such as water or oxygen, thus slowing down the corrosive and oxidative processes that usually cause more damage to rubbing surfaces. Also, graphene is an atomically smooth two-dimensional material with low surface energy and is, therefore, able to replace the thin solid films usually used for reducing adhesion and friction of various surfaces.
Key players operating in the industry include Graphite Central (Processes and supplies graphite in all grades and types for a variety of manufacturing industries), Grolltex, Inc. (Manufacturer of advanced materials. Products include large area, single layer CVD graphene sheets. Applications include flexible transparent conductive electrodes, OPV and OLED barrier materials, sensors and membranes), Graphene One LLC (Manufacturer of graphene available in continuous filament, staple fiber, and yarn forms. Products are bacteriostatic, deodorizing, and UV absorbant. Suitable for textile applications), Graphenea Inc. (Manufacturer of graphene materials for research and industrial markets. Products include CVD films, substrates, graphene oxide, and monolayer graphene), Global Graphene Group (Manufacturer & dist. of nano materials technologies & products to various industries. Products include nano-graphene solutions including nano-graphene platelets (NGPs)), First Graphene (Manufacturer and distributor of graphene materials. Types of graphene materials include graphene oxide, graphene oxide flake, and graphene flake).
Italian start-up Graphene-XT has developed a new graphene-based lubricating oil for cars and motorcycles. Developed with support from the EU-funded GrapheneCore3 project, Graphene-XT's new lubricating oils result in more compression and less wear and tear in both petrol and diesel engine parts. Sweden-based Applied Nano Surfaces (ANS) launched a new product, Tricolit GO, one of the first graphene-enhanced low-friction coatings on the market today. Tricolit is available now from ANS, in easy-to-apply spray cans or in bulk. The product can be used to reduce friction and wear. ANS claims that the use of graphene allows a tenfold increase in the coating's mechanical strength and abrasion-resistance.
A new initiative called "The Technical Standards Development and Application Demonstration Base of Graphene-Modified Lubricants" was launched at LiuGong's Global R&D Center in Liuzhou, China. Co-built by the China Innovation Alliance of the Graphene Industry and Guangxi Liugong Machinery (a leading China-based construction equipment manufacturer), it aims to become a major base in China that concentrates on the transformation of graphene's scientific research into real world applications. The partnership also includes building a joint laboratory and undertaking independent test tasks from other companies in the future. The Wuxi Graphene Industry Development & Demonstration Zone (in Wuxi, China - near Shanghai) is an impressive graphene center. The center has many graphene products and materials under development or in production at the center.
COVID-19 impact analysis on the lubricant and grease market
The outbreak of COVID-19 in China and its spread across numerous countries globally, halted the manufacturing activities of industrial sectors, which correspondingly hampered lubricant and grease manufacturing as well. The raw material procurement was also challenged owing to the outbreak of COVID-19.
The grease market is significantly influenced by the variation in the crude oil market. Between 2008 and 2014, the crude oil market enjoyed a profitable run as prices hit USD 100 barrier per barrel and beyond. The Brent crude was priced at USD 140 per barrel, and WTI was priced at USD 120 per barrel. In 2015, crude prices dropped to record lows. Such volatile prices affect the margins of manufacturing companies. The majority of grease products are based on mineral oil, which is sourced from crude oil. Therefore, the prices of grease depend on crude oil prices. Price change has a huge impact on the grease market.
Key Benefits For Stakeholders
This report provides a quantitative analysis of the market segments, current trends, estimations, and dynamics of the lubricant and grease market analysis from 2021 to 2031 to identify the prevailing lubricant and grease market opportunities.
The lubricant and grease market research is offered along with information related to key drivers, restraints, and opportunities.
Porter's five forces analysis highlights the potency of buyers and suppliers to enable stakeholders make profit-oriented business decisions and strengthen their supplier-buyer network.
In-depth analysis of the lubricant and grease market segmentation assists to determine the prevailing market opportunities.
Major countries in each region are mapped according to their revenue contribution to the global lubricant and grease market.
Market player positioning facilitates benchmarking and provides a clear understanding of the present position of the lubricant and grease market players.
The report includes the analysis of the regional as well as global lubricant and grease market trends, key players, market segments, application areas, and market growth strategies.
 Lubricant And Grease Market Report Highlights
Aspects
Details
Market Size By 2031
USD 168.2 billion
Growth Rate
CAGR of 3.2%
Forecast period
2021 - 2031
Report Pages
350
By Type

Turbine oils
Gear Oil
Greases
Compressor oil
Others
Heavy Duty Engine Oils (HDEO)
Hydraulic fluids
Passenger Car Motor Oil (PCMO)

By Application

Power Generation
Automotive
Heavy Equipment
Food and Beverage
Chemical Manufacturing
Others

By Region

North America (U.S., Canada, Mexico)
Europe (Germany, UK, France, Spain, Italy, Rest of Europe)
Asia-Pacific (China, India, Japan, South Korea, Australia, Rest of Asia-Pacific)
Latin America (Brazil, Argentina, Rest of Latin America)
Middle East (Iran, Islamic Republic Of, Saudi Arabia, UAE, Kuwait, Bahrain, Qatar, Rest Of Middle East)

Key Market Players
, Total S.A.,, aljomaih and shell lubricating oil company limited, Behran Oil Co., GULF OIL Middle East Limited (GULF OIL International), Emarat, FUCHS, petromin corporation, Idemitsu Kosan Co., Ltd., Exxon Mobil Corporation,  Armor Lubricants