Luxury Cosmetics Market Outlook - 2026
The luxury cosmetics market was valued at $52,748.4 million in 2018, and is expected to garner $81,247.6 million by 2026, registering a CAGR of 5.6% from 2019 to 2026. Cosmetics refer to products used to cleanse the skin and enhance the physical features of humans. Luxury cosmetics comprise of products manufactured using organic and premium quality ingredients, which are sold at a higher price as compared to their counterpart drugstore products. They are mainly segmented into skincare, haircare, makeup products, and fragrances. Luxury products have primarily been demanded by individuals from the developed regions such as North America and Europe, owing to their high consumer buying power. Nevertheless, in the recent years, the demand for luxury cosmetics has been on the rise among the developing countries such as India and China due to the rise in disposable income and increase in prevalence of skin and hair care.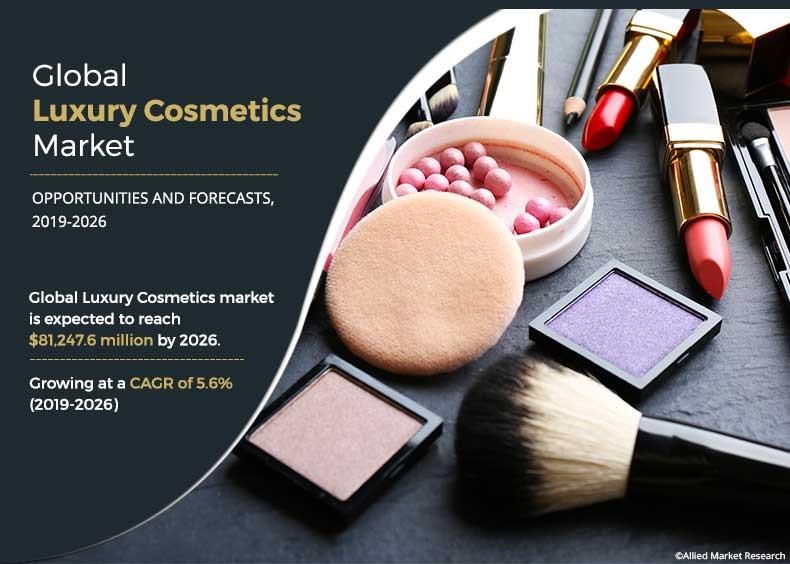 Previously, luxury products were specifically targeted toward a class consisting of the wealthy and elite consumers; however, that has recently changed. The rise in disposable income among the urban populace of developing economies and increase in health concerns, have led to an upsurge in demand for luxury products manufactured using organic and premium quality ingredients. This consumer behavior pattern has essentially driven the growth of luxury cosmetics market globally. Furthermore, the penetration of internet leading to expansion of e-commerce has further supported the expansion of the luxury cosmetics market, since it creates convenience, international reach, and enables consumers to choose from a wide array of options simultaneously. However, the availability of counterfeit products is a major restrain to the global luxury cosmetics market. The acceptance and demand for halal cosmetics by consumers is on the rise, globally. This is especially the fastest growing segment in the middle eastern countries and is unfurling worldwide. Hence, it can be viewed as an opportunity by manufactures for further growth and expansion of the luxury cosmetics market. 
According to Luxury Cosmetics Market Analysis, the market is segmented based on type, product type, end user, distribution channel, and region. The type segment comprises organic and conventional products. Based on product type, it is classified into skincare, haircare, makeup and fragrances. Based on end user, it is bifurcated into male and female. Based on distribution channel, the market is categorized into e-commerce, supermarket/hypermarket, specialty/monobrand stores, and others. Based on region, it is studied across North America (U.S., Canada, and Mexico), Europe (Germany, Spain, UK, Italy, France, Switzerland and rest of Europe), Asia-Pacific (China, Japan, Australia and rest of Asia-Pacific), and LAMEA (Latin America, Saudi Arabia, UAE and rest of LAMEA).
Based on product type, it is classified into skincare, haircare, makeup, and fragrances. In 2018, skincare was the highest contributor in the overall luxury cosmetics market share, due to increase in focus on skin care regimes and health consciousness among individuals. The rise in number of product launches in the skincare segment have created numerous choices for consumers, which cater their specific requirements. This has furthermore propelled the growth of the segment in the skincare category.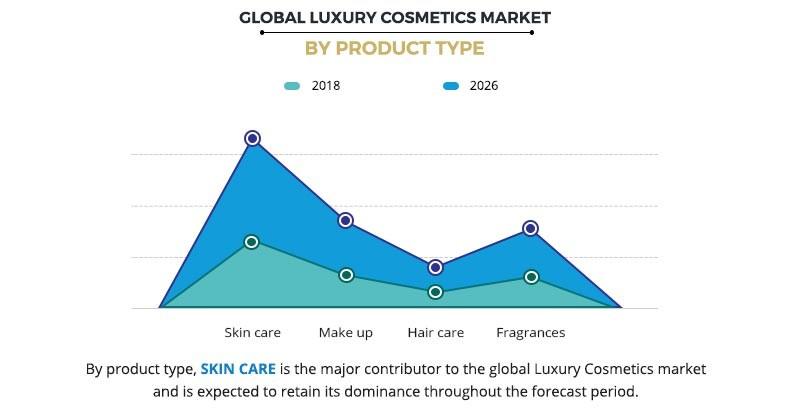 Based on type, the market is categorized into organic and conventional. In 2018, conventional cosmetics accounted for the largest market share in the luxury cosmetics market since their industrial production is easy, they are economical to produce, and have a longer shelf life as compared to natural cosmetics. However, the organic cosmetics market segment is likely to grow at a higher growth rate because consumers are increasingly becoming health conscious and hence focusing on products derived naturally and organically.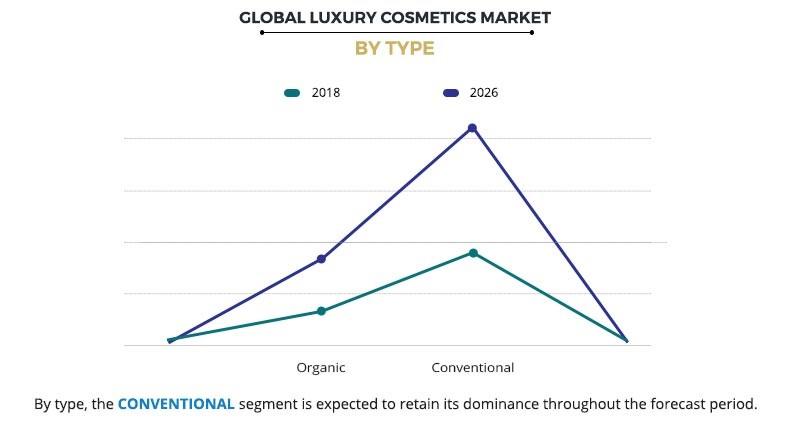 Based on distribution channel, the luxury cosmetics market is classified into e-commerce, supermarket/hypermarket, specialty/monobrand stores, and others. Specialty and monobrand stores account for the highest market share among all the channels since consumers buying luxury goods prefer personal service and advices. Specialty stores offer valuable counselling to the customers, after sales service, offers, promotions and other similar strategies which make them highly preferred by consumers. However, due to ease of shopping and convenience, e-commerce is the fastest growing channel of distribution.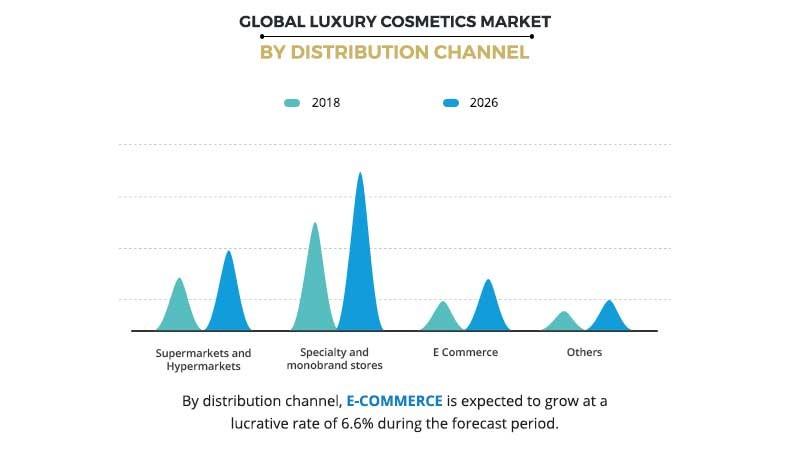 By region, Europe was the largest luxury cosmetics market in 2018, especially in the skincare segment. Consumers in this region are very cautious about skin care regimes and prefer using products manufactured using premium quality ingredients. However, the Asia-Pacific region is expected to grow at speedily with a CAGR of 7.9% during the forecast period.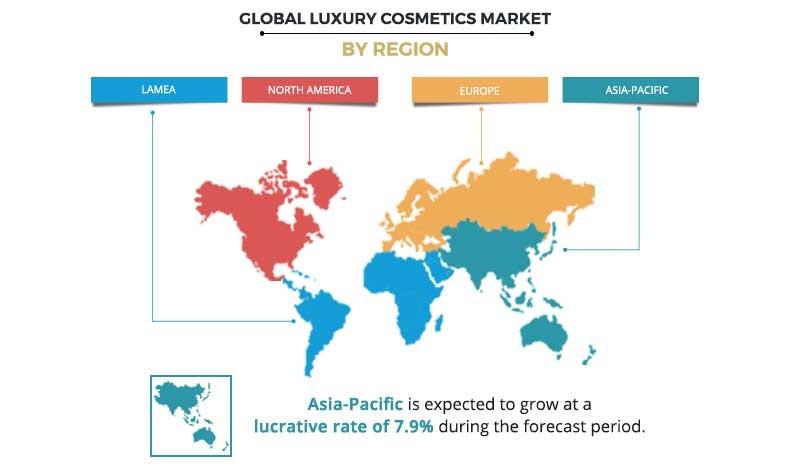 Some of the major players in the global luxury cosmetics industry analyzed in this report include L'Oréal, Shiseido Company, Limited, Christian Dior, Puig, Coty Inc., Kao Corporation, Revlon, Inc., The Estée Lauder Companies Inc., Oriflame Cosmetics AG, and KOSÉ Corporation.
Key Benefits for Luxury Cosmetics Market:
This report provides a quantitative market analysis of the current luxury cosmetics market trends, estimations, and dynamics of the global luxury cosmetics market size from 2019 to 2026 to identify the prevailing opportunity.
The key countries in all the major regions are mapped based on their market share.
Porter's five forces analysis highlights the potency of buyers and suppliers to enable stakeholders to make profit-oriented business decisions and strengthen their supplier-buyer network.
A comprehensive analysis of factors that drive and restrict the luxury cosmetics market growth is provided.
An in-depth analysis of the global luxury cosmetics market helps determine the prevailing market opportunities.
The report includes details of the analysis of the regional and global markets, key players, market segments, application areas, and growth strategies.
 Luxury Cosmetics Market Report Highlights
Aspects
Details
By Product Type

Skincare
Haircare
Makeup
Fragrances

By Type

Organic
Conventional Products

By End User
By Distribution Channel

Supermarkets and Hypermarkets
Specialty and Monobrand Stores
E-commerce
Others

By Region

North America (U.S., Canada, Mexico)
Europe (Germany, France, UK, Italy, Spain, Switzerland, Rest of Europe)
Asia-Pacific (China, Japan, Australia, Rest of Asia-Pacific)
LAMEA (Latin America, Middle East, Africa)

Key Market Players
L'Oréal,, Shiseido Company, Limited, Christian Dior, Puig, Coty Inc., Kao Corporation, REVLON, INC., Estée Lauder Companies International, Inc., Oriflame Cosmetics AG, KOSÉ Corporation