Machine Learning Chip Market Overview:
The global machine learning chip market was valued at $2,425.6 million in 2017, and is projected to reach $37,849.8 million by 2025, registering a CAGR of 40.8% from 2018 to 2025.
Machine learning is a sub-set of artificial intelligence which performs tasks related to AI. It is currently being adopted by several industries around the world. This technology uses algorithms and computational methods to teach computers to think the way humans and animals may react in a particular situation. The performance of this machine learning algorithm can be improved by increasing the number of trials.
The trend in artificial intelligence (AI), use of machine learning in numerous applications, and emergence of quantum computing are the factors which increase the demand for machine learning chip market. In addition, the development of autonomous robots that control themselves without human intervention is anticipated to provide potential growth opportunities for the market. However, dearth of skilled workforce and AI phobia are the major restraints of the market. Moreover, increase in demand for smart homes & cities, increase in efforts to make more human-like robots, and popularity of IoT across the globe are expected to create tremendous opportunities for the market expansion.
The major companies profiled in the report include AMD (Advanced Micro Devices), Google Inc., Intel Corporation, NVIDIA, Baidu, Bitmain Technologies, Qualcomm, Amazon, Xilinx, Samsung.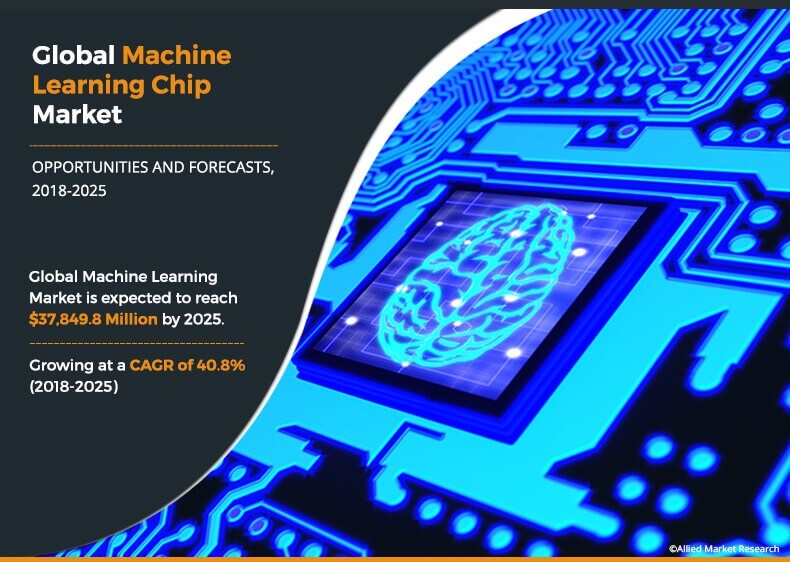 The global machine learning chip market is segmented based on chip type, industry vertical, technology, and geography. Based on chip type, the market is categorized into GPU, ASIC, FPGA, CPU, and others. Based on technology, the market is divided into system-on-chip, system-in-package, multi-chip module, and others. Based on industry vertical, it is classified into media & advertising, BFSI, IT & telecom, retail, healthcare, automotive & transportation, and others.
Based on region, the market is analyzed across North America, Europe, Asia-Pacific, and LAMEA.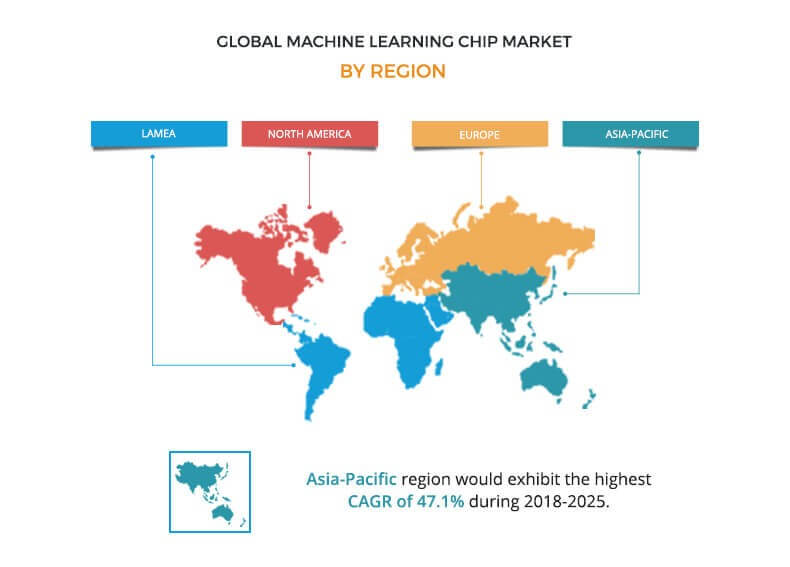 Top Impacting Factors
The key factors that drive the growth of the global machine learning chip market are emergence of quantum computing, growth in number of machine learning applications, and trend in artificial intelligence (AI). However, dearth of skilled workforce and AI Phobia hampers the market growth to a certain extent. The market has witnessed significant growth, owing to rise in demand for smart homes & smart cities, increase in efforts to make more human-like robots and popularity of IoT across the globe. Each of these factors is anticipated to have a definite impact on the machine learning chip market during the forecast period.
Emergence of Quantum Computing
Quantum computers take only a few seconds to complete a calculation that can otherwise take thousands of years. For instance, Google has a quantum computer that is 100 million times faster than today's computing systems. Quantum computers are an innovative transformation of artificial intelligence, big data, and machine learning. Thus, emergence of quantum computing fuels the growth of the machine learning chip market.
Growth in Number of Machine Learning Applications
A machine learning chip is applied across media & advertising, manufacturing, finance, healthcare, automotive & transportation, law, electronic industry, and other sectors. The adoption of machine learning technology is expected to be higher in future, as machine learning algorithms are projected to be used to prevent payment frauds and cyberterrorism. Furthermore, machine learning chips are expected to affect healthcare advancements and lead to more accurate treatments and prevention of medical conditions. Furthermore, the time & cost benefits offered by machine learning chips are the major growth factors that facilitate increase in adoption of this technology in the developing regions. All these factors collectively fuel the growth of the machine learning chip market.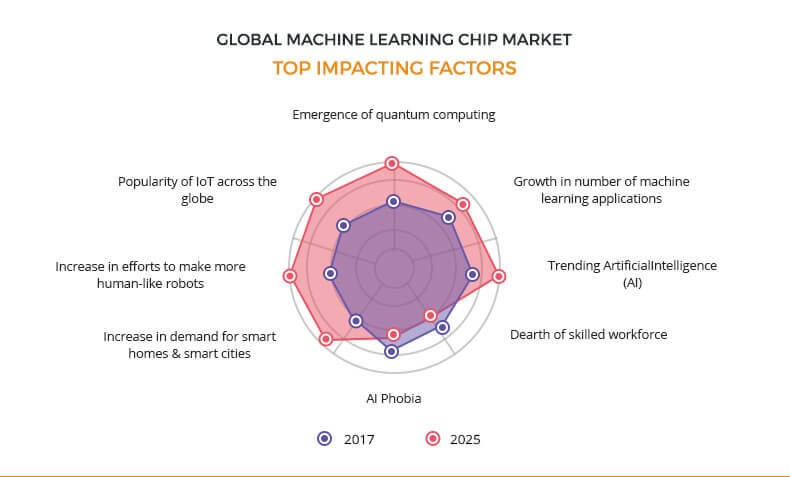 Trending Artificial Intelligence (AI)
 AI encompasses machine learning, robotics, and collaborative systems. AI requires a machine learning chip to accelerate the system without human intervention. Moreover, the emergence of AI technology in several applications that range from chatbots to autonomous cars fuels the machine learning chip market. In addition, key players operating in the market are developing a new computing model that uses parallel processors to accelerate computing through advanced chips. For instance, NVIDIA unveiled a palm-sized, energy-efficient AI computer, DRIVE PX 2, which is powered by the company's newest system-on-chip, based on the NVIDIA Pascal architecture. Furthermore, industries such as healthcare, BFSI, automotive, and others are increasingly adopting AI technology, which in turn boost the growth of the machine learning chip market.
Dearth of Skilled Workforce
Machine learning chips consist of complex algorithms for its development. In addition, management of machine learning and automated systems is difficult at times. This requires exceptional software engineering skills and experience to deal with distributed and concurrent programming or debugging with communication protocols. However, many regions, particularly the emerging economies, lack the technical expertise. Hence, dearth of skilled workforce is a prominent restraining force of the market.
AI Phobia
AI is cheaper and more productive than people. In addition, it can work around the clock and quickly learn new skills to avoid mistakes. Furthermore, at the web summit in Portugal, humanoid robot Sophia said such features of AI are expected to replace the jobs of underwriters, office clerks, attorneys, receptionists, and creatives. Advances in machine learning chip allow AI to learn without humans. For Instance, on PolicyBazaar.com, almost 70% of all motor insurance policies are sold by robots. Also, the CEO of Google Sundar Pichai announced that most of the repetitive jobs are expected to be taken by AI in coming years, which is anticipated to hinder the growth of the machine learning chip market.
Increase in Demand for Smart Homes & Smart Cities
Machine learning chip can initiate smart city programs in the developing countries, such as India, China, and more. The tools and technologies already have an inbuilt machine learning chip that possess a huge potential to promote interconnected digital homes and smart cities. Furthermore, the creation of a chip with an embedded inbuilt AI network has emerged as an opportunity for the machine learning chip market.  
Key Benefits
This study comprises an analytical depiction of the global machine learning chip market with current trends and future estimations to depict the imminent investment pockets.
The overall market potential is determined to understand the profitable trends to gain a strong foothold.
The report presents information related to key drivers, restraints, and opportunities with a detailed impact analysis.
Porter's five forces analysis illustrates the potency of the buyers and suppliers in the industry.
The report includes the market share of key vendors and machine learning chip market trends.
 Machine Learning Chip Market Report Highlights
Aspects
Details
By Chip Type

GPU
ASIC
FPGA
CPU
OTHERS (NPU & HYBRID CHIP)

By Technology

System-on-chip (SoC)
System-in-package (SIP)
Multi-chip module
Others (PACKAGE IN PACKAGE, TSV)

By Industry Vertical

Media & advertising
BFSI
IT & telecom
Retail
Healthcare
AUTOMOTIVE
OTHERS

By Region

North America (U.S., Canada, Mexico)
EUROPE (U.K., Germany, France, Russia, Rest of Europe)
ASIA-PACIFIC (China, Japan, India, Australia, Rest of Asia-Pacific)
LAMEA (Latin America, Middle East, Africa)

Key Market Players
ALPHABET INC. (GOOGLE INC.), AMAZON.COM, INC, ADVANCED MICRO DEVICES, INC, BAIDU, INC., BITMAIN TECHNOLOGIES LTD., INTEL CORPORATION, NVIDIA CORPORATION, QUALCOMM INCORPORATED, SAMSUNG ELECTRONICS CO. LTD., XILINX, INC.