Macrofiltration Market Outlook – 2027
The global macrofiltration market size was valued $6.2 billion in 2019, and is projected to reach $9.9 billion by 2027, at a CAGR of 6.2% from 2020 to 2027. Macrofiltration is the process of filtration of insoluble solid particles larger than 1.0 micron from water. These microns are passed through porous medium. Macrofiltration market has emerged due to increase in demand for pure water for domestic purposes and rise in water scarcity. The factors driving the growth of the global market of macrofiltration include growth in the pharmaceutical sector across emerging nations Germany, India, China, and Brazil. In addition, surge in demand for generic medicine and increase in demand for low-cost drugs are expected to drive the growth of macrofiltration membrane market.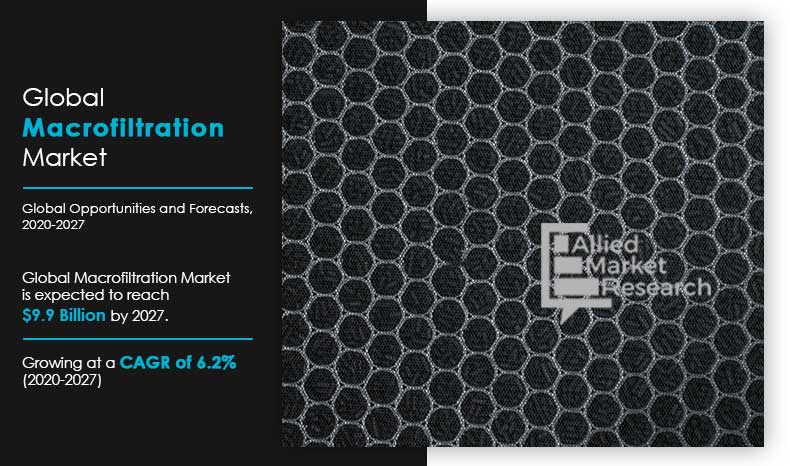 In addition, macrofiltration membranes are majorly used in water & wastewater treatment industry for purifying fresh water, desalination pretreatment and reclamation. Increase in usage of water and wastewater treatment plant for recycling of wastewater for its reuse in domestic and industrial purposes has fueled the demand for macrofiltration membranes. However, factors hampering the growth of the global macrofiltration market are lack of funds in emerging countries. Various emerging countries such as India, South Africa, and Brazil, face lack of funds due to slow economy rate and low government expenditure, which ultimately leads to slow growth in food & beverage and pharmaceutical industries, where macrofiltration membranes are widely used. This in turn hampers the growth of the global market of macrofiltration.
Based on type, the global macrofiltration market is segmented into granular micro filter, filter press filter, leaf tubular and press filter, bag filter, belt filter press, auto backwash filters, and others. According to the World Health Organization (WHO), granular media filters are best utilized at pre-treatment procedures to decrease turbidity and give product water. This product water can be fed to disinfection processes such as solar radiation or chlorination. Rapid granular media filters can reduce enteric microorganisms and can degrade turbidities by 90% and decrease bigger parasites such as helminth by more than 99%.The auto backwash filter is replacing bag filters in several applications. Auto backwash filters are increasingly used in irrigation, metal working, and numerous other applications. 
Based on industry vertical, market is segmented into water and wastewater, chemical and pharmaceutical, mining and metal, food and beverage, paper and pulp and others. Growing use of drum and disk filters in mining applications is boosting the global macrofiltration market trends. 
Based on region, the market is analyzed across North America, Europe, Asia-Pacific, the Middle East, and Africa. North America holds the major share in the global market of macrofiltration in 2019 due to the growth in the industrial sector, which is the major reason for increase in water demand. Water scarcity in this region also generates the need for water reuse. This significantly fuels the growth of the market of macrofiltration for wastewater treatment, which in turn boosts the growth of the market. In Asia-Pacific, China and India are the top investment countries attributed to various factors such as increasing usage of macrofiltration in water treatment systems, and high government regulations regarding water pollution and environment safety. 
Macrofiltration Market

---
By Product
Auto Backwash Filters is projected as the most lucrative segment.
Some of the key players operating in the global macrofiltration industry are Amiad Water Systems, Ascension Industries, Inc., Danaher Corporation, Filtration Group, Mann+Hummel, MTB Technologies Sp. Z O.O., Ostwald Filtration Systems GmbH, Parker Hannifin, Pentair PLC, SUEZ water technologies Inc.In order to stay competitive, these market players are adopting different strategies such as product launch, partnership, merger and acquisition to attain growth and thriven the global macrofiltration market opportunity. Amiad launched a new product named sigma series. 
Macrofiltration Market

---
By Industry Vertical
Chemical and Pharmaceutical is projected as the most lucrative segment.
This sigma series includes mini sigma, sigma pro and ADI-P controller. This sigma series is an automatic self-cleaning filter that is both lightweight and durable with maximum installation flexibility. This product launch is expected to enhance the product portfolio of the company. Pall Corporation formed a new joint venture with the Kingdom of Saudi Arabia to support the oil and gas and petrochemical industries. This joint venture is expected to enhance the product portfolio of the company and also strengthen the filtration business in the region.
Macrofiltration Market

---
By Region
North America holds a dominant position in 2019 and is expected to grow with a CAGR of 6.0% during the forecast period.
Key benefits for stakeholders
The report provides extensive qualitative and quantitative analyses of the current global macrofiltration market share, trends and future estimations from 2019 to 2027 to determine the prevailing opportunities.

Comprehensive global macrofiltration market analysis is done based on associated drivers and restraint of the market. 

Estimations and forecast are based on factors impacting the global macrofiltration market growth, in terms of both value and volume.

Profiles of leading players operating in the global Macrofiltration market has been provided, and this helps in understanding the competitive scenario in North America, Europe, Asia-Pacific, Middle East and Africa.

The report provides extensive qualitative insights on the significant segments and regions exhibiting favorable market growth.

The global macrofiltration market forecast is done from 2020-2027.
 Macrofiltration Market Report Highlights
Aspects
Details
By Product

Granular Micro Filter
Filter Press Filter
Leaf Tubular and Press Filter
Bag Filter
Belt Filter Press
Auto Backwash Filters
Others

By Industry Vertical

Water and Wastewater
Chemical and Pharmaceutical
Mining and Metal
Food and Beverage
Paper and Pulp
Others

By Region

North America (U.S., Canada, Mexico)
Europe (Germany, UK, France, Sweden, Rest of Europe)
Asia-Pacific (China, India, Japan, South Korea, Australia, Indonesia, Thailand, Rest of Asia-Pacific)
Middle East (Saudi Arabia, UAE, Kuwait, Qatar, Rest of Middle East)
Africa (Brazil, Argentina, South Africa, Rest of Africa)

Key Market Players
AMIAD WATER SYSTEMS, DANAHER CORPORATION, MTB TECHNOLOGIES SP. Z O.O., ASCENSION INDUSTRIES, INC., PENTAIR PLC, SUEZ WATER TECHNOLOGIES INC., PARKER HANNIFIN, OSTWALD FILTRATION SYSTEMS GMBH, MANN+HUMMEL, FILTRATION GROUP, PALL CORPORATION