Malaysia IVIG Market Overview:
Malaysia IVIG Market is estimated to reach at $18,649 thousand from $12,277 thousand and register a CAGR of 6.1% during the period, 2016 2022. IVIG is a blood derived product formulated from the serum of between ~10, 000 donors per batch. Immunology, hematology, neurology nephrology, dermatology, and rheumatology related disorders use surplus amount of IVIG for treatment of patients. The wide array of applications of IVIG depicts the significance of immunoglobulins in the immune homeostasis in healthy individuals. It comprises of different immunological constituents, such as antibodies against macrophages, granulocytes, interferons, interleukin 1, colony stimulating factors and that aid in generating desirable immune responses to treat different diseases. Rise in immunodeficiency diseases among populace, increase in adoption of IVIG, and rise in ageing population in Malaysia are the major factors that augment market growth.
Malaysia IVIG Market Segmentation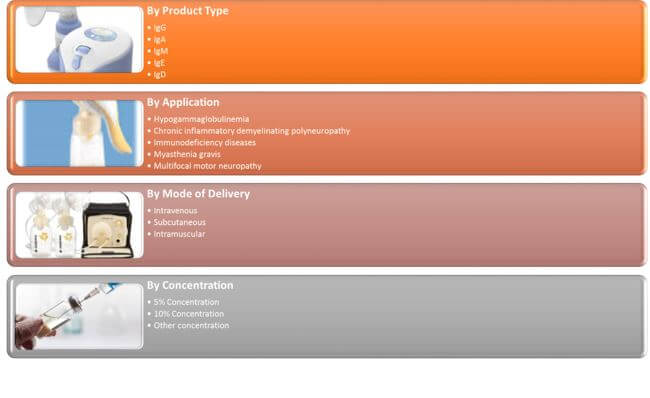 The Malaysia IVIG market is segmented based on product type, application, mode of delivery, and concentration. Based on product type, it is categorized into IgG, IgA, IgM, IgE, and IgD. On the basis of application, it is classified into hypogammaglobulinemia, chronic inflammatory demyelinating polyneuropathy, immunodeficiency diseases, myasthenia gravis, multifocal motor neuropathy, primary immune thrombocytopenic purpura, inflammatory myopathies, specific antibody deficiency, Guillain-Barr Syndrome, Kawasaki disease, secondary immune deficiency, and other applications. The market is studied across different mode of deliveries, such as intravenous, intramuscular and subcutaneous mode of delivery. Based on concentration, it is bifurcated into 5%, 10%, and other concentration.
The Malaysia IVG market is expected to witness a moderate growth during the forecast period, owing to the benefits offered by IVIG over immunotherapy methods. Furthermore, surge in prevalence of immunodeficiency disease and rise in awareness about minimally IVIG among the patient pool are anticipated to augment the market growth. Development of cost effective therapeutics through large scale production is expected to present various opportunities for market expansion. However, stringent regulations and high cost of therapy are expected to hamper the market growth.
The report provides extensive competitive analysis and profiles of key market players, such as Grifols S.A., Octapharma AG, Green Cross Corporation, Baxalta (Shire), Bio Products Laboratory Ltd., Biotest AG, CSL Behring, Omrix Biopharmaceuticals Ltd., Bayer Healthcare, and Baxter International Inc.
Malaysia IVIG Market, By Mode Of Delivery, 2014-2022 ($Thousand)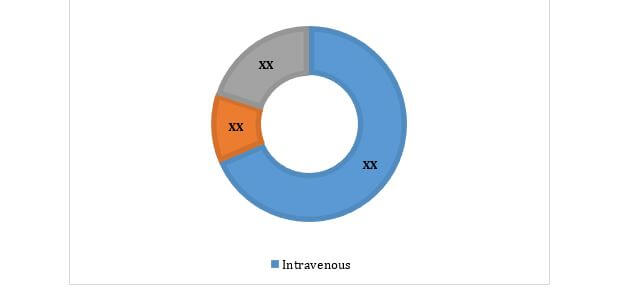 Intravenous mode of delivery is anticipated to maintain the lead throughout the forecast period as it is a convenient & well-tolerated form of therapy. This mode also possesses high capacity to administer large volume per infusion.
Malaysia IVIG Market: Market Dynamics
The impact of the driving factors is expected to surpass that of the restraints. The untapped potential of Malaysia as an emerging economy acts as an opportunity for the key market players in the IVIG market.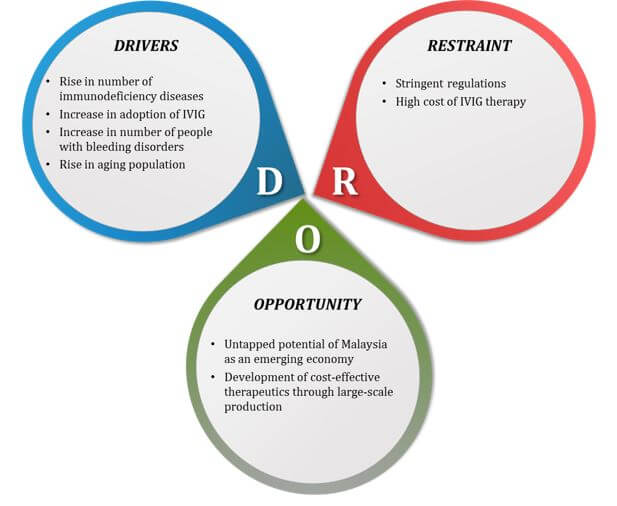 Other prominent players in the value chain include BDI Pharma, Inc., China Biologics Products, Inc., LFB Biotechnologies, Hualan Biological Engineering Inc, Guizhou Taibang Biological Products Co., Ltd., Beijing Tiantan Biological Products Co., Ltd., Shanghai Raas Blood Products Co. Ltd, and others.
Key Benefits for Stakeholders:
This report entails a detailed quantitative analysis of the current market trends to identify the prevailing opportunities, during the period, 2014‐2022
It presents market estimations  based on comprehensive analysis of the key developments in the industry
In-depth product analysis to understand the regional market and the strategic business planning.
The development strategies adopted by key manufacturers are enlisted to understand the competitive scenario of the market.
Malaysia IVIG Market Key Segments:
By Application
Hypogammaglobulinemia
Chronic Inflammatory Demyelinating Polyneuropathy (CIDP)
Immunodeficiency Diseases
Myasthenia Gravis
Multifocal Motor Neuropathy
Idiopathic Thrombocytopenic Purpura (ITP)
Inflammatory Myopathies
Specific Antibody Deficiency
Guillain-Barr Syndrome
Kawasaki Disease
Secondary Immune Deficiency
Others
By Product
IgG
IgA
IgM
IgE
IgD
By Mode of Delivery
Intravenous
Intramuscular
Subcutaneous
By Concentration
5% Concentration
10% Concentration
Other Concentration