The Malaysia water purifier market size is estimated to account for $256.3 million in 2021 and is expected to grow at a CAGR of 8.1% to reach $536.6 million by 2031.
The term "water purifier" refers to a portable device that cleans water of dangerous materials, chemicals, pathogens, bacteria, and other dissolved solids.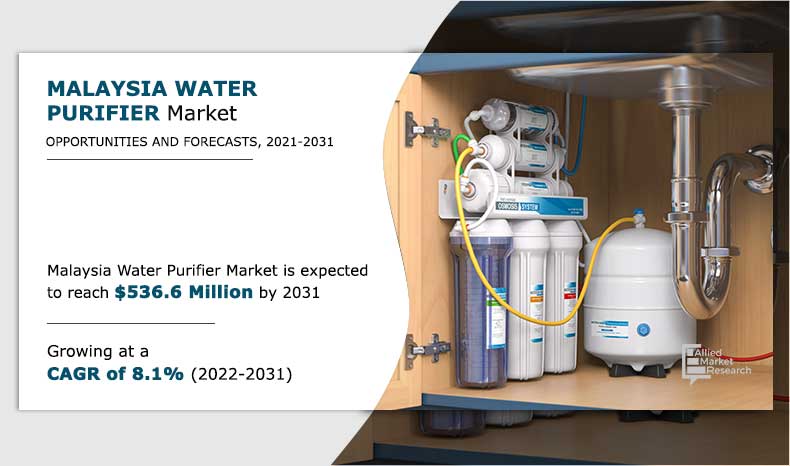 About 97% of the nation's water supply in Malaysia comes from natural freshwater sources. Water filters are becoming more and more necessary as a result of the rapid urbanization and population growth. Massive amounts of rubbish, including residential, industrial, commercial, and transportation waste, are being produced as a result of rapid development; these wastes all unavoidably find up in water bodies. According to a report by Malaysia's Department of Environment (DoE), 34 of the nation's 195 rivers are extremely contaminated. Water purifier demand has escalated as a result of the ongoing degradation of Malaysia's main water supply sources.
The market for water purifiers in Malaysia is expanding as a result of rising disposable income in emerging economies. Customers' purchasing power increases as their income levels rise, raising their standard of living. Additionally, the increased supply of safe water by municipalities and the rise in the number of water recycling treatments in emerging nations like Malaysia fuel demand for water purification systems. Due to population skill growth and an increase in employment in service-oriented industries, certain rising countries, including Malaysia, have seen their discretionary income rise. As a result, the market for water purifiers in Malaysia has grown and the demand for water filtration systems in these fields has expanded. The adoption of cleanliness habits is a result of the population's growing concern for their health and well being. This is a significant contributing reason to the expansion of the Malaysia water purifier market.
Additionally, the health of consumers in numerous places has improved due to the widespread availability of healthcare services, changes in economic and social systems, and enhanced diagnostics. The demand for water purification systems is therefore fueled by an increase in health consciousness and an increase in the occurrence of waterborne infections.
The UN and WHO estimate that every 21 seconds, a child and almost 3.5 million other people in developing nations pass away from waterborne diseases brought on by consuming contaminated water. Due to a lack of fresh water, an increase in pollution, and a sharp population increase, the problem is worse in developing nations like Malaysia. As a result, the demand for water purifiers in Malaysia is considerably driven by the rise in the incidence of waterborne diseases. A severe health risk is the declining quality of water. It causes numerous water-borne infections and poses serious health hazards. Untreated sewage, chemicals, pesticides, nutrients, and rubbish from businesses, agriculture, and governmental entities are dumped into water bodies, which has led to a decline in water quality. When it comes to heavy metals, viruses, cysts, bacteria, and other toxins, the majority of the water that municipal authorities provide in metropolitan areas is hazardous to drink and needs to be further decontaminated. In Malaysia, demand for water purifiers is predicted to soar as industrialization increases water pollution in the years to come.
The well-known market players concentrate on releasing high-tech items with sophisticated water purification systems. These companies have made significant investments in research and development in order to market water purifiers that use technologies including reverse osmosis, ozone, ultra-violet, ultra-filtration, activated carbon, and candle filtration. Also introduced to the market are filter pitchers and purifiers with Wi-Fi capabilities. To meet the rising need for potable water, industry players are anticipated to introduce more innovative products and services.
The Malaysia water purifier market is segmented on the basis of technology, end user, distribution channel, and portability. Depending on technology, the Malaysia water purifier market is classified into UV, RO, and gravity based. By end user, the market comprises of commercial and residential. By distribution channel, the Malaysia water purifier market is divided into retail stores, direct sales, and online. By portability, it is bifurcated into portable and non portable.
Malaysia Water Purifier Market

---
By Technology
In comparison to UF or UV filtration technology, RO water purification offers an extra layer of protection since it can eliminate even the smallest chemical impurities that, when employed alone, might get past the other filtration methods.
The RO segment, as per technology, dominated the Malaysia water purifier market in 2021 and is anticipated to maintain its dominance throughout the forecast period. Due to its effectiveness, low electricity consumption, and ongoing scientific advancement, RO water filtration systems are widely used in Malaysia. However, due to UV water purifiers' lower efficiency and cost-effectiveness compared to RO water purifiers, which increases RO water purifiers' adoption among low-income groups, the UV & gravity-based water purifier segments are anticipated to experience a decline in the industry's growth during the forecast period.
Malaysia Water Purifier Market

---
By End User
Increase in number of commercial set-ups including corporate offices, hospitals, schools, and others and increase in health consciousness fuel the demand for water purifiers for commercial purposes in Malaysia.
The residential segment dominates the Malaysia water purifier market. Due to declining water quality, increased urbanization, and an increase in the prevalence of waterborne diseases, the water purifier market in Malaysia has become increasingly popular among residential consumers. Due to the increase in offices, schools, restaurants, and hotels across Malaysia, the commercial segment is growing at the fastest rate.
Malaysia Water Purifier Market

---
By Distribution Channel
The growth of the segment can be due to presence of a large distribution network of retail establishments and increasing direct sales to smaller communities for newer water purifier products.
The retail stores segment dominates the Malaysia water purifier market. Due to their perception of safety and the ability to try products before buying them, consumers have a larger preference for physical retailers. Additionally, the immediate gratification that retail outlets provide contributes to their increased popularity. In order to draw in more customers, top water purifier brands that now sell their products through retail stores and direct sales are moving into the online store.
Malaysia Water Purifier Market

---
By Portability
Portable water purifiers are gaining popularity in the Malaysia water purifier market owing to smart & sleek designs, convenience, and affordable pricing.
Portability wise, non portable dominated the market with the largest share during the forecast period. The adoption rates are rising in homes, businesses, hospitals, and other places. The non-portable segment's growth in the Malaysia water purifier market is also influenced by availability at reasonable prices. Since these water purifiers can clean and store enormous amounts of water, their penetration is anticipated to rise in the upcoming years.
People are becoming more familiar with the benefits of water purifiers as a result of growing public awareness of the impurities in the water supply and rising investments by water purifier companies in sophisticated marketing activities. The adoption of digital marketing, Malaysia's quick expansion of retail locations, and the consistent supply of water purifiers made available through retail services are all boosting demand for water treatment products. People are being informed about the advantages of clean water in rural regions as a result of effective government programs to increase public knowledge of waterborne diseases in developing countries like Malaysia. Thus, increasing consumer awareness of filtered water is opening up attractive market expansion opportunities.
The installation of water purifiers in homes and companies entails a lot of costs. Variables including technological complexity, innovative features, and system maintenance have an impact on the high cost. These systems take advantage of recently created filtering and purifying technologies like UV, RO, and carbon filters. Depending on how they are used and how far these technologies have come, water purification system costs change. The technologically advanced elements present in the systems, such as Bluetooth connectivity, touchscreen displays, and sensor utilization, also affect the cost of the water purifying systems. As a result, the high maintenance costs of water purifiers are limiting the market's growth in Malaysia.
By adopting innovative technologies, reputable firms are well-positioned to invest in smart purifiers. The demand for purifiers that can monitor usage and send alerts or notifications when their maintenance cycle is up will fuel the expansion of the Malaysia water purifier market. The huge demand from developing countries will entice producers of water purifiers to invest in Malaysia. Market companies will continue to invest in new technology because there is a growing demand for goods that boost immune systems and help individuals lose weight. As a result, the market for water purifiers in Malaysia is rising as a result of the growing trend of smart purification.
Packaged drinking water, chemical disinfectants, activated charcoal, and portable and compact pump filters are alternatives to water purifiers. When compared to water purifiers, these alternatives are affordable and portable. Additionally, the beverage industry's packaged drinking water category is experiencing the fastest growth. As a result, the companies in the Malaysia water purifier market face a significant challenge from the rising popularity of packaged drinking water.
The major players analyzed for the Malaysia water purifier market are Amway (Malaysia) Sdn. Bhd., Bio Pure (Elken Global Sdn. Bhd.), Coway (Malaysia) Sdn. Bhd., CUCKOO, International (Mal) Sdn. Bhd., Diamond (Malaysia), LG Electronics Inc., Nesh Malaysia, Panasonic Malaysia Sdn. Bhd., SK Magic (Malaysia). Key players operating in the Malaysia water purifier market have adopted product launch as key strategy to expand their Malaysia water purifier market share, increase profitability, and remain competitive in the market.
The LG PuriCare self-service tankless water purifier has been added to the product line by LG Electronics Malaysia, a subsidiary of LG Electronics Inc. In Malaysia, there is an increasing need for cutting-edge water purifiers, and this company will help meet that demand. A new line of water purifiers, including Panasonic's under-sink and faucet models, has been introduced by Panasonic Malaysia Sdn. Bhd. In addition to meeting the increasing need for water purifiers, this company will offer new solutions for health and wellbeing.
Key Benefits For Stakeholders
This report provides a quantitative analysis of the current Malaysia water purifier market trends, estimations, and dynamics from 2022 to 2031 to assist to identify the prevailing market opportunities.
Major countries in each region are mapped according to the individual market revenue.
The region-wise and country-wise market conditions are comprehensively analyzed.
This study evaluates the competitive landscape and the value chain analysis to understand the competitive environment across geographies.
An in-depth analysis of each segment of the market is provided to assist the prevailing market opportunities.
 Malaysia Water Purifier Market Report Highlights
Aspects
Details
By Technology

(UV) Ultraviolet
(RO) Reverse Osmosis
Gravity Based

By End User

Commercial
Residential
By Distribution Channel
Retail Stores
Direct Sales
Online

By Portability