Managed Services Market Research, 2031
The global managed services market was valued at $205.5 billion in 2021, and is projected to reach $594.8 billion by 2031, growing at a CAGR of 11.3% from 2022 to 2031. The term 'managed services' describes the practice of giving a third-party service provider control over some aspects of an organization's IT infrastructure and/or other business activities to maintain, optimize, and manage them. The service provider is in charge of offering a variety of services to the organization, such as proactive monitoring, troubleshooting, and problem-solving, keeping up with system upgrades and patches, and giving the organization frequent reports and performance metrics.
The managed services market was positively impacted by the COVID-19 outbreak. In many countries, the pandemic increased the demand for managed services in certain areas such as cloud computing and security. Moreover, demand for managed services linked to cloud computing and cybersecurity increased as a result of the shift to remote work and the rise in cloud service usage. As more and more businesses sought to outsource their operations and concentrate on their core competencies, the demand for managed services increased further during this period.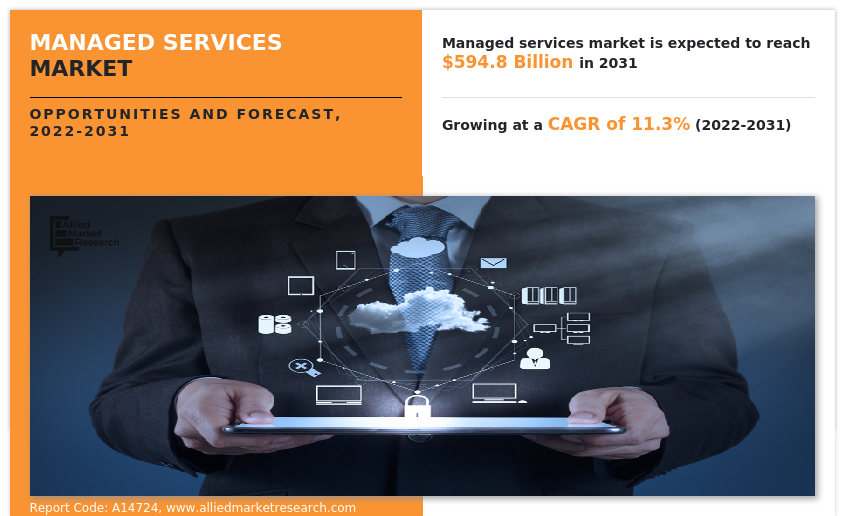 The complexity of IT infrastructure is leading to an increase in demand for managed services. Companies frequently find themselves managing a large number of IT systems and devices as they develop and expand, which may be burdensome and challenging to handle internally. Companies may manage and maintain their IT infrastructure more efficiently with the aid of managed services providers (MSPs), which provide a variety of services. MSPs can offer knowledge in a variety of fields, including network management, security, data backup and recovery, and application management. Companies may concentrate on their core business operations while leaving the maintenance of their IT infrastructure to the professionals by outsourcing these tasks to a managed services provider. This improves operational effectiveness while simultaneously lowering expenses and minimizing downtime.
The managed services business is facing a substantial problem due to the lack of qualified workers. Professionals with knowledge of networking, cloud computing, cybersecurity, and other fields are needed for managed services. The potential for the managed services industry to develop may be constrained due to the high demand and limited supply for these specialists. Companies frequently have to pay a premium to recruit and retain great personnel since there is a fierce amount of competition for qualified employees. These factors are anticipated to hamper the market revenue growth during the forecast period.
The data and systems of their clients are often protected by enhanced security measures provided by managed services providers (MSPs). Firewalls, intrusion detection and prevention (IDP) systems, anti-virus and anti-malware software, and data backup and recovery tools are some of the security measures. Businesses may have access to these sophisticated security features by working with an MSP without having to make their own costly hardware and software purchases. In order to remain ahead of the most recent dangers, MSPs frequently employ specialized security teams who regularly analyze and update their security protocols. Businesses may prevent costly data breaches and other security concerns that could harm their brand and financial standing by enhancing security. MSPs may offer round-the-clock threat detection, response, and security monitoring, which can assist find and fix security problems before they get out of hand.
The key players profiled in this report include IBM Corporation, HCL Technologies, TCS, Atos, AT&T, Cisco Systems, Fujitsu, Ericsson, Accenture, and Dimension Data.
The managed services market is segmented on the basis of organization size, deployment type, service type, industry vertical, and region. By organization size, the market is divided into SME and large. By deployment type, the market is classified into clouds and on-premise. By service type, the market is divided into security services, network services, data center & IT infra services, communication & collaboration services, mobility services, and information services. By industry vertical, the market is classified into telecom, IT, BFSI, consumer goods & retail, manufacturing, healthcare, education, energy & utilities, media & entertainment, and others. By region, the market is analyzed across North America, Europe, Asia-Pacific, and LAMEA.
The managed services market is segmented into Organization Size, Deployment Type, Service Type and Industry Vertical.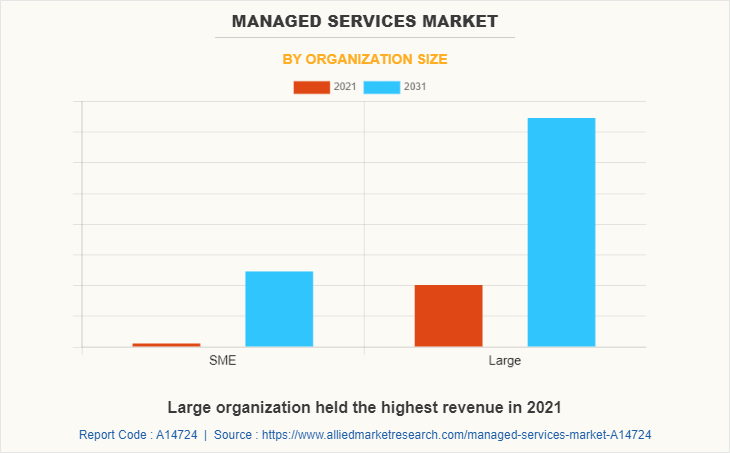 By organization size, the large enterprises sub-segment dominated the market in 2021. Large enterprises are increasingly looking for managed service providers (MSPs) to outsource their IT services to cut costs and boost productivity. MSPs can offer a variety of services, such as monitoring and administration of IT infrastructure, application management, security, and disaster recovery. Internal IT system management for organizations gets increasingly challenging as IT systems become more sophisticated. To manage complex systems and keep them operating efficiently and safely, MSP providers can offer specialized skills and tools. Large enterprises frequently need to handle a variety of company operations. SMEs may concentrate on their main business operations by outsourcing IT services while leaving IT management to professionals. These are predicted to be the major factors affecting the managed services market size during the forecast period.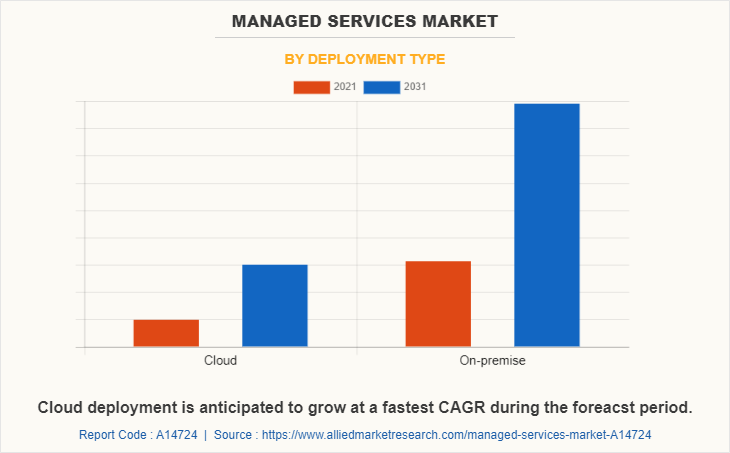 By deployment type, the cloud sub-segment is anticipated to show a fastest CAGR during the forecast period. Cloud services allow organizations to reduce their IT costs by eliminating the need for software licenses, expensive hardware, and maintenance. MSPs provide scalable, affordable cloud-based solutions that let companies only pay for the resources they utilize. Without incurring any up-front expenditures or responsibilities over an extended period, the cloud enables organizations to scale their IT infrastructure up or down per their needs. This adaptability is especially helpful for firms when demand is unpredictable. Any device with an Internet connection can access cloud services from anywhere, at any time. Due to this, companies may operate remotely and access important apps and data while on the go.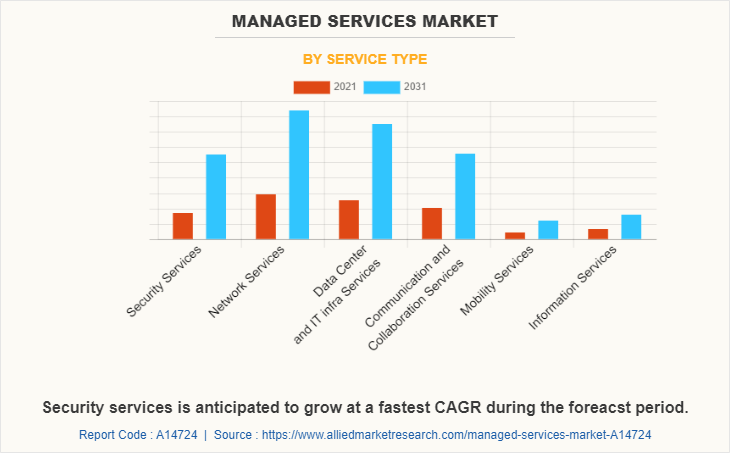 By service type, the security services sub-segment dominated the global managed services market share in 2021. A managed security service includes outsourced management and monitoring of security systems and devices. Managed Security Service Providers (MSSPs) are third-party organizations that offer services to a company. These services include intrusion detection, vulnerability scanning, managed firewalls, anti-viral services, and others. MSSP uses high-availability security operation centers to provide 24/7 services aimed at reducing the number of operational security employees that a company must hire, train, and retain to maintain an acceptable security posture.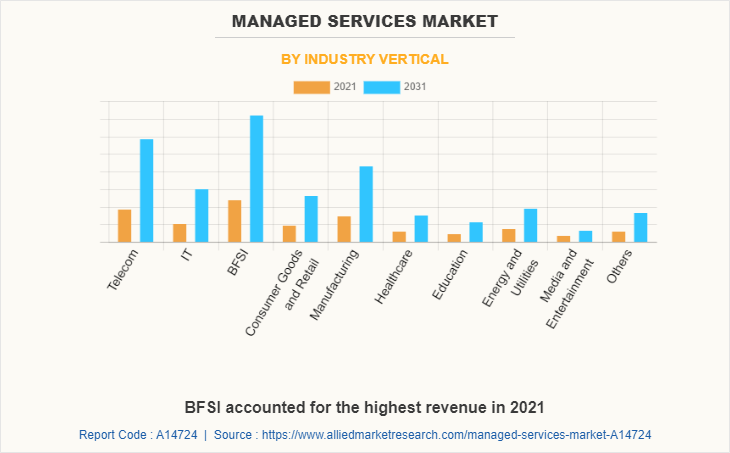 By industry vertical, the BFSI sub-segment dominated the global managed services market share in 2021. It is difficult for banks to manage and maintain its systems due to the rising complexity of IT infrastructure. A variety of services, including network monitoring, data backup, security management, and help desk assistance, are provided by organizations with the aid of managed service providers (MSPs). MSPs help banks enhance their competences and improve their business operations. Moreover, MSPs enable banks to reduce in-house IT expenses, restructure IT systems, and automate business processes, allowing them to meet their business objectives.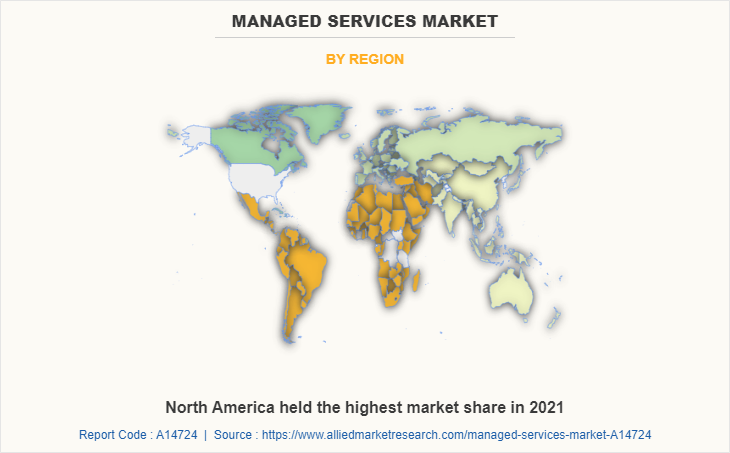 By region, North America dominated the global market in 2021 and is projected to remain the fastest growing region during the forecast period. The managed services market in North America offers businesses a wide range of services, such as IT infrastructure management, network monitoring, cloud services, security management, and others. The regional market is driven by a number of reasons, such as the need for cost-effective solutions, the complexity of IT systems, and the rising demand for outsourcing IT services. Several organizations in the region are moving their apps and data to the cloud to maintain the availability and security of their systems.
Impact of COVID-19 on the Global Managed Services Industry
The COVID-19 pandemic had a mixed impact on the managed services business. In other industries, including cloud computing and security, the pandemic raised demand for managed services. Demand for cloud computing and cybersecurity has surged as a result of the shift to remote work and the rise in usage of cloud services.

The demand for managed services has grown as several businesses have sought to outsource their operations and concentrate on their core competencies. The pandemic expedited company digital transformation, which raised demand for managed digitalization services.

The adoption of managed services was driven by the COVID-19 pandemic, and this pattern is most likely to persist in the post-pandemic pandemic. Companies are likely to continue to depend on managed service providers in the future for their technology requirements.
Key Benefits For Stakeholders
This report provides a quantitative analysis of the market segments, current trends, estimations, and dynamics of the managed services market analysis from 2021 to 2031 to identify the prevailing managed services market opportunities.
The market research is offered along with information related to key drivers, restraints, and opportunities.
Porter's five forces analysis highlights the potency of buyers and suppliers to enable stakeholders make profit-oriented business decisions and strengthen their supplier-buyer network.
In-depth analysis of the managed services market segmentation assists to determine the prevailing market opportunities.
Major countries in each region are mapped according to their revenue contribution to the global market.
Market player positioning facilitates benchmarking and provides a clear understanding of the present position of the market players.
The report includes the analysis of the regional as well as global managed services market trends, key players, market segments, application areas, and market growth strategies.
 Managed Services Market Report Highlights
Aspects
Details
Market Size By 2031
USD 594.8 billion
Growth Rate
CAGR of 11.3%
Forecast period
2021 - 2031
Report Pages
280
By Organization Size
By Deployment Type
By Service Type

Security Services
Network Services
Data Center and IT infra Services
Communication and Collaboration Services
Mobility Services
Information Services

By Industry Vertical

Telecom
IT
BFSI
Consumer Goods and Retail
Manufacturing
Healthcare
Education
Energy and Utilities
Media and Entertainment
Others

By Region

North America (U.S., Canada, Mexico)
Europe (Germany, UK, France, Spain, Italy, Rest of Europe)
Asia-Pacific (China, Japan, India, South Korea, Australia, Rest of Asia-Pacific)
LAMEA (Brazil, UAE, Saudi Arabia, South Africa, Rest of LAMEA)

Key Market Players
Dimension Data, Accenture, IBM, TCS, AT&T, Atos, Cisco, Ericsson, Fujitsu, HCL
Analyst Review
Network administration, security, cloud computing, and other IT solutions are just a few of the services that managed service providers provide to help organizations run smoothly across numerous locations. Businesses can get the infrastructure and assistance they need from managed services providers to operate successfully across borders while still adhering to local rules and laws. By avoiding the need to maintain their IT infrastructure internally, which can be a difficult and expensive task, businesses can save time, money, and resources. In addition, managed services providers may give organizations scalability and flexibility, allowing them to modify their IT systems, as necessary. In accordance with the budget and business requirements, the companies can also prioritize services and solutions in collaboration with their managed services provider. Moreover, labor expenses may be cheaper in emerging economies, which might cut the cost of managed services. To stay competitive in the market as demand for managed services rises, companies could also offer more affordable pricing. These are the factors expected to hamper the market growth during the forecast period. As more organizations outsource their IT requirements, managed services offer significant opportunities for MSPs. Various services, such as network management, data backup and recovery, security, and cloud computing, are offered by MSPs. MSPs can establish long-term relationships with clients and generate a consistent flow of recurring income by providing these services.
Among the analyzed regions, North America accounted for the highest revenue in 2021, followed by Europe, Asia-Pacific, and LAMEA. With the rise of cyber threats and data breaches, organizations in the regions are looking for reliable and proactive solutions to protect their systems and data. These are the key factors responsible for the leading position of North America and Europe in the global managed services market.