The global marine diesel engine market was valued at $9.1 billion in 2021, and is projected to reach $14.8 billion by 2031, growing at a CAGR of 4.9% from 2022 to 2031.
A marine diesel engine is a type of reciprocating internal combustion engine that runs on either diesel or dual fuel. It is bulkier and more complex than a petrol engine but offers higher operational efficiency. It creates power by adding fuel to high temperature compressed air. The resulting controlled explosion powers the crankshaft through linkages. This power can then be used in many ways such as to rotate motors, propellers and in alternators to create electricity. Several companies are investing in research and development activities to optimize the performance of the diesel engine to lower the carbon emissions. For instance, in April 2022, Bergen Engines launched ambitious Ammonia Zero Emission research project (AMAZE) to develop technology for a fuel-flexible internal combustion engine with carbon-free ammonia as the primary fuel. The development goal is a multi-fuel engine that able to switch seamlessly from ammonia to diesel or other low-carbon fuels such as biofuels.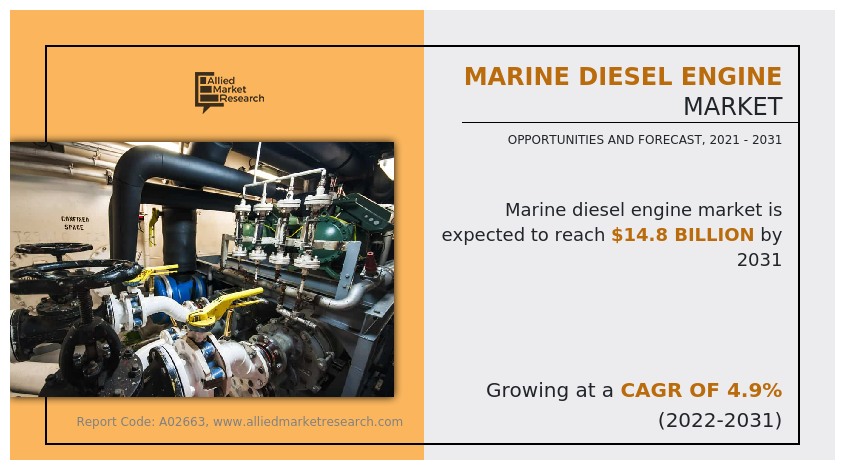 At present, the growing number of overseas trading relations across multiple developing nations and the increase in water leisure activities such as sailing, yachting, and rafting notably contributes toward growth of the global marine diesel engine market. For instance, according to the National Marine Manufacturers Association (NMMA), new boat sales in the U.S. hit a 13-year high of 318,550 units in 2020. Majority of these new boats are used for leisure sailing, fishing, sightseeing, and recreational activities. These increasing leisure & recreational activities on yachts propel growth of the marine vehicles market, simultaneously driving demand for marine diesel engines.
The factors such as increase in international marine freight transport, high demand for two stroke marine diesel engines, and increase in water sports and leisure activities supplement the growth of the marine diesel engine market. However, rise in adoption of fully electric vessels and fluctuations in transportation and inventory costs are the factors expected to hamper the growth of the market. In addition, development of engine technology and rise in adoption of dual fuel-based marine engines creates market opportunities for the key players operating in the marine diesel engine market.
The marine diesel engine market is segmented into ship type, technology, capacity, type, and region. By ship type, the market is divided into bulk carriers, general cargo ship, container ship, ferries & passenger ships, oil tankers, and others. By technology, it is fragmented into low speed, medium speed, and high speed. By capacity, it is categorized into 300 to 500 Hp, 500 to 1000 Hp, 1001 to 2000 Hp, 2001 to 5000 Hp, and more than 5001 Hp. By type, it is further classified into 2-Stroke and 4-Stroke. By region, it is analyzed across North America, Europe, Asia-Pacific, and LAMEA.
The leading players operating in the marine diesel engine market are Bergen Engines, Caterpillar, Cummins Inc., Daihatsu Diesel Mfg. Co., Ltd., Deere & Company, Deutz AG, Fairbanks Morse Defense, Hyundai Heavy Industries Co., Ltd, IHI Power Systems, MAN SE, Mercury Marine, Mitsubishi Corporation, Rolls Royce plc, Volvo Penta, Wabtec Corporation, Wärtsilä, and Yanmar Marine International B.V.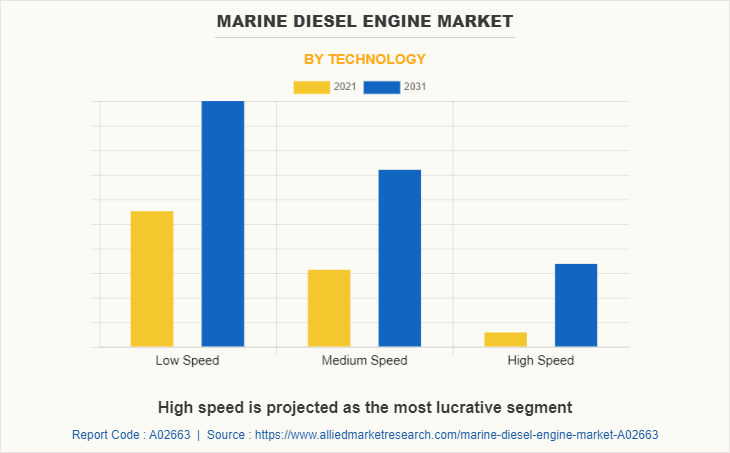 Increase in international marine freight transport
Marine transportation is one most prominent modes of transportation, especially for freight transportation, owing to its cost-effectiveness. In recent years, seaborne trade has witnessed significant growth. For instance, according to the United Nations Conference on Trade and Development (UNCTAD), in 2020, international seaborne trade volume reached 10.7 billion tons. Furthermore, according to the UNCTAD (United Nations Conference on Trade and Development) organization report, in November 2021, the global trade for merchandise goods was increases in exports and imports. In 2021, import of goods increased by 13.3% globally and export of goods increased by 14.3% globally. Moreover, maritime shipping is expected to continue to cover majority of the movement of goods over long distances in the coming years. According to the ITF transport outlook by The Organisation for Economic Co-operation and Development (OECD), 70% total freight will be transported by using maritime transport by 2030. Increase in marine freight transportation is attributed to rise in traffic congestion in trade lanes in Indian and Pacific Ocean. According to the UNCTAD, commercial shipping fleet of 100 gross tons and above ships reached to around 99,800. Thus, demand for maritime transport services and growth of the international maritime freight transport is expected to fuel demand for marine diesel engine during the forecast period.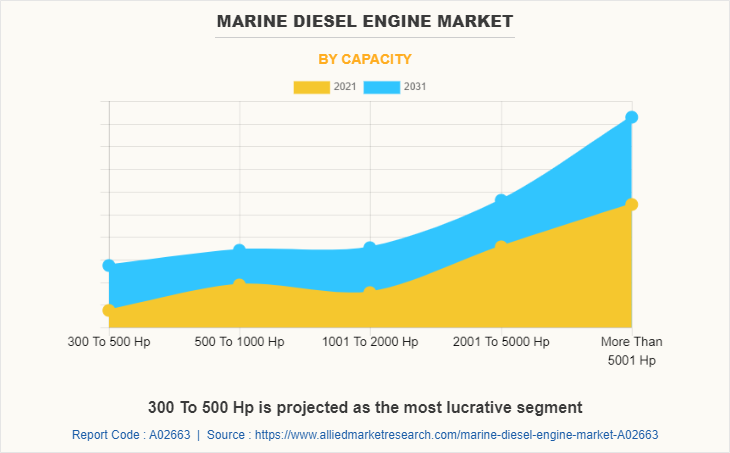 High demand for two stroke marine diesel engines
Two-stroke marine diesel engines offer high torque at low engine speed, which helps boats or vessels to cruise at a constant speed without adjusting the engine speed. The two stroke diesel engines are commonly used in vessels that requires a large power output such as cargo ships and bulk carriers. These engines generate more power and provide higher power to weight ratio as compared to four stroke engines. Higher power to weight ratio helps ship operators to carry more weight cargo at less power. With increase in demand for cargo transportation through ships, demand for two stroke diesel engines is also increasing. Furthermore, development in two stroke diesel engines by manufacturers is expected to rise demand of two stroke marine diesel engine market during the forecast period.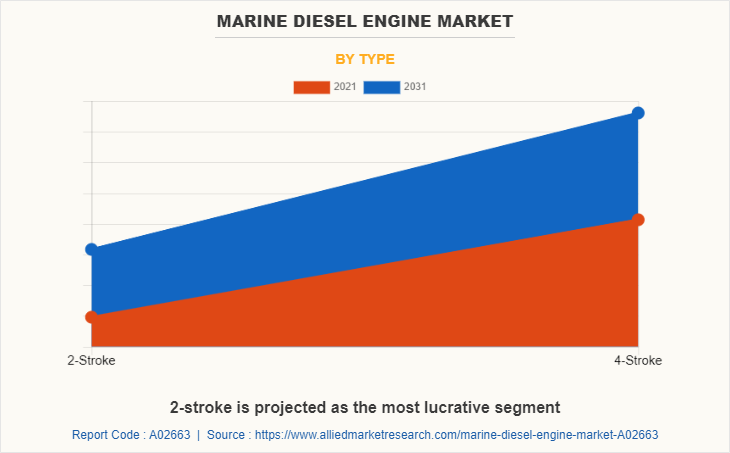 Rise in adoption of fully electric vessels
Shipbuilding companies and operators are moving toward emission-free transportation to keep up with the International Maritime Organization 2020 (IMO 2020) mandate, which enforces maximum sulfur content of 0.5% in marine fuels. Owing to this, the marine industry has witnessed inclination toward installation of electric propulsion in existing and newbuild ships. Countries across the globe are using electrified passenger boats and ferries. Moreover, governments are backing electrification in marine vessels. For instance, E-ferry Ellen, a fully electric ferry was developed under the European Union backed E-ferry project, which costs around 24 million. In addition, companies are developing fully electric cargo ships for instance Yara International commissioned a fully electric cargo ship named Yara Birkeland in 2020. Electric ships do not have internal combustion engine on board, all the energy comes from batteries, which increases adoption and advancement of electric marine vessels and is expected to hinder the market growth.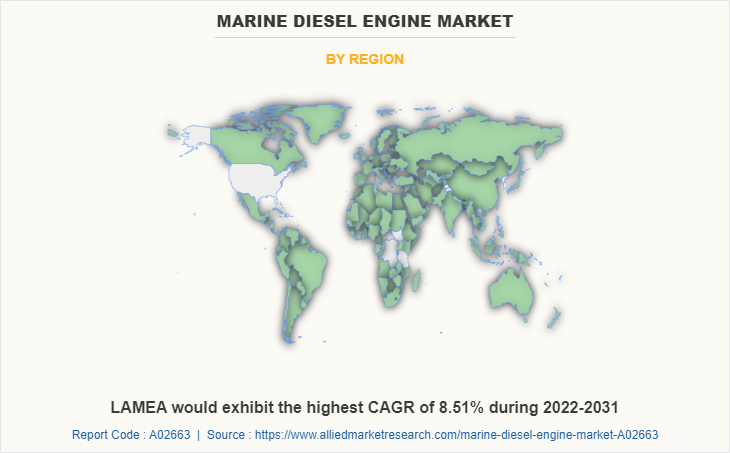 Development of engine technology
With introduction of stricter environmental norms and regulations in the industry, shipping companies are coming up with advanced technologies to reduce their carbon footprints and increase overall efficiency of ships. Innovations in marine engines, such as direct-injection technology, VTEC system, selective gear rotation system, and electronic fuel injection capability, increases engine power, and drives demand for advanced & high-performance vessels. Engine manufacturers are developing high powered and low polluting engines to meet consumer demand and reduce emissions from boating activities. For instance, in August 2020, Caterpillar announced the launch of the Cat C32B marine diesel engine. It is a 12-cylinder, vee-configuration engine and is rated at 2000 hp to 2300 rpm, with a metric rating of 2025 hp. Furthermore, the engine featured the latest version of Cat's ADEM electronic engine control module (ADEM 6) as well as an advanced unit injection fuel system. Furthermore, marine diesel engine market players are introducing twin and hybrid turbocharged engines offering high torque and power, thereby supporting demand for boats/vessels equipped with high horsepower engines. Moreover, nowadays, advanced marine engines are usually electronically controlled and use sensors and network of control modules to manage engine under different load and fuel conditions. Therefore, ongoing technical innovations offer growth opportunities for the marine diesel engine industry.
In 2021, in China, Samsung Heavy industries have decided to shut down their 26-year-old Ningbo shipyard in eastern China. In addition, in 2020, Irving Shipbuilding has issued layoff notices impacting 1100 of 1800 workers & temporarily shut down Halifax shipyard for three weeks. Furthermore, the COVID-19 pandemic had an impact on international maritime trade and global supply networks in 2020. According to the International Chamber of Shipping, approximately 100,000 seafarers reach the end of their employment contract and must be repatriated each month. However, the world is gradually returning to normalcy in daily business activities by taking appropriate measures to halt virus spread. Increase in vaccination and decreasing fatality has improved the market scenario for ship refurbishment and shipbuilding, which is expected to boost demand for the marine diesel engine market.
Key Benefits For Stakeholders
This study presents analytical depiction of the global marine diesel engine market analysis along with current trends and future estimations to depict imminent investment pockets.

The overall marine diesel engine market opportunity is determined by understanding profitable trends to gain a stronger foothold.

The report presents information related to the key drivers, restraints, and opportunities of the global marine diesel engine market with a detailed impact analysis.

The current marine diesel engine market is quantitatively analyzed from 2022 to 2031 to benchmark the financial competency.

Porter's five forces analysis illustrates the potency of the buyers and suppliers in the industry.
 Marine Diesel Engine Market Report Highlights
Aspects
Details
Market Size By 2031
USD 14.8 billion
Growth Rate
CAGR of 4.9%
Forecast period
2021 - 2031
Report Pages
385
By Ship Type

Bulk Carriers
General Cargo Ship
Container Ship
Ferries and Passenger Ships
Oil Tankers
Others

By Technology

Low Speed
Medium Speed
High Speed

By Capacity

300 To 500 Hp
500 To 1000 Hp
1001 To 2000 Hp
2001 To 5000 Hp
More Than 5001 Hp

By Type
By Region

North America (Mexico, U.S., Canada)
Europe (UK, Germany, France, Italy, Spain, Rest Of Europe)
Asia-Pacific (China, India, Japan, South Korea, Rest Of Asia-Pacific)
LAMEA (Africa, Latin America, Middle East)

Key Market Players
Daihatsu Diesel Mfg. Co., Ltd., GE Transportation, Mercury Marine, Hyundai Heavy Industries Co., Ltd, Bergen Engines, Rolls Royce plc, Mitsubishi Corporation, Yanmar Marine International B.V., John Deere, MAN SE, Cummins Inc., Siemens Energy, IHI Power Systems, Wärtsilä, Caterpillar, Deutz AG, Volvo Penta