Global marine propulsion engine market is expected to reach $12 billion by 2022, growing at a CAGR of 4.1% from 2016 to 2022. Marine propulsion engines is a machine that burn fuel to create thrust, which helps ships to move across water. The marine propulsion engine market is expected to witness robust growth during the forecast period owing to various ongoing government investments in shipbuilding industry and inland waterways. Ships are integrated with one or more than one propulsion engines, depending on their size (gross tonnage). Moreover, in the early stage of marine propulsion, steam turbines were used; however, due to advancement in technology, diesel or alternative fuel engine and gas turbine have greater penetration.
Market Segmentation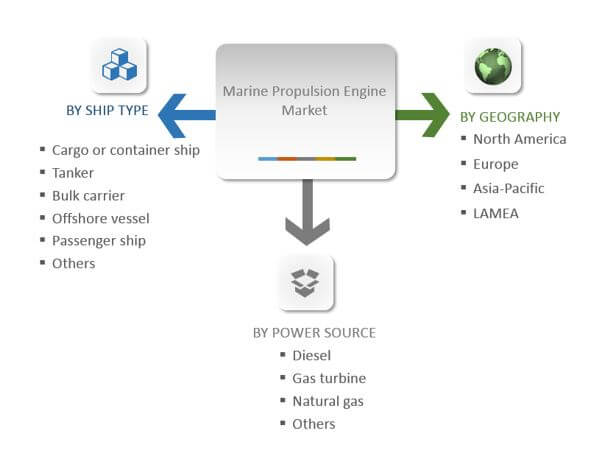 The market segmentation is based on power source, ship types, and geography. The power source segment is divided into diesel, gas turbine, natural gas, and others (steam turbine, renewable energy, hybrid, and fuel cell). By ship types, the market is categorized into cargo & container, tanker, bulk carrier, offshore vessel, passenger ship, and others (tugs & service ships). Geographically, the market is analyzed across North America, Europe, Asia-Pacific, and LAMEA.
Market Dynamics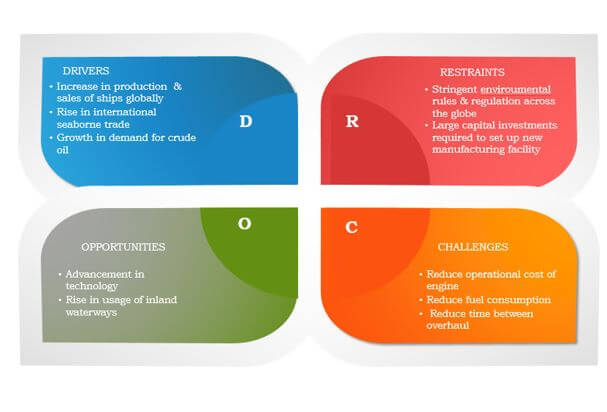 Increase in production & sales of ships globally and rise in international seaborne trade drive the market growth. In addition, increase in demand for resources such as crude oil, coal, steel, and iron from developing countries fuels the market growth. However, stringent environmental rules & regulations and large capital investment required to set up new manufacturing facilities hamper the market growth. Irrespective of these challenges, rise in usage of inland waterways and advancement in technology, such as new alternative fuel propulsion engine, are expected to provide various opportunities for new products and boost the market growth.
Diesel Propulsion Engine Leads the Marine Propulsion Engine Market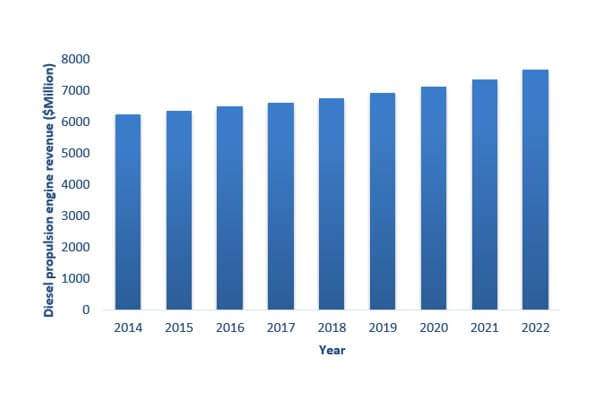 Diesel propulsion system is the most common marine propulsion system used in all types of vessel along with small and recreational boats. Moreover, diesel marine propulsion engine led the overall market, accounting for 70% in 2015. This is attributed to its benefits such as high reliability, economical nature, low maintenance cost, and easy availability of diesel globally.
Asia-Pacific: Most Lucrative Market
Asia-Pacific is the most lucrative marine propulsion engine market, owing to increase in shipbuilding industries in China & South Korea and growth in number of joint ventures with international brands. Moreover, rise in seaborne trade of crude oil mostly from Middle East countries to Asia-Pacific is another factor that drives the Asia-Pacific marine propulsion engine market.
MARINE PROPULSION ENGINE MARKET KEY BENEFITS
The report includes an extensive analysis of the factors that drive as well as restrain the global marine propulsion engine market.
The market projections from 2014 to 2022 are included along with the affecting factors.
The report also provides quantitative as well as qualitative trends to assist the stakeholders understand the situations that prevail in the market.
An in-depth analysis of key segments demonstrates stakeholders with different types of ships and different power sources.
Competitive intelligence highlights the business practices followed by leading market players across various geographies.
 Marine Propulsion Engine Market Report Highlights
Aspects
Details
By Power Source

Diesel
Gas Turbine
Natural Gas
Others (Steam Turbine, Renewable Energy, Hybrid, and Fuel Cell)

By Ship Type

Cargo or Contanier Ship
Tanker
Bulk Carrier
Offshore Vessel
Passenger Ship
Others (Tugs & Service Ships)

By Geography

North America
Europe

Germany
Romania
Italy
Norway
Rest of Europe

Asia-Pacific

China
South Korea
Japan
Rest of Asia-Pacific

LAMEA

Latin America
Middle East
Africa

Key Market Players
Caterpillar, Cummins Inc., Daihatsu Diesel Mfg. Co., Ltd., Hyundai Heavy Industries Co., Ltd, Man Se (Man Diesel & Turbo), Mitsubishi Heavy Industries, Ltd., Rolls-Royce Plc, Scania, Wrtsil, Yanmar Co., Ltd.