Marine Telematics Market Outlook-2026
The global marine telematics market was valued at $6.80 million in 2018, and is projected to reach $29.95 million by 2026, registering a CAGR of 21.3% from 2019 to 2026. By application type, the commercial segment was the highest revenue contributor in 2018, accounting for $5.3 million, and is estimated to reach $23.0 million by 2026, registering a CAGR of 20.9% during the forecast period. In 2018, the Asia-Pacific region was anticipated to account for the major Marine telematics market share.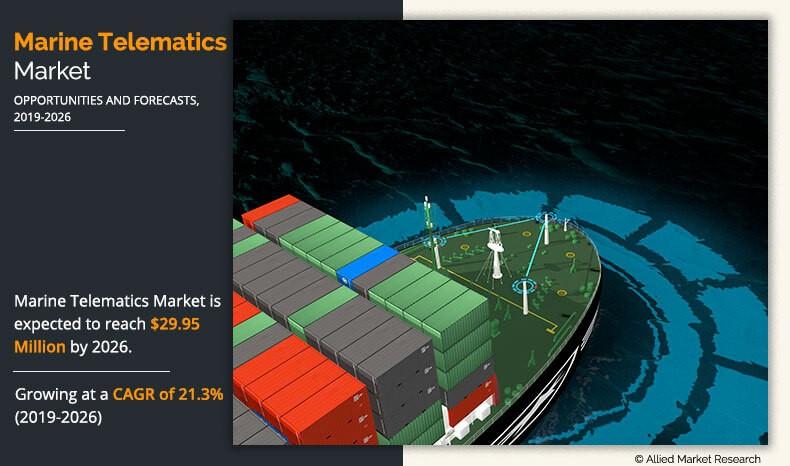 Marine telematics systems have a core function of recording information about vessels and send, process, and store the data through telecommunication devices to improve operations. This technology is also used to control and monitor ships. The marine telematics solutions are used in businesses such as boating, shipping, recreational fishing, and commercial fishing industries. It involves the use of wireless voice and data communication systems, which provide functions such as vessel tracking, emergency aid warning notification, system monitoring, stolen vehicle recovery, and other features.
Systems normally consist of a user interface, satellite antenna, and a communication link with vessels electronic systems. This technology can be vital to users as it provides a satellite link to the outside world when other mode of communications are unavailable.
The marine telematics system is enabled by a hardware & software device that gets installed into ships. A SIM card and modem enables communication on s cellular network. Telematics derive data like vessel's GPS position, accelerometer, and speed that is later processed at the data center. These components accesses and communicate updated facts such as water temperature, pollutants, level of fuel in tankers, equipment functioning, and several ship related information to the concerned authorities. This ultimately forms a cornerstone for vehicle tracking and stolen vehicle recovery. This information can be accessed by consumers by the use of a mobile application or internet tracking software to monitor their vessels in real time.
Region-wise, Asia-Pacific is driving the growth of the market due to the high number of container ship transportation. Moreover, the demand for these features is expected to increase due to improved operational safety requirements in the Asia-Pacific.
In addition, the market is driven by enhanced ship monitoring, fuel management, and rise in trend of connectivity solutions. In addition, vehicle diagnoses due to telematics systems also propels the growth of the market. However, high integration cost and lack of uninterrupted & seamless internet connectivity are some of the major factors that restrain the marine telematics market growth. Furthermore, anticipated trend of automation in marine transportation and better driver and vessel safety ensures emerging growth opportunities for this market globally. Further, trend of complete automation in the transport sector along with the increase in maritime safety norms are expected to create numerous opportunities for the market expansion. The marine telematics market forecasted from 2019 to 2026 by considering all the driving factors that influence equally to the marine telematics market statistics.
Marine Telematics Market

---
By Component
Software by component type segment is projected as the most lucrative segments
Get more information on this report :
Request Sample Pages
The market is segmented into component type, application, and region. The major factors that drive the growth of the market include increase in operational safety for ships and rapid developments & improvements in the maritime industry. Furthermore, systems with in-built components such as AI, IoT, advance navigation system, and others improve the ship operation, thus drives the market growth.
The key players operating in the marine telematics market include Technoton, AST MSL., Boat Command, Sentinel Marine solutions, Navis, Cybernetica, ki2 Infotech, Market Spectrum, Traxens, and Metocean.
Enhanced ship monitoring and fuel management
Owning to lack of technical know-how about fuel monitoring tools, many conventional fleet operators face issues to measure accurate consumption of fuel required for vessels. Thus, by using the Internet of Things (IoT), fuel consumption can be kept under check. Specially designed sensors are embedded in fuel tanks that send notifications to a user's mobile handset or computer, through public cloud about fuel levels in ships. Moreover, telematics is used for entertainment, automatic crash notification, and navigation. Such innovations in the marine industry and fuel monitoring are expected to create a demand for telematics services.
Marine Telematics Market

---
By Region
Europe by region segment is projected as the most lucrative segments
Get more information on this report :
Request Sample Pages
Rise in trend of connectivity solutions
Fleet smartphones have changed the definition of connectivity over time. People wish to stay connected with the outer world even while travelling. Now that connectivity has become the need of the hour, automobile manufacturers are adopting connectivity solutions in ships to boost their transportation sales. Consumers are expecting their vessels to perform tasks similar to computers and smart phones. Adding connectivity solutions in ships has become the top most priority for marine product manufacturers. Many connectivity solutions are integrated in modern ships that need internet services to perform their respective functions. Connectivity can be provided in a vessel using embedded, integrated, or tethered connectivity solutions. The transportation industry is witnessing a phase of digital revolution. For instance, companies such as Sentinel Marine solutions, Go Free Marine, Boat Command, and others have started offering mobile supported monitoring systems for vessel to track real time activities. Therefore, the marine telematics market is expected to grow at a promising rate due to the rise in customer demands for staying connected 24*7.
High integration cost
Telematic systems are extremely costly to integrate and repair in case of a failure. They add extra weight and acquire more space in ships. They also require regular upgradation, in terms of software. The additional costs incurred while providing connectivity in vessels is expected to restrict the growth of the marine telematics market. Connectivity solutions in ships incurs additional expenses to consumers in the form of hardware, connectivity solutions, and telecom service charges. These additional costs bestowed upon the consumer have a significant impact on the marine telematics market. Thus, high installation cost is expected to hinder the market.
Lack of uninterrupted and seamless internet connectivity
The main objective of marine telematics is to provide wireless voice and data communication systems for vessel tracking, emergency aid activation, system monitoring, and other applications. The satellite range may be interrupted due to internet connectivity in some areas. Weak connectivity for solutions of telematics restrict the growth of the marine telematics segment as it fails to offer a seamless internet service. This occurs mostly due to inconsistency in network offered by service providers, which varies for different regions.    Thus, acts as a restrain for the market growth.
Anticipated trend of automation in marine transportation
The steps taken toward automation and use of advance technologies such AI and IoT for demonstration of marine telematics bring various countries together to develop automated vessels for ships, which eventually leads to the growth of telematic services in different regions. For instance, Navis started offering telematics solutions named as Bluetracker One, Bluetracker Automatic and Bluetracker Reporting for real time vessel performance management. In addition, Market Spectrum, Inc also started the use of  remote analytics tools for vessel monitoring which includes VTracker Insight X2, Nevata, XPulse, and others. Furthermore, introduction of autonomous marine technology inmarine transportation is expected to eventually lead to the growth of the marine telematics market in the near future.
Better driver and vessel safety
Real-time monitoring, geofencing, and diagnostic features are incorporated in marine transport, due to increase in demand for fleet safety and security in transportation of goods through commercial vessels. According to telematics service providers, telematics in ships is expected to grow rapidly in developing nations. Asia-Pacific has witnessed strong adoption of solutions such as installation of Global Positioning System (GPS) in commercial vessels, due to regulatory mandates. Tracking and follow-up of fleet and drivers are the major tasks of a fleet operational manager. Number of accidents have increased at a considerable rate, which has become a crucial matter to be handled by fleet owners. Moreover, safety and security of both driver and vehicle has always been crucial from the perspective of consumers as well as ship manufacturers. In case of accidents, these monitoring solutions can send an SOS message along with the coordinates of driver's location. Therefore, increase in need for safety and security is expected to boost the growth of the marine telematics market.
Key Benefits for Marine Telematics Market:
This study presents analytical depiction of the marine telematics market analysis along with the current trends and future estimations to depict the imminent investment pockets.
The overall market potential is determined to understand the profitable trends to gain a stronger foothold.
The report presents information related to key drivers, restraints, and opportunities of the market with a detailed impact analysis.
The current marine telematics market size is quantitatively analyzed from 2018 to 2026 to benchmark the financial competency.
Porter's five forces analysis illustrates the potency of the buyers and suppliers in the marine telematics industry.
 Marine Telematics Market Report Highlights
Aspects
Details
By Component
By Application

Commercial

General Cargo
Gas & Oil Tanker
Others

Passenger
Defense

By Service

Safety & security
Information & navigation
Entertainment
diagnostics

By Region

NORTH AMERICA (North America, U.S., Canada, Mexico)
Europe (UK, Norway, France, Germany, Rest of Europe)
Asia-Pacific (China, Japan, India, South Korea, Rest of Asia-Pacific)
LAMEA (Latin America, Middle East, Africa)

Key Market Players
Technoton, AST MSL., Boat Command, Sentinel Marine solutions, Navis, Cybernetica, ki2 Infotech, Market Spectrum, Traxens, Metocean