Maritime Missile Launch System Market Statistics 2030 -
The global maritime missile launch system market was valued at $280.7 million in 2020, and is projected to reach $458.7 million by 2030, registering a CAGR of 5.8%.    
The rapid spread of COVID-19 had a significant impact on the global maritime missile launch system market in 2020, owing to the implementation of strict lockdown measures across the world. COVID-19 pandemic led to several challenges for the maritime missile launch system industry such as disruption in the supply chain of raw materials, logistics challenges, and others. On the other hand, the missile launch system manufacturers had to reduce expansion and R&D investments to withstand the decline in revenue and operating performance of the defense industry. The delay in purchase orders and slow production rate were some of the challenges observed in the maritime missile launch market throughout the year, and are expected to continue for a few years.
Development of advanced maritime missile launch technologies has become critical, owing to exponential rise in illegal entry of submarines in restricted international waters. The need for maritime missile launch systems for checking illegal entry of submarines and ships is on the rise, owing to rise in conflicts between different nations worldwide. Maritime missile launch systems are becoming a critical element of security and are utilized in countering potential sea-based attacks. Several nations around the world have launched and implemented policies related to modernizing their naval forces.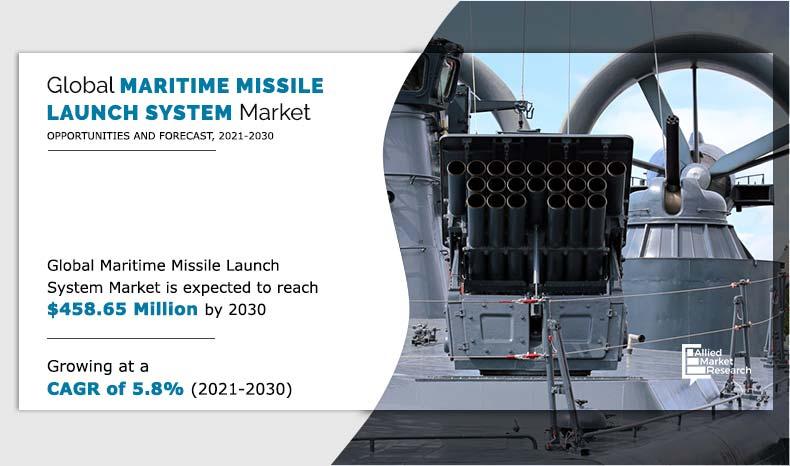 There has been a dramatic rise in adoption of maritime missile launch systems for detection and destruction of ships and submarines that try to illegally enter restricted water zones across the globe. Lack of reliable security systems and modernization initiatives result into a tremendous rise in instances related to security breach at naval bases. Rise in demand for detection and destruction of illegal ships and submarines has become a key factor to ensure overall national security, which fuels the market growth. 
The market is divided on the basis of system, mode, launch type, and region. By system, the market is divided into vertical launching system, single cell launcher, and vertical launch anti-submarine. By mode, it is segmented into on-surface and submarine. By launch type, it is segmented into hot launch, cold launch, and concentric canister launch. Region wise, the market is analyzed across North America, Europe, Asia-Pacific, and LAMEA.
Key players operating in the global maritime missile launch system market include Aselsan A.Ş., BAE Systems plc, General Dynamics Corporation, Konsberg Gruppen ASA, Lockheed Martin Corporation, MBDA, Rafael Advanced Defense Systems Ltd., Raytheon Technologies Corporation, ROKETSAN A.S., and SaaB AB. 
Rise in number of territorial conflicts throughout the world
Six countries lay overlapping rights to the South and East China Seas, which is an area that is abundant in natural gas and hydrocarbons, and via which trillions of dollars of international trade flow happen annually. As China enlarges its naval dominance and constructs military bases on man-made islands, it has been met by increasing forcefulness from other regional claimants such as Japan, Vietnam, and the Philippines. Frequent standoffs in the disputed area happen in the area ranging from the Senkaku/Diaoyu Islands on eastern edge of China to the long stretch of archipelagos in the South China Sea that encompass hundreds of islands.  U.S. has also built up its military activities and maritime presence in the seas, indicating its raised role in clashes, which, if not handled properly, might turn part of Asia's naval regions from flourishing trade channels into grounds of continuous conflicts. Rise in conflicts across different parts of the world to gain dominance in commercial or defense arenas is expected to drive growth of the global maritime missile launch system market during the forecast period.  
Naval modernization programs
As maritime security is one of the most critical defense units, naval modernization initiatives can be witnessed throughout the world. Naval modernization program includes a wide range of ships, airplane, and missile procurement plans, in addition to enhancements in upkeep and logistics, personnel education, and training. Navy modernization initiatives in China are aimed at increasing competencies for handling any unfortunate set of events or for achieving a greater degree of control over China's near-seas region, protecting China's commercial sea lines of communication (SLOCs), principally those connecting China to the Persian Gulf; for challenging impact of the U.S. in the Western Pacific; and for asserting position of China as a major world power.
In June 2021, the U.S. Navy publicized a long-duration Navy ship-building document that presents U.S. government's evolving replacement to 355-ship force-level objective. Their planned 2022 financial year budget seeks purchase of 8 new vessels, including one Constellation (FFG-62) class frigate; one Arleigh Burke (DDG-51) class destroyer; and 2 Virginia-class attack submarines (SSNs). Rise in modernization programs in one of the largest navies in the world is expected to propel growth of the global maritime missile launch system market during the forecast period
High cost of maritime missile launch systems
High costs associated with missile launch systems leads to adoption of such systems only by countries that have a high budget spending. In past years, world has witnessed closure of projects involving missile launch systems that incurred high costs. For instance, in the 1970s, the U.S. Army successfully developed and deployed the Safeguard Program- a U.S. Army's anti-ballistic missile system in the North Dakota region at a price of $23 billion, excluding cost of developing nuclear missiles. It was shut in just months and the Department of Defense shut it down as it was too costly to operate, and did not contribute much to ensure U.S. security. Hence, costs continues to play a vital role in success or failure of missile defense programs globally, which is expected to limit growth of the global maritime missile launch system market during the forecast period.
Rise in demand for reliable and efficient vertical launch maritime missile launch systems
Vertical missile launching systems have changed naval warfare for past 30 years by giving an ever-growing launch ability to retaliate to a variety of theater-based threats. These systems have altered the way all naval forces think regarding deep-water-based missile launch systems, owing to their unmatched performance and adaptability. Vertical missile firing system has become a reliable defense system of fleets across the globe due to its ability to respond to various aerial, surface, and subsurface threats at the same time. Owing to high efficiency and reliability, use of vertical missile launching systems is expected to grow considerably in the future. Recent advancements in ballistic missile defense technology have given the vertical launching system of the U.S. Navy a new and enlarged duty. With consistent fruitful intercepts of complex targets, the U.S.-made Aegis Weapon System that comprises VLS, a weapon control system, a radar, and different classes of missiles, has reformulated its naval strategy. Many next-generation Aegis-armed vessels are being manufactured or modified with ballistic missile defense (BMD) capability, in addition to performing conventional navy-specific roles of air, surface, and subsurface defense. The Aegis BMD ability has proven quite successful and the U.S. Navy has adopted a gradual adaptive approach to BMD. These factors prove benefits of vertical launching systems, which is expected to propel growth of the global maritime missile launch system market during the forecast period.
COVID-19 Impact Analysis 
The COVID-19 impact on the maritime missile launch system market is unpredictable, and is expected to remain in force till the fourth quarter of 2021. 
The COVID-19 outbreak forced governments across the globe to implement strict lockdowns and banned import-export of non-essential items for most of 2020. This led to sudden fall in availability of important raw materials. 
Moreover, nationwide lockdowns forced manufacturing facilities to partially or completely shut their operations.
Adverse impacts of the COVID-19 pandemic have resulted in delays in activities and initiatives regarding development of reliable and innovative maritime missile launch systems globally.
Key Benefits For Stakeholders
This study presents analytical depiction of the global maritime missile launch system market analysis along with current trends and future estimations to depict imminent investment pockets.
The overall maritime missile launch system market opportunity is determined by understanding profitable trends to gain a stronger foothold.
The report presents information related to key drivers, restraints, and opportunities of the global maritime missile launch system market with a detailed impact analysis.
The current maritime missile launch system market is quantitatively analyzed from 2020 to 2030 to benchmark the financial competency.
Porter's five forces analysis illustrates the potency of the buyers and suppliers in the industry.
Key Market Segments
By System
Vertical Launching System
Single Cell Launcher
Vertical Launch Anti-Submarine
By Mode
By Launch Type
Hot Launch
Cold Launch
Concentric Canister Launch    
By Region
North America
Europe

Germany
UK
France
Russia
Rest of Europe

Asia-Pacific

China
Japan
India
South Korea
Rest of Asia Pacific

LAMEA

Latin America
Middle East
Africa
KEY PLAYERS
Aselsan A.Ş.
BAE Systems plc
General Dynamics Mission Systems, Inc.
Konsberg Gruppen ASA
Lockheed Martin Corporation
MBDA
Rafael Advanced Defense Systems Ltd.
Raytheon Company
ROKETSAN A.S.
SaaB AB