Medical Bionics Market Overview:
Global Medical Bionics Market was valued at $15,348 million in 2016, and is expected to garner $29,160 million by 2023, registering a CAGR of 9.6% during the forecast period. Bionics also known as biomedical implants are artificial addition to the body. These artificial implants mimic the function of the lost or non-functional body part such as limb or eye. Rise in geriatric population, increase in government focus on funding R&D initiatives, and upsurge in number of patients suffering from chronic diseases are expected to drive the market growth. Moreover, technological advancements, such as the cochlear implants, with speech recognition features that help to differentiate speech in noisy and reverberant situation fuel the demand for medical bionics. However, high cost of the devices and treatment and stringent approval process for these devices are expected to impede the market growth.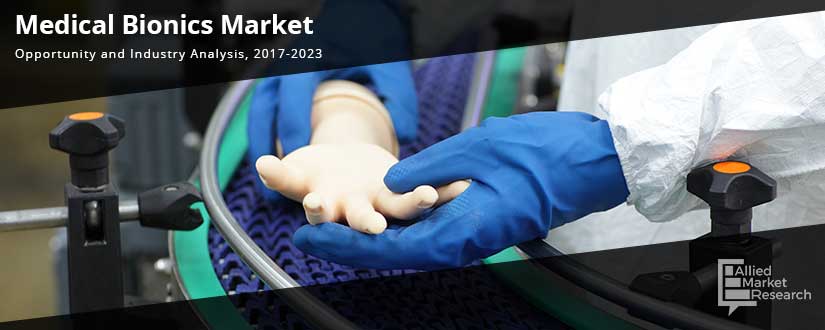 Get more information on this report : Request Sample Pages
Rise in Incidence of Chronic Disease
As per the estimates of the annual report (2014) published by the American Heart Association in Heart Ware International, Inc., approximately 5.5 million individuals are affected by heart failure in the U.S. Moreover, approximately 670,000 new cases of heart failure are diagnosed each year in the U.S. Similarly, in Canada there is a rise in the prevalence of chronic diseases due to unhealthy lifestyle and aging population. In 2007, 1.3 million Canadians were reported to be diagnosed with heart diseases, around 1.6 million were reported to be living with the effects of stroke (Source: Public Health Agency of Canada).
Growth in Asia-Pacific Region
This region offers lucrative opportunities in this market owing to presence of large pool of patients suffering from chronic disorders such as cardiac disorders, neural disorders and hearing and vision loss. In 2011, the Australian Institute of Health & Welfare estimated that at least 300,000 Australians have suffered from chronic heart failure and 30,000 new cases are identified every year. Hence, high incidence of cardiac disorders makes it an attractive market for cardiac bionics. In addition, high prevalence of eye-related diseases in Japan makes it an attractive market for eye bionics in the country.
Leading Causes of Blindness in Japan, 2013
Get more information on this report : Request Sample Pages
Technological Advancements Witnessed in the Market
The field of medical bionics have witnessed several technological advancements in the recent years. The cochlear implants available in the present scenario have speech recognition in difficult listening situations, which help to differentiate speech in noisy and reverberant situation, understand sound from television or telephone, and identify a sound from distance. In addition, hearing aids feature acoustic scene classifiers, which help hearing aids to classify and identify any sound based on background noise, speech in quiet or in noise, music, wind, and number of other parameters.
South Africa: Medical Bionics Market, ($Million) 2016-2023
Get more information on this report : Request Sample Pages
Segmentation
Get more information on this report : Request Sample Pages
The key companies operating in the medical bionics market are Abbott, Boston Scientific Corporation, Cochlear Ltd., LivaNova PLC, Medtronic plc, Orthofix Holdings, Inc., ssur Corporate, Retina Implant AG, Sonova, SECOND SIGHT, SynCardia Systems, LLC, and William Demant Holding A/S
Key Benefits
The study provides an in-depth analysis of the global medical bionics market, with current trends and future estimations, to elucidate the imminent investment pockets.
Quantitative analysis from 2016 to 2023 is expected to enable the stakeholders to capitalize on prevailing market opportunities.
Comprehensive analysis of all geographical regions is provided to determine the prevailing opportunities.
Extensive analysis is conducted by closely following key product positioning and monitoring the top contenders within the market framework.
Medical Bionics Market Key Segments:
By Product
Vision Bionics/Bionic Eye
Ear Bionics

Cochlear Implants
Bone Anchored Hearing Systems
Auditory Brainstem Implants

Orthopedic Bionics

Upper limb
Lower limb
Exoskeleton
Electrical Bone Growth Stimulators

Invasive Bone Growth Stimulators
Non-Invasive Bone Growth Stimulators

Cardiac Bionics

Pacemaker
Total Artificial Heart
Ventricular Assist Device

Left Ventricular Assist Device (LVAD)
Right Ventricular Assist Device (RVAD)
Biventricular Assist Device (BIVAD)

Artificial Heart Valves

Mechanical Heart Valves
Tissue Heart Valves

Neural/Brain Bionics

Internal Neurostimulators

Deep Brain Stimulators (DBS)
Sacral Nerve Stimulators (SNS)
Vagus Nerve Stimulators (VNS)
Spinal Cord Stimulators (SCS)
Other Neurostimulators

External Neurostimulators (Transcutaneous Electrical Nerve Stimulation (TENS))
By Method of Fixation
Implantable Bionics
External Bionics
By Region
North America
Europe

France
Germany
UK
Italy
Spain
Rest of Europe

Asia-Pacific

Japan
China
India
Australia
South Korea
Rest of Asia-Pacific

LAMEA

Brazil
Saudi Arabia
South Africa
Rest of LAMEA