Medical Foam Market Outlook - 2027
The global medical foam market was valued at $23.6 billion in 2019, and is projected to reach $38.1 billion by 2027, growing at a CAGR of 6.1% from 2020 to 2027.
Due to COVID-19 infection, the number of patients being admitted in hospitals has been increased, which resulted in exponential sales of all medical goods, which also include medical foam.
Medical grade foams are mainly used in healthcare industry for various applications such as hydrophilic dressing, medical supports, medical braces, and others. It includes properties such as softness, lightweight, water resistance, durability, and versatility making it a suitable foam material for protective packaging purposes. Moreover, medical foams are also utilized in custom orthotics, body underfoot pressure relief equipment, prosthetic padding, and sealing ostomy equipment. Medical industry utilizes medical foams such as heat & moisture exchange foams in medical breathing equipment, wound dressing foams for hydrophilic dressing, PVA foams for enhancing healing process after surgery, and hydrophilic foams for anti-scar dressing. Polyethylene medical foam and cross linked polyethylene foams are majorly used for protective packaging of medical equipment. Open cell foam includes polyurethane foams, polyethylene foam, and Metallocene foam. Polyurethane foam is used for medical protective packaging that requires abrasion resistance and in cushioning purposes. Polyethylene foam is used in specialized orthopedic insole applications owing to its maximum comfort level and helps podiatrists to diagnose foot pressure easily.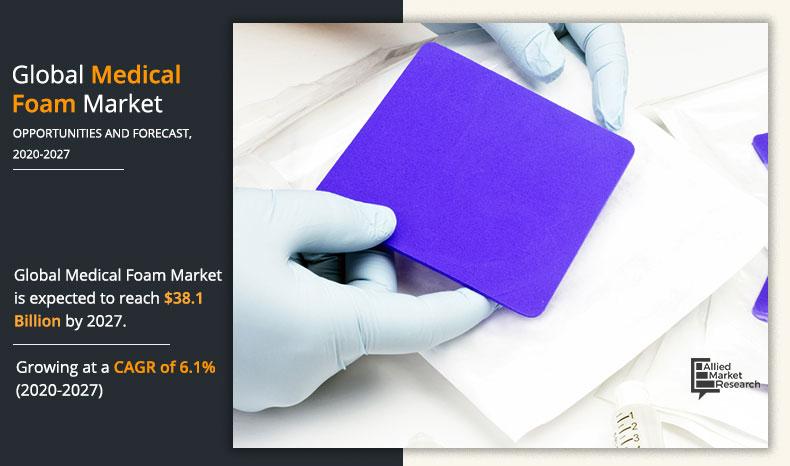 The global medical foam market is driven by increase in utilization in protective packaging of valuable medical devices and allograft implants. Medical foam also plays a vital role during patient recovery after major surgeries; thus, major key-players are focusing on product development and manufacturing cost-effective medical foam in order to meet the rising demand in the medical sector. Moreover, medical wearables need protective enclosure system in order to work efficiently, offer protection from damage, to enhance comfort level to patients, and appear aesthetically pleasing. Hence, medical foams are used as an alternative to silicones in medical wearables and manufacturers are concentrating more on factors such as size of medical devices, length, and disposability during manufacturing of medical foams. The demand for medical foam is expected to grow in the near future; owing to its use in wound care as patient recovery process plays an important role after surgery and helps to speed up the recovery process. Hence, the global medical foam market size is expected to witness steady growth during the forecast period. In addition, recent market trends such as utilization of medical foams in MRI vests owing to its properties such as MRI and X-ray lucent is predicted to augment the demand of the market. Macro-economic factors, such as rising concern about standard medical solution and rise in number of hospitals are expected to boost the demand for medical foam during the forecast period.
The medical foam market analysis is done based on type, material, application and region. Based on the type, the global medical foam market is segmented into rigid, flexible, and molded. Based on material, the global market is segmented into polymer, metal, and other. Based on application, the global medical foam market is segmented into packaging, bedding and cushioning, device and components, and others. On the basis of region, the market is studied across North America, Europe, Asia-Pacific, and LAMEA. Presently, Asia-Pacific region accounts for the largest share in the global market, followed by Europe and North America. The major companies profiled in this report include UFP Technologies, Technical Foam Services Limited, Freudenberg Performance Materials s.a.s, Apollo Foam Limited, General Plastics Manufacturing Company, Draka Interfoam B.V., Advanced Medical Solutions Group plc, Transcontinental Advanced Coating, Foamtec Medical, and Global Medical Foam.
Medical foam market, by region
The Asia-Pacific medical foam market size is projected to grow at the highest CAGR of 6.6% during the forecast period and accounting for 48.3% of medical foam market share. Rise in number of hospitals, growing medical tourism sector, and growing number of elderly population are the major medical foam market growth drivers in this region. Key-players in Asia-Pacific region are considering various factors such as wound size, location, wound duration, and depth of wound in order to manufacture suitable medical foam to treat wounds effectively.
Medical Foam Market

---
By Region
Asia-Pacific exhibits CAGR of 6.6% during 2020-2027
Medical foam market, by type
In 2019, the flexible medical foam segment was the largest revenue-generating segment and is anticipated to grow at CAGR 6.7% in the forecast period. 
Medical Foam Market

---
By Type
Flexible Medical Foam is projected as the most lucrative segment
Medical foam market, by material 
In 2019, the polymer segment was the largest revenue-generating segment, and is anticipated to grow at CAGR of 6.4% during forecast period. 
Medical Foam Market

---
By Material
Polymer Medical Foam is projected as the most lucrative segment
Medical foam market, by application 
In 2019, the bedding and cushioning segment was the largest revenue-generating segment and is predicted to grow at a CAGR of 5.7% in the predicted period of time.
Medical Foam Market

---
By Application
Packaging Application exhibits CAGR of 6.9% during 2020-2027
Key benefits for stakeholders
Porter's five forces analysis helps analyze the potential of buyers & suppliers and the competitive scenario of the industry for strategy building.
It outlines the current medical foam market trends and future estimations from 2019 to 2027 to understand the prevailing opportunities and potential investment pockets.
The major countries in the region have been mapped according to their individual revenue contribution to the regional market.
The key drivers, restraints, and opportunities and their detailed impact analysis are explained in the study.
The profiles of key players and their key strategic developments are enlisted in the report.
Impact Of Covid-19 On The Global Medical Foam Market
The COVID-19 pandemic has negatively affected the global economy and is subsequent shrinking the GDP in global economies, thereby changing consumer spending patterns globally.
Number of patients being admitted to hospitals has increased due to rising number of COVID-19 infections. Thus, there is rise in the demand of medical foam.
COVID-19 infected patients require a long time to recover, thus rising number of beds have surged the demand for the medical foam market despite the outbreak.
Severely infected people from COVID-19 require breathing systems in order to cope up with the infections. This is also a major factor that has enhanced the utilization of medical foam to support breathing equipment and anesthesia equipment.  
PPE kits beings majorly used by heath care professionals have pushed the demand of medical foam as it is utilized in the production of PPE kits owing to its softness and flexibility. 
 Medical Foam Market Report Highlights
Aspects
Details
By Type
By Material
By Application

Packaging
Bedding and Cushioning
Device and Components
Other

By Region

North America (U.S., Canada, Mexico)
Europe (France, Germany, UK, Italy, Rest of Europe)
Asia-Pacific (China, .Japan, India, South Korea, Rest of Asia-Pacific)
LAMEA (Brazil, Saudi Arabia, South Africa, Rest of LAMEA)

Key Market Players
Advanced Medical Solutions Group plc, Apollo Foam Limited, Draka Interfoam B.V., Foamtec Medical, Freudenberg Performance Materials s.a.s, General Plastics Manufacturing Company, Global Medical Foam, Technical Foam Services Limited, Transcontinental Advanced Coatings, UFP Technologies