Medical Polymer Market Overview:
Medical Polymers Market is expected to garner $19,014 million by 2022, registering a CAGR of 13.0% during the forecast period 2016-2022. Medical polymers are utilized for a variety of human contact and non-contact applications in the medical industry. These materials are chiefly used in the manufacture of medical implants, devices, disposables (gloves, vials, tools), and packaging. Medical polymers are biocompatible in nature and either remain inert or are easily processed by the human body. The growth in investment towards research and development, increase in adoption of medical polymers and development of low cost materials are driving the demand for medical polymers in the healthcare industry.
Medical polymers are adopted widely across the healthcare industry with significant efforts to commercialize new medical polymers to meet the specification of high end applications. Demand for polymers in healthcare markets is growing significantly owing to a significant upsurge in the demand for medical implants, whereas demand for implants is growing primarily due to increased incidences of chronic diseases and increasing global geriatric population. The demand for medical polymers is witnessing significant growth in all the regions, due to rapid acceptance and adoption of polymers from product designing to final product manufacturing.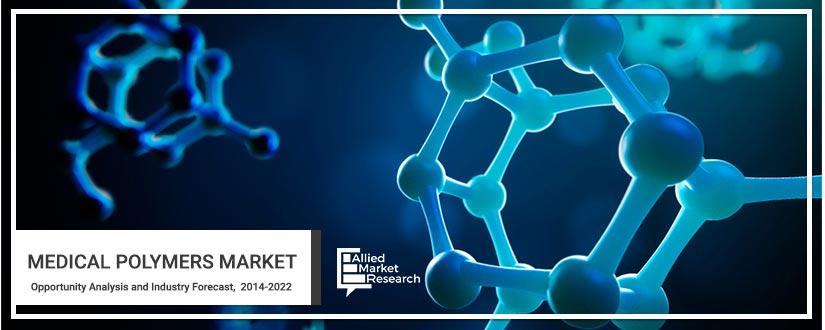 Although several polymers are biocompatible, not all are approved for commercial use. Medical polymers can be classified broadly into resins, elastomers, and biodegradable plastics. Key resins that are widely utilized include polyvinyl chloride (PVC), polypropylene (PP), polyethylene (PE), polystyrene (PS), polycarbonate (PC), polyetheretherketones (PEEK), hydrogel (acrylate), acrylonitrile butadiene styrene (ABS), polymethyl methacrylate (PMMA), and polyethylene terephthalate (PET). Major elastomers employed in the medical industry include styrenic block copolymer (SBC), rubber latex thermoplastics polyurethane (TPU), and thermoplastics olefins (TPO). Frequently used biodegradable plastics include polylactic acid (PLA) and polyglycolic acid (PGA). Multiple local as well as global players offer a wide variety of medical polymers.
The key players in the global medical polymers market have adopted various business strategies, such as research and development, product launch, agreement, acquisition, collaboration, expansion, and partnership, to sustain the intense market competition. The stakeholders of the medical polymers market include medical polymer material providers who distribute their products to several end-user industries across the globe. The data pertaining to market players and their strategic moves have been obtained through press releases of companies, blogs, and primary calls to the experts in the industry.
On the basis of type, medical polymers are segmented into resins, elastomers, and biodegradable plastics. Key resins include PVC, PP, PE, PS, PC, PEEK, acrylate, and other resins (ABS, PMMA, and PET). Major elastomers employed in the medical industry include SBC, rubber latex, and other elastomers (TPU, TPO, and others). Commonly used biodegradable plastics include PLA and others (PGA, PLGA, and so on)
Large amounts of investments are ongoing to develop implants and devices using various polymers driven by their versatility and stability. This is further expected to increase the adoption of polymers for medical applications and enhance the attractiveness of the medical polymers market for industry participants.
Resins such as PEEK and PE, especially ultrahigh molecular weight polyethylene (UHMWPE), possess the maximum market potential in the medical polymer segments. These polymers are gaining popularity owing to their structural strength, bio-inertness, commercial viability, and bio-compatibility. PEEK and UHMWPE find increased usage in medical implants, including orthopedic and electronic implantable devices. PP, PC, and other resins, including ABS, PMMA, and PET, also show increased utilization in manufacturing medical devices. These engineering thermoplastics exhibit excellent stability, durability, and formability and are preferred over metals and polymer for designing medical devices and implants.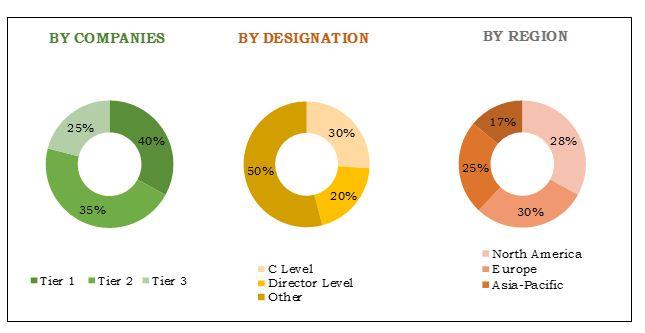 PVC is another key segment used for manufacturing medical devices and disposables. PS is used in human-contact applications owing to its non-toxicity and stability. Acrylates are used to produce hydrogels, which are applicable in wound-care, drug delivery, and tissue engineering. Elastomers are mostly used in sealing, packaging, and disposables such as gloves. Biodegradable plastics including PLA, PGA, and PLGA are being developed for use in disposables and packaging applications as substitutes for PE and PP.
Increase In Adoption Of Medical Polymers Owing To Low Prices And Versatility
Although medical polymers have been used in the industry since a long time, their adoption has gained momentum over the last decade. This sudden rise is attributed to the increase in research to develop alternatives to traditional materials including metal and polymer for use in medical applications. Development of engineering plastics, such as PMMA, PEEK, ABS, and PET, accelerated the growth of the medical polymers market. These plastics conform with the safety requirements for use in medical implants and devices.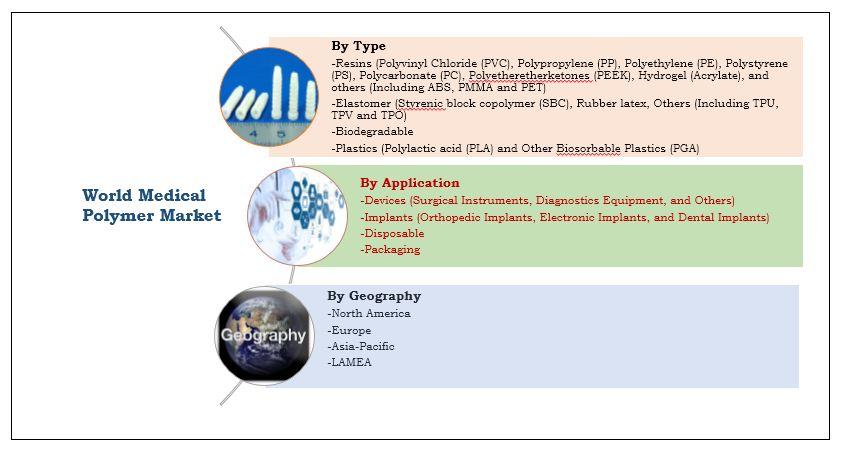 Furthermore, medical polymers are available at lower costs compared to metals and polymer. Engineering plastics used as medical polymers can match the structural strength, stability, inertness, durability, and formability of metals and polymer, while being lighter and more resource efficient. Moreover, the supply of medical polymers is more consistent when compared to metals and polymer, which directly depend upon the mining scenario.
Key players profiled in this study includes Eastman Chemical Company, Evonik Industries AG, The Dow Chemical Company, Formosa Plastics Corporation USA, Arkema SA, BASF SE, Covestro AG, DSM N.V., Solvay S.A, and Celanese Corporation.
Other prominent players (not profiled) in the value chain include Victrex Plc., DuPont, Tianjin Plastics Research Institute Co. Ltd, Lubrizol Corporation and Bayer.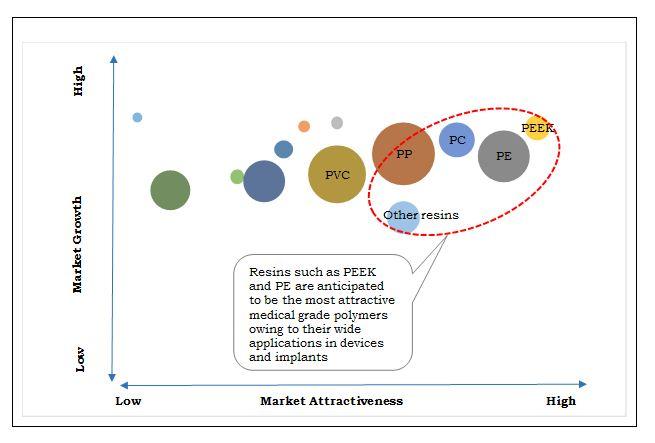 Medical Polymers Market Key Benefits
This report provides an extensive analysis of the current and emerging market trends and dynamics in the global medical polymers industry.
In-depth analysis is conducted by constructing market estimations for key market segments between 2014 and 2022.
Geographically, the medical plastic market is analyzed based on various regions such as North America, Europe, Asia-Pacific, and LAMEA. It also includes country analysis of major countries in each geographic region.
This study evaluates competitive landscape and value chain to interpret the competitive environment across various geographies.
Comprehensive analysis of factors that drive and restrict the growth of the global medical polymer market is provided.
Exhaustive analysis of the market by type predicts the major material used currently along with the ones that would gain prominence in the future.
Extensive analysis of the market is conducted by following key product positioning and monitoring the top competitors within the framework.
 Medical Polymers Market Report Highlights
Aspects
Details
By Type

Resin

Polyvinyl chloride (PVC)
Polypropylene (PP)
Polyethylene (PE)
Polystyrene (PS)
Polycarbonate (PC)
Polyetheretherketones (PEEK)
Hydrogel (Acrylate)
Others (Including ABS, PMMA and PET)

Elastomer

Styrenic block copolymer (SBC)
Rubber latex
Others (Including TPU, TPV and TPO)
Biodegradable

Plastics

By Application

Devices

Surgical Instruments
Diagnostic Equipment
Others

Implant

Orthopaedic Implants
Electronic Implants
Dental Implants

Disposables
Packaging

By Geography

North America
Europe

UK
Germany
France
Rest of Europe

Asia-Pacific

China
Japan
India
Rest of Asia-Pacific

LAMEA

Latin America
Middle East
Africa
Rest of LAMEA